Ironhead Sportster Project
Over the last 60 years, Ironhead Sportsters have been the basis for choppers, bobbers, cafe racers, drag bikes, flat trackers, scramblers, hill-climbers, fully-faired track bikes, and even trikes. Flexibility of the compact V-twin and basic frame are nearly limitless.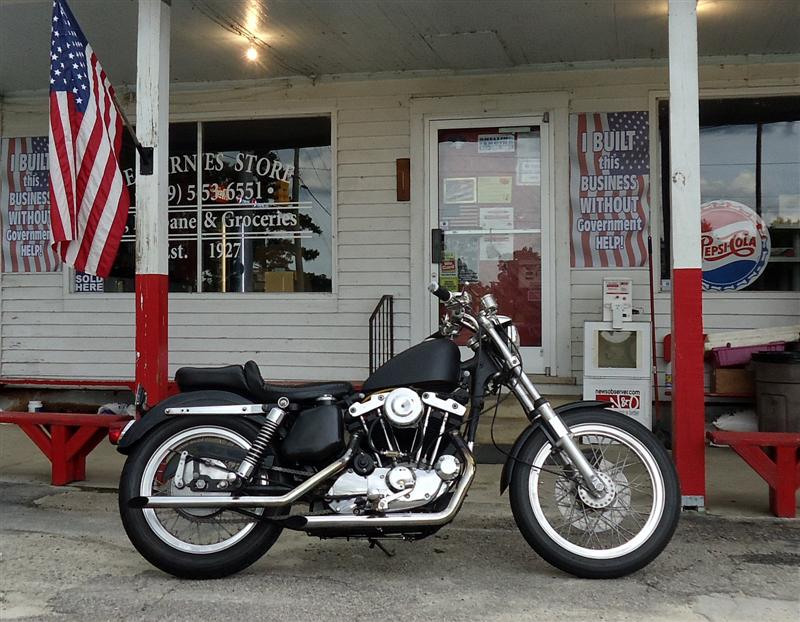 Produced by Harley-Davidson from 1957 to 1985, the Ironhead Sportster is a good choice for a classic motorcycle build. They're still pretty cheap and readily available, easy to get parts for, and you can build it dozens of different ways.
Best Year Ironhead Sportster
No years are really better than others for a Sportster project bike, but some years may be more desirable for one reason or another. The 900cc Ironheads from the late fifties and early sixties were certainly the coolest looking in stock trim. These early Sportsters are much harder to come by, simply because less where made (ie, less than 2,000 total in 1962). Early Sportsters equipped with Magneto ignitions and solid-mount engines are not for everyone, but when left original or restored correctly, are worth a much more than later models.
Many classic bike enthusiasts believe that the 1965 XLCH is the ultimate Sportster. It was the first year of 12-volt electrics, and had the wider front drum that came out a year prior. It was also the last year for the DC Linkert carb and the "horseshoe" oil tank.
Swap Sportster Cams
If you change your cams or swap out your cam cover with a different one, always check cam clearances. Ironhead Sportsters do not have as close tolerances as modern engines have, but cam clearance should be set to factory specs if not a tad bit looser.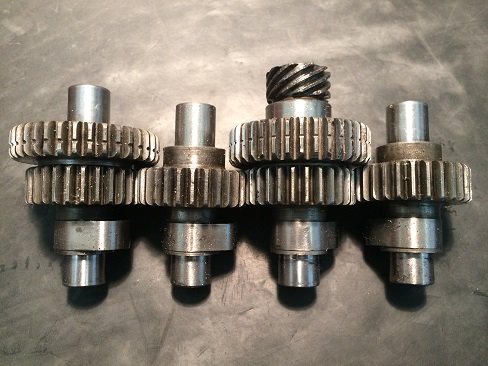 Up through 1969, the XLCH had the early, shorter frame and swing arm, so 1969 is considered the last "real" XLCH. The 1970 model year was the last year of the magneto ignition, and also for the rubber "Gator" fork boots.
The last year of the 900cc Sportster and the first year of the new engine cases was 1971. This was a unique year for Sportsters. The external distributor was moved from the right-side engine case to inside the gear-case, now employing an automatic advance mechanism to aid starting. Available for the second and final year, the fiberglass seat and tail section, known as the 'boat-tail' is now a rare bird.
Dry-Clutch vs Wet-Clutch
Sportsters were converted to a wet clutch setup in 1971. As its name implies, the wet clutch sits in oil, the earlier dry clutch (1957-1970) does not. A dry clutch is not spinning in engine oil, which causes less drag and robs less power than a wet clutch does. Wet clutches are quieter, but are a harder pull at the clutch lever.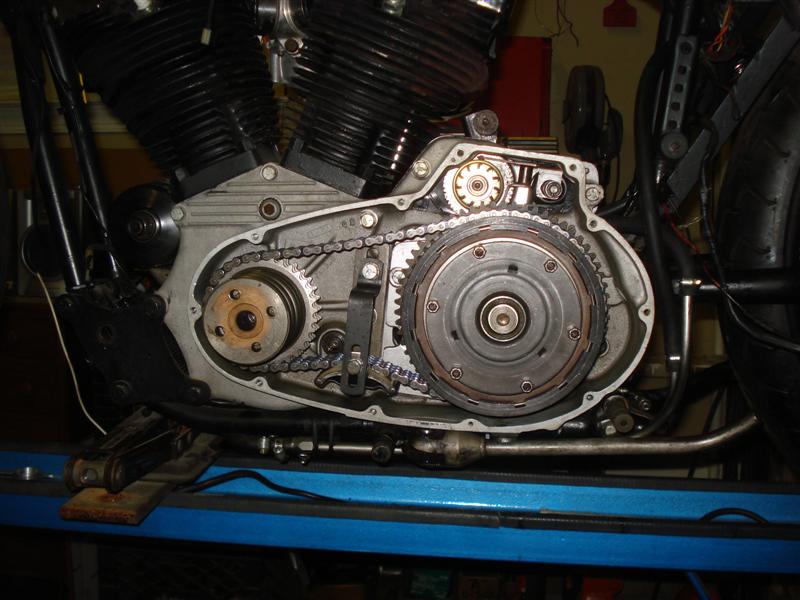 1000cc Sportster
To keep up with the litre-bikes that Japan was offering, a bump in motor size was seen in 1972. Boring the cylinders 3/16" brought displacement from 883cc to 997.3cc (advertised as 1000cc).
The increase from 900cc to 1000cc also gave a more optimum bore-to-stroke ratio, resulting in a slightly smoother running motor. Power was also increased, pushing top-speeds past 110 mph. Quarter-mile times dropped into the mid-thirteens, and by removing the stock exhaust baffles, another half-second was easily gained.
In 1973, the speedometer drive was moved from the bottom of the engine case to the front wheel. This allowed Harley to put some extra meat in the right side of the transmission area where the drive used to be. Because of this, 1973-up Sportster engine cases are stronger than the earlier models.
Also in 1973, a change from front brake drum to front disc was seen. In 1974, the 1000cc cylinders were stronger, and was also the last year for the shifter on the right side.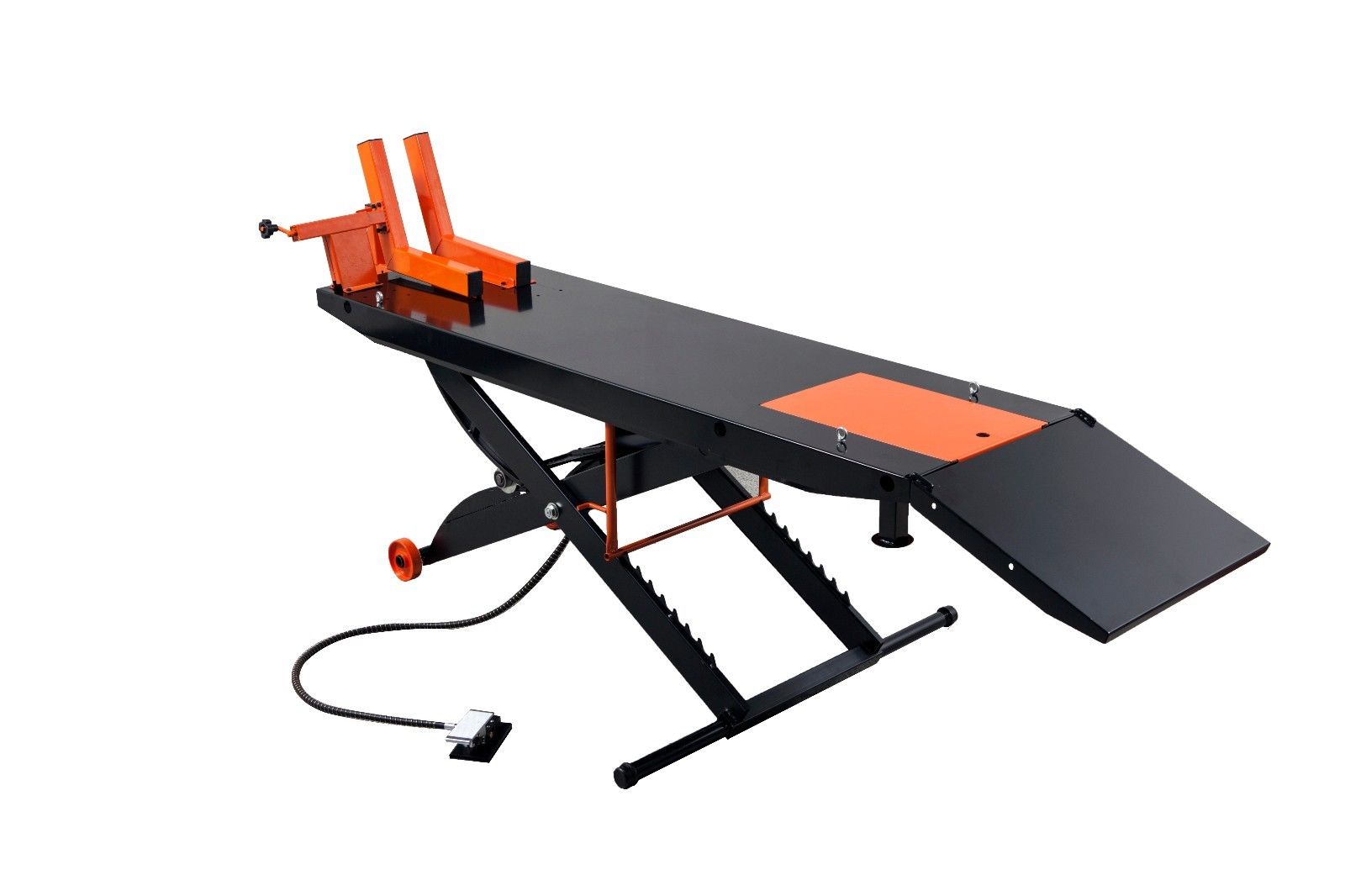 Right-Side to Left-Side Shift
The two years that Sportsters had the crossover shaft to make them left-side shift (1975-1976) makes them harder to find parts for. I've read that some riders had issues with these bikes, but I had no problems at all shifting or braking my 1976 Sportster.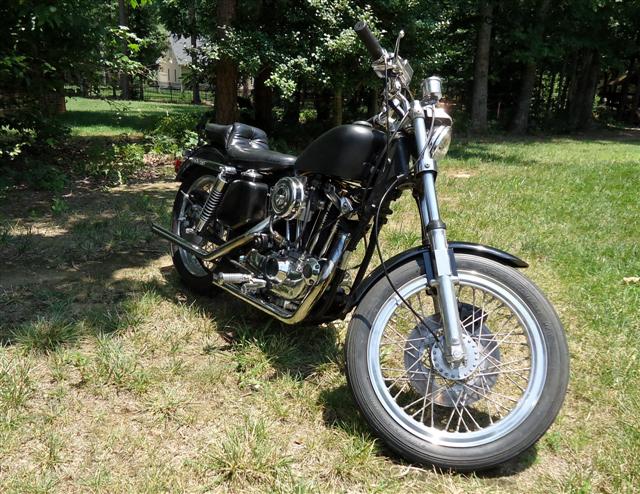 Sportster Cafe Racer
Produced for two years only (1977-1978), the XLCR Cafe Racer sported a new frame, front bikini fairing, four-gallon gas tank, and fiberglass rear tail section. Foot controls were mounted further back, and low handlebars allowed the rider lean forward into a "racer tuck". The Sportster Cafe Racer was offered in black only, with wrinkle-black engine paint and black Siamesed exhaust pipes which exited left and right. The exhaust was a departure from past Sportster models, but added a solid five-horsepower gain in performance.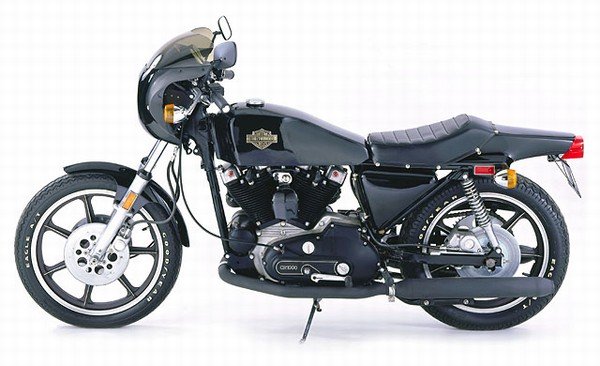 Cafe Racer Build
If you want to build an XLCR replica, the best bike to start with is a 1979-1980-1981 Sportster. These frames are basically the same as the factory Cafe Racer, as is their 1000cc motor. Unlike earlier Sportster frames, these have room for improvement, particularly front and rear shocks.
Most XLCR parts such as the seat, exhaust, headlight mount and fairing are available either used or reproduction. The hardest part will be the rear foot controls.
1979 Sportster
All Sportster models were upgraded to a new, stronger frame and swing-arm, derived from the XLCR. Some feel that the new frame took away the classic Sportster look, but it was lighter and made for a better handling bike. Also for 1979, the mechanical rear drum brake was replaced with a hydraulic disc brake, and the breaker-points ignition were replaced with a Prestolite breakerless electronic type.
The 1980-1985 models are the most common, and therefore the easiest to find and least expensive to buy.
Hardtail Sportster Build
Originally, all motorcycles were hardtails, and since there are no rear suspension components, a hardtail frame is much lighter than a conventional swing-arm frame. They are also easier and cheaper to construct, due to their simplicity. Many purists believe that with the absence of rear suspension, road vibrations become part of the experience, and the rider truly becomes part of the road.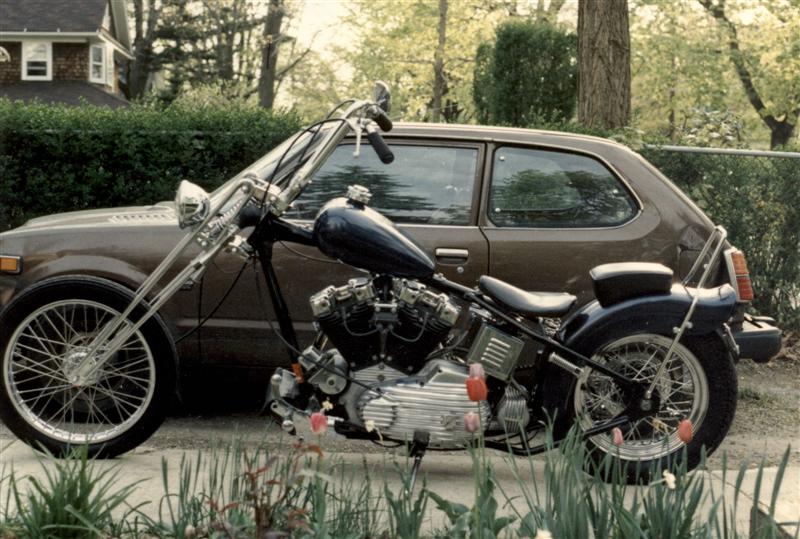 Building an Ironhead chopper is pretty simple. Unlike Big-Twin Harleys, there is no separate transmission that needs to be aligned. However, the rear-wheel chain sprocket needs to be lined up with the engine sprocket. The only way to do this is the trial and error method of adding/removing axle spacers on either side of the rear wheel.
An essential part of building any sort of chopper, bobber, or cafe racer, is getting rid of unnecessary items. This includes trimming down electrical parts, such as signals, gauges, relays and switches.
Replacement Parts For Ironheads
Beware of low quality parts. The cheap Chinese and Taiwan-made parts are of low quality. Several Japanese manufacturers offer parts which are a good quality. U.S. companies like S&S offer quality parts, but not for all year Sportsters.
Generator Charging Problems
Your Ironhead's generator really doesn't charge the battery until engine rpm is considerably higher than idle. Trips that are less than 15-20 miles are typically not enough to recharge the battery's losses from starting. Consider upgrading to a trouble-free aftermarket generator like Cycle-Electric.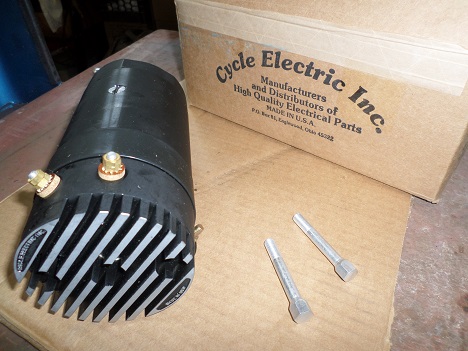 The Cycle Electric generator is a complete 12V charging system with a built-in regulator, simple two-wire hookup, higher output, and longer service life. It's the last generator you will have to buy for your bike!
Factory Manual
Knowledge is the best tool you can have, and having a shop manual that covers your year and model is invaluable. You'll end up referring to it over and over again.
An Ironhead Sportster project may not be right for you. But if you don't mind working on your own bike and enjoy a challenge, it's a good choice for a classic motorcycle build. There's something about them that's intriguing. Do they leak oil? Yes. Do they vibrate? Yes. Are they the greatest sounding motorcycle ever? Yes.