Ironhead Sportster Cylinders (Identification and Fitment)
Text and Pictures by Mark Trotta
They may all look alike, but Ironhead Sportster cylinders are not all the same.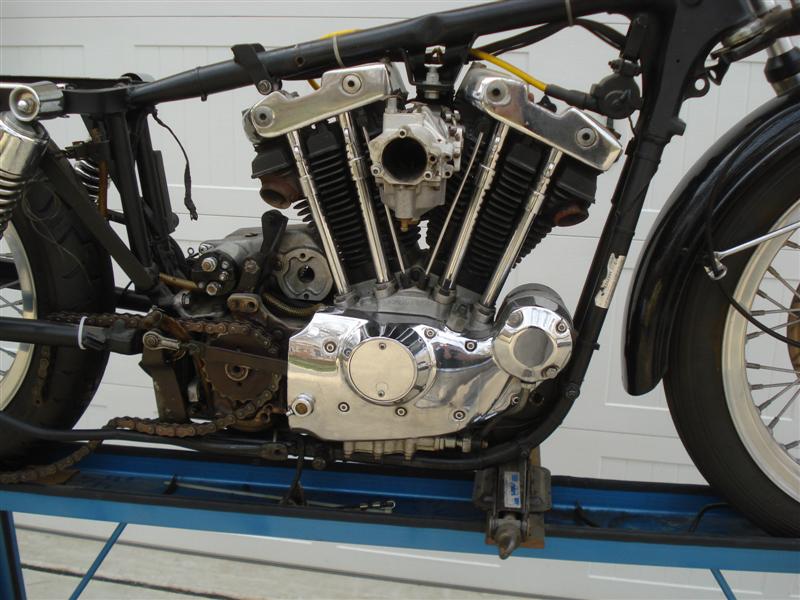 900cc and 1000cc jugs are not interchangeable.
Different year 1000cc jugs are not all interchangeable.
Front and rear cylinders are different.
All year Ironheads (1957 through 1985) have one front cylinder and one rear cylinder. The front cylinder has the exhaust port in the front, and the rear cylinder has the exhaust port in the rear. The cut-out for the pushrods will face to the right side.
Know what you're working with before you start mixing and matching!
900cc Ironhead Cylinders
There is only one style of 900cc Ironhead cylinders. All years (1957-1971) have a 3" bore and all years interchange with each other. 900cc cylinders have casting numbers 16561-57 on the front jug and 16581-57 on the rear jug.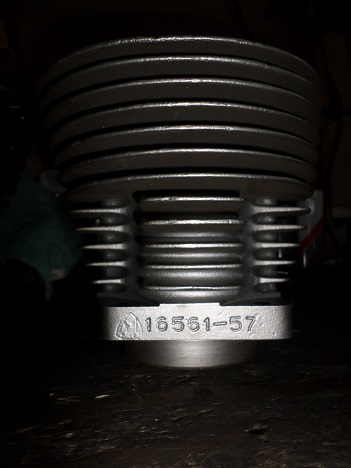 Since half a century has passed since these were last produced, finding a pair of decent 900cc Ironhead jugs is not easy. If you have a set that aren't missing fins and aren't bored .060 over, consider yourself fortunate.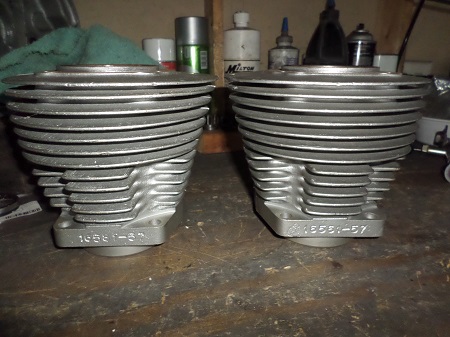 Difference Between 900cc and 1000cc Jugs
The quickest, most reliable way to distinguish 900cc from 1000cc cylinders is to read the casting numbers. You can also tell by having a head gasket or a base gasket for each type and see which one lines up.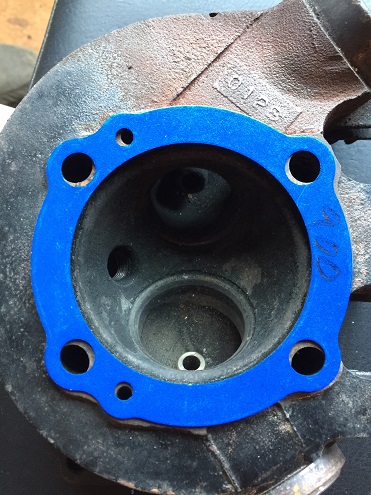 The picture above shows a 900cc head gasket on a 1000cc head. Notice the slight difference where the bolt holes should match.
1000cc Ironhead Cylinders
There are early and late 1000cc cylinders. Casting numbers started with 16561-72 (front jug) and 16581-72 (rear jug) with later examples having "A" or "AB" suffixes.
The first run was from 1972 to early 1973, which are not bored-out 900cc jugs, they are their own unique casting. Early 1000cc cylinders have thinner cylinder walls and can only be bored .040 over.
Late 1000cc jugs have thicker cylinder walls and can be bored .070 over.
Both early and late 1000cc cylinders have a 3-3/16" bore, but they do not interchange. The difference is the head bolts and their bolt holes.
Early vs Late 1000cc Ironhead Jugs
One way to distinguish between early and late jugs is the head bolts. Early 1000cc head bolts have 6-point, 9/16" diameter heads. Late 1000cc head bolts have 12-point, 7/16" diameter heads.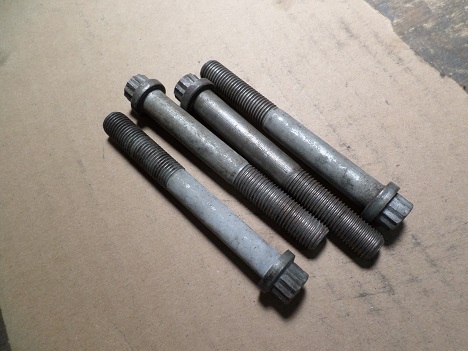 On early 1000cc jugs, the head bolt threads come right up to the gasket surface. On late 1973 and up 1000cc jugs, the head bolt threads are countersunk about 1/2".
900cc vs 1000cc Ironhead Cylinders
Aside from having a larger bore diameter (3" vs 3-3/16"), 1000cc jugs have a wider spigot opening.
Cylinder spigot diameter on 900cc engine cases is 3-3/16".
Cylinder spigot diameter on 1000cc engine cases is 3-7/16".
If you open up the spigot holes in 900cc cases to make 1000cc jugs fit, they won't bolt up. The bolt patterns in the engine cases are slightly different and won't fit without a lot of machining.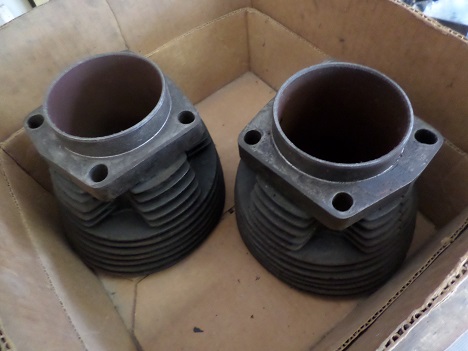 I have seen 1000cc cylinder bolt holes that have been ovaled out to make them fit on 900cc cases. This practice may have been tolerable 50 years ago, but hopefully nobody here in the 21st century thinks this is still a good idea.
Aftermarket Ironhead Cylinders
Finding good used Ironhead cylinders gets harder with each passing year. An alternative to finding original jugs is to buy aftermarket ones. J&P Cycles still offers a piston and cylinder kit.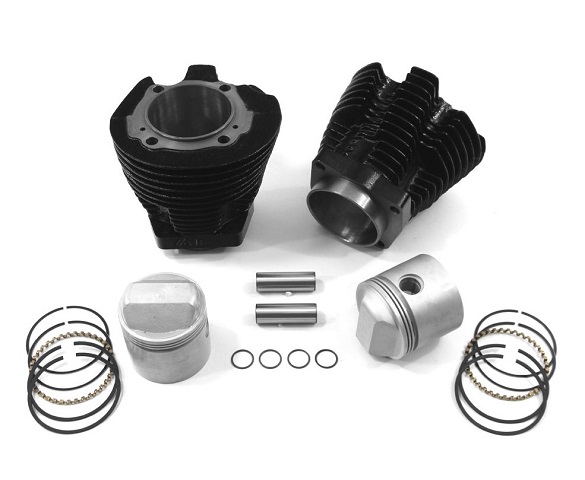 The only physical difference between aftermarket Ironhead cylinders and factory cylinders is that they do not have casting numbers on them. Instead, they are marked "F" and "R".
*********************************
Harley XR-1000 Cylinders
In 1984, Harley-Davidson offered the XR-1000 Sportster, featuring special cylinders and heads, along with a pair of 36mm Dell'Orto carburetors.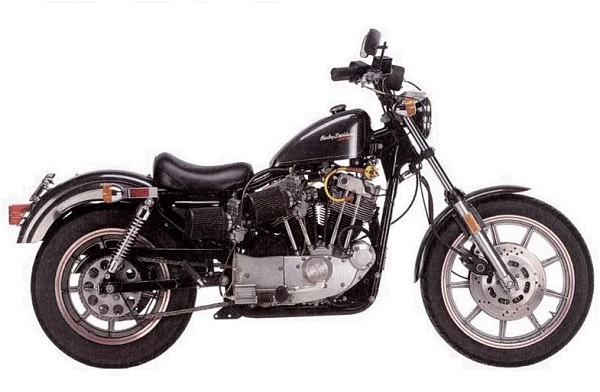 Because the XR1000 cylinder heads were larger than stock cast-iron heads, the cylinder barrels were shortened to fit into the Sportster frame. They are not interchangeable with other 1000cc cylinders.
*********************************
Re-Sleeving Cylinders
If you want to keep your bike original, consider having your over-bored cylinders re-sleeved. Provided the machine work is done correctly (straight and round), it will bring your old cylinders back to their original bore size. Before doing this, check that standard-sized pistons and rings are still available.
Cylinder Boring And Honing
New cylinders, whether they are new or aftermarket, need to be accurately measured, bored, and honed. A good straight bore with a proper cross-hatch pattern, and correct piston to wall clearances, is a MUST for good sealing and ring life.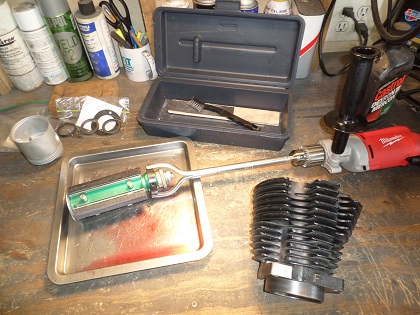 Cylinder Head Swapping
900cc heads will only bolt up to 900cc cylinders.
If you have a set of early 1000cc jugs, you need to use early 1000cc heads.
If you have a pair of late 1000cc jugs, you need to use late 1000cc heads.
*********************************
Related Articles: