Sportster History (1967-1979)
Article by Mark Trotta
Starting in 1967 and until 1969, the Motor Company produced two Sportster frames and two sets of engine cases, one for the kick-start XLCH and one for the new electric-start XLH. Before 1967, all Sportster models were kickstart only.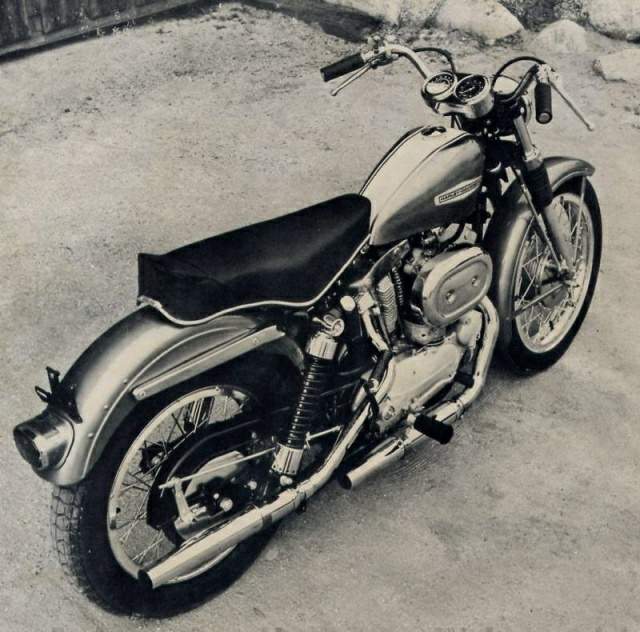 Longer XLH Frame
To accommodate the electric starter motor and the larger battery box, the XLH frame was 'kicked-back' just above the swing arm pivot. Seat-post tubes were set 1.5" towards the rear, requiring upper shock mounts and fender rail mounts to be moved further back. The XLH swing arm was lengthened accordingly.
The kick-only XLCH continued using the original frame and engine cases to 1969.
_________________________________________________
_________________________________________________
In 1970, the early Sportster frames and cases were discontinued. All models, including the XLCH, now shared the frame and engine cases with the XLH electric start. This is why many enthusiasts believe that 1969 was the last "real" XLCH.
Sportster Front Forks
In 1968, front fork internals received an additional 1" of travel. Sportster fork tubes, from K models up to 1972 models, (and 1971-1972 Superglides) were 33.4mm in diameter. The fork sliders were steel, and set up for drum brakes only. Rubber fork boots ("gators") were seen on 1957 through 1970 Sportsters.
For 1969, cylinder heads were slightly redesigned and fitted with larger, 1-15/16" intake valves. Whereas earlier heads were painted silver, 1969 and up heads were painted black.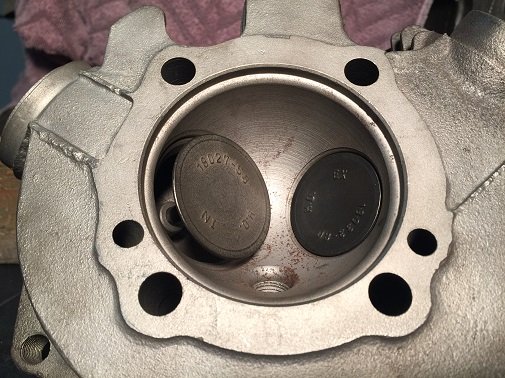 In 1970, H-D started stamping corresponding VIN numbers into frames. All model Sportsters from 1970 thru 1978 had the same frame and swing arm.
***************************
"Then Came Bronson" Bike
1970 was the second and final season of the American TV show "Then Came Bronson". The show starred wool-capped Michael Parks riding around the country, finding adventure on his red 1969 Sportster XLH. Bud Ekins, the famous Hollywood stunt man, appeared in several episodes.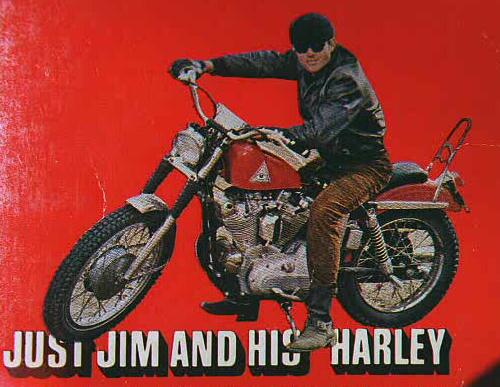 The TV show and the bike were both popular, prompting Harley-Davidson to offer a "Bronson Red" paint option for several years.
***************************
Sportster-Powered Bonneville Record-Holder
The Bonneville Salt Flats in northwestern Utah have long been a mecca for high-speed competition. It was here that a Sportster-powered streamliner motorcycle broke the world speed record in 1970.
The streamliner body was a 15-foot-long aluminum tube, with a cross-section of only 23 inches. Inside was a small cockpit and a modified XLR motor, bored and stroked to 1,480cc (89-cubic inches). The engine ran on 70 percent nitro-methane. Owned by Manning/Riley/Riveria, the pilot was famed Harley-Davidson factory rider Cal Rayborn. His recorded speed of 265.492 mph would stand for fifteen years.
***************************
By 1971, Harley-Davidson was selling an average of 6,500 Sportsters annually, which was triple the amount from a decade ago. And in that time, the Ironhead's fan-base had widened deeply.
On one end of Sportster enthusiasts were racers, who loved it's tourquey power and the endless ways to squeeze out more. On the other end were customizers, who embraced the clean, integrated symmetry of the compact V-twin engine.
***************************
1971 Sportster
A very unique year for Sportsters; 1971 was the last year of the 900cc and first year of the new engine cases. The distributor was moved from the right-side engine case to inside the gear-case, now employing an automatic advance mechanism to aid starting. The fiberglass seat and tail section, known as the 'boat-tail' was available for the second and last year.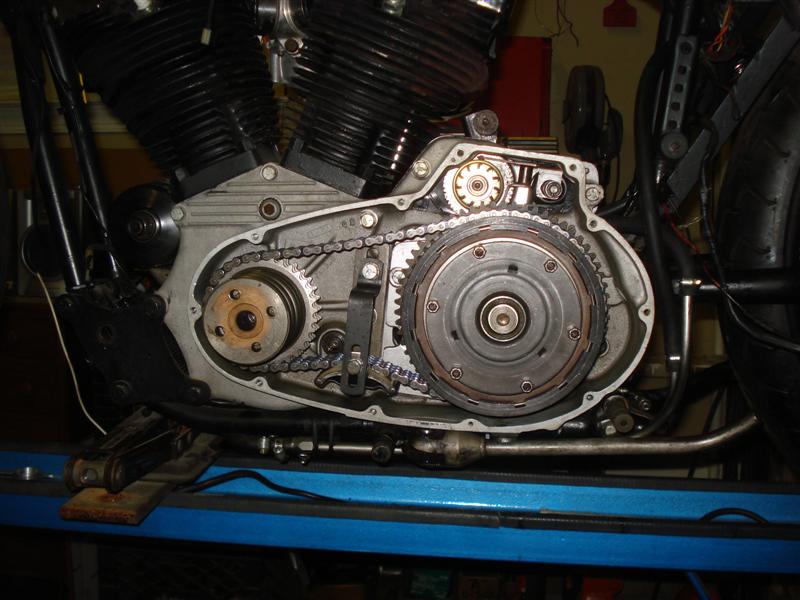 Sportsters were converted to a wet clutch setup in 1971. As its name implies, a wet clutch sits in oil, a dry clutch does not. Wet clutches are quieter, but are a harder pull at the clutch lever.
***************************
1000cc Ironhead Engine
To keep up with the litre-bikes that Japan was offering, the Ironhead Sportster received a bump in size in 1972. New cylinders with 3/16" bigger bore increased displacement, from 883cc to 997cc (advertised as 1000cc).
The displacement increase also gave a more optimum bore-to-stroke ratio, resulting in a slightly smoother running engine. Power was also increased, pushing top-speeds past 110 miles-per-hour. Quarter-mile times dropped into the mid-thirteens, and by removing the stock exhaust baffles, another 1/2 second could be gained.
***************************
1972 Sportster
The Sportster for 1972 saw several other changes. Prone to vapor lock when the engine was hot, the complex Tillotson carburetor was dropped in favor of the simpler Bendix unit. The new carb also sat closer to the motor, causing less of an obstruction to the rider's right knee.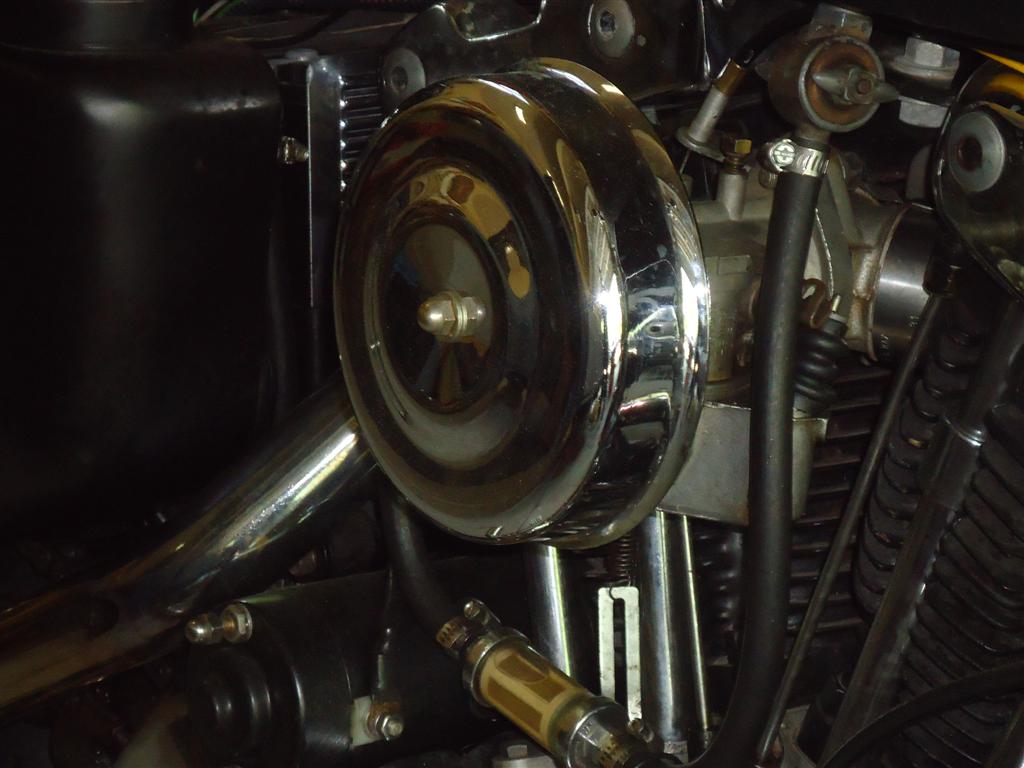 The magneto ignition used on previous XLCH models was gone; in it's place was the points/coil/battery system from the XLH. Seat padding was reduced to give a lower ride height. Sales for the 1972 Sportster nearly doubled from the previous year, with just under 18,000 units sold.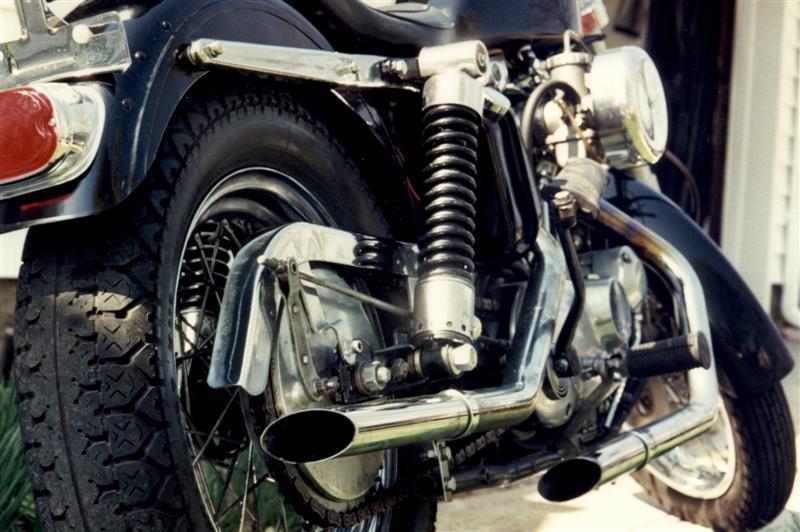 "The Sound is Good for the Soul"
***************************
1973 Sportster
In 1973, the Sportster frame received minor modifications. The steel castings were eliminated, and replaced with steel straps which covered the two frame tubes having the open holes. These two holes previously held the supports for the original solo seat, which was no longer offered.
Generator Charging Problems
An Ironhead's generator really doesn't charge the battery until engine rpm is considerably higher than idle. Trips that are less than 15-20 miles are typically not enough to recharge the battery's losses from starting. Consider upgrading to a trouble-free aftermarket generator.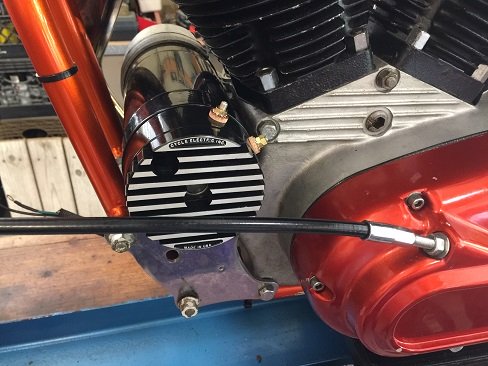 The Cycle Electric generator is a complete 12V charging system with a built-in regulator, simple two-wire hookup, higher output, and longer service life. It's the last generator you will have to buy for your bike!
Front Disc Brake
A front disc brake replaced the drum brake in 1973. Fork tube diameters were increased to 35mm, manufactured first by Kayaba, and then by Showa. The 35mm forks had a "pie-slice" brake caliper and cloverleaf rotor, later to be fitted with dual-disc calipers.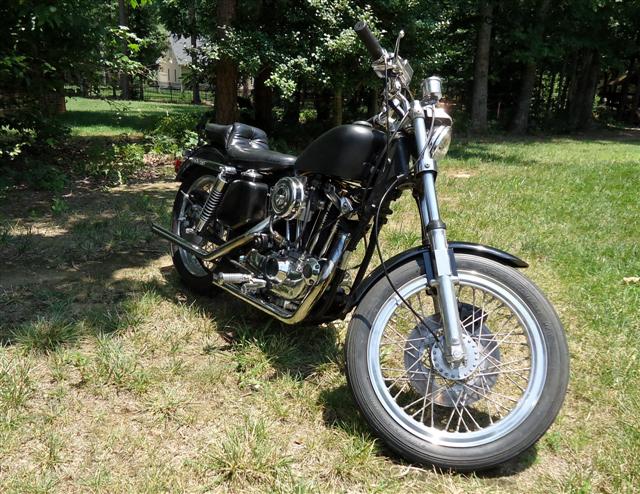 Also this year, the frame was modified, with the steel casting eliminated and replaced with steel straps which covered the two upright frame tubes having the open holes. These two holes held the supports for the original solo seat. 1973 was the first year that turn-signals became mandatory on all motorcycles sold in America.
AMF-produced Harleys began rolling off the York Pennsylvania assembly line, although the AMF logo had been appearing on gas tanks since 1971. Harley-Davidson was now just one of dozens of divisions in a corporation, and quality control was becoming an issue.
Production total for 1973 Sportsters was 19,960 units.
***************************
1974 Sportster
Under the control of AMF, build-quality seemed secondary. To increase profits, the corporation began streamlining production and cutting the workforce. This led to a 101-day strike by union workers. With the influx of quicker and cheaper Japanese bikes, Harley-Davidson's share of the 750cc and larger motorcycle market had fallen to 21 percent.
Right-Side to Left-Side Shift
In 1975, new federal regulations required all motorcycles sold in America to have left-side shift and right-side brake controls. Other bikes that switched from right to left shift were the Triumph Bonneville and Norton Commando. AMF's remedy was to continue using the existing engine cases and route the gear-shift linkage across the back of the engine, thus avoiding the expense of re-tooling. New cases were eventually fitted in 1977. Approximately 5,300 Sportsters were produced in 1975.
***************************
1976 Sportster Bicentennial Edition
To help celebrate America's 200th Birthday, Harley-Davidson offered special Bicentennial Edition models, with commemorative decals applied to the gas and oil tanks. Later in the year, Sportster models switched from Bendix to Keihin carburetors.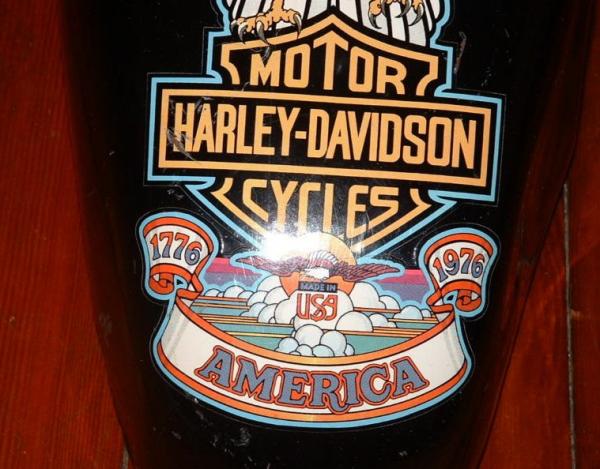 ***************************
1977 Sportster
In an effort to re-capture some of its lost market, two new Sportster models were offered in 1977. The first was the XLT, set up in touring style with a thicker seat, touring handlebars, saddlebags, and windshield. It was also geared higher, and carried a larger 3.5 gallon tank. The XLT was not popular with buyers, nor was the other new model, the XLCR Cafe Racer.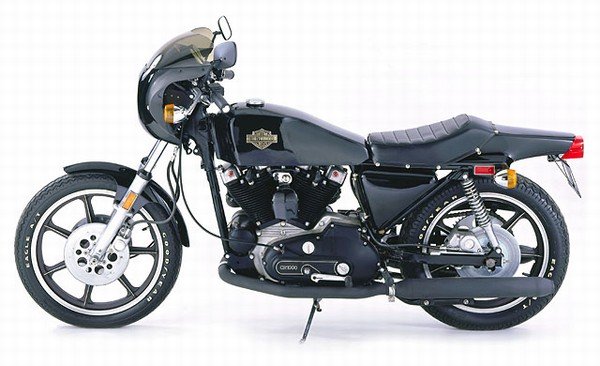 Engine Upgrades
Redesigned engines cases for 1977 featured a new 'gerotor' style of oil pump, which was not interchangeable with 1957-1976 models. Another update was the pinion shaft bearing assembly. The new bearing assembly was 'caged' and a whole lot easier to install than on 1957-1976 engines, which had loose roller bearings.
Confederate Edition Sportster
The Motor Company offered a very limited amount of "Confederate Edition" Sportsters in 1977. Essentially they were decals-only in difference from standard models, with "Stars and Bars" flag adorned on gas tank and front fender.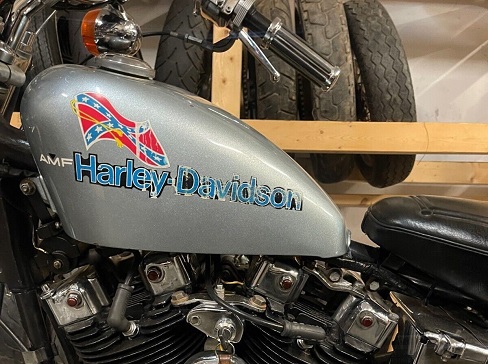 Production numbers of Confederate Edition Harleys were very low, with reportedly 299 Confederate Sportster XL's, 45 Sportster XLCH's, and 15 Sportster XLT models sold.
***************************
1978 Sportster
The factory brochure proclaimed the 1978 Sportster as the "quickest, most powerful, most agile yet." Electronic ignition and a solid-state voltage regulator first appeared this year, providing easier starting and less maintenance. The XLCR Cafe Racer was in its second and final year of full production.
_________________________________________________
_________________________________________________
Other Sportster models now benefited the Cafe Racer's dual-disc front brakes and cast aluminum wheels, as well as having Siamesed exhaust pipes, boosting torque and mid-range horsepower. Longer stroke rear shocks helped increase rider and passenger comfort.
75th Anniversary Edition
To commemorate Harley-Davidson's 75th year in production, a special-edition 1978 Sportster was offered, featuring midnight-black paint highlighted by gold trim, gold cast-aluminum wheels, and limited-edition anniversary graphics. Sales for 1978 topped 17,000 units, the highest in Ironhead Sportster history.
***************************
1979 Sportster
All Sportster models were upgraded to a new, stronger frame and swing-arm, derived from the XLCR. Valve guides were changed to cast-iron to provide better lubrication to the valve stems.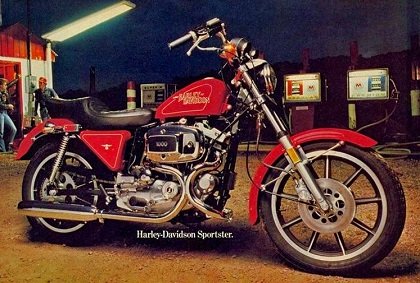 Also for 1979, the mechanical rear drum brake was replaced with a hydraulic disc brake. This would be the last year of the kick-start only Sportster. Only 141 XLCH models were sold.
XLS Sportster
Using the XLCR's frame, the new XLS model had cast wheels, extended front forks, 2-into-1 exhaust pipes and a 16" rear wheel. With a large, dual rear seat and short sissy bar, the XLS was decidedly un-Sportster like, and curiously named the "Roadster".
***************************
Sportster VIN Numbers
The Motor Company used several different VIN codes for XL models:
A post-1970 Sportster VIN will start with a 3A or 4A
A 1977-1978 XLCR Cafe Racer VIN will start with a 7F
An XLS Sportster VIN will start with a 4E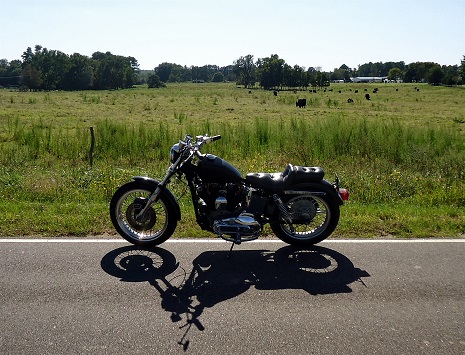 "Ironhead Sportsters tend to get faster the longer you own them."
Looking back over the decade of the seventies, the Harley-Davidson Sportster had come a long way. It was still a great looking, powerful street-bike, and more reliable than ever. But at 500 pounds and sporting a 59" wheelbase, cornering was not it's strong suit.
On the plus side, the softly sprung suspension gave a firm but comfortable ride at highway speeds, and it's fairly low center of gravity made it easy to manage at slow cruising speeds. And customization was limitless.
***************************
Related Articles: