Norton Commando History
Article by Mark Trotta
From 1968 until the demise of the original company in 1977, the Commando was the main bike in Norton's lineup. Powered by a 750cc parallel-twin, later enlarged to 828cc, the Norton Commando was offered in about 15 models, all within the same engine/frame combo.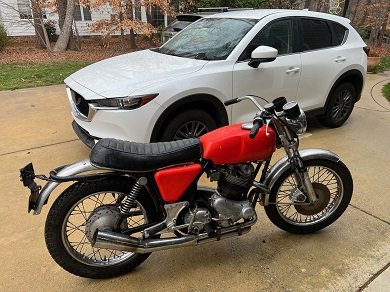 Hallmarks of this classic British motorcycle were performance, style, mechanical simplicity, and a unique engine mounting system.
Beginnings
Throughout the forties and fifties, British bikes dominated motorcycle performance and racing venues. However, by the late sixties, Japanese manufacturers started producing faster, cheaper, and more reliable motorcycles, severely cutting into the sales of both British and American-made bikes.
_______________________________________________________
_______________________________________________________
Before the Commando engine, there was the Norton Atlas parallel-twin engine. It was powerful enough, but suffered from vibration at higher speeds. Previous attempts at rubber-mounting the engine helped marginally. The company had neither the time nor finances to develop a new engine.
Norton took their 750cc Atlas engine (actually 745cc) and developed a new frame, tipping the engine slightly forward. Top end was increased by utilizing twin Amal carburetors. Bolts holding the powertrain assembly to the main frame passed through rubber buffers in the tubes, isolating the engine from the frame.
Norton Isolastics
Norton's Chief Engineer Bernard Hooper, Dr. Stefan Bauer, and assistant Bob Trigg, devised a system where the engine, gearbox, and swing-arm assembly were bolted together and isolated from the frame by special rubber mountings.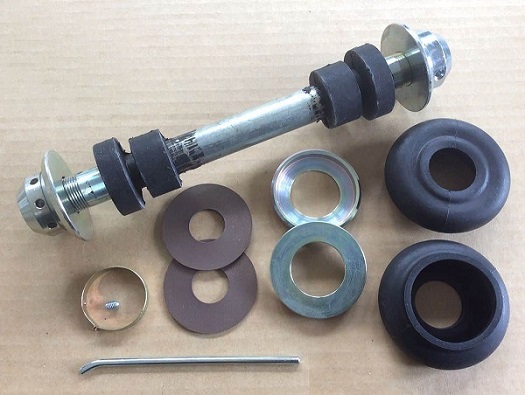 Instead of the engine being rigidly bolted to the frame, it was hung off the main frame, via two cross-frame tubes, one at the front of the engine and one at the rear of the sub-frame. This allowed the engine to "float" on a vertical plane, with lateral movement controlled by shims in the mounts. The suspension system kept the swing-arm true in relation to the engine position.
By isolating the rest of the chassis from vibrations of the engine, it also separated the rider from vibrations of the engine.
750 Norton Commando
The first Commandos rolled off the production line in the spring of 1968.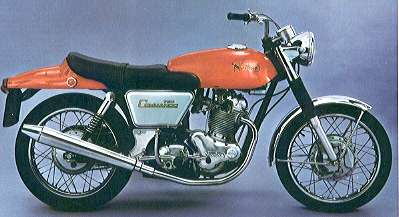 The first Norton Commandos had an engine prefix of 20M3. Ignition points were in a distributor housing and there was an external rev-counter drive. In 1970, ignition points were moved to the timing cover, and the rev-counter drive was now integral. Engine prefixes became 20M3S.
Shortly after the 750cc Commando Mark-1 Fastback was introduced, a second model arrived. This was the 750S, which sported a high-mount left-side exhaust and smaller 2.5 gallon gas tank.
New Models
Subsequent Commando models were essentially the same basic motorcycle, but with different seats, fenders, gas tanks, side panels, and exhaust.
A new updated S model, called the Roadster, featured conventional low exhaust pipes with upward-angled mufflers. September of 1970 saw the introduction of the Commando Fastback Mark II, with a modified stand, chain guard and alloy hand levers.
The Commando Street Scrambler and Hi-Rider appeared in 1971, along with the Fastback Long Range, which featured a larger gas tank.
Commando Hi-Rider
In an attempt to expand their market, Norton rolled out the Hi-Rider in 1971. A variant of the 750 Commando, it featured high handlebars and a "banana" seat with backrest and short sissy-bar at the rear. Also included was a small headlight and small 9-litre (about 2.4 gallons) gas tank.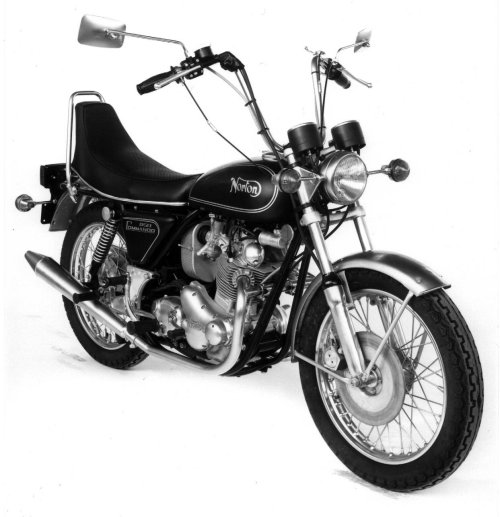 Nearly parodying bicycles of the day, such as the Schwinn Sting-Ray and Raleigh Chopper, themselves parodies of Harley choppers, the Commando Hi-Rider was a product of it's times. Although it stayed in the line-up for several years, sales were low. Curiously, it outlasted the high-pipe S-model.
******************************
Norton Commando Production Racer
Although equipped with lights and fully street legal, the Commando Production Racer was just as it's name implied, a full-on race bike. And with 12 more horsepower over a stock Commando, it was capable of speeds over 130 MPH.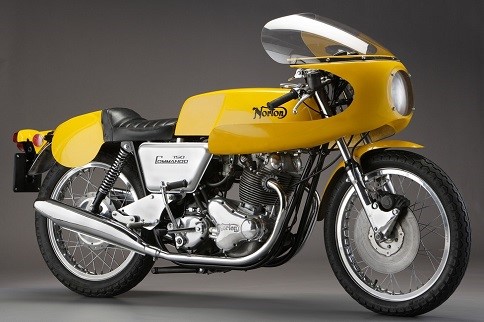 Carrying the nickname "Yellow Peril", Commando Production Racers were offered to the public for one reason--to make it eligible for sanctioned racing. Don't get your hopes up too high trying to find one - less than 200 were built.
******************************
Norton Combat Engine
In 1972, the 'Combat' engine was introduced with the appearance of the Mark-IV Fastback, along with an updated Roadster and the 750 Interstate. The motor delivered 65-horsepower at 6,500 rpm with a 10:1 compression ratio. The first Combat engines were fitted with 32mm carbs.
Main Bearing Problems
Main bearing failures and broken pistons were often encountered with early Combat engines. However, after upgrading main bearings and installing a modified breather, they were more reliable.
******************************
Front Drum to Disc
The twin leading-shoe brake drum up front, which worked well when set up correctly, was replaced by a single disc brake in 1972.
750 Commando MarkV
The last of the 750 series, the MarkV was produced from November 1972 to mid-1973 as a 1973 model. Engine bearings were improved, and compression reduced to 9.4:1, both helping engine reliability. 1973 also saw the Long Range model discontinued.
Increase In Engine Displacement
Production of a larger displacement engine was announced in April of 1973. An increase of bore and stroke, now 77mm x 89mm, displaced 828cc (advertised as 850cc).
All Commando models from 1974 on had the larger 828cc engine. Compression was further reduced to 8.5:1 with the engine now producing 60-horsepower at 5,900 rpm. Although horsepower decreased slightly, increased torque from the larger stroke helped street acceleration. The 750cc cylinder head, well designed and factory-ported, was retained.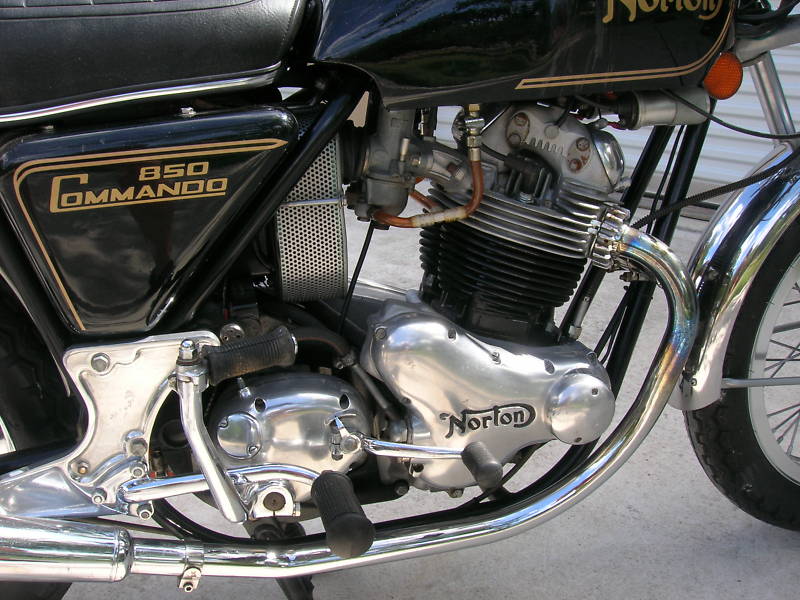 For 1974, the Commando lineup included the Roadster, Hi Rider, and Interstate. These were MkII models and all were fitted with the larger 828cc engine.
******************************
John Player Norton Commando
Introduced in late 1973 and reaching the public in 1974, the John Player Norton (JPN) Commando was available with either the 750cc engine or the 828cc engine. Approximately 200 John Player Norton replicas were produced and all had right-side shifters.
******************************
850 Commando Mark111
Due to popular request, electric start was introduced on the 850 Mark-III Commando. Fortunately the kick-start was retained, as the electric starter was not totally reliable.
_______________________________________________________
_______________________________________________________
For the MarkIII, the Isolastics system was upgraded. A paired-spring rated to carry the weight of the engine and transmission assembly was designed, taking the load off the Isolastics mounts.
Right-Side to Left-Side Shift
In 1975, new federal regulations required all motorcycles sold in America to have left-side shift and right-side brake controls. The Commando's two main competitor's bikes, the Triumph Bonneville and Harley-Davidson Sportster, also switched from right to left-side shift.
Other changes this year saw a rear disc brake replace the previous rear drum brake, a higher output generator and a new hinged lockable seat. The air filter box and exhaust were changed to meet U.S. requirements, and ignition key was relocated from left side of bike to top fork yoke.
With weight increasing to 460 pounds, 1975 models were reduced to two; the MarkIII Interstate and the Roadster. These two models remained unchanged for 1976.
Last Year Norton Commando
1976 was the last full production year of the original Norton Commando. After the year was over, remaining bikes were distributed to dealers as requested, and sold as 1977 models. Public records show that 30 units were sold in 1978, but these were actually "leftovers".
It is estimated that just 1,200 bikes were sold in 1976 and 1977.
In all, approximately 55,000 original Norton Commandos were built.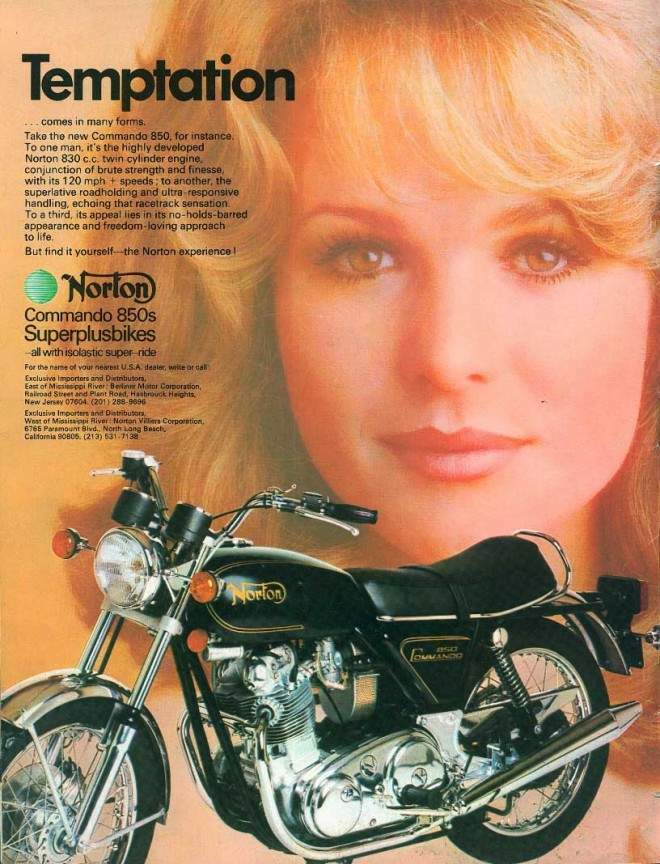 ******************************
Machine Of The Year
It's an honor for any motorcycle to be voted Britain's 'Machine of the Year'. The Norton Commando won it five consecutive times; 1668, 1969, 1970, 1971, and 1972.
Norton Commando Performance
In the March 1970 issue of Cycle magazine, tests were made on all then-current super bikes. Of the seven bikes tested, a Norton Commando-SS ran the quarter-mile fastest, at 12.69 seconds. The Honda CB750 stopped more quickly, but the Norton was faster.
Norton Commando Problems
Although the Norton parallel-twin engine was reliable and well-engineered, the bike's electrics were suspect and accounted for a fair amount of breakdowns. It was not uncommon for electric-only Commando owners to resort to push-starting their machines.
The Isolastics anti-vibration system, while reducing vibration, needed regular maintenance. It certainly reduced vibration, provided the required free play in the engine mountings was at the correct level. Too little play brought the vibration back and could crack the frame, and too much play brought handling issues, particularly fishtailing in high-speed turns.
On the final (Mark-111) Commandos, adjustment was made easier, and a conversion to the later Isolastics is available for earlier models.
Norton Commando Value
An original Norton Commando is one of the most prized bikes in today's classic motorcycle market. It has both excellent performance and good parts availability. Over the years, it has remained one of the most desirable classic British bikes. Many will argue it was the best.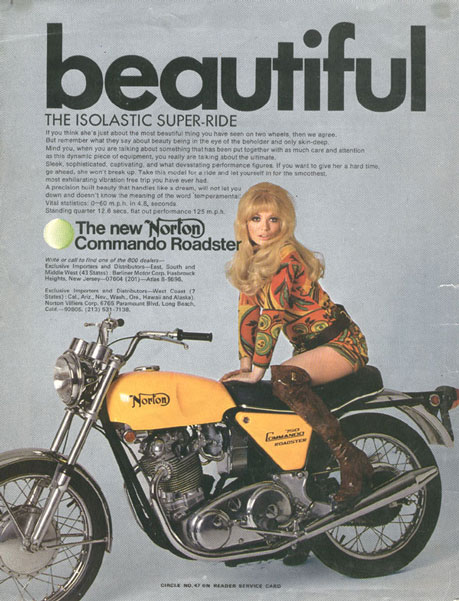 Commando owners in general don't seem to be obsessed with originality as are some other marque's. Examples with sensible modifications often sell as much as 100% original machines.
***************************
SAE vs Whitworth Hardware
Many British motorcycles, including Norton, continued using Whitworth-sized nuts and bolts into the 1970's. To make things confusing, some models have a combination of SAE (American) and Whitworth nuts and bolts. To compound this problem, previous owners have likely changed (or damaged) some of the original hardware while removing them.
If you don't own them already, consider investing in a set of Whitworth tools for your classic British motorcycle.
************************
In 1973, Norton-Villiers merged with ailing Triumph, calling themselves Norton-Villiers-Triumph (NVT). In 1975, NVT went into receivership, and carried on for several more years, but was never able to rebound. The company was eventually liquidated in 1978.
In the past few decades, many component updates and improvements have been offered for the Norton Commando, as well as modern versions of this classic British motorcycle.
Norvil Motorcycle Company
Among several outfits who cater to the Commando crowd is the Norvil Motorcycle Company. British-owned and family-run, they have manufactured genuine Norton spares and will ship anywhere in the world. They have also produced complete motorcycles, which they did not offer worldwide shopping. The company has been in business since 1980 and has acquired some Norton trademarks, including the hybrid name 'Norvil'.
Norton Vintage Rebuilds
Based in Portland, Oregon, Kenny Dreer's Vintage Rebuilds started restoring and upgrading Norton Commandos in 1995. Since then, the company has started producing complete motorcycles.
In the early 2000's, production of the all-new Commando 961-SS began.
Colorado Norton Works
In 1997, Colorado Norton Works began taking old Commandos and addressing their shortcomings. They began developing parts and making modifications to improve the original bike. These upgrades include the engine, brakes, and suspension.
Norton Motorcycles LTD
Norton Motorcycles (UK) Ltd, established a new factory at Donington Park, Leicestershire in 2008 to manufacture a new Commando model, designed by Simon Skinner. In March 2010, they began production of a new Norton Commando, model 961-SE.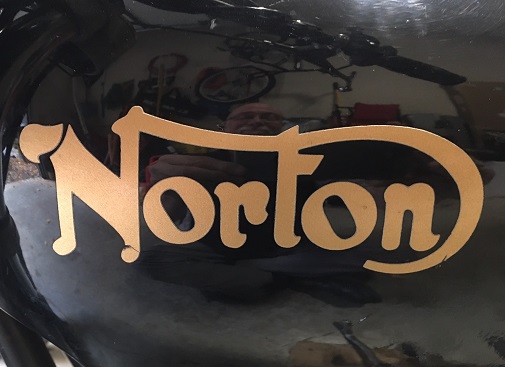 **************************
Owning/restoring a Norton Commando has several advantages over other classic motorcycles. Not only are parts still available, they are nearly all still available as factory pieces. And there are plenty of modern upgrades as well.
************************
Factory Despatch Records
Andover Norton in the UK has most, but not all, original records from Norton. For a small fee, they will extract information from the original factory despatch records, and send you a copy on letter headed paper.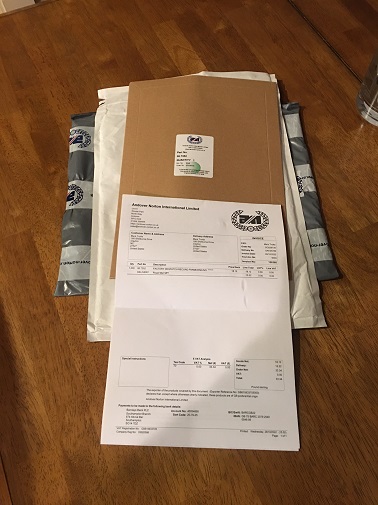 ************************
Clubs and Organizations:
Related Articles: