Vintage British Motorcycles
Article by Mark Trotta
British motorcycle production goes back to 1896 with the Excelsior Motor Company. Other early motorcycle companies from England include Royal Enfield (1901), Norton (1902), Triumph (1902), and BSA (1910).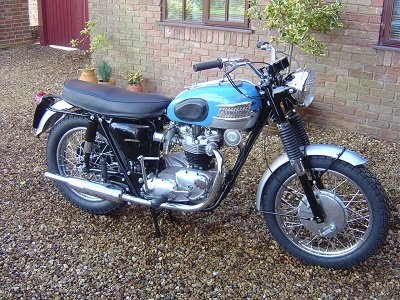 Early Norton Motorcycles
James L. Norton began building motorized bicycles in 1902, followed by V-twin models, and then side-valve, OHV and OHC singles. Following World War II, Bert Hopwood engineered the first Norton twin, the 497cc Model 7. For 1960, Norton introduced an all-new engine 650cc twin, and soon after the larger-bored 750cc Atlas (produced 1962 through 1968).
Triumph Parallel Twin
Designed by Edward Turner, the two-cylinder Triumph "Speed Twin" was introduced in 1937. The 500cc parallel twin developed 27-horsepower, making bikes capable of 90 mph. Engine displacement increased to 650cc in 1950.
The parallel-twin design was an instant success, and would prove to be the definitive British bike engine.
Early Triumph Speed Twins featured girder front forks with no rear suspension. By 1946, telescopic forks were standard equipment, with sprung-hub rear suspension optional.
_______________________________________________________
_______________________________________________________
War Years
BSA built 126,000 M20s motorcycles during the War years, making it the most-produced motorcycle of World War II.
Between 1937 and 1945, Norton manufactured nearly 100,000 motorcycles for the British military, allowing the company to endure the war.
The original factory of the Triumph Cycle Company Ltd. was located in Coventry, England, until WW2 bombing destroyed it in 1940. After the war, the company began producing motorcycles in Meriden, England, and would continue to do so until 1983.
Throughout the 1940's and 1950's, British bikes dominated motorcycle performance and racing venues.
Vincent Black Shadow
Produced from 1948 to 1955, the Vincent Black Shadow was the super-bike of its day. Each and every one was hand-built and used the highest quality materials. Fewer than 1,700 Black Shadows were produced.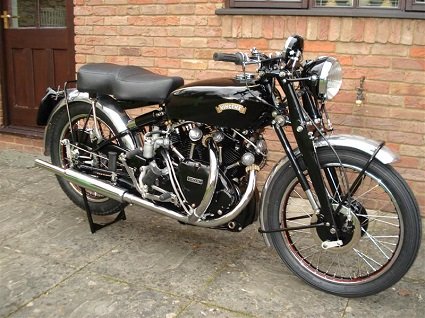 Triumph Engineering Co Ltd
Not only was Triumph the sales leader among British motorcycle brands, they often led the way in performance as well. After 1950, more Triumphs would be sold in the USA than in any other country, including Britain. To better serve U.S. markets, Triumph set up a distributing company in Maryland in 1951.
BSA/Triumph Merge
The BSA (Birmingham Small Arms Company) Group purchased Triumph Motorcycles in 1951 and become the largest producer of motorcycles in the world at that time. During the fifties and sixties, the motorcycle industry was Britain's third largest market.
**********************
"The Wild One" Movie
Filmed in 1953, "The Wild One" starred Marlon Brando riding a 1950 Triumph Thunderbird 6T. The movie also starred Lee Marvin riding a Harley-Davidson. Loosely based on a real events, the movie was mostly fictitious.
Because of its brutality and sadism (for the time), the film was banned by the British Board of Film Censors until 1967. Many Triumph importers objected to the use of Triumph motorcycles in the film.
**********************
Triumph Tiger Cub
Also designed by Edward Turner, the 200cc single-cylinder Triumph Tiger Cub debuted in November 1953. The first version of the Cub (1954-1956) had a plunger rear suspension frame. Later models (1957-1968) were updated with a rear swing-arm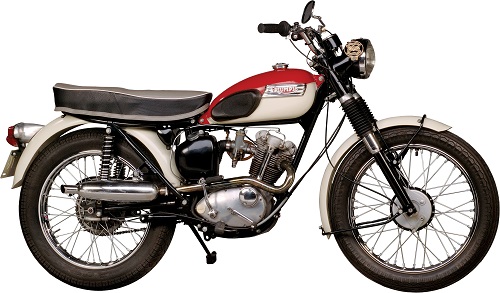 In 1961, driving license regulations in Great Britain changed. By restricting learner motorcyclists to a maximum of 250cc, the Tiger Cub became one of the best selling small bikes.
Triumph Scooters
During the fifties and sixties, Triumph and BSA also sold motor scooters. The Triumph Tigress scooter was also sold as the BSA Sunbeam. Differences between the two were purely cosmetic.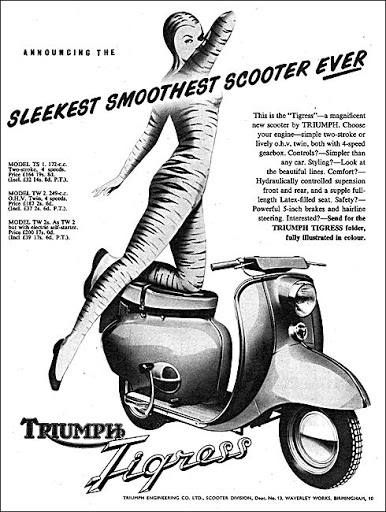 **********************
World's Fastest Motorcycle
Running on a mixture of 80 percent methanol and 20 percent nitro methane, U.S. native Johnny Allen set a new motorcycle speed record of 214.40 mph at the Bonneville Salt Flats in 1956. His 15-foot-long streamliner was powered by a heavily modified Triumph 650, fed through twin 1-3/8" Amal GP carburetors, and producing between 80-100 horsepower.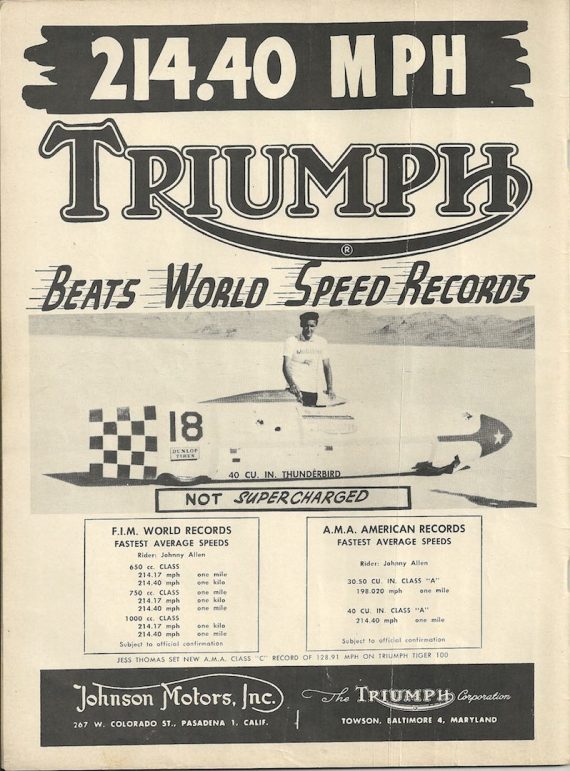 Triumph held the title of "World's Fastest Motorcycle" from 1955 to 1970.
**********************
Triumph Bonneville
The original Triumph Bonneville's were built from 1959 to 1983. Manufactured in three generations over three separate production runs, it is the best-selling British-twin of all time.
Super Bikes
The multi-cylinder motorcycle years started in 1968 with the three-cylinder Triumph Trident. Soon after, Japanese manufacturers were producing faster, cheaper, and more reliable motorcycles, severely cutting into the sales of both British and American-made bikes.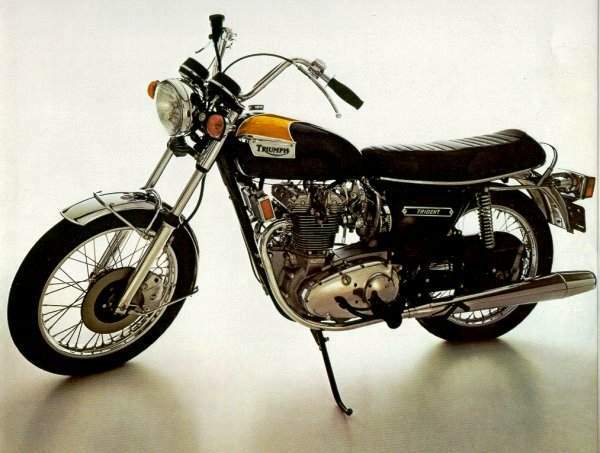 Norton Commando
Utilizing the existing Atlas engine with a new frame, Norton began production of the 750cc Commando in 1968. An increase of displacement to 828cc was seen for the 1974 models, and that was to be the last of the original Norton parallel-twin machines.
From 1968 until the demise of the company in 1977, the Commando was the main bike in Norton's lineup. The last Norton Commando rolled off the line in 1976 with a few unsold units being re-titled as 1977 models.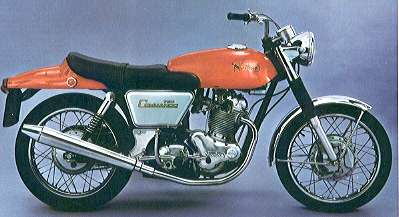 The Triumph Company suffered terrible financial losses by 1971. With their government intervening, they merged with ailing Norton, who had recently merged with Villiers. The new company, calling themselves Norton-Villiers-Triumph (NVT), carried on for several more years, but was never able to rebound.
_______________________________________________________
_______________________________________________________
By 1976, both Triumph and BSA were gone. NVT Engineering Ltd. closed in 1976. Triumph motorcycles would go back into production in 1983.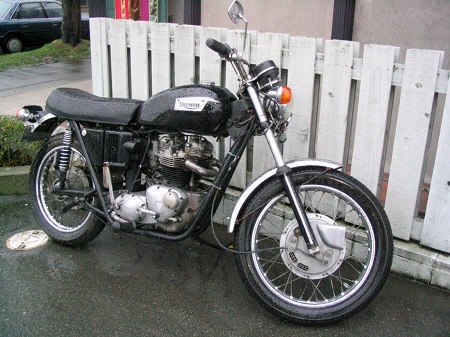 Future Classic
The Steve McQueen Triumph is inspired by the Trophy TR6 from "The Great Escape" movie, and features a military-style Matte Khaki-Green finish, stencil-style Triumph decal on the tank and the actor's signature on the side covers.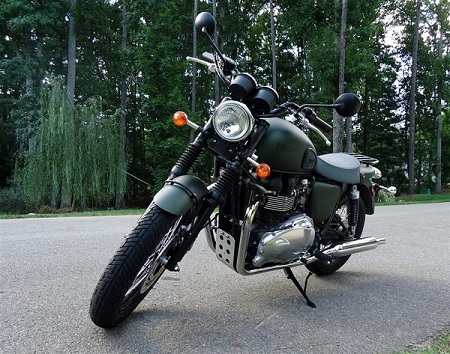 Beginning in April of 2012, 1,100 Steve Mcqueen Special Edition Triumphs were produced and sold worldwide. Each motorcycle is individually numbered with a plaque placed on the handlebar clamp, with owners receiving a certificate of authenticity.
**********************
Norton Resurgence
In 1978, Dennis Poore acquired the remaining assets to form Norton Motors Ltd. Once back in business, they began building small numbers of rotary-powered Interpol 2 motorcycles to British police forces. After Poore died in 1987, Phillipe LeRoux acquired Norton and formed the Norton Group PLC.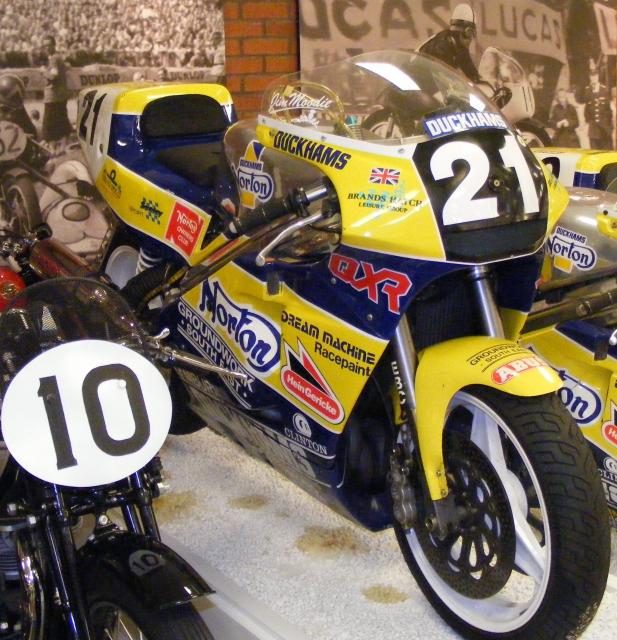 Produced through the 1989 to 1994 racing seasons, the Norton RCW588 racing motorcycle was powered by a liquid-cooled twin-rotor Wankel engine. The capacity of 588cc was to comply with FIM rules, allowing Norton to enter the 500 Grand Prix premier racing class in 1990. For about a decade, Norton produced very few (less than 1,000) rotary-powered motorcycles. The Norton F1 is the street version of the RCW588 race bike.
By 1992, with the company over $12 million in debt, Norton was once again out of business.
Owning/restoring an original Norton Commando has several advantages over other classic British motorcycles. Not only are parts still available, they are nearly all still available as factory pieces. And there are plenty of modern upgrades as well.
**********************
Whitworth Tools
Vintage British motorcycles were assembled from the factory with Whitworth-sized nuts and bolts. These are often confused for, and not the same as, fractional or metric sizes. This is why so many old British bikes have rounded-off nuts and bolts.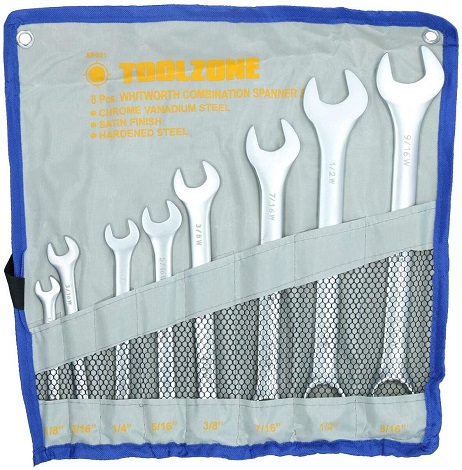 Many British motorcycles continued using Whitworth sizing into the late sixties, and to make things more confusing, some seventies British bikes had a combination of sizings. Consider investing in a set of Whitworth tools for your vintage British motorcycle project.
**********************
Positive Ground Electrical System
Over the years, vintage British motorcycles have had a reputation for having bad electrical systems. Truth is, the stock ignition system works well when set up properly.
There was always a mystique about positive-ground bikes and there shouldn't be. The best way to diagnose a positive-ground system is to simply reverse any diagnostic procedure you would normally used on a negative-ground system. For example, instead of starting on the positive side of the battery and following the current that way, start at the negative side of the battery and follow the current the other way.
**********************
Related Articles: