Triumph Bonneville History (1959-1983)
Article by Mark Trotta
Named after the location of countless land speed records, the Triumph Bonneville was introduced in 1958, with production starting a year later. Since that time, it has been manufactured in three generations over three separate production runs.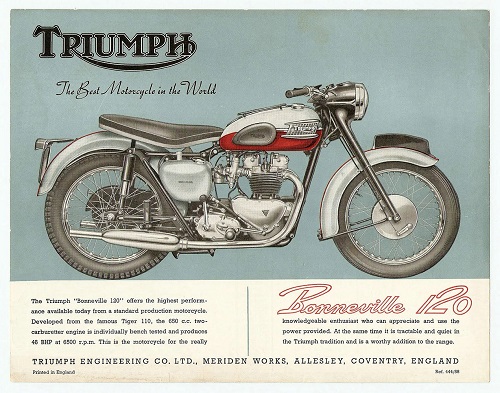 The Bonneville was, and still is, the best-selling British-twin of all time.
Triumph Parallel Twin
Triumph began production of the 500cc Parallel Twin engine in 1937. The two-cylinder, air-cooled OHV motor was an instant success, and would prove to be the definitive British bike engine. In 1950, engine displacement increased from 500cc to 650cc.
_________________________________________________
_________________________________________________
In 1956, an alloy cylinder head replaced the cast iron head, and featured bigger valves, better flow, and better cooling. It also allowed for higher compressions to be run. The new "Delta" alloy head was originally designed for a single carburetor, but a two-carb version was not far away.
Pre-Unit Bonneville (1959-1962)
Like the existing Tiger T110 model it was based on, the Bonneville T120 was powered by a 650cc parallel-twin, but with two carburetors instead of one. Along with the pair of 1-3/16" Amal Monobloc carburetors, a high-performance camshaft was fitted. This extra power was enough to overwhelm the old duplex chassis, and in 1960 the Bonneville received a new twin-cradle frame.
Triumph Bonneville's built from 1959 to 1962 had a separate engine and transmission. The crankcase, primary case and transmission were all separate components bolted together with brackets in the frame. These early "pre-unit" Bonneville's were capable of 115 mph in stock trim.
Unit-Construction Bonneville (1963-1970)
In 1963, Triumph's 650cc models (Bonneville, Thunderbird and Trophy) switched to unit construction. This made the bike lighter, stiffer, and more compact, and allowed Triumph to pull even more power out of the Bonneville.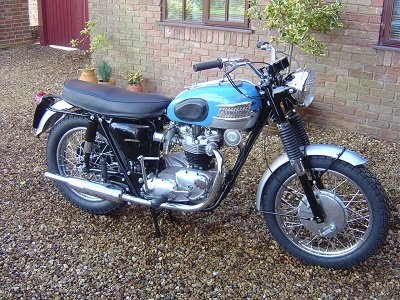 Also in 1963, a battery/coil ignition replaced the magneto-style ignition. A year later, the Bonneville went from 6 to 12 volts, and also received upgraded front forks.
************************
Bonneville Competition Model
Serving as a platform for TT racing, desert racing, scrambles or drag racing, the Bonneville Competition TT model was produced in very limited numbers from 1963 to 1968. Concieved and marketed for the U.S. only, buyers could choose from any of several engine and drive options.
For more information on the Bonneville TT Special click here.
************************
Oil-In-Frame Bonneville (1971-1983)
In 1971, Triumph 650 models received a new frame which held the oil inside its backbone, rather than in a separate oil tank. Along with the new frame were new front forks, wheels, brakes, and exhaust pipes.
The new "Oil-Bearing Frame" Bonneville was not well-received, and initially did not sell well. One problem was the drain-pipe of the backbone that was supposed to be filled with oil, could only be filled halfway because of foaming problems. This led to many being filled little more than halfway, creating an inadequate oil supply.
_________________________________________________
_________________________________________________
Another problem with the OIF (oil-in-frame) Bonneville was that it raised the seat height. This made early examples uncomfortably tall for shorter riders.
Are OIF Bonnevilles Bad?
Some people will shy away from OIF Bonnevilles, largely because of internet banter and misinformation. But if you ask those who own and ride them, they'll point out that the frames are stronger and stiffer, which equates to a better handling motorcycle.
1972 Triumph Bonneville
Because of consumer complaints, the seat height was lowered. Late in 1972, the Bonneville was upgraded with a five-speed transmission, first as an option, then as standard equipment.
1973 Triumph Bonneville
Despite the company's growing financial problems, the 650cc was enlarged to 750cc, and featured a new ten-bolt cylinder head. The Bonneville model designation was changed from T120 to T140. Front disc brakes also appeared in 1973.
************************
Company Troubles
After the Norton-Villiers company merged with ailing Triumph (forming Norton-Villiers-Triumph), newly appointed chairman Dennis Poore announced the closure of Meriden Works, to be effective February, 1974. Of the 4,500 employees, 3,000 were to be let go. This started an 18-month employee strike and the closing of the Meriden factory. The strike was temporarily lifted in mid-1974, but after talks broke down, the strike resumed in October.
************************
1974 Triumph Bonneville
With production halted early in model year due to employee shut-down, very few Bonneville's were produced in 1974. They were essentially the same as 1973 models.
Bonneville production continued in 1975 after workers formed a "co-op" to keep the Meriden factory going. After the Triumph Trident was discontinued in 1975, the only motorcycle built at Meriden was the T140 Bonneville.
Right-Side to Left-Side Shift
In 1975, federal regulations required all motorcycles sold in America to have standardized left-side shift and right-side brake controls. Of course Triumph complied with this, as did Bonneville's main competitors, the Norton Commando and Harley-Davidson Sportster.
Although this was a tough time in Triumph Bonneville history, it continued to be a great motorcycle. When fitted with the five-speed transmission and front disc brake, it was quick, well-mannered, and had decent long-distance comfort.
A rear disc brake arrived in 1976, improving braking. One year later, a Limited Edition Special called the Triumph T140VJ Bonneville Silver Jubilee helped sales, although briefly.
_________________________________________________
_________________________________________________
New cylinder heads and improved Amal MkII carbs were fitted in 1978, and a year later electronic ignition is introduced. 1979 saw the arrival of the T140D Bonneville Special with Lester alloy wheels, siamesed exhaust and blacked-out engine. Negative-ground electrics and a new alternator were added in anticipation of an electric starter.
Electric-Start Bonneville
The Bonneville finally got an electric starter, along with a re-designed timing cover. The 1980 ES model was the first to feature electric start, followed by the Executive model (with hard bags). A minor change saw the rear brake caliper now located above the rear swing-arm.
Triumph Bonneville Royal Limited Edition
Built to commemorate the British royal wedding of Prince Charles and Lady Diana, the T140LE Royal Wedding was essentially an effort to increase sales. The the new model featured alloy wheels and chrome gas tank, and was built in very low numbers.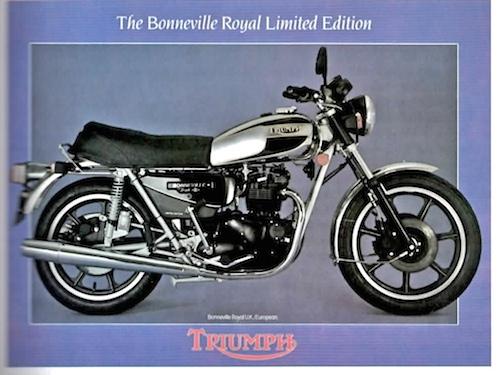 Bonneville T140W TSS
Non-Triumph engineering firms like Rickman and Westlake had been working on new cylinder heads for the 750cc engine. Triumph adapted a version of the Westlake setup and offered it as the Bonneville TSS. The four-valve-per-cylinder head boosted output to 58 horsepower.
The alloy, 8-valve engine, based on the Westlake head, was offered with an optional rubber-mounted frame. Between 1982 and 1983, less than 500 Bonneville TSS models were built. Of these, only 112 were imported to the United States.
Bonneville TSX
Also produced in 1982-1983, the TSX custom model featured alloy wheels and high bars. Reports show just 371 were produced; 200 shipped to America, 100 stayed in Britain and 71 went to other countries.
Final first-series Bonnevilles were the TSX and rubber-mounted TSS, both with the 8-valve engine. A 16" rear wheel and decals were added to the TSX Custom.
************************
Second-Series Bonneville
In 1984, the ailing Triumph motorcycle company was bought by businessman John Bloor, who along with engineer Les Harris, continued Bonneville production at their Newton Abbot factory. Reports show about 1,300 "second-series" Triumph Bonnevilles were built from 1985 through 1988.
Third-Series Bonneville
In 2001, a third series began production in Hinckley, Leicestershire. The styling is classic, but underneath the retro paint and chrome is a completely modern machine.
************************
Related Articles: