Classic Motorcycle Resources
Motorcycle riding gives you a special connection with the world. You feel the wind in your face, smell your surroundings, and hear the sound of your engine below. Maintaining your classic bike is best way to ensure every ride you take will be safe and enjoyable.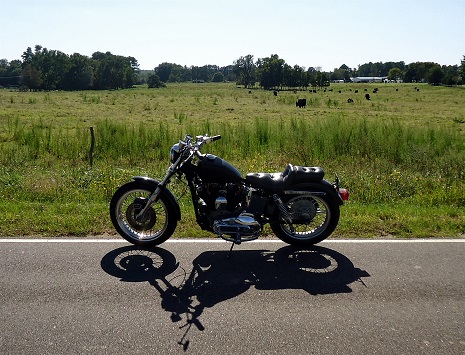 If you're a classic bike rider driving on today's roads, it's a good idea to have complete vehicle insurance. Get a quote from Hagerty. Note: You may have to have a "daily" motorcycle registered and insured to be eligible for classic insurance.
Motorcycle Accident Legal Help - Approximately two-thirds of all motorcycle accidents are caused by drivers of other vehicles. Motorcycles are smaller and harder to see than other vehicles, and drivers that do not have motorcycle awareness will not be on the lookout for motorcycles. Motorcycle usage is increasing, and having motorcycle awareness can save lives.
Need a magnetic sign for your car, truck, or van to represent your company? Removable and re-positionable magnetic signs are the easy solution. Find them at Buildasign.com. Available in .030" or premium .045" magnetic material.
Motorcycle Tools and Supplies
Before you buy a motorcycle lift table, consider where you will store it - they take up quite a bit of floor space. Some riders park their motorcycle on the lift when it's down.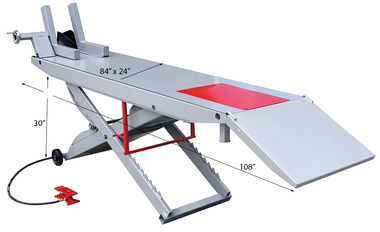 When I ride with proper safety gear, I feel safe. And when I feel safe, I enjoy the ride better. What you're wearing while you ride separates the real riders from the posers.
The best motorcycle helmet in the world is worthless if it doesn't fit you right. You may find a less expensive helmet that fits better than one costing twice as much. It's all about the fit.
Zoro Tools and Supplies - An easy-to-use website that can help you find tools and supplies. Thousands of products available for the auto mechanic and body shop technician. Hand tools, vehicle-specific repair tools, motorcycle tools, and automotive shop equipment.
Other sources for motorcycle tools include Eastern Motorcycle Supply, Jims Tools, Kent-Moore and Harley-Davidson. Kent-Moore may no longer sell direct, and many H-D dealers may not sell them to you. Thank goodness we have the internet.
Ride Safe - Always Look Twice
Kaiser Willys Auto Supply is an old Jeep parts company that sells Servi-car brake parts.
Gearheads Only
MotorMouthRadio - If you like cars and like to laugh, dial in Chris and Joe's automotive talk show, live Sundays and Thursdays from noon to one. Listen Livestream or download the shows and listen to them anytime! (WHPC 90.3 FM Garden City, Long Island)
Classic Car History - Articles, pictures, and information on classic sports cars, muscle cars, pony cars, and classic and vintage trucks.
Plan Right and Get Started - Aside from having a love for old iron, you must have patience, time, space and money to complete any car, truck, or motorcycle project. This article offers tips on how to find and buy a suitable project, make a plan, and see it through to completion.
Here are some articles I have written that appear on other sites:
My E-Book
I've written an E-book called "Finish Your Project Car". It offers practical tips to help get you on track and keep you on track with your garage project. Topics include planning, ordering parts, overcoming obstacles, and staying motivated.