DIY vs Machine Shop
Should you farm out your engine work to a local shop or do it yourself? If you have past mechanical experience and are willing to devote the time and invest in tools, rebuilding a motorcycle engine yourself may be the better choice.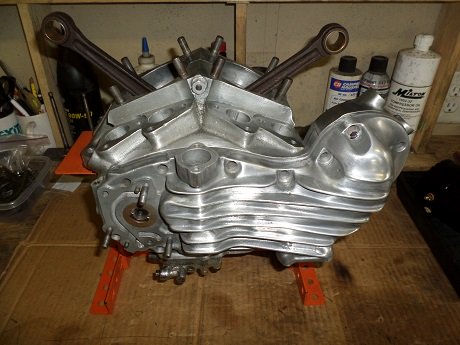 In the past, I have paid machine shops to do work because I didn't yet have the tools or knowledge to do it myself. But, as the years roll on, I pick up new skills, I learn more, and I understand more. I like to control the entire rebuild process from start to finish.
Shipping A Motorcycle Engine
There will always be shops that work on vintage bikes, I'm sure there's dozens of reputable shops in the U.S. alone. But will they be in driving distance of your home?
The shop that I have known and trusted for 20 years is now five states away, and shipping the cases with (heavy) flywheels would be expensive. It also exposes parts to damage if not packed and shipped properly.
Why I Don't Like Machine Shops
Machining costs always seem reasonable at first, but are likely to change. They may quote you low to get the job in the shop, then sell you other services along the way. Some of this is honest but some of it is not.
Consider their precision tools that a machine shop uses day in and day out, are they ever checked and recalibrated? The difference of a thousandth of an inch on lower-end clearance is crucial. It could mean the difference between a 50k mile engine or a 10k mile engine.
Motorcycle Engine Tools
The money you save by doing it yourself gives you a bigger budget to buy tools you need, and rebuilding a motorcycle engine will require specialty tools. If you don't have the required tools, you can buy them new or used, but many of them you can make yourself. Depending on how creative you are, many can be fabricated. Here's a few of the tools I've made to keep my old bikes on the road.
I've heard of more than a few riders that have had negative (and expensive) dealings outsourcing their engine work. So, if you find a shop that you think will be reputable, dependable, reasonably priced, and familiar with vintage engines, here's a few suggestions:
If you don't know of anyone who's used their services, read online reviews about them.
Make sure you specify everything that you need to have done, and leave no room for interpretation.
Don't assume anything - get all service work to be performed in writing BEFORE starting.
Remember that "professional" is NOT a skill level, it only indicates compensation.
Rebuilding a classic motorcycle engine should be enjoyable, but can (and often does) become long and complex. With so many variables in play there's always a chance that things may not go as planned. But if you get stuck, there's countless forums and internet videos to help you get back on track.
Is rebuilding a motorcycle engine something that can be done in your home garage? Of course, but results will vary. One thing is for sure - your results will likely be better than a machinist who doesn't care.