Classic Mini-Bike Build
Although minibikes were first seen in the 1940s, it wasn't until the go-kart craze of the 1960s that brought the minibike back into vogue. As with karts, the list of manufacturers grew quickly, including brands such as Rupp, Rutland, Fox, Lil Indian, Cat, and others.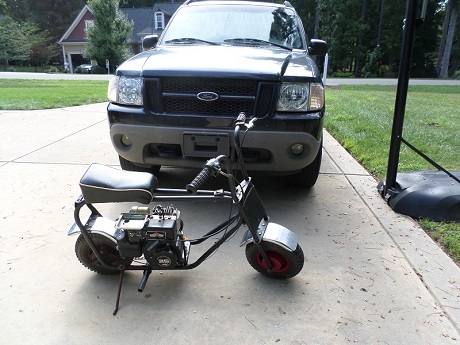 Seeing the popularity of mini-bikes soar, motorcycle manufacturers such as Honda and Harley-Davidson were quick to jump on the bandwagon.
Over the last few decades, vintage mini-bikes have become increasingly sought-after by both collectors and enthusiasts. Today, they are prized collectibles, with desirable models in excellent condition exchanging hands in the $2,000 - $3,000 range.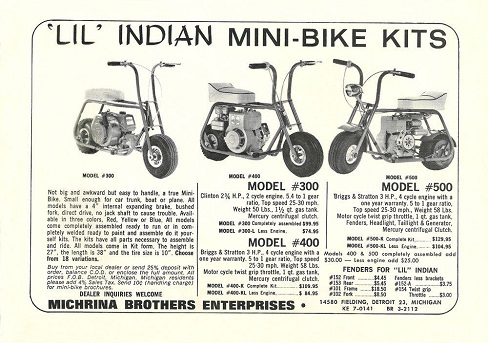 The majority of early minibikes were originally fitted with either Briggs or Tecumseh four-cycle engines. These old flathead motors are durable, reliable and easy to repair. Many of them are still running today.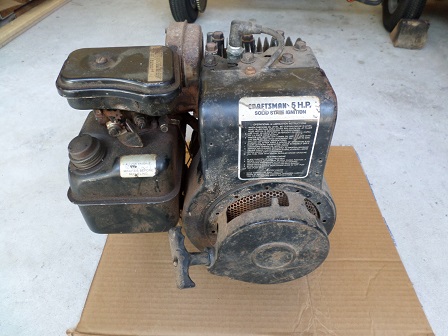 Factory Minibikes
Factory minibikes from the 1960s and 1970s are very collectible. Honda, Kawasaki, Suzuki, Yamaha, and others all marketed a minibike, as did Harley-Davidson for several years.
The Shortster
The Harley-Davidson Shortster (MC-65) was available for 1972 only. Powered by a 65cc two-stroke engine, front suspension was telescopic (not oil dampened) with a swing-arm and twin shocks in the rear. Wheels were 10 inch, with a three-speed gearbox shifted by the rider's left foot. These Italian-made (Aermacchi) machines were offered in three colors: yellow, red, and blue.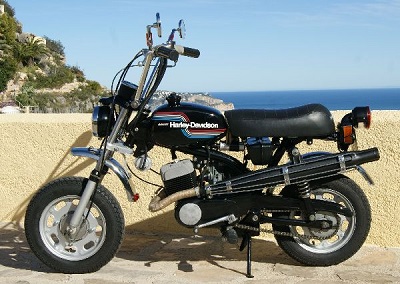 Replacing the Shortster in 1973 was the Harley-Davidson X-90 (also manufactured by Aermacchi). It was basically the same bike with an upgrade to four-speed gearbox. Harley offered the X-90 from 1973 to 1975.
Honda CT-70
One of the most sought after factory minibikes today is the Honda CT70. Produced from 1969 through 1994, the CT70 featured folding handlebars and a compact, monocoque chassis with it's fuel tank under the seat.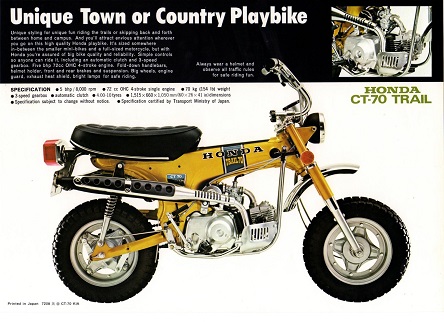 First year Honda CT70's had no rear suspension, but Honda added a swing-arm and shock absorbers a few years later. Early models had two transmission choices, either a centrifugal clutch three-speed or a manual shift four-speed. After the four-speed was discontinued, only three-speed models were available, making the four-speed models more valuable.
Vintage Scooters
From 1936 through 1965, Cushman Motor Works produced many styles and sizes of motor scooters. They were powered by several different kinds of engines through those years, but most commonly a five-horsepower single-cylinder four-stroke.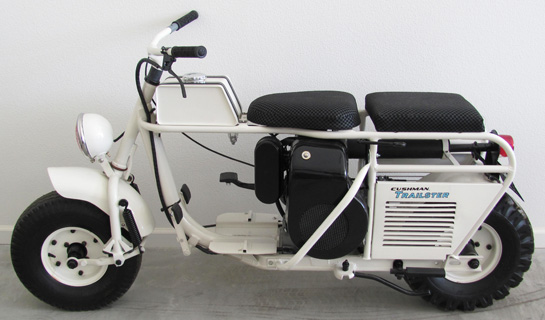 Cushman models include the Cub, Husky, Super Husky, Eagle, Silver Eagle and the Super Eagle. For several years, Sears-Roebuck sold their own version of a Cushman scooter under the Allstate brand.
Harley-Davidson Topper
Harley-Davidson produced the Topper scooter from 1961-1965. The front body, front fender and floorboards were steel, and the engine cover and body was fiberglass. Powering the Topper was a 165cc single-cylinder two-stroke engine mounted horizontally between the floorboards.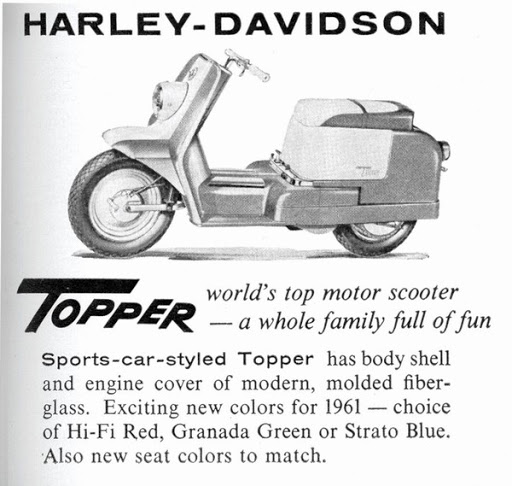 Chances of finding a Harley Topper project scooter today are not very good. It's estimated that fewer than 3,000 were sold.