Classic Mini-bike Build
Over the last few decades, vintage mini-bikes have become increasingly sought-after by both collectors and enthusiasts. Manufacturers of old mini-bikes include Rupp, Cat, Bonanza, Lil Indian, Ruttman, and Fox. This little gem is a Western Flyer model SS-300, which featured a spring front suspension.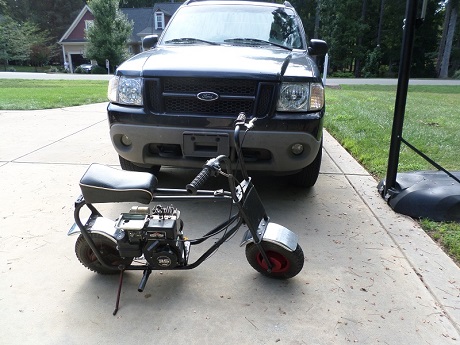 Several years ago, I bought this mini-bike not running. It had a frozen clutch, rusted chain, and no brake. All of these were simple and cheap to repair.
Western Flyer Mini-Bike
This bike is indeed mini. Only 48" long and 32" to the top of the handlebars. Although Western Flyer mini-bikes were originally powered by Tecumseh engines, this one had a Briggs & Stratton 3.5 hp engine when I bought it. The spring front suspension sits below the front steering tube. It doesn't really do much, but it looks good!
Small Engine Repair
If you've ever worked on a car or motorcycle engine, it's an absolute joy to work on a small gas engine. The majority of old mini-bikes and go-karts were originally fitted with either Briggs or Tecumseh four-cycle engines. These old flathead motors are durable, reliable and easy to repair. If you don't have a motorcycle work stand you can prop up the bike on a thick block of wood.
3.5HP Briggs & Stratton Engine
In 1953, Briggs & Stratton revolutionized the Lawn and Garden Industry by developing the first lightweight aluminum engine. Lighter and less expensive than their cast iron counterparts, these engines made lawn and garden equipment accessible to the masses of post-WW2 Americans moving to the nation's new suburbs.
It didn't take much to get this engine running again. Basically it involved removing the gas tank/carb unit, disassembling and cleaning, then reassembling with new gaskets. I also drained the old oil and added fresh 10/30W.
Remove/Install Chain
Rather than replace the chain, I soaked it in motor oil for about a week then scrubbed it with a brush. It was a little messy, but it saved me the cost of a new chain.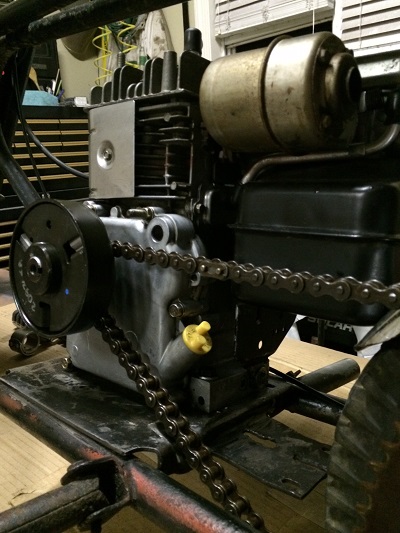 Remove/Install Clutch
After spraying down with WD-40, I took out the set-screw from the old clutch and removed the unit with a three-jaw puller. I lightly scuffed the shaft with fine Emory cloth, applied a dot of anti-seize, and installed the new clutch. It's a 10-tooth for a 3/4" shaft, made by Comet Industries.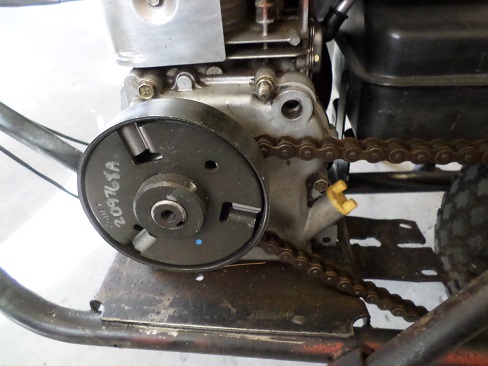 Throttle Cable
Because of the Tecumseh to Briggs engine swap, the throttle cable had been rigged by a previous owner. The exact method to attach a cable to an engine depends on the engine type and style. I fabricated a new linkage with some 1/8" welding rod, which allowed a better way to run the throttle cable. Lubricate the cable as needed and keep it out of the rain.
Mini-bike Rear Brake
Before I could ride my old mini-bike, I needed to have a working brake. The rear band brake needed a new cable, so I salvaged one from an old bicycle. I cut off the frayed end of the cable with a small Dremel, then trimmed the outer casing to the needed length. Lubricate the inner cable lightly with oil before installing.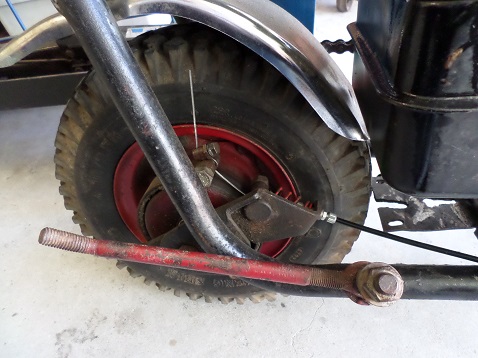 Kill Switch
When purchased, the mini-bike had a frame-mounted on/off switch. I replaced it with a momentary-off button on the right handlebar. (On magneto-powered small engines, the ignition is always on).
Effects Of Ethanol Gas
Ethanol is used in today's gasoline as an additive, and E10 gasoline today contains roughly 10% ethanol. Ethanol has a shorter shelf life and a shorter tank life than gasoline, and can begin to break down in as little as three weeks. Another problem with ethanol is that it attracts water and "breaks down" faster than gasoline.
Ethanol is the same type of alcohol that is found in an alcoholic drink, which works somewhat like a cleaning agent. It also increases vapor pressure in gas, which may cause vapor lock in the carburetor. These issues are not so bad with daily transportation vehicles, but with small engines they are problematic.
Make sure to store your gasoline properly and try to use it in a timely fashion. Use a product like Sta-bil and add it as directed to the gas. This will help prolong the life of the gas and keep it from harming your small engine.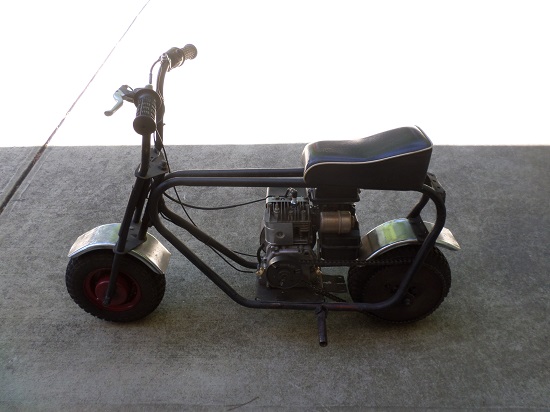 It's All About The Smiles
Classic mini-bikes can go up to 25 miles an hour, so be careful when you ride one. When riding, be a good influence to the younger kids. Wear a helmet and obey traffic signs.