Hardtail Sportster Build
Article by Mark Trotta
This article covers the five phases that my 1972 Harley Sportster went through in the 13 years I owned it. The bike went from stock, to several carnations in a hardtail frame, then back to stock again.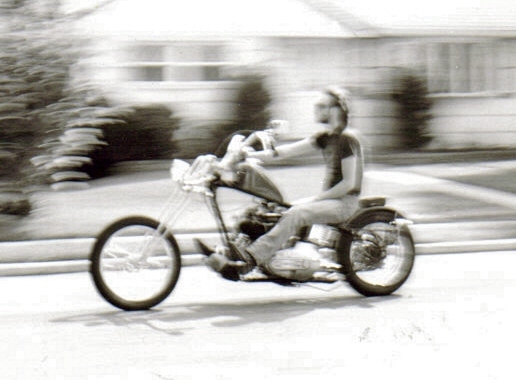 1972 Sportster - Phase One
This was my first motorcycle, a 1972 Harley-Davidson Sportster XLCH, which I bought wrecked in 1981. It was the only way I could afford the bike I wanted, but six months and $500 later, I was riding.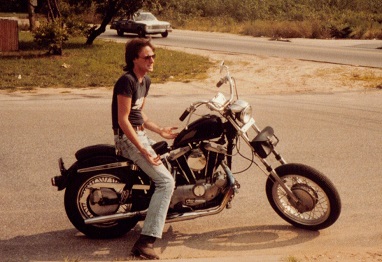 Trying to fit better on the bike, I began by changing the handlebars and seat several times. I then added forward foot controls. After a couple riding seasons, I decided to build a ground-up custom bike starting with a hardtail frame.
_________________________________________________
_________________________________________________
In November of 1983, I ordered a custom hardtail frame from a local motorcycle shop. The fork rake was just three degrees over stock, but the back of the bike was stretched eight inches. This gave my lanky six-foot frame plenty of room to stretch out.
The company who made the frame was called C&J Cycles. I don't know if they're in business anymore.
****************************
1972 Sportster - Phase Two
The theme of the build was simple; a no frills, bare bones, minimalist motorcycle. Originally, all motorcycles were hardtails, and since there are no rear suspension components, a hardtail frame is much lighter and less complicated than a conventional swing-arm frame.
The first carnation of my Ironhead hardtail was built during the Winter/Spring of 1983/1984.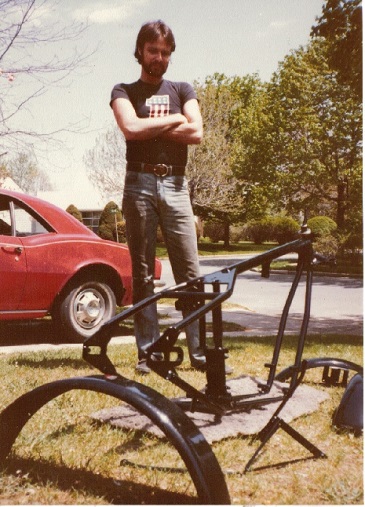 When you buy a hardtail frame today, all the brackets you need are already welded on. But that wasn't the norm 30 years ago, so I had to make my own.
High Mount Gas Tank
As an alternative to welding mounting tabs onto the frame, I chose a gas tank that already has them. The low tunnel, high mount tank retained the classic Sportster look, but the original-style mounts were replaced with tabs front and rear.
Frame brackets were fabricated for the oil tank mounts, rear fender brackets, and fork-stop tabs. The rear brake stay tab was already on the frame when purchased.
For the rear fender, I opted for a 6" steel flat fender. These are still popular, probably because they're cheap, easy to fit, and gives you that 'Old School' vintage chopper look.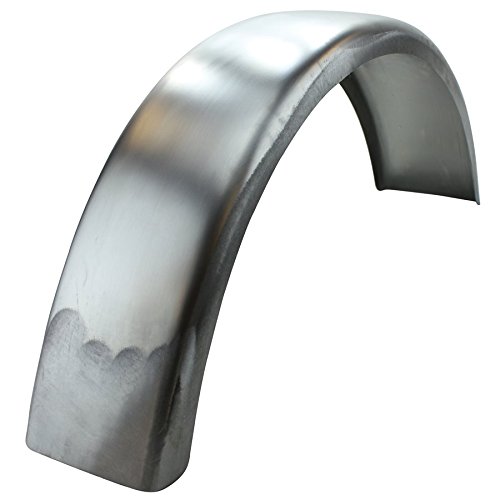 The license plate/tail-light was mounted to the left side of the bike.
Overall Stance
One of the hardest and most overlooked parts of a any hardtail build is how the bike will sit when done. The way to check overall stance is to trial-fit everything including the motor. The motor needs to be put on the frame to put weight on the front end, so you can get an accurate view of how the bike will sit.
After the oil tank mounts and fork-stop tabs were welded in place, I propped the frame up on a wooden box and did the first of several mock build-ups. I installed the front end to check the stance of the bike. The first front end installed on the hardtail frame was a 6"-over-stock hydraulic unit that came off an early seventies Super Glide.
Add Lightness
An essential part of building any sort of chopper, bobber, or cafe racer, is getting rid of unnecessary items. This includes bulky fenders and gas tanks, and trimming down unnecessary electrical parts, such as signals, gauges, relays and switches. The ignition key was moved under the seat for a clean look.
As mentioned earlier, the motor was from a 1972 XLCH, the first year of the 1000cc Sportster, and kick-start only. The original Bendix carburetor was replaced with a Mikuni, and a slightly richer jetting was needed to run with the unbaffled drag pipes. Other than that, the motor was pretty much stock except for chromed rocker boxes.
Building a hardtail Sportster is simpler than building a hardtail Big-Twin Harley because there is no separate transmission that needs to be aligned. However, the rear-wheel chain sprocket needs to be lined up with the engine sprocket. The only way to do this is the trial and error method of adding/removing axle spacers on either side of the rear wheel.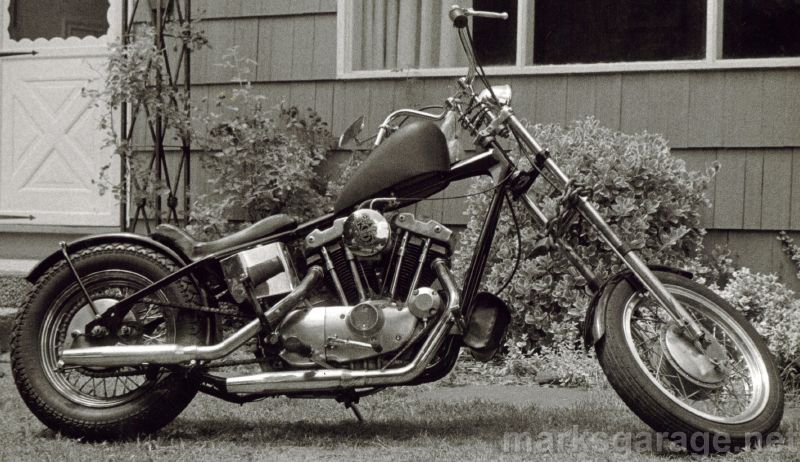 After assembling and disassembling the bike several times, I made sure everything would fit before final painting. The frame, gas tank and fenders were shot in solid gloss black.
****************************
1972 Sportster - Phase Three
After a couple of riding seasons in the hardtail frame, I decided to make a few changes. In the bike's first carnation, I had re-used existing (6" over) front forks. Now I wanted to change the front end to something with more visual appeal.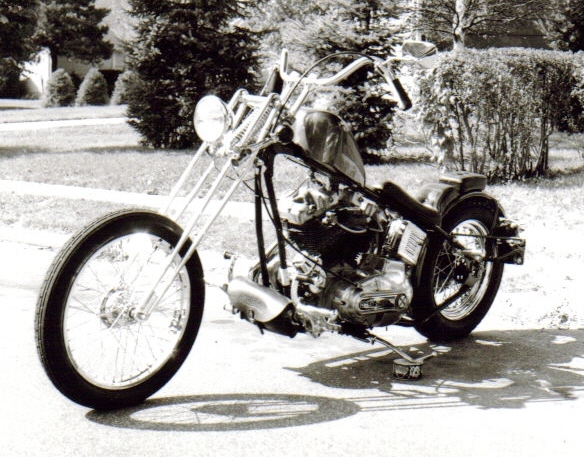 Although my first choice was a springer, I decided on a 4" over P&P girder front end with a single shock. Also new was the 19" mini-drum spoke wheel with an Avon Speedmaster tire. No front fender.
The gas tank and rear fender were re-painted metallic red (originally black).
Girder front forks were fitted to motorcycles many years before hydraulic forks were offered. Pound for pound, they will deflect less than other types of front suspensions. Properly designed and constructed, they will handle as good, if not better, than any other motorcycle front end.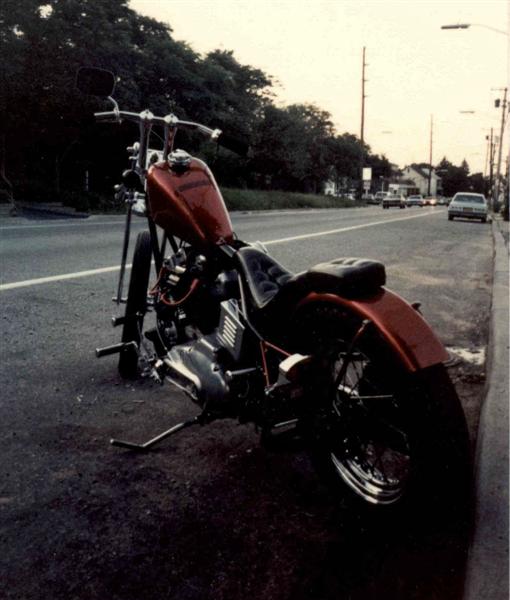 Soon after installing the girder front forks, I changed the handlebars from buckhorns to drag bars on 8" chrome risers.
****************************

****************************
Hardtail Sportster - Phase Four
After a few more seasons of riding, an early-sixties solo seat was added, and a new bobbed rear-fender and Mustang tank were painted blue. Handlebars were now a set of solid-mounted mini-apes on short risers.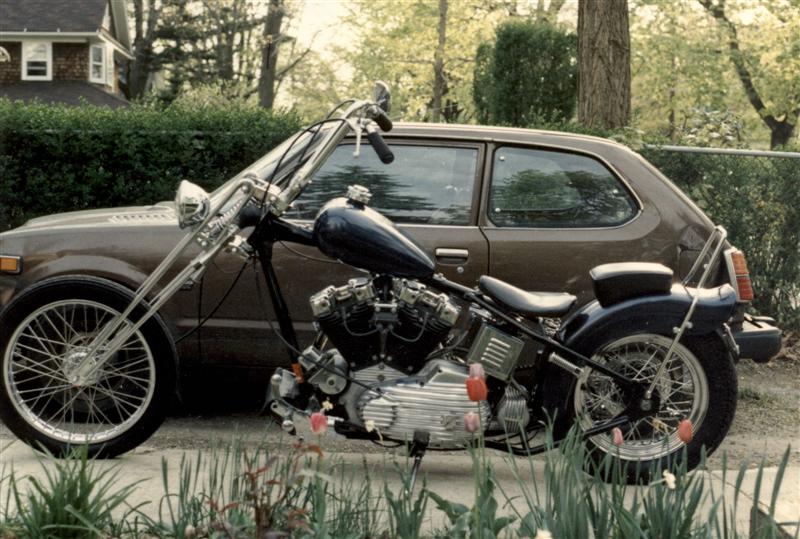 Rear Fender Mounting
The sissy bar added a little bit of style, plus it gave a convenient mounting position for the rear fender.
****************************
Sportster Build - Phase Five
In 1994, I had the once-in-a-lifetime opportunity to buy a 1965 GTO Tri-power convertible that needed restoration. The only way I could afford to buy this classic muscle car was to sell my bike.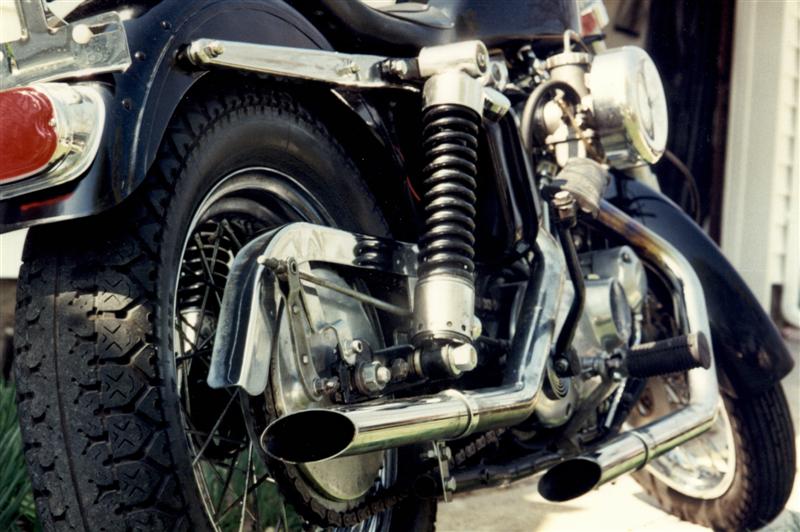 Realizing that hardtail Sportsters are not for everyone, I restored the bike back to it's (near) original condition so that it would sell easier.
****************************
Related Articles: