Hardtail Sportster Build
Originally, all motorcycles were hardtails, and since there are no rear suspension components, a hardtail frame is much lighter than a conventional swing-arm frame. They are also easier and cheaper to construct, due to their simplicity.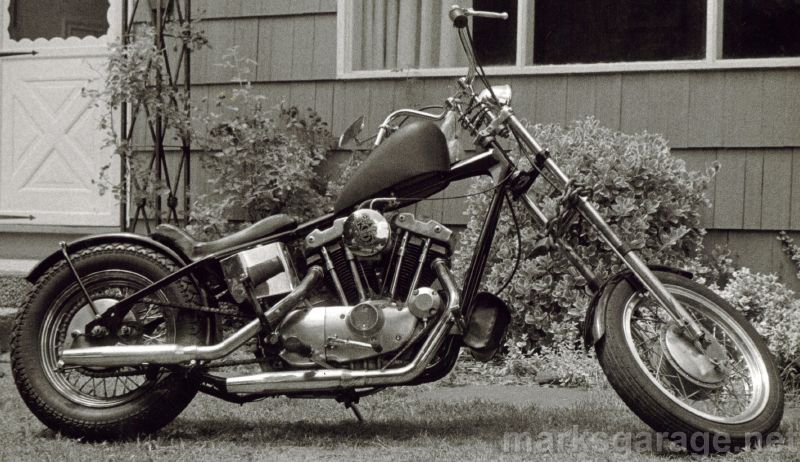 Trying to fit better on my 1972 Sportster, I changed the handlebars and seat several times, and added forward foot controls. But after a couple riding seasons, I decided to build a ground-up custom bike.
Hardtail Sportster Build - Part One
The theme of the hardtail build was simple; a no frills, bare bones, minimalist motorcycle. The first carnation of my Ironhead chopper was built over the Winter/Spring of 1983.
After receiving good advice from Rolling Thunder Cycles, I ordered a custom hardtail frame. The fork rake was just three degrees over stock, but the back of the bike was stretched eight inches - this gave my lanky six-foot frame plenty of room to stretch out.
The bike I was starting with was a 1972 Sportster XLCH, first year of the 1000cc Ironhead motor. The original Bendix carburetor was replaced with a Mikuni, which stuck out of the motor and gave a slight obstruction to the rider's right knee. Slightly richer jetting was needed to run with the straight drag pipes. Other than that the motor was stock except for the chromed rocker boxes.
An essential part of building any sort of chopper, bobber, or cafe racer, is getting rid of unnecessary items. This includes trimming down electrical parts, such as signals, gauges, relays and switches. The ignition key was moved under the seat for a clean look.
Most everything had to be fabricated, including rear fender brackets, license plate bracket, oil tank mounts, and fork-stop tabs. After the oil tank mounts and fork-stop tabs were welded in place, I propped the frame up on a wooden box and installed the front forks. I was re-using what I already had, a 6"-over-stock Sportster front end.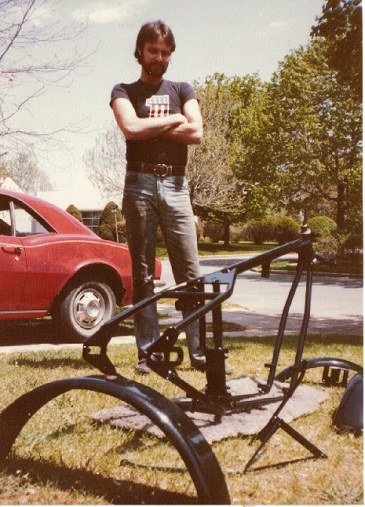 Building a hardtail Sportster is pretty simple. Unlike a Big-Twin Harley, there is no separate transmission that needs to be aligned. However, the rear-wheel chain sprocket needs to be lined up with the engine sprocket. The only way to do this is the trial and error method of adding/removing axle spacers on either side of the rear wheel.
After assembling and disassembling the bike several times, I made sure everything would fit before final painting. The frame, gas tank and rear fender were shot in solid gloss black.
Hardtail Sportster Build - Part Two
After a couple more riding seasons, I decided to make a few changes to the bike. In the hardtail's first carnation, I had re-used the existing Sportster (6" over) front forks. Although my first choice for a new front end was a springer, I decided to go with something a little different.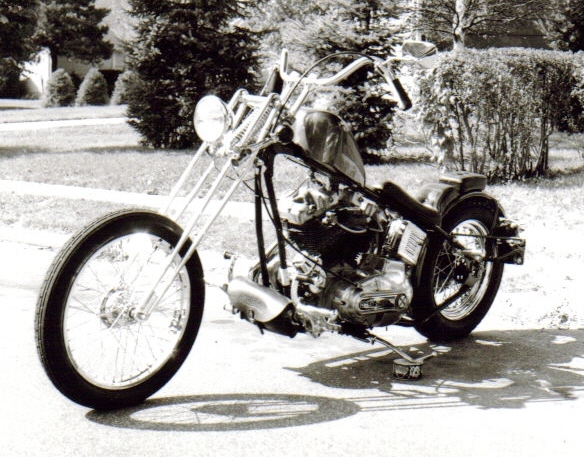 I chose a 4" over P&P girder front end with a single shock. At the same time, I purchased a 19" mini-drum spoke rim with an Avon Speedmaster tire. At this time, I also changed the handlebars to drag bars on 8" chrome risers, and the gas tank and rear fender were painted metallic red.
Girder front forks were used on motorcycles for many years. Pound for pound, they will deflect less than other types of front suspensions. Properly designed and constructed, they will handle as good, if not better, than any other motorcycle front end.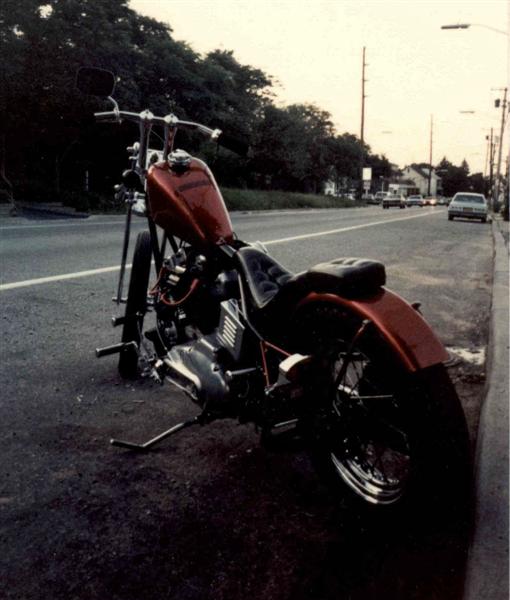 Hardtail Sportster Build - Part Three
After a couple more seasons of riding, a sixties-style solo seat was added, and the new bobbed rear-fender and Mustang tank were painted blue. Handlebars were now a set of solid-mounted mini-apes on 8" risers.