Wide Glide Conversion
Article by Mark Trotta
Originally offered on the FXWG in 1980, Harley Wide Glide forks and triple trees are a simple bolt-on conversion to most other Harley-Davidson motorcycles, including Panheads, Shovelheads, and Servi-car trikes.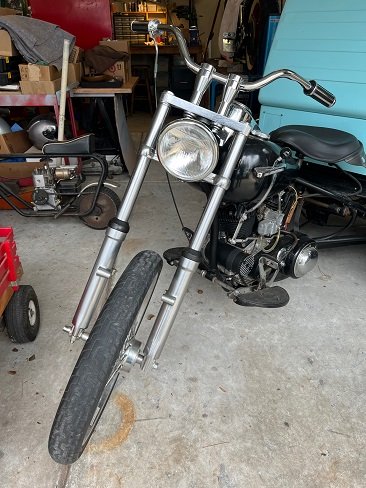 In addition to the FXWG models, Wide Glide front ends were also fitted to 1980-1983 FWDG Dyna models, and several Softail models from 1993-2003. Since all Big-Twin Harley frames from 1949-up have the same 1.00" neck diameter, the Wide Glide conversion has become a popular front end swap.
Wide Glide Front-End Specs
The original Wide Glide front forks measured 1-5/8" in diameter. Somewhere in the eighties, the Motor Company started farming out forks overseas and began the listing of fork diameter in millimeters instead of inches. Since then, fork diameter has been referred to as 41mm.
The spacing dimension for Wide Glide forks is 9.875" between fork tube centers. By comparison, a 'Mid-Glide' is 8.875" between fork tube centers, and a 'Narrow-Glide' is 7.00" between fork tube centers.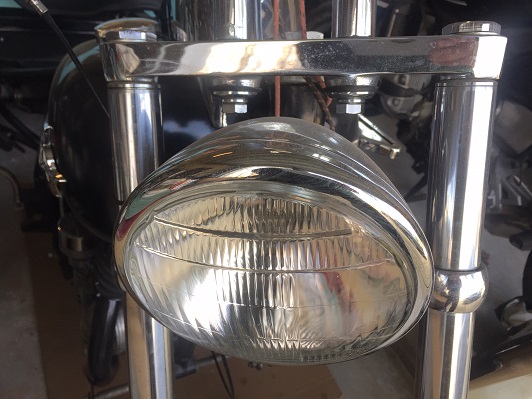 Early Wide Glide models had dual disc front brakes. Later models had a single-disc brake with a single-piston caliper.
In 2000, dual four-piston calipers were fitted, which made a substantial difference in braking. The 2000-up Wide-Glide front wheel hub was upgraded with sealed bearings.
Front Axle Diameter
Depending on what year and model motorcycle, front wheel axle size will vary. Starting in 2000, Harley went to 1" front axle bearings on touring bikes. In 2008, they went to a 25.8mm bearing, which is a fraction of an inch different.
The sliders are the same for the 1" and the 25.8mm axles, but the bearings, spacers, and axles changed. There are different kits available so you can switch to the appropriate bearings needed.
Harley Triple-Tree Identification
Before starting a Wide Glide conversion, take note of the fork stops (the short nubs on the lower triple-tree that bump against the steering tube). Watch for nubs that have been sheared off, an indicator of accident damage.
The 1987 or so FX models had a steel lower tree, but the rest are aluminum. Softail Wide Glide trees and the ones for FXDWG are slightly different on the fork stop.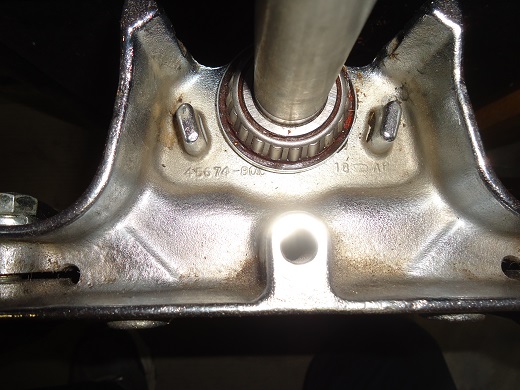 Some forks have mounts on the sides of the upper and lower trees for mounting the aluminum headlight tins. The nacelle unit will use a spacer ring to adjust the headlight position.
Factory vs Aftermarket
The aftermarket for stock replacement and custom hydraulic forks is huge, making a Wide Glide conversion complete if missing parts. There are literally hundreds of different tree-fork combinations from dozens of companies that you can buy ranging from low-end stock assemblies to complete custom fabrications.
Wide Glide forks, tubes, and trees are all produced in the aftermarket by various suppliers. Mostly chrome units are offered. Some triple tree sets use a lower tree with the mounts shaved off for custom applications.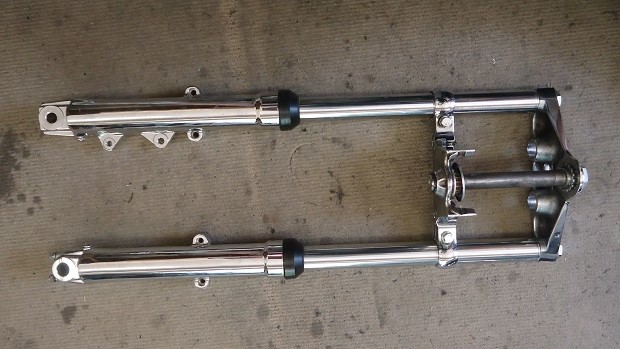 The Wide Glide front end in the above picture appears to be a pre-2000 single-disc with 41mm fork tubes, H-D part # 45674-80c. The '80' tells it is a 1980 year beginning manufacture part, but remember that Harley puts production numbers on a lot of parts that aren't actual part numbers.
**************************
Conversion Kit For 1984-1999 Narrow Glide models
Here's a narrow to wide glide conversion kit that allows use of narrow glide 19" or 21" wheel (found on FX, FXR, FXD and XL models) to be installed in a 41mm Wide Glide front end. The kit includes an aluminum disc spacer (second spacer for dual disc available), socket head screws, axle spacer and 3/4" axle.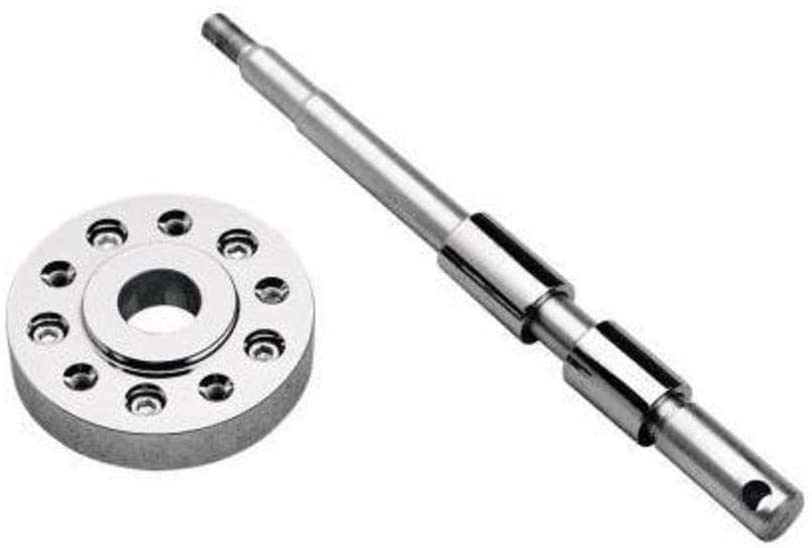 **************************
19" vs 21" Front Wheel
The 21" front wheel from Harley came with either a 2.15" or 3.5" width tire. The wider tire will give slightly improved handling and a bit more stability. If you like to throw you bike into a corner, a 19" wheel will handle better than a 21" wheel.
If you are running a front fender with either the 19" or 21" wheel, several of the aftermarket kits include fender spacers to permit use of your stock fender.
**************************
I installed a Wide Glide front end on my 1961 Harley Servi-car. It allows me to run a front disc brake versus the original drum brake. The front tire is a 21".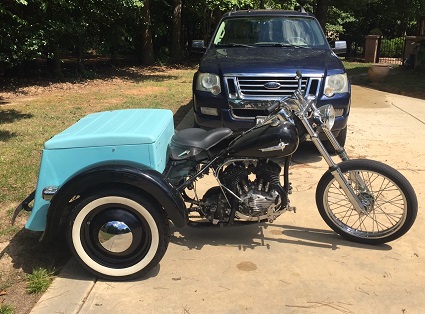 **************************
Fork Oil
Factory service manuals state that fork oil to be changed every other riding season, but it also depends on how much (or how little) you ride. Use 20W fork oil for average conditions. For extreme conditions use 10W or 30W accordingly. Below are fork oil capacities.
9.0 to 10.2 Oz..... FXWG/FXST 1980-84
10.2 to 11.2 Oz..... FXWG/FXST 1985-2006
10.2 to 11.2 Oz..... Dyna Wide Glide 1991-2005
An easy way to measure fork oil is to push the forks down all the way while the caps are off, and fill it to 5" below the upper edge of the fork tubes.
**************************
Wide Glide Conversion To Sportster
If you're considering converting your Sportster to a Wide Glide front end, there are no factory triple trees that will fit the 7/8" neck. The best way would be finding an aftermarket kit, but we don't know of one that is presently available.
**************************
Related Articles: