Install Gas Tank On Hardtail Frame
Custom hardtail frames are usually sold without mounting tabs or brackets, so how do you mount a gas tank? You can fabricate and weld tabs onto the frame, or buy a gas tank that already has them.
The 'Frisco-style' gas tank pictured has the classic Sportster shape, but the original-style mounts are replaced with tabs front and rear.
Several styles of high-mount low-tunnel tanks can be purchased. Featured in this article is a Moto Iron (part number 105-0038). It has similar dimensions to a factory tank and accepts the older style 'cam lock' gas cap.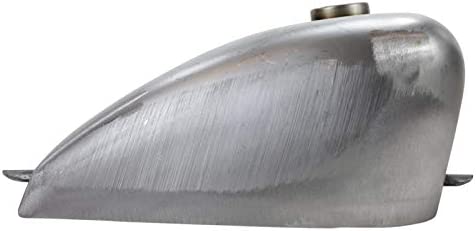 Low Tunnel High Mount
The 'tunnel' on the bottom of the tank is shallower than that of a stock tank, so it sits up higher on the frame. And because of the lower tunnel, gas capacity increases from 2.2 to 2.5 gallons.
****************************
Is It Safe To Drill and Tap a Frame?
It depends on the thickness of your frame. Although most custom frames have quality metal tubing, not all are built that way. Some frames have thinner wall tubing to save cost and weight.
Here's a good rule of thumb: If the mounting bolts have at least six good threads to screw into, you'll be okay.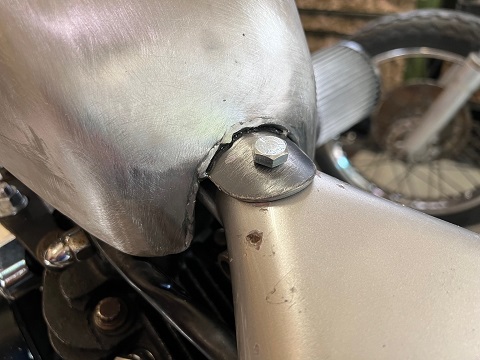 ****************************
Motorcycle Gas Tank Prep
Custom gas tanks are often sold in unfinished raw steel with an oil coating to prevent rust. They are not a "take it out of the box and paint it" part.
This is what our tank looked like right out of the box; scuffs, scratches, and fabrication markings still on it. Also note that the mounting tabs are not pre-drilled. So a bit of prep work needs to be done.
The new tank was sprayed down with a can of brake parts cleaner to remove the oily residue, then blow-dried with compressed air and some shop towels.
Next, all scratches and imperfections were sanded out with Emery cloth.
The gas tank mounting tabs do not come pre-drilled.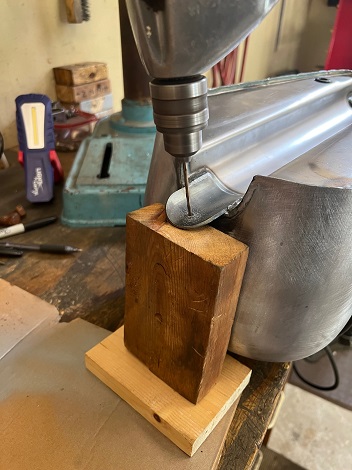 After marking with a black marker, a center punch and hammer was used to make a divot in the metal. An 1/8" pilot hole, followed by two larger drill bits, brought the holes out to 3/8", to accommodate 5/16" bolts.
****************************
Drill and Tap Frame
Before priming and painting, the tank was test-fitted onto the frame. Aside from making sure it looks centered, the handlebars were turned all the way left and then to the right to check for clearance issues. Also note where the fuel valve will be in relationship to the carburetor.
After "X-ing" out where the mounting hole will be with a black marker, a center punch and hammer was used to mark the frame.
The neck joint was plenty thick to drill and tap a mounting hole.
Take your time marking and drilling the mounting holes!
After a 1/8" pilot hole, two larger drill bits brought the hole size to 7/32". This is the recommended drill size for a 5/16-24 fine thread tap.
Again, if the mounting bolts have at least six good threads to screw into, you'll be okay. In the past, we've installed two other high-mount tanks using the same methods and no issues.
NOTE: To keep metal shavings off the motor, cover the top of the motor with rags or towels while drilling and tapping.
Gas Tank Mounting Options
We have seen videos of people welding in threaded bungs to install Frisco style gas tanks. This is certainly a valid way, but not all of us can weld. And when you figure that the tank and two gallons of gas only weigh 20 pounds, it doesn't seem necessary.
Drilling completely through a motorcycle frame tube is not a great mounting option, although it has been done. Aside from drilling more holes than you need to, there may not be enough room under the tank to fit the bolts.
****************************
Gas Tank Outlet
The Moto Iron gas tank is available with either external thread or internal thread fuel valves. We chose the internal style, which is the older, 3/8 inch NPT fitting midway on the right-hand side.
This tank also has dual 1/4" NPT petcock bungs further down near the rear of the tank. These are needed if you're running two carbs, like on an old Triumph chopper or bobber.
For our single-carb Ironhead Sportster, we plugged the lower holes with 1/4" NPT Allen-head fittings (not included with tank). A little Teflon tape was wrapped around the plugs before installing.
****************************
Gas Tank Fuel Valve Choices
Motorcycle fuel valves can have external thread or internal threads, and have an outlet hose size of 1/4", 5/16", or 3/8". The outlet can face either forward, back, or straight down.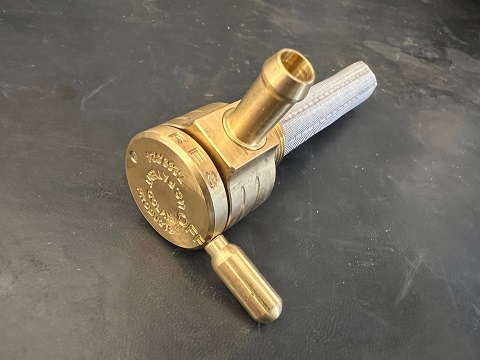 For our hardtail Sportster, we chose a rear-facing Golan brass body fuel valve. It has the 3/8 NPT inlet to match the tank, and a 5/16" outlet to mate with the Mikuni VM carburetor.
The inlet threads were wrapped with Teflon tape to avoid leaks.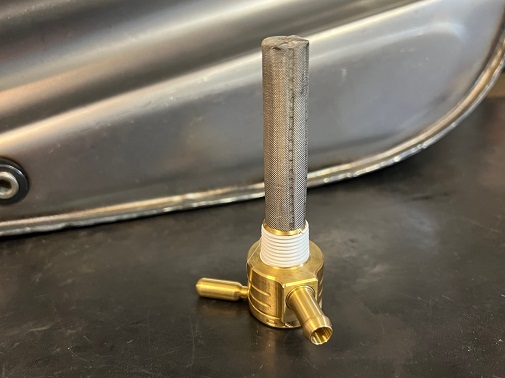 TIP: Installing a little more or less Teflon tape will help 'index' the fuel valve, so it'll be a good tight fit in the position you want it.
****************************
Why Is It Called Frisco Style?
Back in the 60's and into the 70's, factory gas tanks were sometimes modified to sit taller at the front. These 'high mount' tanks were first seen on homemade choppers in San Francisco, California. This is where they get the nickname "Frisco style" gas tank.
****************************
Installing a low-tunnel gas tank is a cool alternative to modifying a stock gas tank. There's more practical tanks, but this one's all about attitude and style.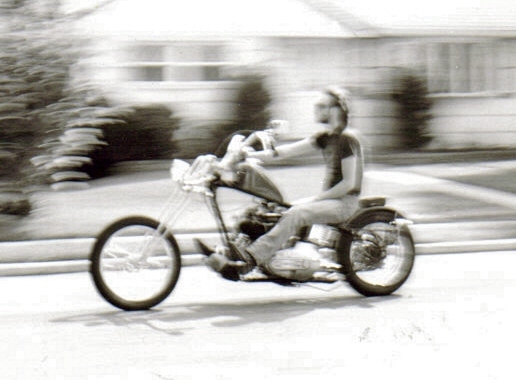 ****************************
Related Articles: