Early Sportster (1957-1966)
Article by Mark Trotta
Fast, torquey, and fun, the Harley-Davidson Sportster was the American Superbike of the late fifties and early sixties. These 900cc bikes, with right-side shift, drum brakes, and kickstart only, are the most valuable for collectors.
Picture Courtesy American Classic Motorcycle Museum
First Sportster
When Harley-Davidson bolted their new overhead-valve motor to the K-Model frame in 1957, the Sportster legend began.
Fitting neatly under the gas tank, the new OHV motor sported twin cylinder jugs sitting 45 degrees apart, topped off with a pair of cast-iron cylinder heads. One carburetor fed both front and rear cylinders.
The 883cc displacement (advertised as 900cc) was derived from a 3.81" stroke and a 3.00" bore. Both connecting rods shared a common crank pin, referred to as a 'knife and fork' design. Each valve was operated by its own cam, simplifying valve train geometry.
It wasn't until the Evo Sportsters came out in 1986, that the older models were referred to as "Ironheads".
_______________________________________________________
_______________________________________________________
The Sportster bottom end was nearly the same as the Harley K-Series flathead motor. Inside the rear of the engine cases housed a four-speed transmission, which was so robust, it would see service through all the Ironhead years, as well as seeing use on early Evo Sportsters.
1957 Sportster XL
Aside from the engine, most components of the 1957 Sportster were carried over from the Harley K-model, including frame, fenders, wheels, brakes, gas tank and suspension. The large headlight used on XL and XLH models in 1957 and 1958 was basically a pre-1960 Panhead unit with an oil and generator light added in the bucket.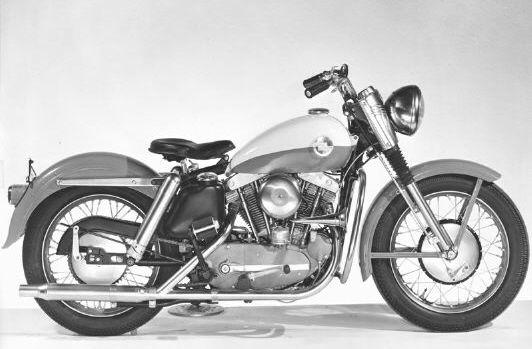 The first-year Sportster saw many changes during the production year, and have several unique features. Early 1957 models didn't have cylinder head rocker bushings like later models did, and used tappet rollers without needle bearings. Intake valves were 1-11/16" for 1957 only. The passenger foot-mounts were also one-year only, as was the carburetor (Linkert DC-1).
Aluminum is usually the preferred material for cylinder heads - not only is it lighter than cast-iron, it also dissipates heat better. Harley-Davidson had previously used aluminum heads on their Big-Twin Panhead motor, which helped reduce engine operating temperatures in warm weather. But early Panhead riders experienced top-end problems, so the Motor Company cautiously chose cast-iron for the Sportster heads.
Concerns of engine overheating kept the compression ratio of first-year Sportsters at a conservative 7.5:1. Later 900cc bikes had 9:1 compression ratio. Making 40 horsepower and weighing 495 pounds, the 1957 Sportster XL was not very competitive with British sport bikes.
Sportster XLH
In 1958, the XL received new fenders and headlight nacelle, and ignition switch mounted on the left fork. A second model, the XLH, was basically the same bike as the XL, but with the "H" denoting a higher compression engine with larger valves. Power increased significantly.
The XL remained the standard model with a milder compression ratio. The "locomotive" style headlamp nacelle was introduced on the XLH in 1959 and was used until 1966. Saddlebags, available in either white or black, were optional on both the XL and XLH models.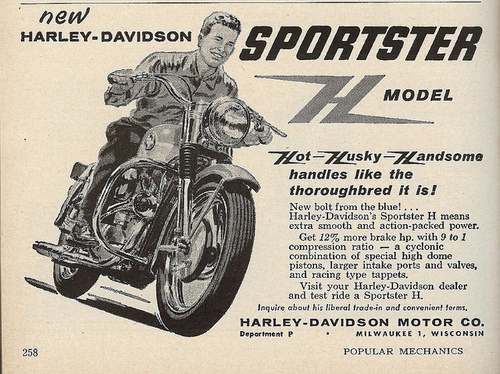 Sportster XLCH
A third model, the XLCH, was also offered in 1958. Originally set up as an off-road bike, it was sold with no headlight or taillight and had twin straight exhaust pipes and knobby tires. A 5-3/4" headlamp with eyebrow was used, and would become an enduring Sportster feature. XLCH models had one-inch more ground clearance than the other models.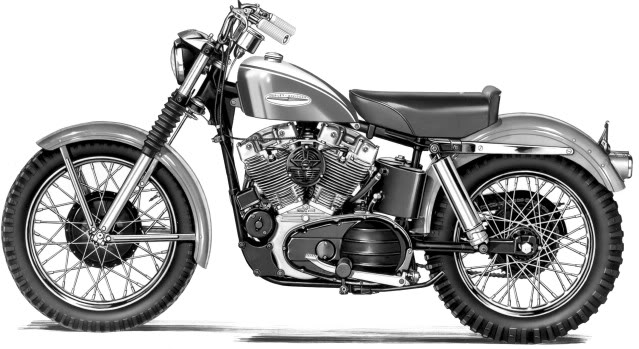 A small 2.2 gallon gas tank, borrowed from the KR dirt track racer, would become the classic Sportster "peanut" tank. To save weight, the CH model had no battery or coil, and had a magneto ignition. A horseshoe-shaped oil tank was fitted in place of the battery. Both the CH and H engines used the same cams.
The XLCH model proved quite popular, and in 1959, lights, mufflers, and full fenders were fitted. The left-handgrip spark advance was still retained.
*************************
High Pipe Sportster
Along with the peanut fuel tank, bobbed rear fender, and magneto ignition, the 1959 XLCH could be fitted with a high level exhaust pipe. Although originally fitted to only 1959-1962 models, they will fit any short-frame (1959-1969) XLCH.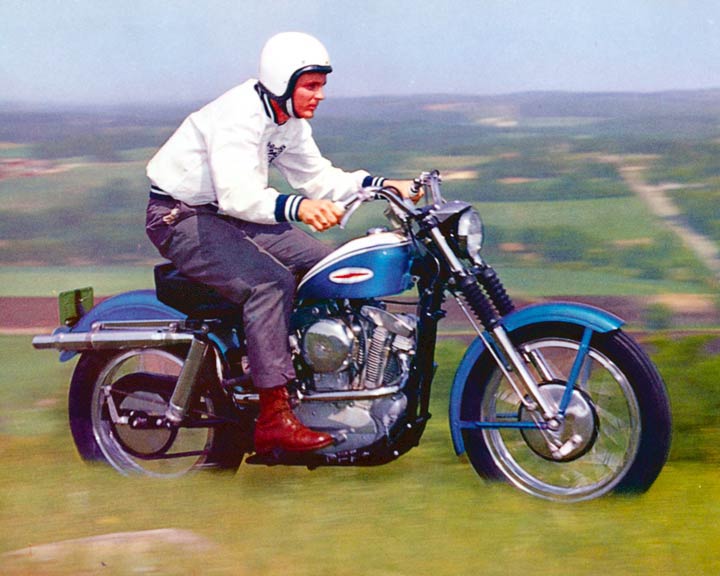 Early XLCH Sportsters with high-pipe exhaust are ultra rare today, as many people removed and replaced them with more traditional dual pipes. Several specialty companies, including Gasbox and Sporty Parts, offer reproductions of these, but they are not always available.
*************************
Sportster XLR
Built to compete in TT scrambles, Harley-Davidson began producing the race-only XLR in 1962. Differences between the XLR and the XLCH were mostly engine modifications. Different heads and cams were used, and ball-bearings were used at the crankshaft ends to reduce friction. Produced in limited quantities, a properly tuned XLR could put out 80-horsepower.
The XLR motor would power many race-bikes, including Cal Rayborn's record-setting streamliner in 1970.
_______________________________________________________
_______________________________________________________
1962 Sportster XLCH
There were early and late 1962 XLCH models, before or after engine number 2549. The differences were minor, such as an oil level dipstick added to the oil tank cap. A tachometer became a factory option this year.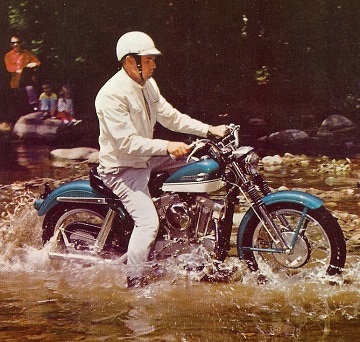 For the first five years of production, the XLCH model had no ignition key. In 1963, a key was fitted to the top of the magneto.
Differences Between XL/XLH and XLCH Sportsters
The XLH gas tank is larger, often referred to as the "turtle" tank.
The XLCH has the classic Sportster "peanut" tank.
The XLH has a large cover surrounding the headlamp.
The XLCH has the eyebrow and smaller headlight.
The XLH has a cast aluminum primary cover.
The XLCH primary cover is stamped steel.
The XLH has a battery coil ignition.
The XLCH has no battery and is magneto-fired.
A square-shaped oil tank was fitted to XL and XLH models
The "horseshoe" shaped oil tank was fitted to XLCH models until 1965.
*************************
Ironhead Sportster Casting Numbers
There are casting numbers all over old Harleys, including several on the frame and swing-arm. These are not the same as an actual factory part number.
You will see many early Sportster parts stamped with a suffix of '52' or 52A'. This denotes the original design done in 1952 with the very first Harley K-Model. Parts stamped with -52A signify design changes that, while different, were not major changes.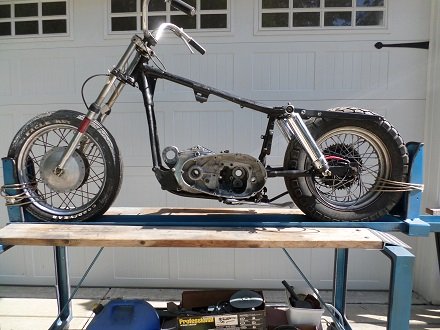 *************************
Early Sportster Frames
Most, if not all, early XL and XLH frames will be stamped "47584-56" on the right side of the neck. An XLCH frame, which was first produced in 1958, will have a "58" neck casting number on the neck.
Note: Back in the day, it was common for the Motor Company to use a previous year's frame to build a present year bike, simply because they were already made.
Because only the XL and XLH models required a battery and coil, the frame had two mounting bosses on left seat post. An XLCH frame will not have these extra tabs.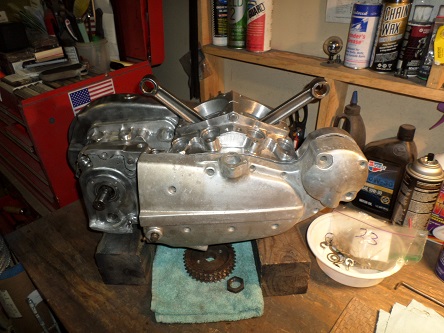 1959 thru 1964 XLCH's had the same frame and "horseshoe" oil tank. In 1965, the XLCH came with mounts under the seat for the 12 volt voltage regulator, and kept the horseshoe tank.
On the right seat post, the XLH has a ring bracket for the oil tank. The XLCH frame would use different oil tank mounts until 1967.
Up until 1969, the CH model had an inch-shorter frame and swing-arm. Both the H and CH had the shorter swing-arm until 1968/69.
*************************
1966 Sportster
All Sportster models from 1957 through 1965 came with a Linkert DC carburetor. These were replaced by the Tillotson carb in 1966. The oval-shaped "ham-can" air cleaner, brought about by federal emission laws, first appeared in 1966.
With newly designed "P" cams, the 1966 XLCH produced 15% more power than the previous year.
*************************
External Ignition Timer
On the top of 1957-1970 Sportster cam covers is the ignition timer. Both spark plugs fire simultaneously from the coil. As a spark plug ignites the fuel mixture on one cylinder's compression stroke, the other spark plug fires on the second cylinder's exhaust stroke. This is known as a wasted spark ignition system.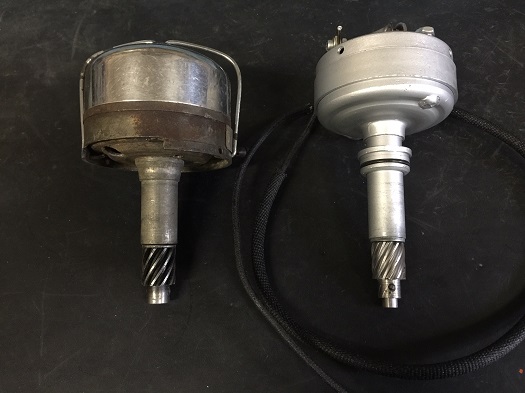 The external timer's found on 1957-1970 Sportsters are basically the same as Harley 45 timers.
Mechanical Advance Timer
Retarding engine timing helps when cold starting a motorcycle. Before automatic advance became popular, this was done manually by moving the distributor forward or back by either twisting the unit by hand or using the left hand grip. Once the engine started and warmed up enough, the unit (or grip) was twisted back inward to it's fully advanced normal running position.
Spark Control Grip
The left hand grip was referred to as the "spark control" grip. Although fitted to other Harley models, magneto XLCH's did not have a moveable left twist grip or spark advance until 1965.
Many present-day vintage motorcycle riders will not bother with the cable-activated left grip. With an external spring holding the magneto in the advance position, a rider can instead lean over and physically move the mag with his right hand.
6-Volt to 12-Volt Sportster
An automatic advance circuit breaker first appeared on the 1965 XLH, the same year Sportys were converted from 6 to 12 volts. Two small 6-volt batteries in series were fitted in the same space as the previous single 6-volt battery. This was done in anticipation of upcoming electric starters.
_______________________________________________________
_______________________________________________________
In addition to being the first year of 12-volt electrics, 1965 was the last year of the popular "horseshoe" oil tank. It was also the last year of the DC Linkert carb. The Tillotson carb that replaced it was more complicated, and not popular with amateur mechanics.
Generator Charging Problems
An Ironhead's generator really doesn't charge the battery until engine rpm is considerably higher than idle. Trips that are less than 15-20 miles are typically not enough to recharge the battery's losses from starting. If yours is giving you issues, consider upgrading to a trouble-free aftermarket generator like Cycle-Electric.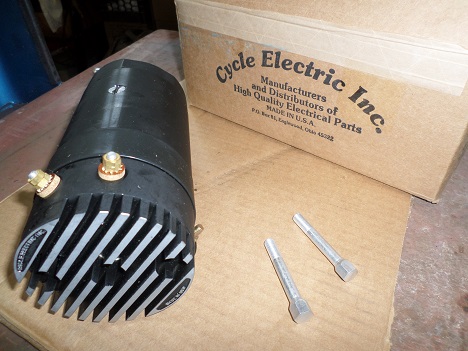 Sportster models through the early sixties remained basically unchanged, receiving small, yearly refinements. Popular factory options included turn signals, spotlights, and windscreens. The solo saddle seat with springs was available until a frame change in 1972/1973.
*************************
Early Sportster Front Forks
From Harley K models up to 1972 models, Sportster fork tubes are a 33.4mm diameter (1-5/16"). The sliders are steel and used with drum brakes only. There are four main variations of the 33.4 front end:
1952-1967 - fender wings, no taper on sliders, no seals.
1968-1969 - fender wings, taper on the sliders, have a bolt instead of nut to hold the slider in place.
1970 - same as 1968-1969 but with no fender wings.
1971-1972 - rubber seals, have fork boots instead of gators.
The early 1952-1966 style front end do not have the taper by the wheel as do 1968-1972 front ends. They also have the fender wings. With the exception of possibly the springs, parts are not interchangeable with these two front ends.
The 33.4mm Sportster forks were also fitted to the first Super Glides).
Sportster Fork Boots
Rubber fork boots ("gators") were seen on 1957 through 1970 Sportsters. The bottom triple trees have ears for the fork gator retainers.
In 1968, Harley changed the fork internals which gave an additional one-inch of travel. 1971 and 1972 Sportsters have removable (screw off) collars on the top of the fork slider.
All XL models from 1957 through 1963 had a small "half" front brake drum. A full-size brake drum was seen on 1964 through 1972 models.
*************************
Early Sportster Restoration
Today, early Sportsters are hard to find in one piece, having very low production numbers. Most if not all were ridden hard. The four lowest production years in Sportster history were 1957 (1,983), 1958 (1,555), 1962 (1,998), and 1963 (1,433).
If you have engine cases with matching belly numbers and a correct frame, consider restoring back to original. An original condition, early Sportster with matching cases is a valuable machine.
Early Sportster Parts
The fifties and sixties Sportsters are truly classic bikes, but the motorcycle aftermarket does not support the early Sportys like they do Harley Panheads or Shovelheads. You can still find original parts if you search long enough, and if you're patient, maybe even for a reasonable price.
Some of the most expensive parts for early XLH models are original headlight and bezel, tanks and fenders. Original seats in good shape are hard to find, as is the XLH tool box. Gas tank badges for early XLH models as of yet have not been reproduced. Early XLCH Sportster gas tanks had decals and for the most part are available.
Whether you decide to restore or resto-ride yours, spend some time and get to know the correct (and not correct) parts.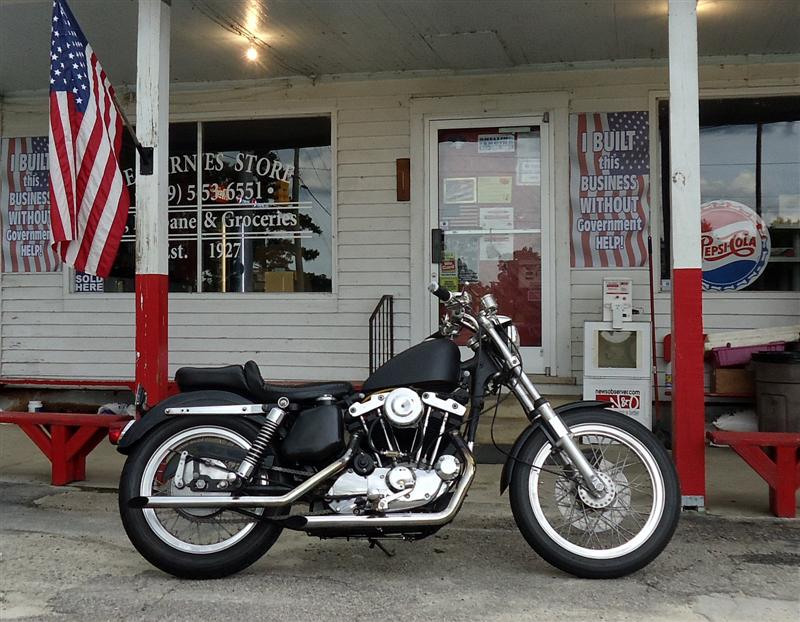 *************************
Related Articles: