Harley-Davidson K-Model (1952-1956)
Article by Mark Trotta
A four-year run may seem insignificant in the Motor Company's 120-year history, but the K-model was the direct forerunner to Harley's most successful selling motorcycle of all time, the Sportster.
Harley K-Model History
In the early fifties, British motorcycles started gaining popularity in the American marketplace. Needing to offer a motorcycle that was lighter and faster than the 1200cc Panhead, Harley-Davidson introduced the 'middleweight' K-Model.
The K-series engine was based on the bottom end of the Harley 45 flathead. Using the same 2-3/4" bore with a 3-13/16" stroke, displacement measured 45 cubic-inches. Compression ratio was 6.5 to 1. Cylinder heads were aluminum and finned to aid cooling.
_________________________________________________
_________________________________________________
To save weight and space, the transmission was housed inside the rear of the engine cases, with a primary chain used to connect the crankshaft to a dry clutch. Unitized cases were not new for motorcycles. British bikes such as the Vincent Black Shadow had previously used this design.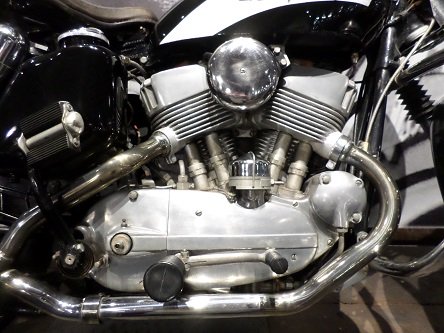 While Harley Flatheads and Big-Twins ran a separate unit four-speed transmission operated by a left-hand tank-shift and foot-clutch, the K-model's four gears were shifted by the operator's right foot with a left-hand clutch lever. This was done so that they could compete in flat-track racing.
First Harley With Rear Shocks
The K-model's front forks were hydraulic, with a swing-arm and twin shock absorbers used in the rear. This was the first time a civilian motorcycle produced by Harley-Davidson used hydraulic suspension on both wheels.
_________________________________________________
_________________________________________________
With a motor producing 30-horsepower on a bike weighing 400 pounds, the first-year K-model was not much faster than the 600-pound Harley Panhead. But it was the best handling Harley V-twin yet.
For 1953, H-D introduced the KK-model, which featured hotter cams and factory cylinder porting. Production total for 1952-1953 the K and KK-models was 3,693.
*********************
Harley KR-Model
Also in 1953, the race-only KR-model started it's long and successful 16 years of production.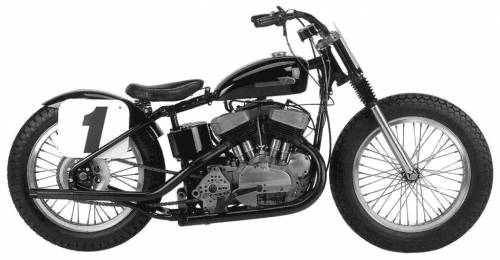 Replacing the old Harley WR racer, the factory KR dirt track racer had a bolt-on rigid frame which allowed riders to switch back and forth for different types of track competition. Chromemoly tubing was used with traditional cast iron frame lugs.
Besides high-performance engine parts, other factory racing parts included hubs, rims, brakes, a six-gallon gas tank and body fairings.
*********************
Harley KH and KHK Models
In 1954, the K was replaced by the larger-displacement KH-model. Looking for inexpensive ways to increase power, Harley engineers upped engine displacement from 750cc to 883cc. This was achieved by lengthening engine stroke from 3-13/16" to 4-9/16". Cylinder jugs were made slightly taller to accommodate the new dimensions. Power was further increased by redesigned ports and bigger intake valves.
To handle the extra power of the larger motor, the flywheel was redesigned, and the clutch was enlarged from five-disc to seven-disc. Engine output was 38 horsepower, and top speed on a stock Harley KH was 95 mph. The available KHK-model featured higher-lift cams and polished ports.
*********************
Transmission Trap Door
To service the transmission on 1952 and 1953 K-models, the left and right engine cases had to be split. A running change from 1954 saw revised engine cases having a "trap-door", allowing easier access to the transmission.
The K-Model four-speed unit transmission saw use on 1957-1985 Ironhead Sportsters, as well as 1987-1990 Evo Sportsters.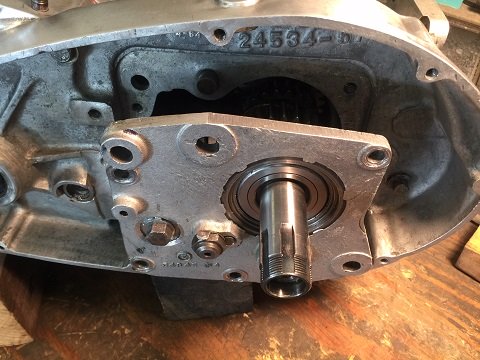 Golden Anniversary KH-Model
In the Fall of 1953, Harley-Davidson celebrated its 50th Anniversary in business. To commemorate this occasion, 1954 models displayed special medallions on the front fenders. Why 1954 and not 1953 models were chosen for the special editions is curious. Subsequent anniversary models would based off 1903 as the first year of production.
Golden Anniversary KH's and KHK's were available in Pepper Red, Glacier Blue, Forest Green, Daytona Ivory, or Anniversary Yellow. If a customer so chose, gas tanks could be ordered in one color and fenders in another.
_________________________________________________
_________________________________________________
In 1955, a frame redesign included a lower seating position and shorter front fork tubes, both improving handling and giving the bike a sharper profile. To resolve problems caused by the increased engine torque, the rear wheel hub and spoke diameter were increased in size.
*********************
1956 KH-Model
Now offered in an array of colors, the Harley K-Model was a sharp-looking bike. The older-style tail-lamps were replaced by more modern units from the Big-Twin Harleys.
Frame and suspension improvements helped handling, but when compared to the OHV 500cc British Twins of the day, the K still lacked power. Increasing the engine size to 54 cubic-inches (883cc) had helped, but weight had also gone up.
1956 also brought a frame redesign which had the engine mounted lower in the frame, and the backbone above the rear cylinder flattened. Arrival of a taller overhead-valve motor was apparent.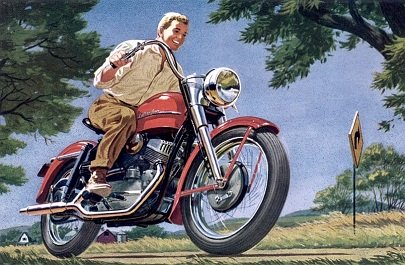 A change from flathead to OHV design in 1957 turned the K-model into Harley's most successful selling motorcycle of all time, the Sportster.
*********************
Harley K-Model Restoration
The good news for motorcycle restorers is that many Harley K-model parts are the same as early Sportsters, including front forks, fenders, and brakes. Most, but not all, engine parts interchange from Sportsters to K-models.
Aside from the running changes in the 1954 and 1955 motors, many lower end and transmission parts are also the same as 1957-1976 Ironhead Sportsters. The bad news is many of the early (1952-1953) K-series parts do not interchange with the later 1954-1956 KH-series.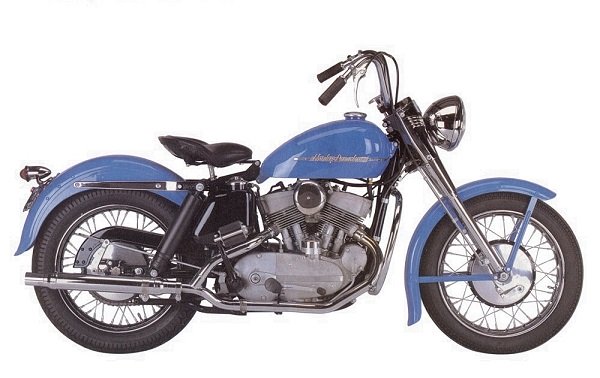 All Harley K models are kick-start only.
*********************
K-Model Cams
Although similar looking to 1958-1970 Sportster cams, K-model cams (and 1957 Sportsters) were two a piece unit. If a cam gear or cam shaft needed replacing due to wear, the shaft could be pressed out of the gear cluster and a new gear or shaft pressed in. After correctly indexing the gear to the shaft, a woodruff key held the gear in place.
Note: On race engines such as the KR750, cam gears would be welded to the shaft after they were pressed on.
*********************
Elvis Presley Harley K-Model
Elvis Presley was a motorcycle enthusiast, and in his lifetime owned a number of Harley-Davidsons. As a young star, Elvis' first Harley was a 1956 "Pepper-Red" KH-model, which he purchased from Memphis Harley-Davidson in January of 1956. In May of that year, he and the bike appeared on the cover of the Motor Company's official periodical called 'The Enthusiast'.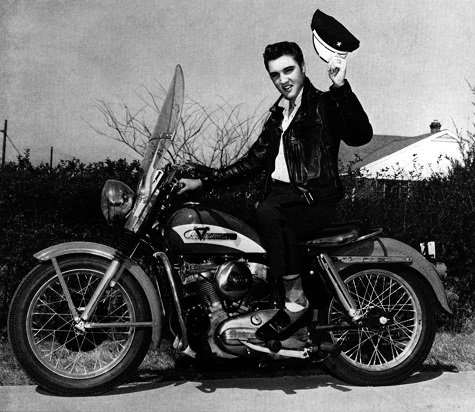 Elvis eventually sold the KH to a man named Fleming Horne, who, in 1995, sold the bike to the Harley-Davidson Motor Company. It is believed to be the only Harley with a signed title in the name of Elvis Presley. The Elvis bike has been on display in the museum's Pop Culture exhibit since 2008.
*********************
Related Articles: