900cc Ironhead Engine Build
Text and Pictures by Mark Trotta
Rebuilding an Ironhead Sportster motor is challenging enough, and rebuilding an early 900cc motor will present a few more challenges. Difficulties include limited parts availability, as well as a few more specialty tools.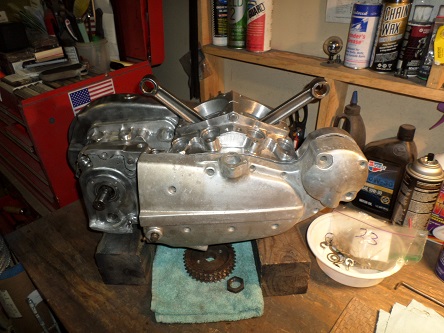 900 Ironhead
In it's 26-year production run, the Ironhead Sportster was offered in two engine displacements. When it debuted in 1957, engine displacement was at 883cc, which was rounded up to 900cc for marketing purposes. In 1972, displacement increased to 997cc, advertised as 1000cc. Not many parts interchange between the two engines.
883 vs 900 Sportster
When Evo Sportsters debuted in 1986, they were offered in 883cc and 1100cc displacements, and later in 1200cc. So as not to be confused with 883 Evo models, early Sportster engines are usually referred to as the 900 Ironhead.
********************
900cc Ironhead Cases
As with all motorcycles, the engine cases are the foundation upon which all else is built. Although very early Sportster cases (1957-1958) have different casting numbers than later cases, all 900cc engine cases from 1957 through 1966 are interchangeable.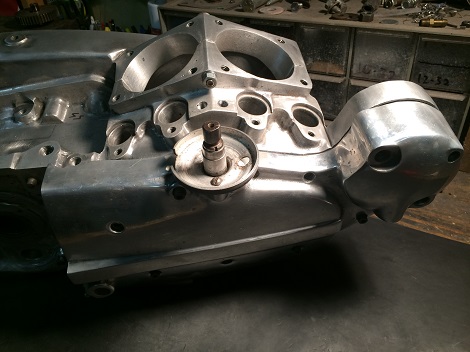 Starting in 1967, a second set of cases were produced to accommodate electric start. From 1967 to 1971, there were two sets of cases for the Ironhead 900.
Damaged Engine Cases
All Ironhead motors had cast aluminum engine cases, which are prone to crack under abuse. Very often they can be repaired to as good as new - provided the repair was done right. The key is to find someone who is good at welding dirty cast aluminum.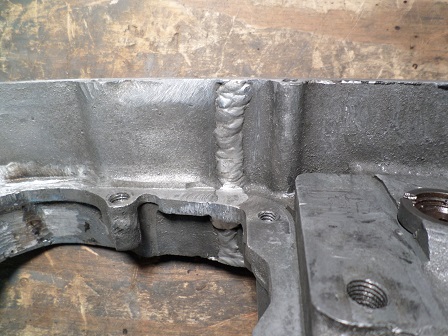 ********************
900cc Ironhead Heads
Finding good 900cc heads get harder with each passing year. Availability is nowhere near as good as 1000cc Ironhead heads, which do not interchange.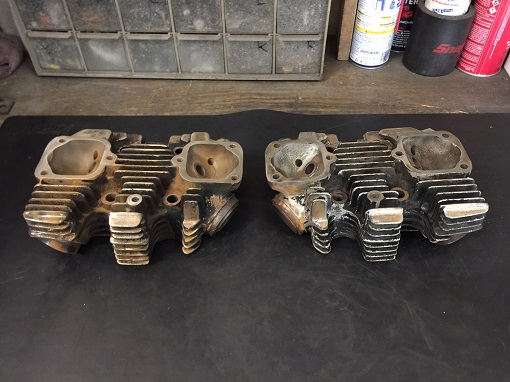 In the picture below, notice the 900cc gasket does not line up on the 1000cc head.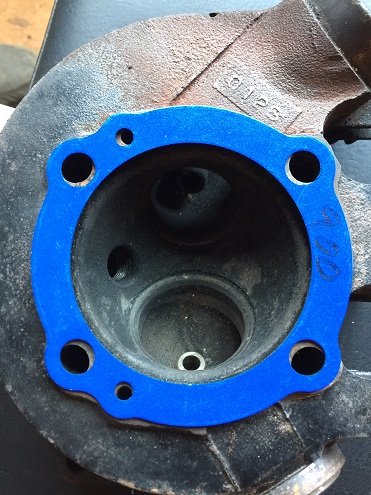 ********************
900cc Ironhead Cylinders
All 900cc Ironhead cylinders have a 3" bore and all years (1957-1971) interchange with each other. Larger 1000cc jugs are slightly different and won't fit without a lot of machining.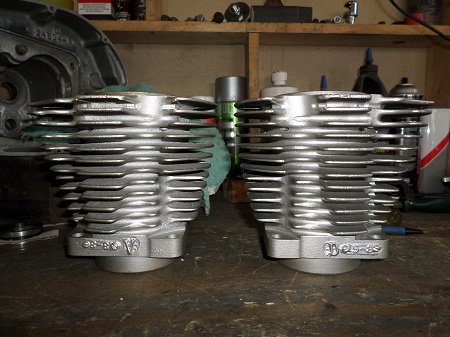 Ironhead cylinder jugs were painted silver.
********************
900cc Ironhead Cams
There are two styles of Ironhead cams, early (1957-1970) and late (1971-1985). They do not interchange. Early Sportsters had an external distributor, which ran off the cam. This was no longer needed when points were moved to inside the right case in 1971.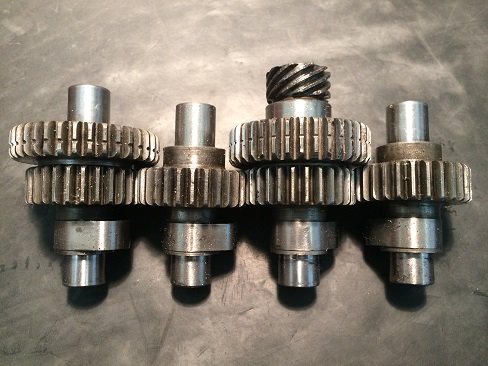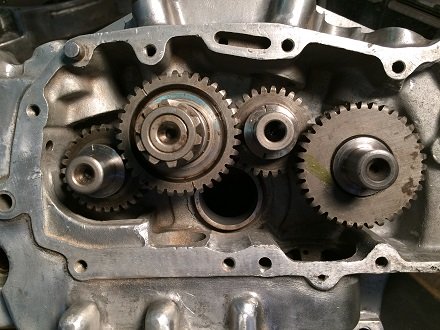 ********************
Truing Flywheels
Due to their 45-degree configuration, V-twin motors such as Harley Sportsters are inherently out of balance to begin with. It is essential that the flywheel assembly to be trued - not only will engine vibration numb your hands and feet while riding, it may cause internal engine damage.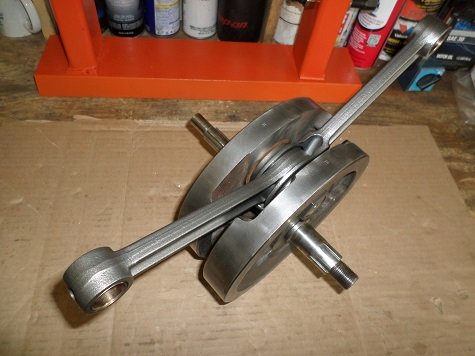 ********************
Sprocket Shaft Bearings
From 1957 to early 1976, Sportsters had a one-piece sprocket shaft race. These are sold as a matched set, which should include two bearings, a one-piece double bearing race, and a spacer. The race needs to be pressed in with a hydraulic press.
Pinion Roller Bearings
From 1957 to 1976, Sportsters used loose roller bearings on the pinion side. Later models (1977-1985) had fixed, or captured bearings.
Loose roller bearings require more attention than captured roller bearings. When in doubt on proper fitment, remember that a little too loose is always better than a little too tight.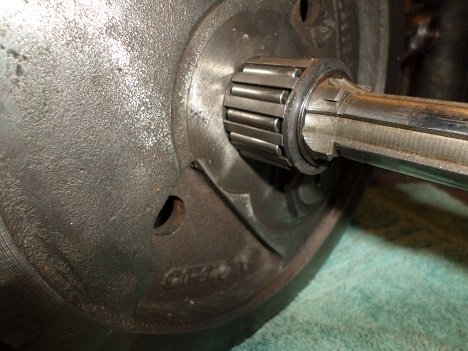 ********************
900cc Ironhead Gasket Kit
If possible, engine gaskets should be matched up to old ones. Don't skimp here; buy top-name, quality gaskets.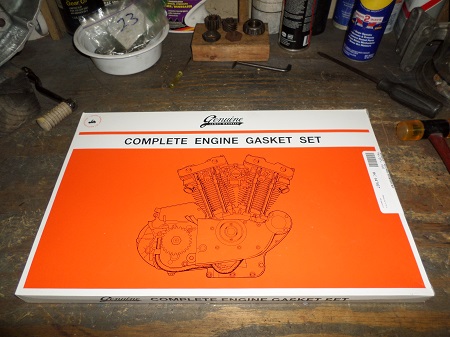 ********************
900cc Ironhead Transmission
Rebuilding an Ironhead transmission is a project within a project.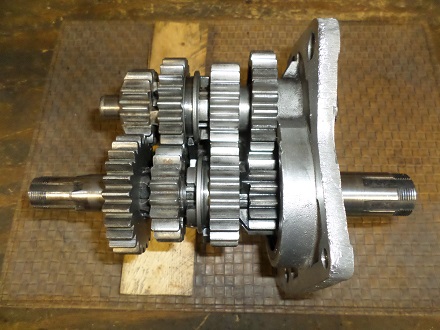 ********************
A Word About VIN Numbers
Up until 1969, VIN numbers on Harley-Davidson motorcycles appeared only on the engine case, and usually started at 1000 each new year. Starting in 1970, the VIN appeared on both the engine and the frame.
If you are looking at an Ironhead Sportster project and there are no numbers on the base of a motor, beware. It's likely they were ground off intentionally (stolen motor).
If you are looking to buy a 1970 or later Harley motor with no frame and registering it with the engine's VIN, it's not going to be the true Harley title. Someone else may be riding around in the frame with a different or aftermarket motor, and that bike is correctly titled from the frame number. If you get stopped and they run your VIN number, your bike could get impounded because there's another bike out there that is correctly registered with the same VIN.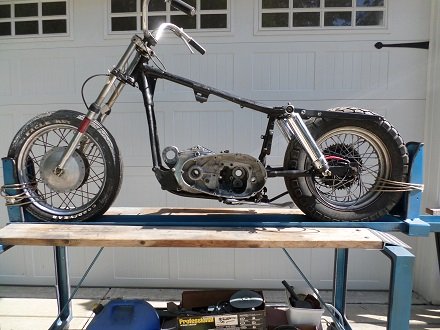 ********************
Related Articles: