Ironhead Rocker Box Assembly
Text and Pictures by Mark Trotta
The rocker boxes on top of your old Sportster engine were well designed, but through age and wear will eventually need an overhaul. This generally includes removal, disassembly, checking and replacing worn rocker arms and bushings, then re-assembly and installation.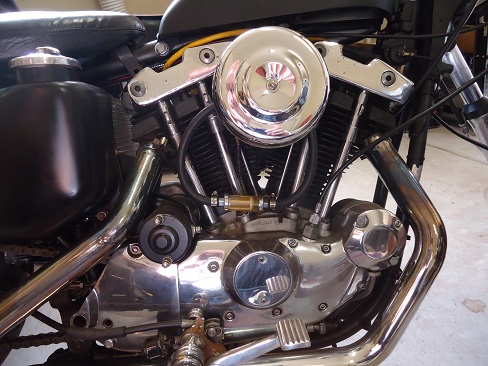 Rocker Box Removal
If your motor is still in the frame, the rear rocker box cannot be removed by itself. The rear head and rocker box need to be removed as one piece.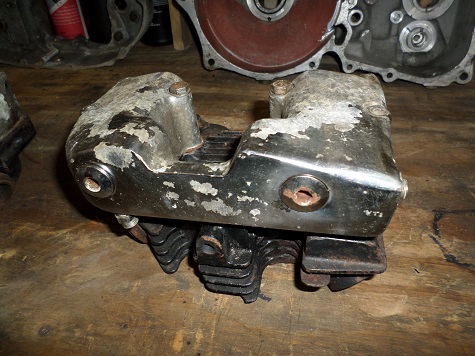 If you try to remove just the rear rocker box, you may damage the gasket surface. This design quirk was addressed and changed on the 1986-up Evo Sportsters.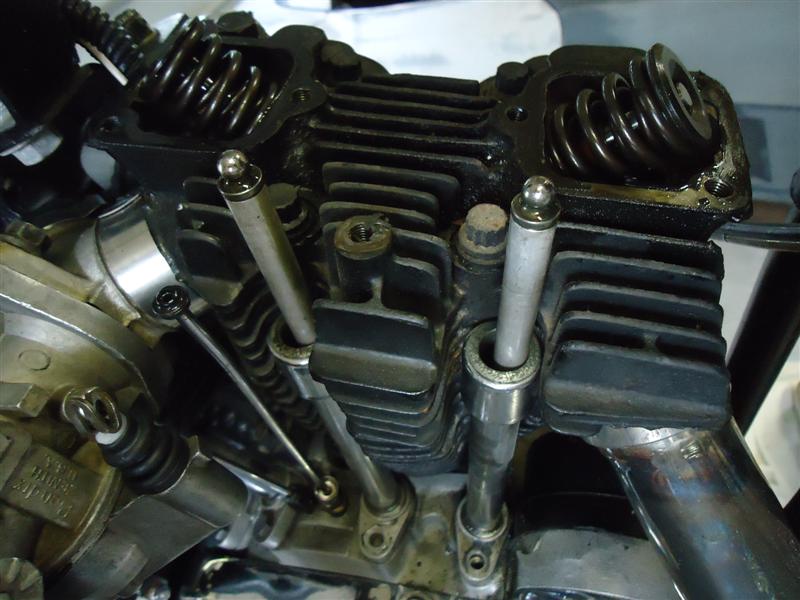 The front rocker box can be removed by itself, as there is enough room between the rocker box and the frame.
Rocker Box Disassembly
Before disassembling, check the play between the rocker arm to shaft. The easiest way to do this is with a feeler gauge.
The factory manual states the play should not exceed .002". If the bushings in the rocker box are worn more than that, they should be replaced. The shaft bushings are fairly easy to press in and out.
Note: 1986 and up Evo Sportsters have the same shaft bushings, but with the addition of a small oil hole. It is not recommended to use the later Evo-style bushings in Ironhead rocker boxes.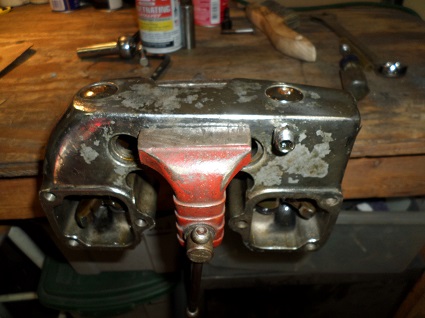 Tools Needed
Tools needed to disassemble these rocker arms were a 5/8" wrench or socket, flat-blade screwdriver and a 5/16" Allen key.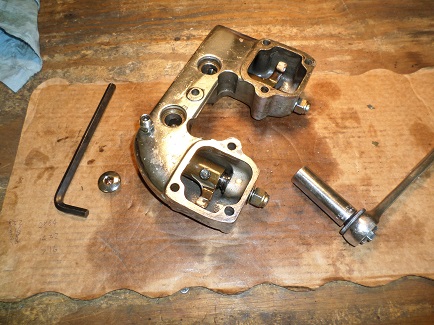 Rocker Box Design
Ironhead Sportster rocker boxes are similar to those on Shovelheads, but they share no common parts. Curiously, Harley Big-Twin engines have only two part numbers for their four rocker arms. The rear exhaust is also the front intake, and the rear intake is also the front exhaust.
Ironhead Rocker Arms
Ironhead Sportsters have four different rocker arms. To add to the confusion, the two intakes and the two exhausts look the same, but none are interchangeable.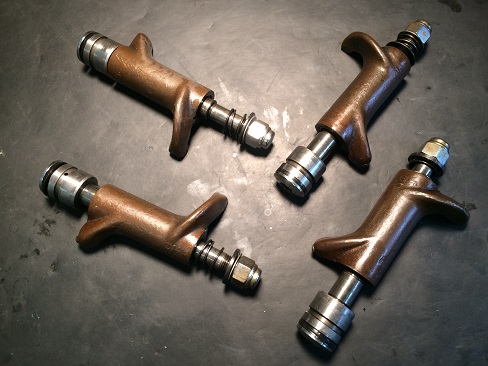 If you inadvertently substitute a front exhaust for a rear intake or vice-versa, the push rod/rocker arm alignment will be out of whack. I'm sure there's a few old Ironheads out there with mis-matched rockers, so be careful when assembling.
Part Number vs Casting Number
The numbers stamped on original H-D rocker arms are not actual part numbers. These are referred to as casting numbers, and will help you identify which rocker arm is which.
Note: sometimes due to an upgrade or manufacturing change, Harley would change the casting number, but the part number would remain the same.
All Ironhead Sportsters used the same rocker arms and rocker boxes. If your rockers were replaced with aftermarket ones, they'll have different casting numbers/part numbers from the factory rockers.
The rocker arm part numbers listed below are from the Harley parts book:
Front Intake 17396-57A
Front Exhaust 17394-57A
Rear Intake 17397-57A
Rear Exhaust 17395-57A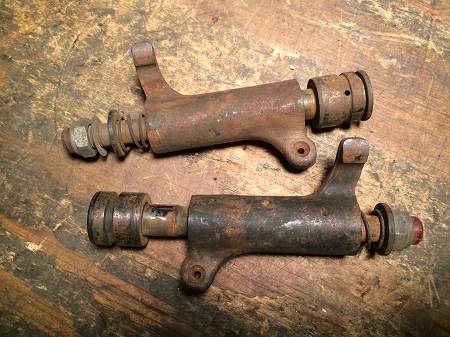 Which Ones Have The Oil Hole?
Upon close examination, you will notice two of the four Ironhead rockers have a small oil hole. These are the exhaust rocker arms; the holes are there to help with the extra heat. The two intake rockers do not have oil holes.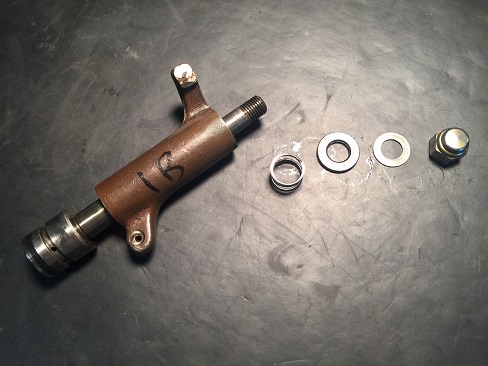 If the rocker arm pads are slightly worn, they can often be renewed on a grinder, providing the original curve is followed. Best practice here is to compare wear on old worn rocker to a new, unused rocker.
Rocker Arm Shafts
Ironheads had early and late style rocker shafts, and they are interchangeable. The early shafts (1957-1970) had a round slotted end plug. A design change for 1971 saw a slightly wider O.D shaft, and the end plug was switched to the Shovelhead-style red plastic "button".
H-D factory manual states rocker arm end play should be between .005" to .010".
Original rocker O-ring seals were rubber. Most aftermarket seals are nylon.
Rocker Arm Gaskets
On 1957-1969 Sportster engines, there were no factory rocker box to cylinder head gaskets. Suggested practice was, after a good cleaning, applying a light coat of aluminum paint to the head surface before mounting the rocker box.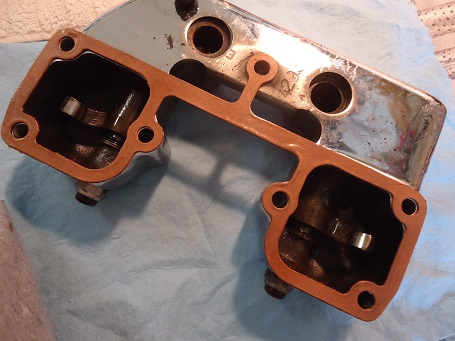 Starting in 1970, rocker box gaskets were installed from the factory.
Gasket sealer is really only needed to hold the gasket in place while it's being bolted down. I sprayed mine with copper gasket spray because it leaves the thinnest coat. Then after they are glued in place, the un-needed portion of the gasket gets cut off with a sharp razor blade.
Here's a tip if you have a pre-1970 bike and want to keep it original but don't want it to leak. On a dead flat surface, lap the bottom of the rocker box with fine sandpaper. This will help allow it to seal. This is also a good idea with chrome rocker boxes.
Rocker Box Bolts
Rocker box bolts were same from 1957-1976. From 1977 through 1985, the bolts were slightly different.
Chrome vs Polishing
We all know the enemy of an internal combustion engine is heat. This is even more true with air-cooled motors. Chrome-plated engine parts hold in heat, and the part will pit and flake over time. Polishing aluminum is always the better choice for engine parts.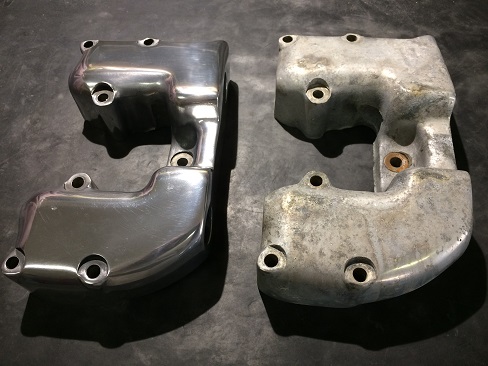 After spending several hours filing and sanding each of the 1965 XLCH rocker boxes, I polished them on a bench sander. It was very time consuming, but the results were worth it.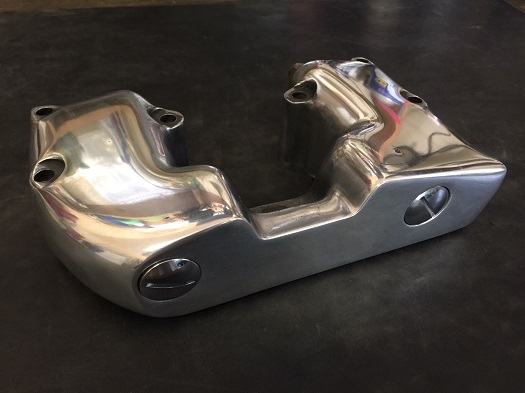 *******************************
Related Articles: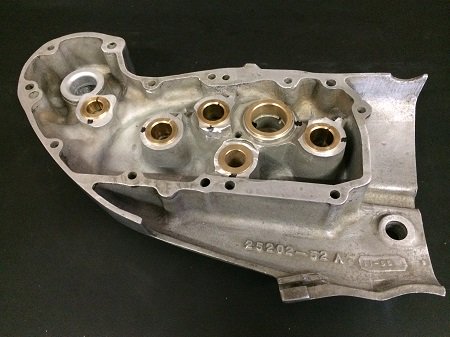 *******************************