Harley Classics (Pre Evo)
Article by Mark Trotta
The first Harley-Davidson motorcycle was built in 1903 by William Harley and three Davidson brothers, Arthur, William and Walter. Although there were more Davidson's than Harley's, the company was named Harley-Davidson because "it sounded better."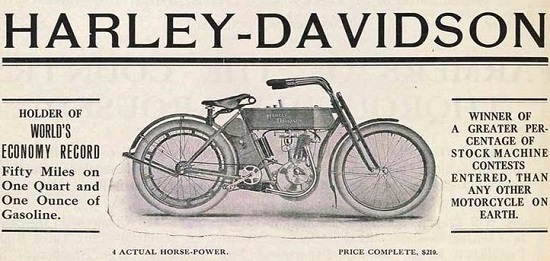 Weighing approximately 150 pounds, the wheelbase was 53 inches and the height to the saddle was 31 inches. A 405cc single-cylinder engine sat in a redesigned bicycle frame, producing about three horsepower.
First Harley V-Twin
Six years after the introduction of their first production motorcycle, Harley-Davidson offered their first V-twin in 1909. Named Model 7D, the engine design was intake-over-exhaust (IOE), which has the intake valve located in the cylinder head and the exhaust valve located in the block. The 810cc, 45-degree V-twin produced about seven horsepower. Reportedly 27 examples were built.
_________________________________________________
_________________________________________________
The Bar and Shield logo was used for the first time in 1910, and was trademarked one year later.
After a year's absence, the Harley 7D was back in 1911, now sporting mechanically-driven intake valves and a belt tensioner. Stopping was done by a lone rear coaster brake. Harley-Davidson would use the I.O.E. engine design until 1929.
Before the 'step-starter' foot lever was ever used, early motorcycles were started by either by pedaling it 'bicycle-style' while the rear wheel was raised off the ground, or by running alongside it and popping it into gear.
"I just wanted to take the work out of pedaling to the lake to go fishing."
- William S. Harley
The first use of a kick-starter for Harley-Davidson was 1914. As motorcycle engines got larger, manual compression releases helped make starting easier.
Harley 11F
The 1915 Harley-Davidson 11F utilized an automatic oiler and larger intake valves, which helped 61-cubic-inch F-head achieve 11 horsepower. It was also the first Harley with 3-speed transmission, which would prove durable enough to last through 1936.
Post WW1 Harley-Davidson
During World-War-One (1914-1918), the U.S. Armed Forces commissioned Harley-Davidson to build 20,000 motorcycles, which was more than 50% of its factory output. By the end of the war, the motorcycle industry had dwindled, putting many American manufacturers out of business.
H-D Sport Twin
The new Harley W Sport-Twin of 1919 was the Motor Company's first side-valve (flathead) engine. It was a horizontally-opposed two-cylinder displacing 37 cubic-inches. The side-valve motor ran cleaner and quieter than its predecessors. The Sport Twin was a smooth-running, lightweight machine, but never gained popularity.
Needing to keep up with the four-cylinder bikes of Indian, Cleveland, and Henderson, Harley-Davidson introduced a 74ci V-twin engine in 1921. These were the Motor Company's first Big-Twin models.
First offered as the JD (battery) and FD (magneto) models, a 61 cubic-inch version was available as the J Solo and JS Sidecar. A larger and more expensive 74 cubic-inch motor came with the JD Solo and JDS Sidecar.
In 1928, the two-cam Harley JH (61ci) and JDH (74ci) motorcycles were offered. These bikes could reach a top speed between 90-100 mph. All Harley-Davidson models were now available with a front wheel brake.
The first Harley 45 flathead was the DL model (1929-1931), followed by the RL model (1932-1936). Both the DL and RL engines used a total-loss oiling system, and were succeeded in 1937 by the WL series 45, which had recirculating oil lubrication.
A Recirculating oil system was introduced on all Harley engines in 1936; R became W to denote this.
Harley-Davidson Knucklehead
Still one of the Motor Company's crowning achievements, the "Knucklehead" EL was produced from 1936 to 1947. The new engine, which earned it's nickname from the shape of its rocker boxes, was a 61ci overhead-valve V-twin. With consumers requesting more power, a 74 cubic-inch version (the FL) was offered from 1941 to 1947. Flathead big-twins remained available through 1948, selling alongside the OHV Knucklehead.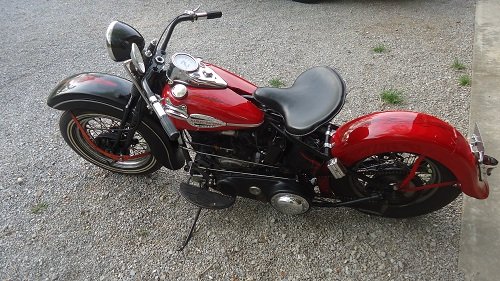 Harley-Davidson Servi-Car
Harley trikes have been utilized by police departments, fire houses, postal carriers, small businesses, the military, as well as car dealers and repair shops. The Harley-Servi-car was produced from 1932 through 1973 and powered by the venerable 45ci flathead.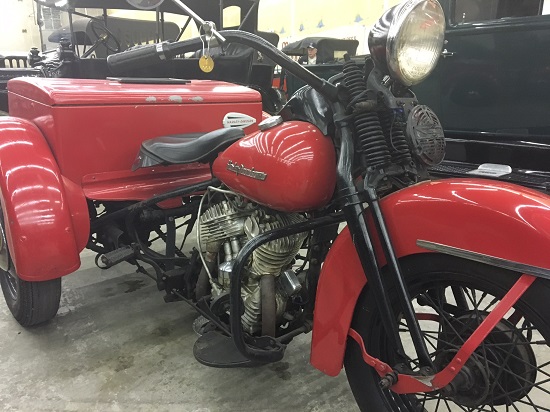 _________________________________________________
_________________________________________________
Harley-Davidson During WW2
Nearly all Harley production was for military use during the years of 1940-1945. More than 88,000 WLA models were built, along with three-wheeled special-duty bikes, police and postal bikes. Additionally, just over 1,000 opposed-twin XA models were built.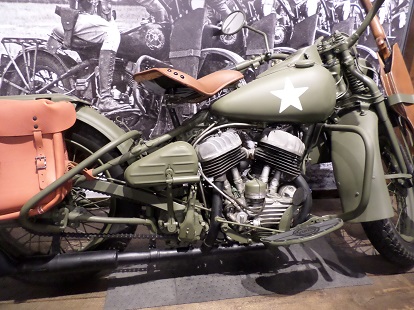 Harley-Davidson Panhead
By the mid 1940s, Harley's OHV big-twin was in need of an upgrade. Harley engineers updated the Knucklehead's upper-end with aluminum cylinder heads and hydraulic valve lifters. The new heads were topped off by redesigned rocker covers which resembled upside-down roasting pans, prompting the nickname "Panhead."
Flat-Track Racing
Starting from the fifties up until the late seventies, oval dirt tracks were the most popular motorcycle racing in the United States. The popularity of flat-track racing was partially due to the availability of horse racing venues around the country.
Harley-Davidson K-Model
In the early fifties, British motorcycles were quickly gaining popularity in the American marketplace. Needing to offer a motorcycle that was lighter and faster than their 1200cc Big-Twin bike, Harley-Davidson introduced the sporty K-Model.
Harley KR Model
Produced from 1952 to 1968, Harley's next successful race bike after the WR model was the KR750. The factory KR dirt track racer had a rigid frame like the old WR racer, with a bolt-on sub-frame allowing riders to switch back and forth for different types of track competition. Chrome-moly tubing was used with traditional cast iron frame lugs. Besides high-performance engine parts, hubs, rims, brakes, six gallon tanks and full fairings were available as factory racing parts.
_________________________________________________
_________________________________________________
Since its inception, the Harley KR750 proved to be a one of the most successful factory bikes, winning 12 of 15 Daytona national championship races from 1955 to 1969. It attracted future legends such as Tom Sifton and Gary Nixon, and won many races in its day.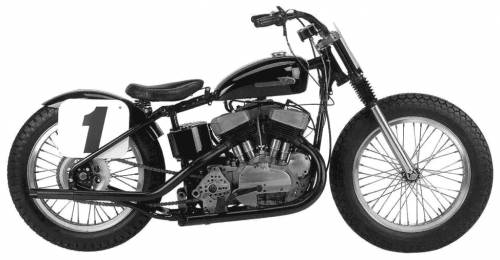 Indian Goes Bankrupt
After nearly 50 years as Harley's main competitor, the Indian Motorcycle Company went bankrupt in 1953. When Indian closed its doors, Harley-Davidson was the only American Motorcycle manufacturer, and increased sales resulted.
50th Anniversary Harley-Davidson
Why 1954 was chosen as the 50th year and not 1953 is a topic of debate - all subsequent Harley-Davidson anniversary models would use 1903 as year one. All anniversary models were adorned with a special trim package.
Harley-Davidson Sportster
The Ironhead Sportster was produced from 1957 to 1985. Sales increased nearly every year, along with improvements in power, handling, and reliability.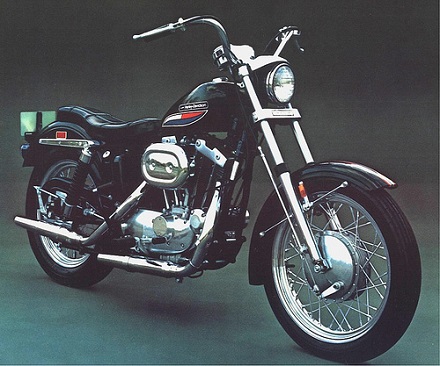 The Sportster's unique sound while idling is a consequence of it's uneven firing pattern. After the rear cylinder fires, the crankshaft completes 405 degrees of rotation before the front cylinder fires, then 315 degrees of rotation until the back cylinder fires again.
********************************
Harley-Davidson Scooter (1960-1965)
The Motor Company produced several small-displacement two-wheelers, including the Topper scooter. The two-stroke engine was based off the German DKW RT125, which also powered the Harley-Davidson Hummer motorcycle.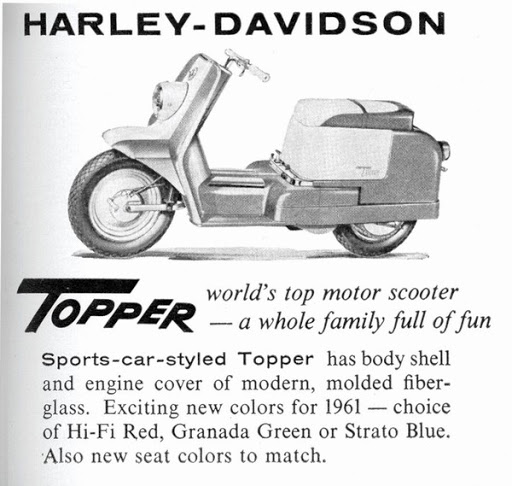 *******************************
Harley-Davidson Shovelhead
After it's introduction in 1966, the Harley-Davidson Shovelhead saw numerous changes over 17 years of production. The OHV big-twin motor had originally displaced 74 cubic-inches, increasing to 80 cubic-inches in mid-1978.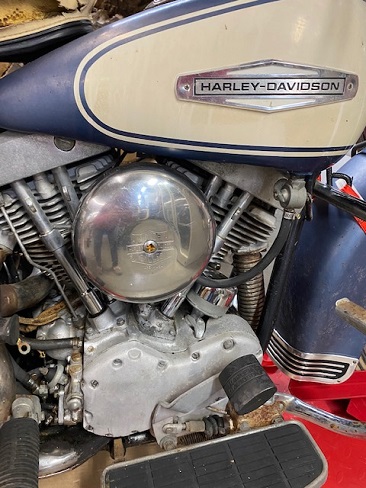 In 1969, Harley-Davidson was acquired by AMF (American Machine and Foundry Company), a large business conglomerate who manufactured and sold, among other things, lawn and garden equipment, golf clubs, snowmobiles, sailboats, powerboats, mopeds, and now, motorcycles.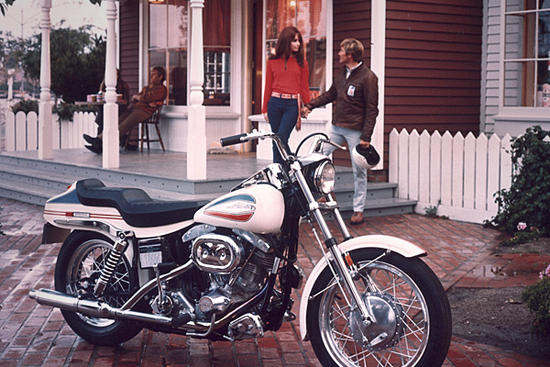 Harley Super Glide
By pairing the smaller and lighter Sportster front end with the frame and drivetrain from a Big-Twin bike, the Harley FX series was born. Although not a big seller at the time, the 1971 Super Glide is considered the first factory custom motorcycle.
In 1973, Harley-Davidson opened a second manufacturing plant in York, Pennsylvania.  The original factory was and still is in Milwaukee, Wisconsin.
Harley-Davidson Racing
The A.M.A. Grand National Racing has several venues, including the mile, half-mile, short-track, TT Steeplechase, and road-race. The most popular has been the mile course, run on an oval-shaped, dirt track. With bikes capable of speeds over 120-mph, the races are always exciting, with numerous lead changes and plenty of close racing. Flat-track racing favors motorcycles with larger engine displacements, such as the Harley-Davidson XR750.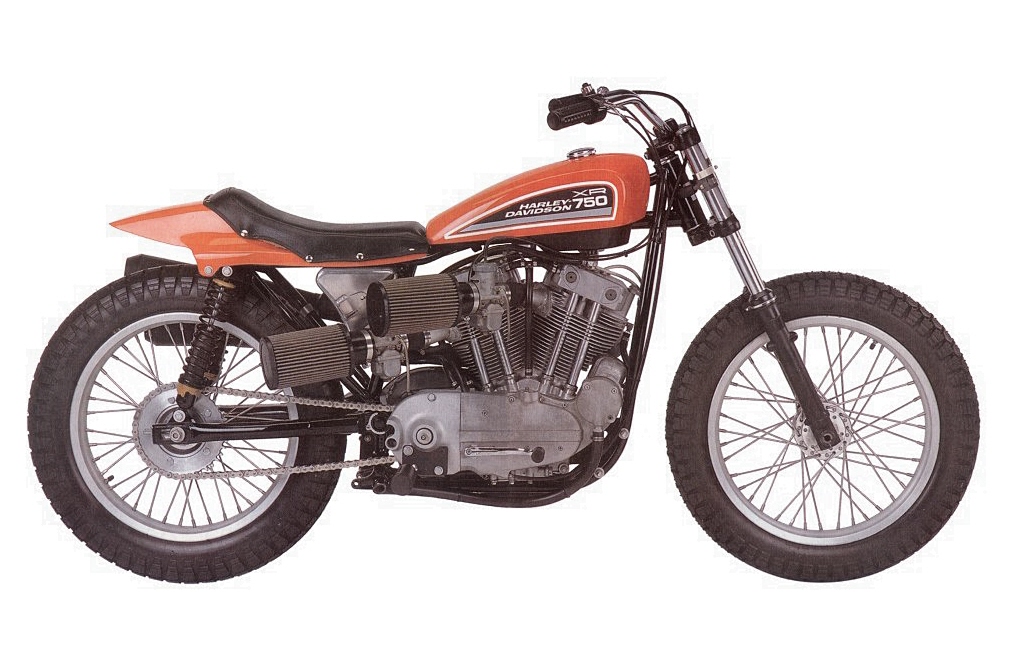 Jay Springsteen, a member of the Harley-Davidson factory race team, won three consecutive A.M.A. Grand National Championship in 1976, 1977, and 1978. Many of America's top road-racers running in MotoGP have been brought through the ranks from oval dirt tracks.
_________________________________________________
_________________________________________________
Harley Cafe Racer
Harley-Davidson produced the XLCR Cafe Racer in 1977 and 1978, competing against much lighter and faster bikes such as the Kawasaki Z-1, Ducati 900SS, and BMW R90S. While not fully appreciated in its day, today they are prized collectors items. The Harley Cafe Racer helped future Sportster models achieve better handling, braking and agility.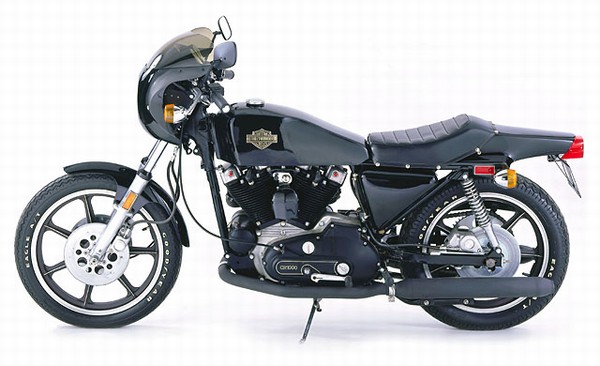 Harley Low Rider
The first of several carnations of the FX Super Glide model was seen in 1977, when the FXS Low Rider made its debut. Lowered rear suspension gave the bike a 27" seat height, and two-into-one exhaust, cast alloy wheels, and dual front disc brakes made the Low Rider stand apart from the earlier FX Super Glide.
Confederate Edition Harley-Davidson
In 1977, the Motor Company offered very limited edition "Confederate Edition" motorcycles. Essentially decals-only in difference from standard models, the "Stars and Bars" flag adorned gas tanks and fender.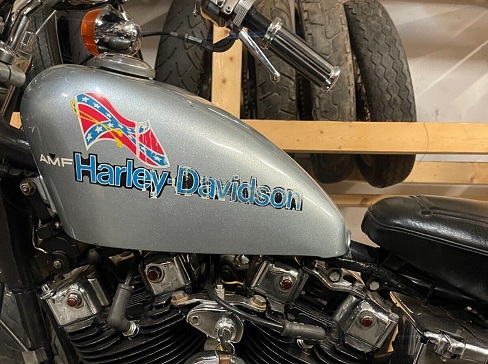 Production numbers of Confederate Edition Harleys were very low, with reportedly 299 Confederate Sportster XL's, 45 Sportster XLCH's, and 15 Sportster XLT models sold.
Harley-Davidson After AMF
The year 1981 marked the end of a 12-year relationship between Harley-Davidson and AMF. A group of investors, led by Vaughn Beals and Willie G. Davidson, bought the Motor Company back for a reported $80 million. Once that was done, they put themselves on the stock market, sold shares of the company to the public, and pulled themselves out of a large debt.
Harley FXR
Introduced in 1982, the Super Glide II (FXR) differed from the existing FX models. Where other FX models still had solid engine mounting and a four-speed transmission, the FXR shared the rubber-mounted engine and a five-speed transmission with FLT Tour Glide. The model years 1982-1983 FXR were equipped with the Shovelhead engine, while subsequent models had the Evo motor.
The year 1982 saw Harley-Davidson motorcycle sales at an all time low. In order to help them and American economy, U.S. President Ronald Reagan imposed a 45% tax on imported motorcycles, reduced to 35% in 1984. While this was done to slow down Japanese motorcycle sales, it severely hurt British and European bikes. By 1987, the tariff was reduced to 10%.
Harley VIN Numbers
Up until 1969, Harley-Davidson VIN numbers appeared only on the engine case and usually started at 1000 each new year. Starting in 1970, the VIN appeared on the engine and the frame. The Motor Company didn't necessarily assemble machines in exact numerical (serial number) order. Sometimes engines were held back due to one reason or another, so it's possible that an engine with a numerically lower VIN number may have reached the final assembly line after engines which had a numerically higher VIN number.
To help combat vehicle theft, all car, truck, and motorcycle manufacturers began using a 17-digit VIN starting in 1981.
Buyer Beware
If you are looking at buying an classic Harley project bike and there are no numbers on the base of a motor, they may have been ground off intentionally (stolen motor). Beware of buying a 1970 or later Harley motor with no frame and registering it with the engine's VIN. It isn't going to be the true Harley title. Another person may be riding around in the frame with a different or aftermarket motor, and that bike is correctly titled off the frame number. If you get stopped and they run your VIN number, your bike could get impounded because there's another bike out there that is correctly registered with the same VIN.
Note: For custom bikes with non-matching VIN numbers, most motor vehicle offices will go with frame number after 1970 and/or issue you a totally new VIN number (stamped) plate for your bike.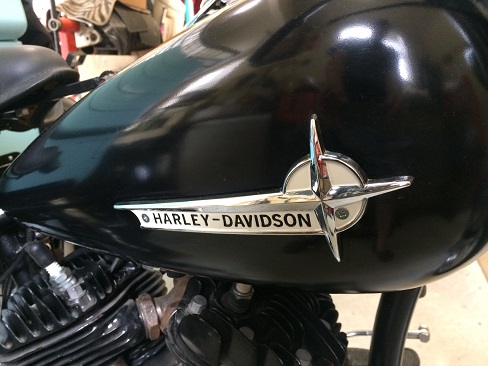 A large percentage of old Harleys have been "customized" through the decades. Many good-intentioned riders built choppers through the sixties and seventies, cutting and raking necks and removing/throwing away good factory parts. This is why, when you stumble across an old bike that's original or not that far off, the best thing to do is restore it correctly or consider selling it to someone who will.
*******************************
Related Articles: