Harley WLA History
Article by Mark Trotta
During World-War-Two, nearly all Harley-Davidson motorcycle production was for military use. Several different models were produced, but the vast majority was the WLA flathead 45, which saw use in every theater of military operation.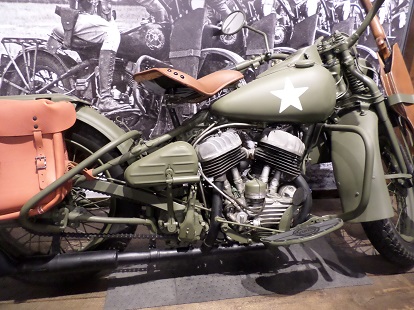 Harley Military Bike Development
As war in Europe escalated, the United States saw their odds of being pulled into a second World War increasing. Starting in 1939, the U.S. government began allocating money to build up all phases of their military.
The U.S. military began testing motorcycles from several different manufacturers, most notably Harley-Davidson and Indian. Among the requirements were that the motorcycle had to be capable of 65 mph and not overheat at low speeds.
Military vs Civilian Models
Early prototype models were essentially the same as civilian Harley 45 models, with front forks lengthened slightly to increase ground clearance. Add-ons included crash bars, skid plates, cargo rack and saddlebags. On military models, the sides of fenders were trimmed back to prevent mud-clogging on unpaved roads.
Picture Courtesy Harley-Davidson
WLA Designation
The letters WLA stand for; "W" indicating 45ci flathead, "L" for high compression, and "A" for Army use.
Compression Ratio
Here in the 21st century, it's hard for us to understand that 6.0:1 was a high compression motor, but the reader must remember that modern high-octane fuel and high compression engines came after (and were actually a by-product) of WW2.
The U.S. Army specified a slightly lower compression ratio ( 5.0:1) than civilian WL's, allowing them to run on lower quality fuel. Although this decreased power output, it made for easier starting (all bikes were kick-start only). Oil-bath air filters were fitted to reduce dust from dirt roads. WLA engines were fitted with aluminum cylinder heads.
Harley WLA Engine Specs
Configuration: V-Twin
Engine Displacement: 742cc (45 cubic-inches)
Bore and Stroke: 2.75" x 3.18"
Compression ratio: 5.0:1
Electrical System: 6 Volts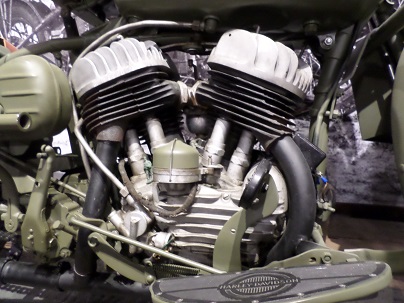 40WLA and 41WLA
After passing requirements and testing, the U.S. Army ordered 400+ Harley WLA models. These early models have a VIN starting with "40WLA". The following year brought the 41WLA.
42WLA
Within the first few months of America entering the war, the 41WLA evolved into the 42WLA. These would be manufactured for the next four years, up until August 1945. The 42WLA models encompass the vast majority of WLA bikes produced.
All WLA motors produced in 1942, 1943, 1944, and 1945 have a VIN starting with "42", regardless of what year they were built. This was unique in H-D's history, and presumably done to simplify paperwork.
WLA Accessories
Accessories included a luggage rack, ammo box, and leather rifle scabbard. Bikes were also equipped with D-shaped foot-boards, and front and rear blackout lights to reduce night-time visibility.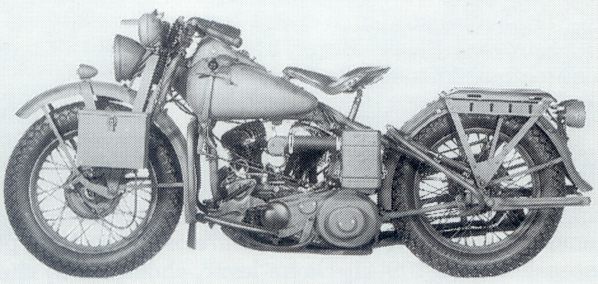 Picture Courtesy Harley-Davidson
From the factory, WLA motorcycles were fitted with Firestone Sportsman 4.00-18 tires. With few exceptions, all WLA's were painted flat olive drab.
Harley WLC
Harley-Davidson produced a Canadian version of the WLA called the WLC (the 'C' standing for Canada). About 18,000 WLC's were produced, differing slightly from the WLA by it's foot shift/hand clutch and other modifications requested by the Canadian Army.
Lend Lease
Along with trucks, tanks, airplanes, and ships, motorcycles were supplied to ailing countries through Lend Lease Agreements. Nearly 60 percent of WLA production (over 34,000) were exported under Lend-Lease and other military assistance programs.
WLA in Action
In every theater of operation it was sent to, the WLA reliably carried fully-equipped soldiers with gear and supplies. Being big and bulky, the WLA did not have the maneuverability of Britain's smaller motorcycles, nor the off-road capability of German motorcycles, but it's rugged simplicity proved well-suited for messenger service. Although Army Jeeps played an important role in helping the Allies win WW2, quite often, motorcycle dispatch riders were the fastest way to send orders too secret for wireless transmission.
Harley WLA's were also used extensively for military police functions.
Excellence Award
With the success of the WLA motorcycle, Harley-Davidson received the prestigious Army-Navy "E" Award (Excellence in Production) in 1943, and again in 1945. Only industries that participated in wartime production were eligible to receive this high honor, and the award would be mentioned often in civilian advertising.
WLA Production Numbers
In all, Harley-Davidson produced about 70,000 WLA and WLC military motorcycles during the war years 1941-1945. The largest portion of these (about 27,000) went to the Soviet Union under the Lend Lease program. Spare parts for an additional 30,000 bikes were also produced.
WLA After WW2
Along with trucks, tanks, trailers, and other discarded military equipment, the majority of WLA's sent to Europe ended up in scrap heaps after the war was over. Of course, some survived, and were taken in and 'adopted' by local townspeople.
Where Are They Now?
At the end of the WW2, the Army sold many unshipped WLA's domestically as military surplus, often at very cheap prices. Many of these cheap surplus WLA's were chopped and customized.
During the Korean War, manufacture of Harley WLA started up again.
****************************************************
Interesting Find
As good fortune would have it, I came upon this 42WLA engine in the Spring of 2022. The numbers on the VIN identify it as a 1945 production.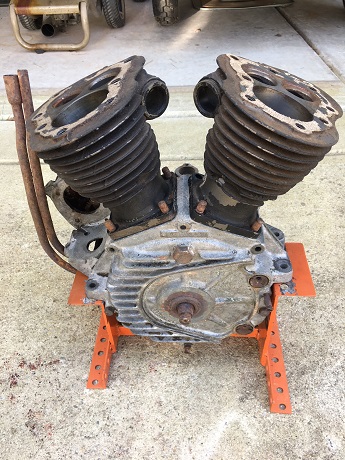 Note the tall breather tube coming out of the front right side of the engine. This was to keep water out when fording shallow rivers, and standard issue on all military 45's.
****************************************************
Harley 45 Serial Numbers
Stamped in the left engine case, civilian Harley 45 serial (VIN) numbers start with the last two digits of the year, followed by the letter designation, then a four-digit assembly sequence code.
Example: 42WLxxxx
Harley WLA motors had an additional number in the VIN.
Example: 42WLAxxxxx
Canadian models are stamped "43WLCxxxx"
****************************************************
Rocky Horror Motorcycle
In the 1975 film, The Rocky Horror Picture Show, Eddie (played by singer Meatloaf) rides out of the deep freeze of Dr. Frank-N-Furter's lair on a Harley-Davidson WLA.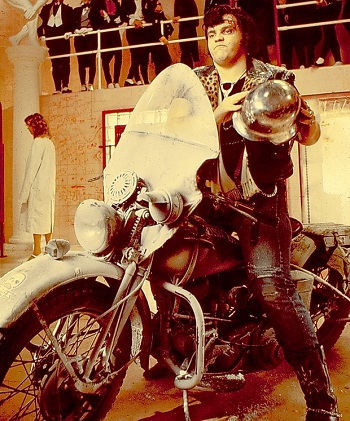 ****************************************************
More Harley Classics: