Vintage Indian Motorcycles
Article by Mark Trotta
Although dozens of models were made in their five-decade history, vintage Indians are best known today for their large skirted fenders and colorful two-tone paint schemes. Since the original company folded in 1954, the Indian motorcycle brand has gone through no less than five different owners.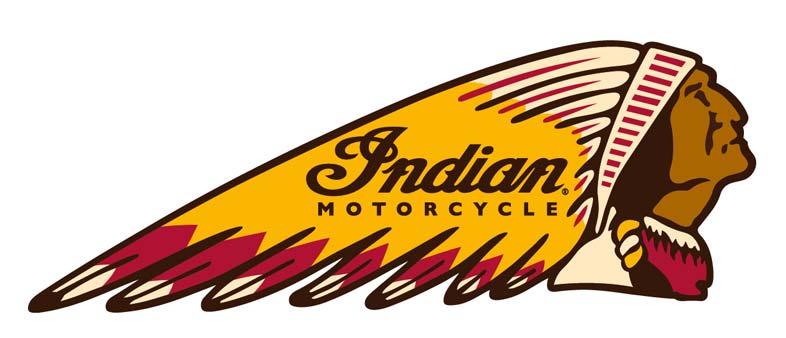 Indian Motorcycle History
The first Indian motorcycle, a chain-drive, single-cylinder unit, was built in 1901. They were offered to the public the following year.
Company co-founders George Hendee and Oscar Hedstrom, both of whom had built bicycles before they met, contracted the Aurora Automatic Machinery Company in Illinois for engine production.
A year later, Hedstrom, as chief engineer, rode one of the motorcycles to a new world speed record of 56 mph. This was the beginning of a long and storied racing history.
_________________________________________________
_________________________________________________
First American V-Twin
The first Indian V-twin was a factory race bike, built in 1905/1906. A similar version was introduced to the public in 1907, making the 633cc, 42-degree V-twin the first American V-twin production motorcycle.
In 1909, Indian Motorcycle introduced the loop frame, similar to their own racing motorcycle design. A rear swing-arm suspension called the "Cradle Spring Frame" debuted in 1913. It was featured on all 1913 models, all of which were painted Indian Red.
Originally based in Springfield, Massachusetts, the Indian motorcycle factory was affectionately called the 'Wigwam". Native American imagery was seen often in their advertising.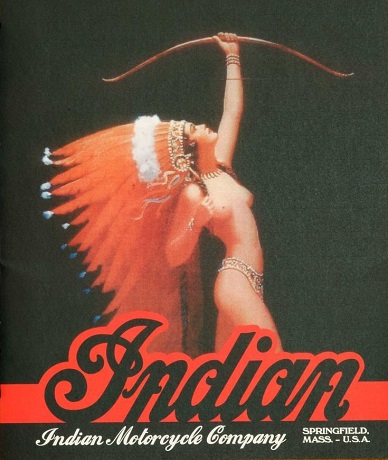 Early Indian Motorcycles In Competition
Racing and Competition played a big part in Indian Motorcycle history. In the 1911 Isle of Man TT race, the Indian factory race team finished 1st, 2nd, and 3rd.
In 1914, Erwin "Cannonball" Baker rode an Indian motorcycle across America, from San Diego to New York, in a record 11 days, 12 hours and 10 minutes.
1000cc "Powerplus"
Indian introduced the 1000cc Powerplus engine, a 42-degree, 1000cc V-twin flathead, in 1916. This engine became the basis for many of their race bikes, and remained in production until 1924.
By 1917, both founding members were gone. Oscar Hedstrom left Indian in 1913, and George Hendee resigned as company president three years later.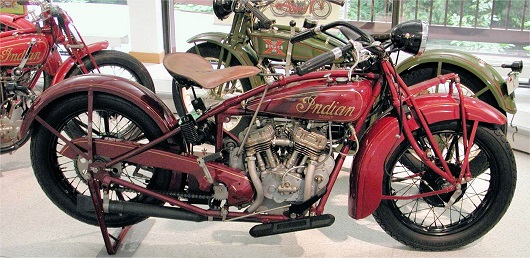 During WW1, Indian provided the U.S. Military with nearly 50,000 motorcycles from 1917-1919, most of them based on the Indian Powerplus model.
Although this helped keep the company afloat during tough economic times, it hurt its network of dealers. After WW1, Indian lost its #1 sales position in the U.S. market to Harley-Davidson.
_________________________________________________
_________________________________________________
Indian Scout (1920–1927)
In October 1919, the company introduced the Indian Scout, a mid-sized model with a 606cc side-valve V-twin engine. The Scout proved to be reliable and affordable. A front brake became standard in 1928.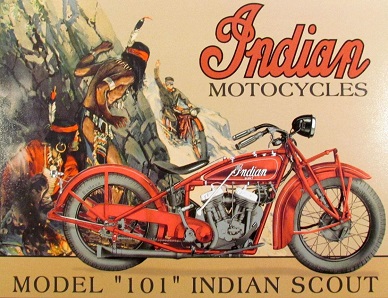 Indian Scout 101 (1928–1931)
Essentially a larger version of the 606cc Scout, the 750cc V-twin Scout was introduced late in 1927. The 101 Scout featured a new frame with more fork rake, a longer wheelbase, and lower seat height.
Indian Chief
Built from 1922 to the end of the company's production in 1953, the Indian Chief was the company's largest bike. At the front of the bike was a girder front end, which proved sturdy enough to be used by the U.S. Army in the Sahara Desert during World War II.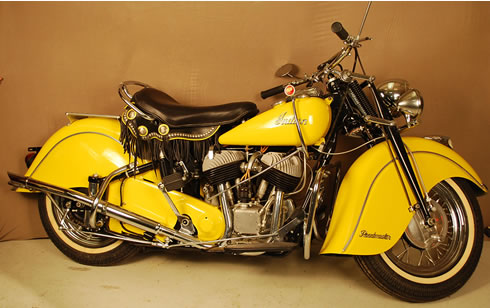 A 74ci, 1200cc model called the Big Chief debuted in 1923. It became a best-selling model, and rounded out Indian's lineup that also included the Scout and the Chief.
Indian Four Cylinder
Indian Motorcycle purchased the Ace Motor Corporation, then released the Indian Ace based on the Ace inline four-cylinder engine. The Indian Motorcycle lineup now included single, twin, and four-cylinder models.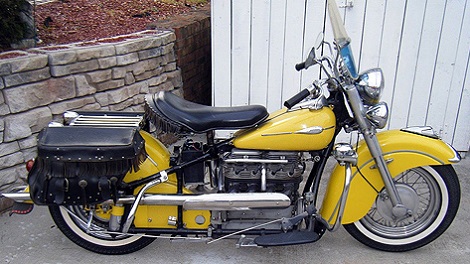 Picture courtesy of Randal Montgomery
Scout Standard and Pony Scout
Essentially a Scout engine in an Indian Chief frame, the Scout Standard replaced the 101 Scout in 1932. Another model, the 30.5ci Pony Scout, was also introduced.
Both the Pony Scout and the Junior Scout were referred to as the "Thirty-Fifty" after their engine displacement size. A military version of the Thirty-Fifty, the 741, was seen in World-War-2.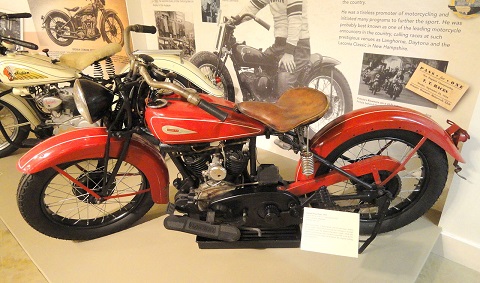 Indian Motorcycles, along with Harley-Davidson, were the only two American motorcycle manufacturers to survive the Great Depression.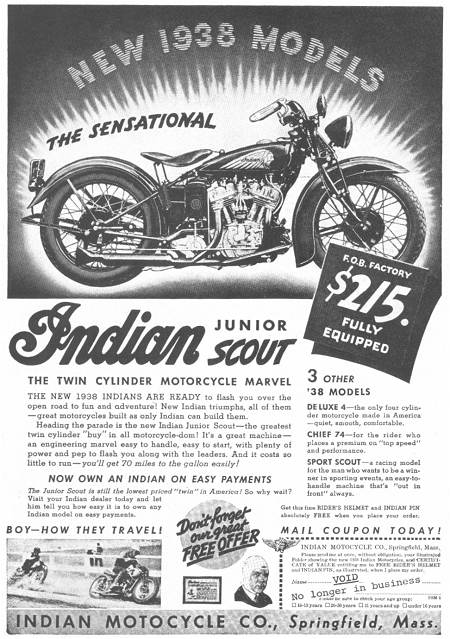 Indian Sport Scout (1934-1942)
Introduced in 1934, the Sport Scout featured stylish flared fenders and Indian Motorcycle script logo with war-bonnet graphics on the sides of the fuel tank. A lighter, two-piece frame had front and rear halves bolted to each other, and also at the top and bottom of the engine. Improved carburation and alloy cylinder heads boosted performance.
Indian Wins First Daytona 200
Despite falling twice during the race, factory rider Ed Kretz won the first Daytona 200 on a modified Indian Sport Scout in 1937. At that time, the 200 miles included running on both sand and paved highway.
In 1940, the Indian Chief frame was modified to include plunger rear suspension. Of the 10,431 bikes the company produced this year, 5,000 were built for the French government during the early stages of WW2.
**********************
Indian Motorcycles During WW2
Statistics show that Indian built a minimum of 38,000 motorcycles during World War Two. By comparison, Harley-Davidson produced about 80,000 military bikes.
Indian Model 741
The Model 741 was designed to provide Great Britain with a more fuel efficient motorcycle than existing Indian and Harley WLA models. During WW2, it saw use in Great Britain, Australia, New Zealand, and Canada.
Indian Model 841
In response to a request from the U.S. Army, Indian designed and built the 841 to be more suitable for desert fighting. The 90-degree twin-cylinder motorcycle featured a drive-shaft rather than a chain to power the rear wheel.
Approximately 1,000 841's were built, but only a handful saw combat action before the U.S. Army determined that the Jeep was more suitable for their needs.
_________________________________________________
_________________________________________________
Post WW2 Decline
In 1945, a group headed by Ralph B. Rogers purchased a controlling interest of the Indian Motorcycle Company. After spending million of dollars in designing and building new models, the postwar demand for motorcycles slowed down. Making matters even worse for Indian, the currency difference between the U.S. and the U.K. changed around 1950, making British products cheaper to buy. The new Indian models sold poorly.
In 1947, the iconic Indian-head front fender light was introduced. The Indian Chief received new telescopic front forks in 1950, and engine displacement increased to 80 cubic-inches (1300cc).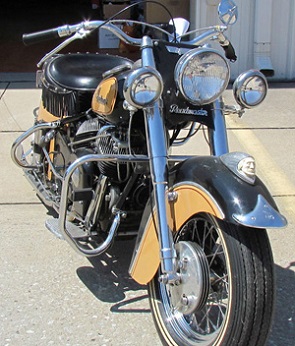 Picture courtesy of Randal Montgomery
Indian Goes Bankrupt
In 1950, John Brockhouse replaced Ralph Rogers as president of the company. With continual yearly losses, the Indian Motorcycle Company went bankrupt and ceased operations in 1953.
Since 1954, Indian Motorcycle has come back and gone out of business several times under different owners. They are currently part of Polaris Industries and are manufactured in Spirit Lake, Iowa.
**********************
World's Fastest Indian Movie
The 2005 motion picture, "The World's Fastest Indian" is based on the true story of New Zealander Burt Munro and his 1926 Indian Scout. In the early sixties, under-financed Munro traveled to the Bonneville Salt Flats, and over the course of the next few years set several land speed records.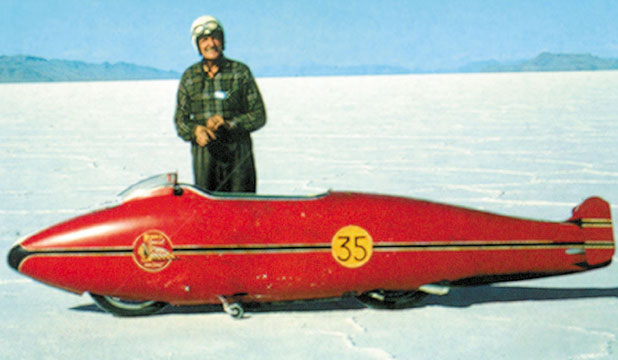 In 1967, his two-way average of 183.586 mph (corrected to 184.087 mph by the AMA in 2014) set a record in the category of "Streamlined Motorcycles Under 1000cc." Munro was 68 years old when he set this record.
Indian Motorcycle Speed Records
August 20, 1962 - 54ci (880cc) class record of 178.971 mph
August 22, 1966 - 61ci (1,000cc) class record of 168.066 mph
August 26, 1967 - 61ci (1,000cc) class record of 183.586 mph (corrected to 184.087 mph)
**********************
Related Articles: