Harley 45 Frame Choices
Article by Vintage Vinny
After finding an clean, unmolested Harley 45 motor, I began looking around for a suitable frame. Besides an old original one, what other options were there?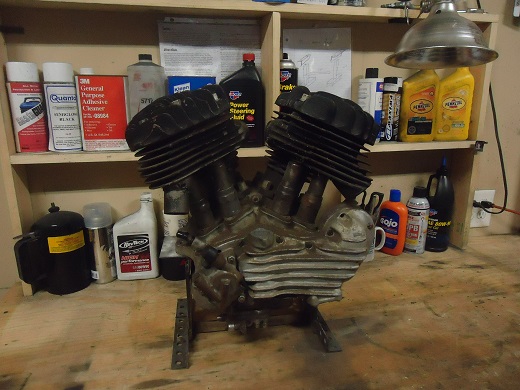 Replica Frames
Searching online, the first ones that come up are aftermarket frames. These are often referred to as "re-pops" because they are replicas of the long-obsolete factory ones. Although they're sold by numerous sellers, they're mostly all the same frame, made by a company called V-Twin Manufacturing.
Advertised as a replacement for Harley-Davidson WL models, the V-Twin frame accommodates any 1941-1973 flathead 45 motor and three-bolt, three-speed transmission. They also offer complete rolling chassis kits.
Made Where?
Up until 2010 or so, V-Twin frames were American-made. Today, they use the words "Non-Domestic Product" in their ads. I emailed three major sellers and asked what the country of origin actually was. One replied "Taiwan", another replied "Overseas", and one replied "We don't know".
I could not find any customer reviews for these frames.
Samwel 45 Frame
A company called Samwel produces replica Harley 45 frames (and other parts) in India. Although they appear to have been around for awhile, I have yet to hear or read about anybody's experience with this brand.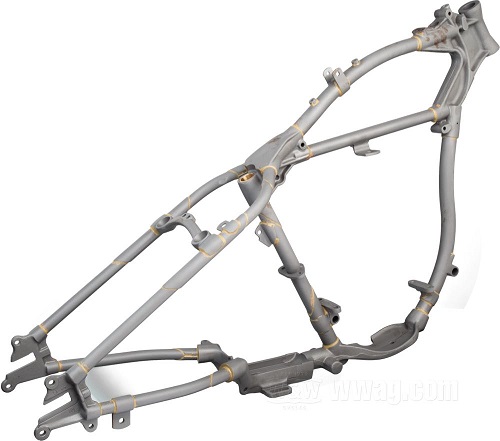 Like the V-Twin frames, the advertised price does not include shipping.
Paugcho 45 Frame
A while back, I got a Paugcho 45 frame in a trade deal. This is not a replica frame, it's more of a bobber style, and designed to be used with a 1941 thru 1969 Big-Twin four-speed transmission instead of the old three-speed unit. Although this sounds like a good idea, the 4-speed trans has to be mounted offset in order for the sprockets to line up, making it stick off to one side.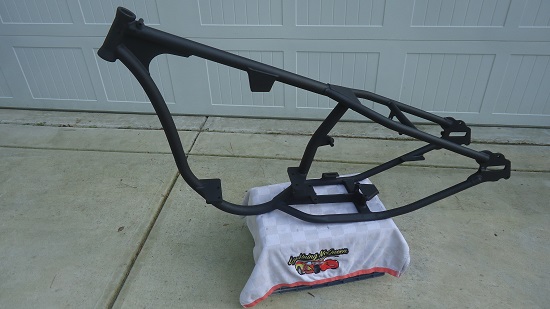 The good news about the Paugcho 45 frames is that they're U.S. made, and considerably cheaper than the other two frames.
NOTE: Accessories like oil tank and battery box have to be bought from Paugcho (unless you happen to be a metal fabricator).
Available When?
A downside to aftermarket motorcycle frames is, they're not readily available. It may take months after you've ordered and paid for one that it'll be ready to ship. When the seller says "limited supply" it often means they're counting on enough requests to justify the cost of putting the frame into production.
Forging vs Casting
Original Harley 45 frames, like Big-Twin and Sportster frames, were manufactured using steel forgings. The nature of forging minimizes the occurrence of porosity, shrinkage, and cavities, which gives greater structural integrity and mechanical strength.
Unless thousands of frames are to be built, forging is too expensive for aftermarket companies. Instead, they'll use either plain castings (subject to shearing) or investment castings (stronger but still subject to shearing with age).
So there's a question mark to any aftermarket motorcycle frame, will it hold up?
A re-pop frame would have a negative value in a classic motorcycle restoration, but worth checking out for a bobber, racer, or other custom build.
*******************************
Harley 45 in British Frame
I've always liked vintage British motorcycles, so I'm intrigued with the idea of putting a Harley 45 motor in an old Triumph, BSA, or Norton frame. Back in the day, this was a fairly common conversion in Europe.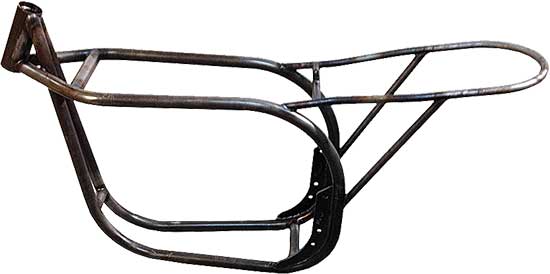 From what I've been reading, a Harley 45 motor will fit neatly into a Norton featherbed frame, along with a Norton four-speed transmission and other parts. Since the frame is lighter and stronger than the original, you'd end up with a faster, better handling bike.
The downside of mounting a Harley 45 into a British frame is that the engine and transmission mounts will have to be fabricated, along with other minor things.
A Florida-based company called Legendary Motorcycles was advertising replica Norton Manx Featherbed frames. I contacted them in June 2022, and was told they no longer offer them.
*******************************
Original Harley Frame
Like any vintage factory piece, a good original frame will increase the value of your motorcycle restoration. And they'll be no fitment issues--any 1941 through 1973 Harley 45 engine will fit into any 1941 through 1952 45 Solo frame.
Unless you're proficient and measuring and welding, beware of frames that have been modified (raked neck, missing brackets, etc). And beware of people who are making Solo 45 frames out of Servi-Car frames.
As you would expect, good original frames are pricey. And even if you have the cash on hand, they are not always available.
One might say, "They made 80,000 of these things, where did they all go? Well, most were military models, and were shipped to Europe during the war years 1941-1945. After WW2 ended, a fair amount of surplus 45 crate bikes were sold in the U.S. very cheaply. Some of these are still around and in one-piece, but too many have been "customized" or ended up in a scrap heap.
The Purchase
After all this research, I found and bought an original Harley 45 frame from a guy on the West Coast. I live on the East Coast. Shipping was $350.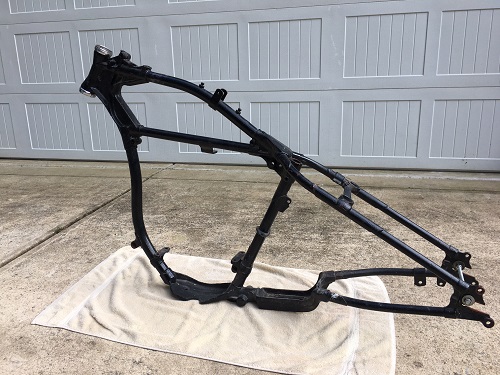 For what I paid for this old Harley WL frame, I could have bought a running Sportster. Oh well. If I wanted a cheap hobby I'd take up rock collecting.
*****************************
Related Articles: