Harley-Davidson Servi-Car (1932-1973)
Article by Mark Trotta
Built in response to rival Indian's "Dispatch Tow" three-wheeler, the Harley-Davidson Servi-car appeared late in 1931 as a 1932 model, and stayed in production for over 40 years.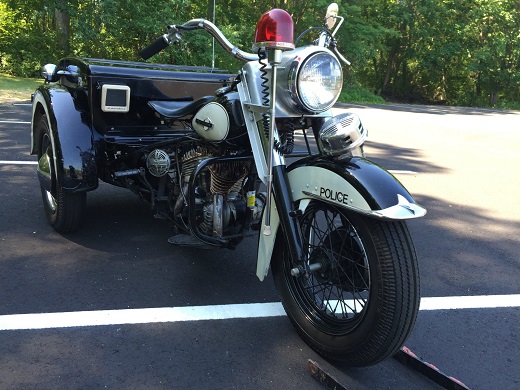 In addition to it's intended use for car delivery, the flathead-powered trike has been utilized by police departments, fire houses, postal carriers, and the military.
Throughout American history, Servi-cars have served in presidential parades, funeral processions and VIP motorcades.
Frame and Suspension
Starting with a two-wheeled motorcycle, an automotive-style rear axle was added to a modified rear frame. The rear axle had a track of 42 inches, similar to the track of most cars at that time. This was done so that the vehicle could use the same tracks that had been made by cars.
_________________________________________________
_________________________________________________
Early Servi-Car Models
G - with small box and tow bar
GA - with small box and no tow bar
GD - with large box and no tow bar
GE - with large box and air tank
Added in 1933, the GDT - with large box and tow bar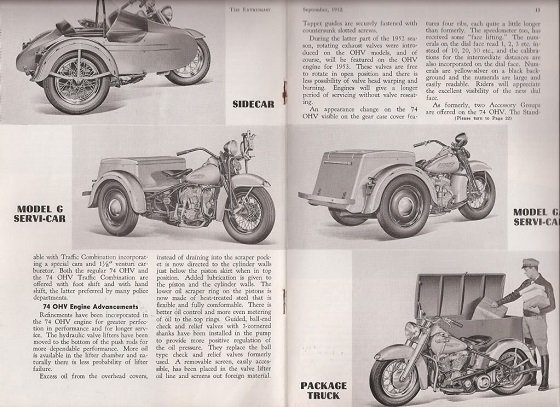 Up until 1957, Servi-car front forks were the springer-type leading-link type found on the R-series and W-series solo motorcycles. From 1958 on, the neck stem length and inner diameter changed to use Hydra-Glide front forks. A large headlight nacelle, shared with the Panhead, was used from 1960 up.
The Servi-car cargo box was designed to hold tools and/or supplies, and had a lockable lid. Rear fenders were attached to each side of the box, and the flat rear panel was perfect for advertising.
Although the rear of the Servi-car is a hardtail, the cargo box is supported by leaf springs.
From 1932 until 1941, Harley Servi-cars had either a small or large steel cargo box. In 1942, both were replaced with an intermediate-sized box.
With the large cargo box, Servi-cars were capable of transporting all kinds of items. They were also popular as utility vehicles for small businesses, with the box doubling as a rolling billboard.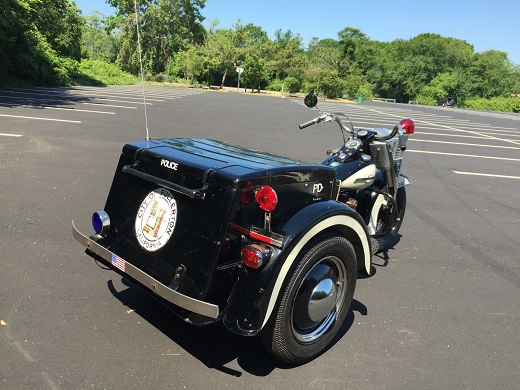 Servi-Car Tow Bar
The optional tow bar was useful for picking up and returning cars to a repair shop. It was attached to the front of the bike, then attached to the rear bumper of a car. This allowed a single employee to ride out to the client's car, and tow the Servi-car back behind it to the shop.
When not in use, the tow bar was often stored in the cargo box.
***************************
Servi-Car Brakes
From 1932 to 1936, Harley-Davidson Servi-Cars had just one rear drum brake, mounted inside the rear axle housing, operating both rear wheels. This was upgraded in 1937 to drum brakes at both rear wheels. A drum brake was also utilized up front.
In 1951, Servi-Cars were upgraded to hydraulic rear brakes. The same system was utilized until 1973, when disc brakes were fitted to all three wheels.
When Harley-Davidson introduced the 61 cubic-inch Knucklehead in 1937, the Servi-car was updated, and the two bikes shared several styling cues. This included a new 100-mph speedometer.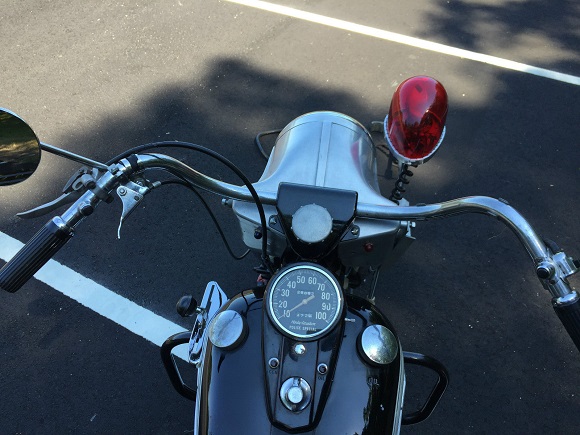 Servi-cars were upgraded continuously through the years. An enclosed chain appeared starting in 1938. A strengthened tow-bar, which was given a permanent attachment in 1939, eliminated the need to remove it and carry it separately in the cargo box. Early 1940s saw a new frame, an upgraded transmission, and rear axle halves that were previously riveted together were now welded.
_________________________________________________
_________________________________________________
In 1942, the small and large cargo boxes were replaced with one intermediate-sized box, which was manufactured for Harley-Davidson by the Chas. Abresch Company of Milwaukee, Wisconsin. This box style was steel and lasted until 1966.
All Servi-cars from 1967 to 1973 were fitted with a fiberglass box. The fiberglass cargo boxes were obviously lighter, but steel-box models are more desirable and have always commanded more money.
***************************
Harley 45 Flathead Motor
The first-year Servi-car was powered by Harley-Davidson's D-Model side-valve engine. Shortly after, the 45ci R-Model (1932 to 1936) was fitted, beginning the Motor Company's long tradition in the side-valve 45ci displacement. The R-model engines were succeeded in 1937 by the W-series, which had a recirculating oil system, replacing the constant-loss system.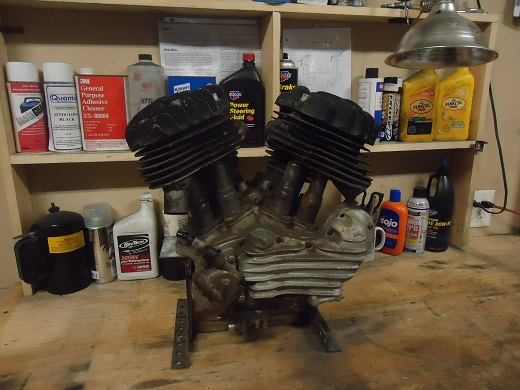 Harley 45 engines from 1937-1973 are nearly identical, save minor differences in carburetors, distributors, and generators.
The 45 trike motor was simple and efficient, if not particularly powerful. Original compression ratio was 4.5:1, which increased to 4.75:1 in 1941. Until the Sportster surpassed it several years ago, it was Harley's longest running engine in production (41 years).
From about 1940 to 1958, Harley 45 engines were fitted with M-series (bottom float) Linkerts. Harley Servi-cars had DC (side float) Linkert carburetors from 1959 until 1965.
***************************
Transmission and Drivetrain
When introduced in 1932, the Servi-car utilized the same transmission as the R solo model. This was replaced the following year by a constant-mesh unit with three forward speeds and a reverse gear.
Primary drive was provided by an enclosed double-roller chain. A single chain attached the sprocket to the rear axle. Final drive was an enclosed automotive-style differential.
Many Servi-cars used in police departments came with a right-hand shift with left-hand throttles. This allowed patrolmen to mark the tires of parked cars with a chalk-stick and have the left hand free to operate the throttle.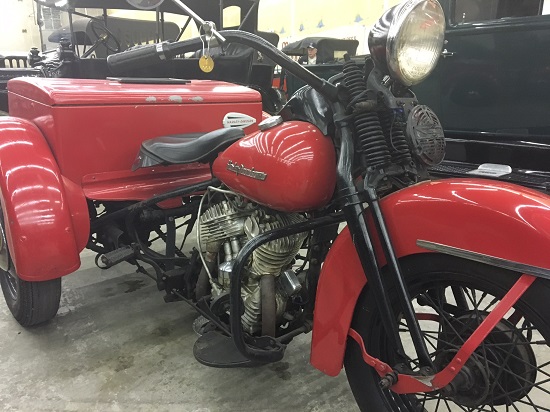 _________________________________________________
_________________________________________________
Auto-Advance Timer
In 1964, Servi-cars were upgraded with "auto advance" ignition timers. Underneath the points and condenser base plate was a pair of metal weights with springs. Auto-advance doesn't make an engine run any better, it just makes it easier to operate.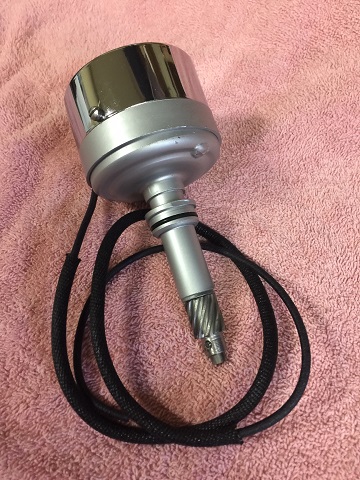 ***************************
First Harley Electric-Start
In 1964, The Servi-car was upgraded to electric start, the first civilian Harley-Davidson to do so. The Electra Glide, featuring electric start, would be offered in 1965.
1966-1967 Servi-Cars
Mid-sixties updates included a change of carburetor, from Linkert side-float to bottom-float. An alternator drive gear ran a Delco alternator, replacing the generator.
In mid-1966, steel cargo boxes were replaced with fiberglass boxes.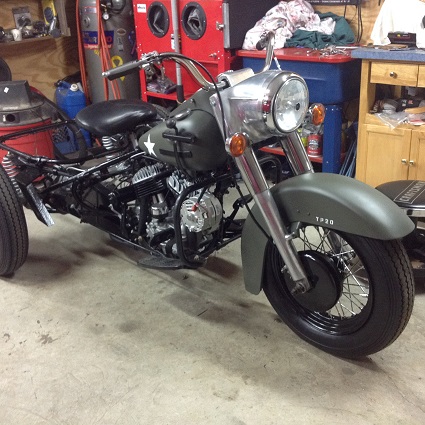 1972 Harley-Davidson Servi-Car - Owner/Restorer Mike Boyd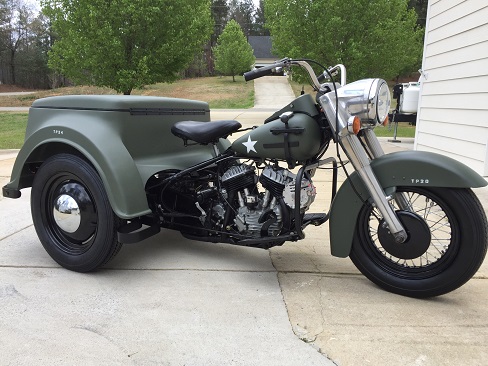 Last-Year Servi-Car
The original Harley trike was last produced in 1973, with several reportedly sold in 1974. Late-year production had six-lug rear wheels replacing the five-lug style. These models were equipped with rear disc brakes.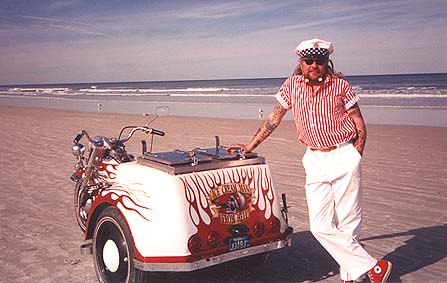 Jim Trotta and his 1971 Servi-car
***************************
Servi-Car Value
After their service was no longer needed, most of the old police Servi-cars were sold cheaply at auctions. Many more were ignored and forgotten.
A common practice back in the 60's and 70's was to rake out the front end of an old trike and put a set of fat car tires and rims on the back. This makes unmolested frames and original rear wheels hard to find and expensive.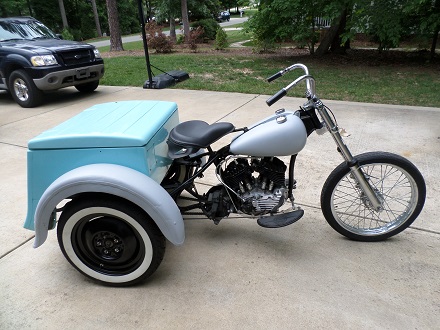 In today's market, Harley-Davidson Servi-Cars in good running condition are exchanging hands for $14,000-$16,000. Exceptionally clean, original examples with documented history have sold for upwards of $20,000.
Finding Servi-Car Parts
Original Harley trike parts are getting harder to find, and pricey when you find them. Bare frames are currently exchanging hands in the $900-$1,200 range.
Complete 45 flathead motors sell for $1,500 and up, and 3-speed (with reverse) transmissions sell for $1,000 and up. The last Servi-car rear axle I saw on ebay sold for $950, with no rims and tires.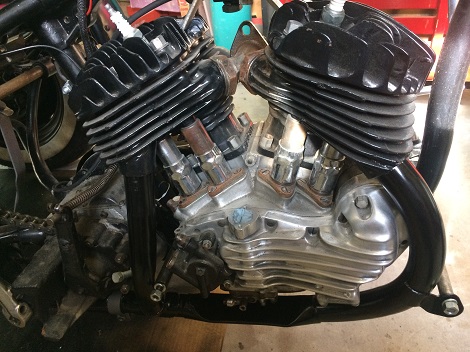 ***************************
Related Articles: