Servi-Car Gas/Oil Tanks
Text and Pictures by Mark Trotta
Although less authentic than originals, replica Harley 45 gas and oil tanks are much more affordable and readily available. The tanks pictured here are replacements for 1947-1973 models, and will bolt up to any 1937-1973 Harley-Davidson Servi-Car or two-wheel 45 frame.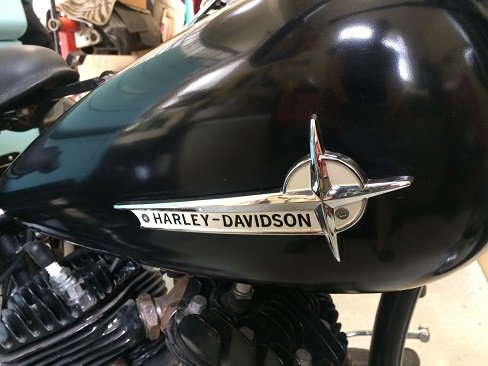 This style of tank has a pear-shaped cutout for the two-light or three-light dash plate. The gas tank accepts the 1947-73 style left-side shift gate (3rd gear forward). Gas tank capacity is the same as original at 3.5 gallons.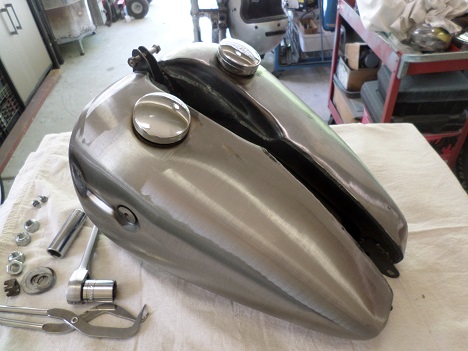 Original Tanks vs Aftermarket
The aftermarket gas tank does not have the "instant reserve" shut-off valve found on 1950-1958 Servi-cars. Instead, it has a more common 3/8" NPT threaded hole which accommodates wing-style fuel valves.
Harley 45 Gas Tank Installation
To help eliminate potential tank leaks and cracked mounting tabs, pre-fit the tanks onto the frame. Start by wrapping several pieces of rubber around the top frame tube. A section of 1" automotive heater hose spliced length-wise works well for this. The rubber acts as a vibration dampener from the tanks to the frame.
Oil Tank Lines and Fittings
Harley 45 Flathead oil tanks have three lines; feed, vent, and return. The feed line and return line fittings are 1/8" x 27 NPT. The vent hole uses a 3/8" x 24 NF banjo bolt with two copper washers. The oil drain plug is 5/8" x 18 NPT. Oil tank capacity is 4 quarts.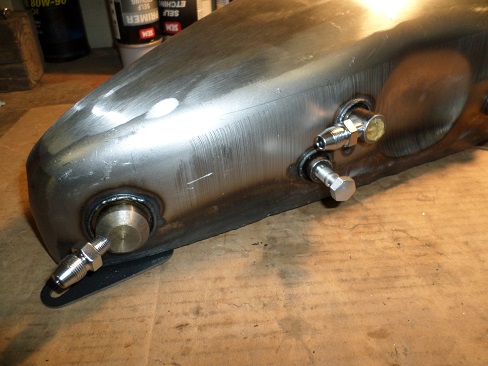 When Harley-Davidson began their 41-year production run of the 45ci flathead in 1932, oil lines were made of copper. After WW2, the lines were made from tinned steel. Reproduction oil lines can be bought as a set and are available in either chrome or cadmium.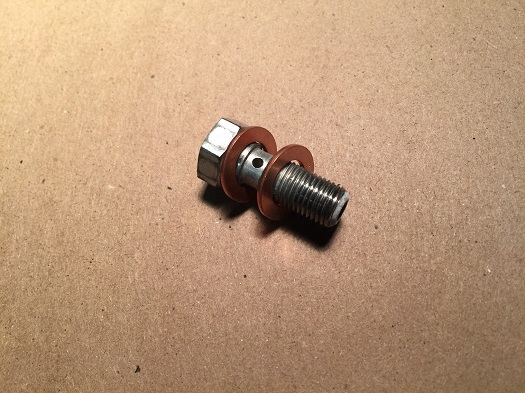 Harley 45 oil tank fitting with copper washers.
Installing Oil Tank Lines
These are a little tricky to install. You need to form the oil lines to the exact shape they're going to be once bolted to the bike. The reason for this is so they are not under stress once tightened, as vibration from the running engine induces fatigue fracture. Bend them carefully!
I used a dab of Permatex 80631 thread sealant on the oil line threads.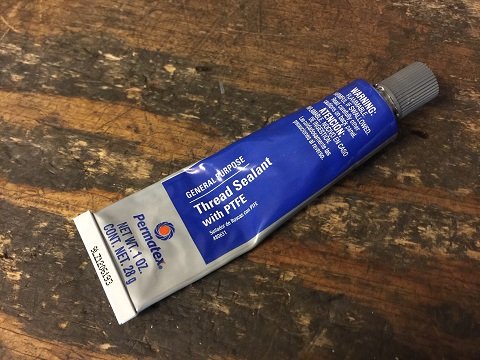 Gas and Oil Tank Preparation
Before painting and installing, the tanks should to be tested, then cleaned, primed, and painted. The first step is to plug the tanks, fill with clean water, let sit overnight, and check for leaks the next day. This is easy for the gas tank, not so easy for the oil tank. If all is well, drain the water from the tank and begin the cleaning process.
Cleaning The Inside Of The Tanks
Before painting the Servi-Car gas/oil tanks, they need to be cleaned inside and out. Pour some warm water into the tank, slosh around back and forth for a minute or two, then drain. Notice the brownish water that came out of the tank.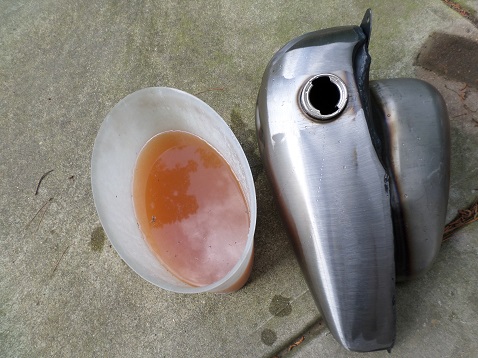 Next, add a small amount of household dish detergent to some warm water, and drop in about 20 small, non-metallic bearings. Slosh around for a minute or so and then drain. I repeated this step three times until the water came out clear.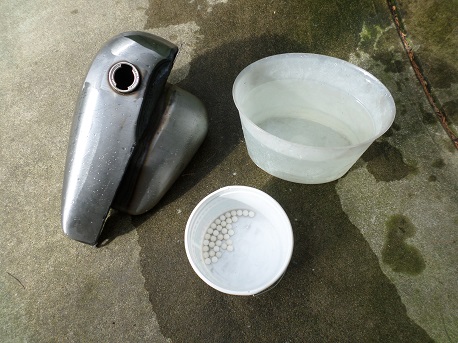 After the water drains clear, fill and rinse with hot water (no soap) several times. Do this until the smell of soap is completely gone.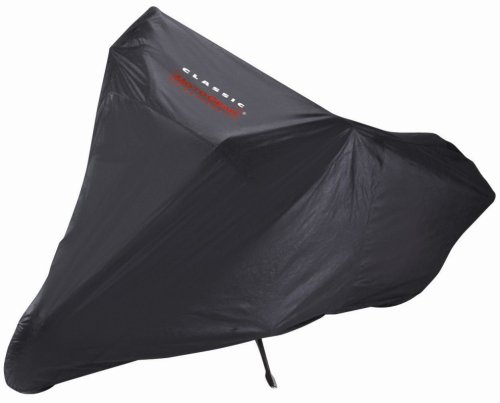 Blow the tank out with compressed air until it is completely dry. If possible, let the tank sit in the sun for a few hours.
Is Gas Tank Sealant Necessary?
This may be a worthwhile step for vintage gas tanks that have been restored, but I don't find it necessary for new tanks. Besides, gas tank sealants are expensive to buy and tricky to use. If you keep the gas tank full as much as possible, you shouldn't have any rusting problems.
Paint And Prep
The key to every good paint job is in the preparation. Before priming and painting the tanks, clean the outer surface with acetone or mineral spirits.
Prime Before Painting
If you're painting bare metal, you need to protect it against moisture and rust. A metal paint primer is needed here. If the metal is not primed, water can seep in and oxidation will start. If you are spraying over old paint, primer may not be needed.
Getting the dash cover to line up with the gas/oil tanks takes some time. Spacers are needed, and are included with aftermarket dash kits.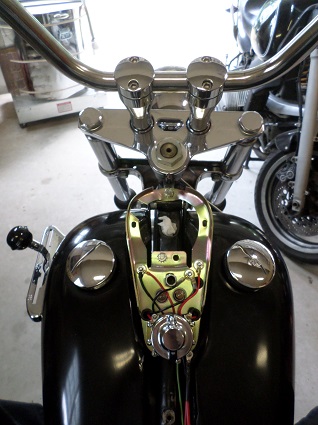 Sometimes the tanks will need adjusting/shimming to seat correctly so the cover sits right. I ended up trimming the bottom front and bottom sides of the dash cover to help it fit evenly on the tanks.
Gas Tank Emblems
Replacement Harley 45 gas/oil tanks do not have provisions to mount side emblems.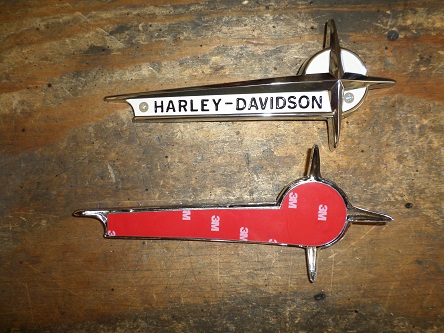 The emblems for 1961-1962 Harley-Davidson Servi-Cars mount with adhesive-backed brackets. For some model years, welding small bosses will be required to accommodate the emblem mounting screws.