Servi-Car Exhaust (and why getting parts is so frustrating)
Text and Pictures by Mark Trotta
One of the most time-consuming tasks of restoring an old motorcycle is finding quality parts at a decent price. And it's frustrating when a company advertises the part you need, but doesn't really have it.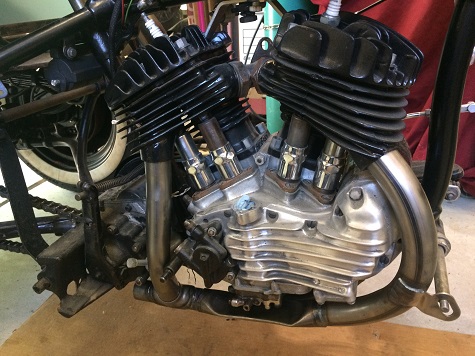 Servi-Car Exhaust Choices
After rebuilding the engine, I began looking for an exhaust system for my 1961 Servi-car. This was in 2018.
I was looking for exhaust pipes that were not Chinese. The only U.S. made product I could find advertised were Harley 45 drag pipes made by Paughco.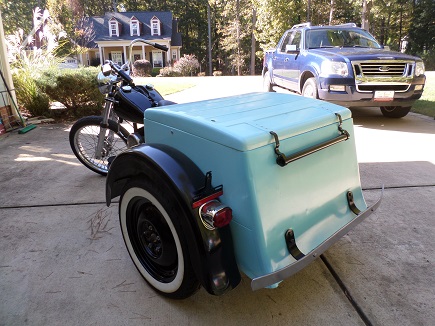 Having no luck finding any other U.S. made exhaust, I decided to buy a set of Harley 45 drag pipes and install them as a temporary measure. I didn't foresee any problems, as a Google search showed several different companies offering them for sale.
I went to J&P Cycle's website, navigated to Harley 45 drag pipes and clicked, "Buy Now". They were out of stock. So I went directly to the manufacturer's website (Paughco). The pipes were also out of stock with no expected arrival date.
Companies Will Advertise Parts They Don't Have
This situation is not uncommon. Companies will advertise a part, but really don't have them. They want you to click the "contact me when this part arrives" button and then wait patiently. What they're counting on is enough requests to justify the cost of putting the part into production.
I went back to the seller's website and clicked the "contact me when this part arrives" button. And then I waited.
Three months later, after no response, I tried emailing the manufacturer directly. Their reply was, "These pipes will be back in production in a few months."
Another several months go by, and I get an email from the seller saying the pipes were in stock. I called on the phone to order them and was told, "There was some sort of mistake, those pipes aren't available. I don't know why we emailed you."
Six months later, still no word on availability. I sent another email to the manufacturer, and got the same response as before; the pipes will be back in production in a few months.
One Year Later
Early in 2019, a Google search of "Servi-Car Exhaust" still brought up the same seller and manufacturer that didn't have the parts last year, although they're on top of the search page. They're coming up first, but they still don't have the parts.
So I scrolled a little further down, and saw a motorcycle parts company I had not heard of before that advertises American-made motorcycle parts.
Gas Box Motorcycle Parts
Based in the State of Ohio, Gas Box manufactures and sells custom bike parts, including vintage and hard-to-find motorcycle exhaust systems. After a few emails back and forth with the owner, he confirmed that both front and rear Servi-car exhaust sections were in stock and ready to ship. I ordered the exhaust, and within days they were at my doorstep.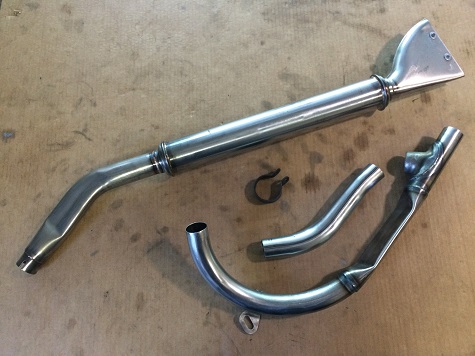 Chrome vs Raw Steel
The Gas Box parts are reproductions of 1951-1973 Harley-Davidson Servi-car exhaust. They are offered in two qualities, raw steel or chrome. Plain unpainted steel was my choice.
rear muffler assembly - replaces original Harley #65220-51
rear cylinder pipe - replaces original Harley #65490-41
front to rear pipe - replaces original Harley #65456-51
Overall Fit And Finish
The price of the Gas Box replica exhaust was not much more than the Chinese knock offs, so naturally I was skeptical of the quality. But as you can see in the picture below, the welds and fitment are very good. All parts are made in the U.S.A.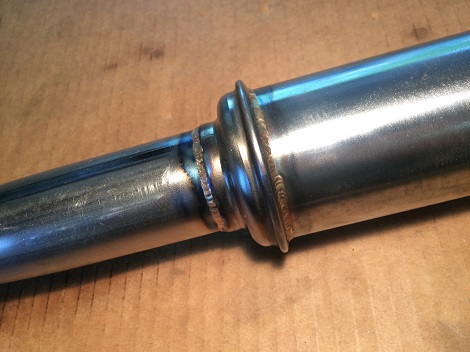 TIP: Before you paint the pipes, fit them to the bike first. These are not "bolt on" parts. They'll need some twisting and turning to get the front and rear cylinder pipes to line up properly.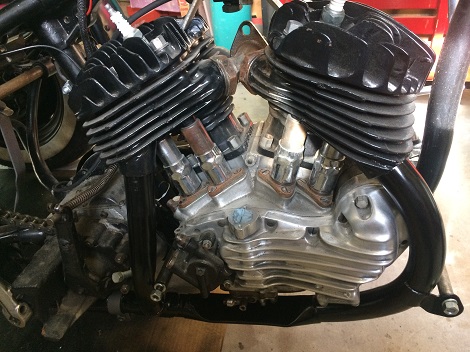 After I got the pipes to fit together, they were removed, cleaned thoroughly with Brake parts cleaner, and sprayed with black engine paint.
NOTE: Engine paint is rated to withstand temperatures up to 500°F. High-heat paint can also be used, but will not leave as smooth a finish.
********************************
Servi-Car Exhaust Mounting Kit
Included in the exhaust mounting kit was the vertical bracket for the front of the muffler section. This is the piece that originally bolts to the back of the battery box. Since I'm not using a battery box (my battery is in the cargo box) I had to fabricate an outer clamp to make this hanger work.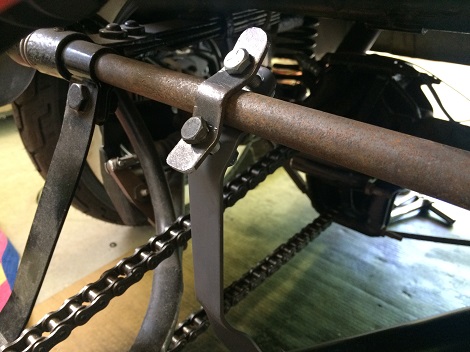 Rear Muffler Hanger
The Gas Box rear exhaust section included one clamp only, and they do not offer any other clamps or hangers. I bought an exhaust hanger clamp and bracket kit from 45 Restoration in New York, who sell Harley 45 Solo and Servi-car parts. Their clamp kit part # is 65200-51, and fits 1950-1973 Servi-Cars. These brackets and clamps come 'parkerized', so there is no need to paint them unless you want to.
No matter how much I extended, twisted, and turned the front and rear exhaust sections, I could not get the rear hanger to line up. There was about a two inch gap, so I ended up fabricating an additional bracket to make up the difference.
As it turns out, the hanger was correct, but the muffler was wrong.
Warren from 45 Restoration was kind enough to explain this to me. The muffler sold by Gasbox is actually a copy of the original Harley WLA muffler, which turned sideways and with a different front pipe installed, works on Servi-car models. Although the fitting was awkward, it wasn't a major deal to correct.
********************************
Summer 2019 Update
I was looking for some Ironhead Sportster parts and ended up on J&P's website. Out of curiosity, I checked on the drag pipes. It's been over a year now, and they're still on back-order.
Two Years Later
In May of 2021, I received an email from J&P which read, "Your item is now available!" Really -- sending this email out two years later?
Three Years Later
(2022) One of my current projects is a Hardtail Sportster. I emailed Gas Box for specs on one of their battery boxes, and they never responded.
(2023) I emailed 45 Restoration about availability on some front end parts they advertise on their website, and they never responded. So they either went out of business, don't read emails, or just don't care.
Yup, getting parts for a project bike can be frustrating!
Hopefully my experiences getting parts will help other classic bike enthusiasts from a headache or two. It's to your benefit to spend time shopping around, emailing companies, reading forums, and googling reviews before ordering parts. Companies that were once helpful may no longer be reliable, or still be in business.
Do some homework and save yourself some time, money, and grief.
********************************
Related Articles: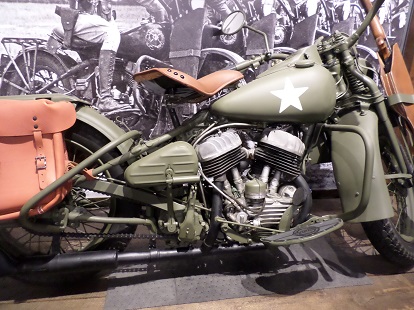 ********************************