Harley-Davidson XR750
Article by Mark Trotta
Produced from 1970 through 1985, the Harley-Davidson XR750 is the most successful motorcycle in flat-track racing. It won the A.M.A. Grand National Championship in it's first year out, and has since won dozens more. Although production ended in 1985, the Harley XR750 continues to win races year after year.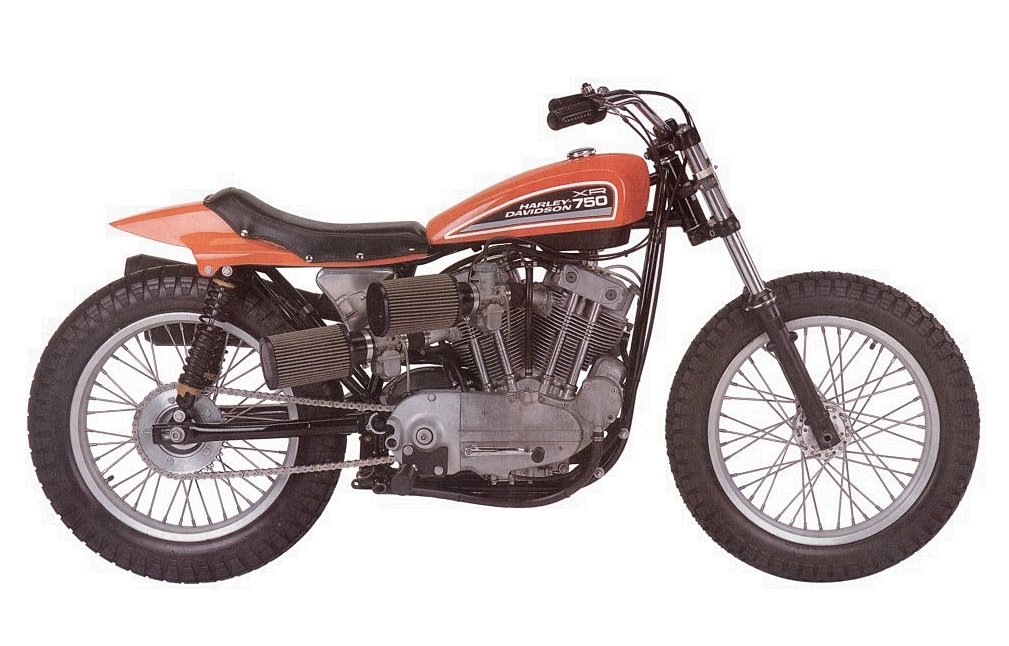 History of the XR750
The flathead-powered Harley KR750, first produced in 1953, was a purpose-built motorcycle to compete in mile, half-mile, and TT racing venues. The KR was powered by Harley's 750cc flathead engine.
In 1934, the American Motorcycle Association (A.M.A.) set up rules to have fair and equal competition for all manufacturers, much like today's NASCAR. These rule changes gave flathead-powered motorcycles a 250cc advantage over their overhead-cam counterparts, which pitted the American 750cc flatheads against British 500cc overheads.
_________________________________________________
_________________________________________________
The A.M.A. 'equivalency formula' remained for three decades, until 1969, when new rules allowed any 750cc bike that was offered to the public eligible to race. With the KR750 now at a disadvantage, Harley-Davidson swapped the side-valve KR motor for a de-stroked XL Sportster engine, and the KR750 became the XR750.
XR750 Specs
Using the bottom end of the Sportster XLR motor, Harley engineers achieved the desired 750cc displacement by decreasing stroke length from 3.81" to 2.983" ad increasing the bore from 3.0" to 3.125". The 45-degree pushrod V-twin retained the cast-iron cylinder barrels and heads from standard models, with compression ratio set at a moderate 8.5:1. Spark was supplied by a magneto mounted to the cam-cover.
XR750 Weight
Whereas a stock Sportster had a 1.65" width backbone frame, the XR750 frames were a thinner, lighter 1" backbone. Additional weight savings included fiberglass seat/fender and a small, peanut-shaped gas tank. The XR750 was sold without front brake or lights, which also lightened up the bike. With high exhaust pipes running across the right-side of the engine, overall weight was about 320 pounds.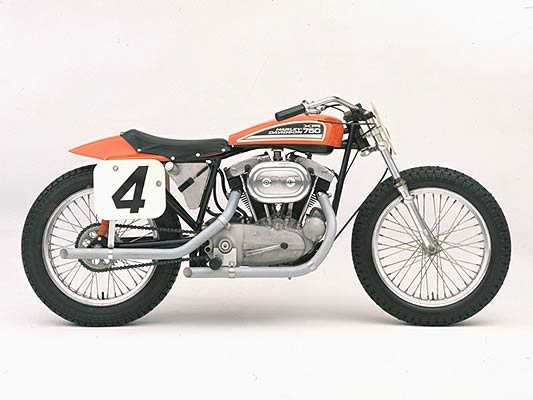 In its first two years of production, approximately 200 XR750's were built.
Cylinder Head Issues
The early XR750's ran well in cool weather and on shorter tracks, but the cast-iron XL heads were prone to overheating. When stretched to their horsepower limit, the heads would heat up rapidly on hot days and in long events. And if the metal were to cool too quickly, it could cause the heads to crack.
_________________________________________________
_________________________________________________
1972 XR750
In 1972, a bigger bore, shorter stroke motor replaced the 750cc Ironhead XR. Most everything in the motor was gone over and strengthened, including pistons, rocker boxes and rockers. Connecting rods became shorter and lighter. Compression ratio was raised to 10.5:1, allowing the engine to reliably produce over 80 horsepower.
XR750 Alloy Heads
New alloy heads with larger valves and better-shaped combustion chambers replaced the cast-iron XL heads. After being ported and assembled by Jerry Branch of Long Beach, California (Branch Flowmetrics), they were then shipped back to Milwaukee for final assembly.
Along with the improved heads, each cylinder received its own 36mm carburetor, with exhaust pipes now running on the left-side to clear the carbs.
Other weight-reducing measures included alloy-spoked wheels, fiberglass seat pan, and a small fiberglass gas tank that held only 2.5 gallons of gas.
For long road-races, a Harley XR750 could be fitted with either a 5 gallon or 6.5 gallon gas tank. A front wind fairing was also used for long circuit venues.
With it's lighter weight and stronger engine, the XR750 began dominating the flat tracks.
Cal Rayborn
It was the legendary Cal Rayborn who first brought the Harley XR750 to fame. In 1972, Rayborn rode an Ironhead XR racer in the British-American "Transatlantic" series. He won three out of the six events, tying British rider Ray Pickrell as the top scorer. To make this feat even more impressive, Rayborn had no prior experience on any of these British race tracks.
By 1975, the XR750 was no longer capable to compete on the road racing circuit against the lighter and faster two-stroke Japanese bikes. It did, however, remain King of the dirt-tracks for decades to come.
As more and more racers began using custom or home-made frames with the XR750 engine, Harley-Davidson stopped manufacturing frames for the XR in the eighties. Engine production ended in 1985.
************************
XR750 Replica Build
If you're looking to build a Harley XR750 replica bike, the best way is to start with a pre-1974 right-hand shift Sportster engine. The closest frame choice (without making your own) would be one from a Harley-Davidson Cafe Racer, but those frames are rare and valuable.
The next-best choice would be to find a 1979 or later Sportster frame. To copy the original bike you would need to de-rake the neck and change the tail end. Both the XR750 seat/tail section and gas tank are still available, and at least one aftermarket manufacturer offers gas tanks and seats designed to be used with the 1986-2003 Evo Sportsters.
************************
'On Any Sunday' Movie
The 1971 movie "On Any Sunday" follows the lives of motorcycle racers in documentary style. The competition is filmed in several different venues, including mile, half-mile and TT races across the U.S.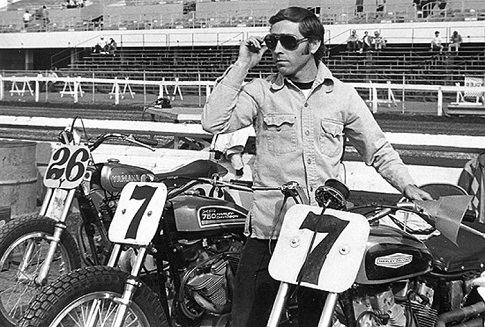 Among the many riders in the movie is Mert Lawwill with an XR750 flat-track racer. Steve Mcqueen is also featured in the film.
************************
Evel Knievel's Harley XR750
Stuntman Robert Craig Knievel, professionally known as Evel Knievel, rode a Harley XR750 most of his career. After a succession of other brand motorcycles (350cc Honda, 750cc Norton, 650cc Triumph Bonneville, 750cc Laverda American Eagle), Knievel switched to Harley-Davidson in the early seventies and was sponsored by the Motor Company until 1977.
Some of Knievel's greatest jumps were made with the lighter version that came out in 1972. His longest successful jump of 133 feet (Kings Island 1975) was on an XR750.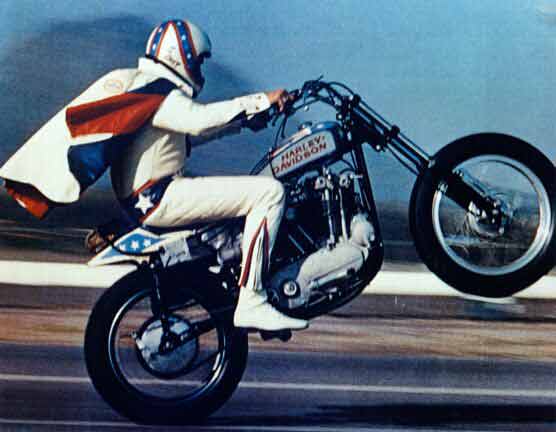 Today, one of Evel Knievel's machines, a red, white, and blue XR750, can be seen in the Smithsonian American History Museum in Washington, D.C. It is based off a 1972 XR750 and was the bike used to jump 14 Greyhound buses in 1975.
Knievel was inducted into the Motorcycle Hall of Fame in 1999.