Harley-Davidson Cafe Racer
Article by Vintage Vinny
Based on the Ironhead Sportster, the Harley XLCR Cafe Racer featured a new frame, front bikini fairing, four-gallon gas tank, and fiberglass rear tail section. Foot controls were mounted further back, and low handlebars allowed the rider lean forward into a "racer tuck".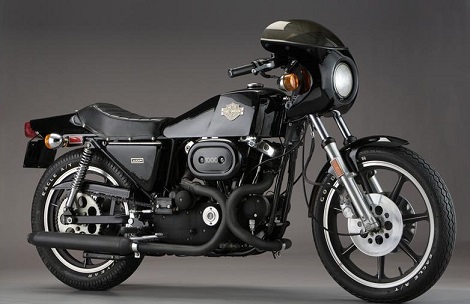 The Harley Cafe Racer was offered in black only with wrinkle-black engine paint.
XLCR Frame
Designed for better handling and more lean angle, the new frame took some elements from the Harley XR750. The rear frame rails were extended, and rear shocks were positioned more vertically. Wheelbase measured 58.5 inches.
_________________________________________________
_________________________________________________
XLCR Engine Specs
Sharing the same V-Twin engine as other 1977 Sportsters, a displacement of 997cc was achieved through a bore and stroke ratio of 3.2 x 3.8 inches. With a compression ratio of 9.0:1, 57 horsepower was achieved at 6,000 rpm.
The siamesed exhaust was a departure from past Sportster models, and did make maintenance a little harder, but added a solid five-horsepower gain in performance.
All XLCR models left the factory as electric start only. Some have been retro-fitted to kick-start using 1979 XLCH parts.
Cast alloy wheels and dual-disc front brakes, optional on other Sportster models, were standard on the Cafe Racer. The seven-spoke wheels, made by Morris, were 19" up front and 18" at the rear. Goodyear tires featured raised white letters. A rear disc brake was fitted, which would appear on all 1979 and later Sportsters.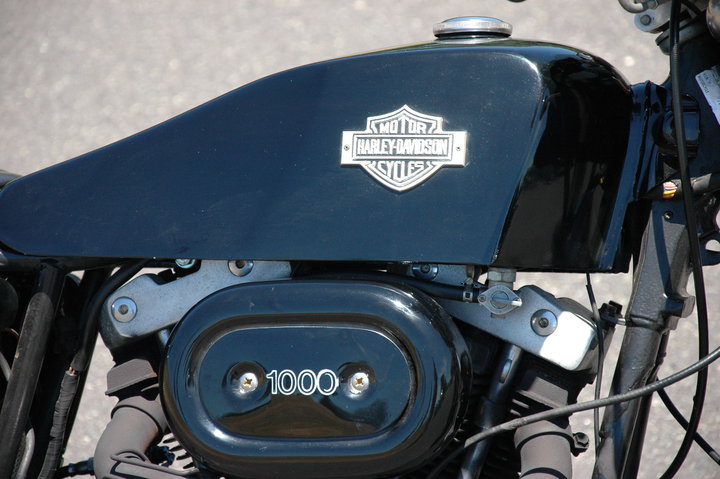 Valve timing on the Harley Cafe Racer was slightly more radical than other Sportster models. XLCR models also received a solid-state voltage regulator, as would all 1978 and later XL models.
1978 Harley XLCR
Harley-Davidson continued to produce the Cafe Racer in 1978, competing against much lighter and faster bikes such as the Kawasaki Z-1, Ducati 900SS, and BMW R90S. Solo seating probably didn't help sales, so Harley came out with an optional dual saddle and axle-mounted passenger pegs.
The Harley-Davidson Cafe Racer was the fastest and quickest Sportster model produced up until that time. Top speed of the 480-pound bike was around 110-mph.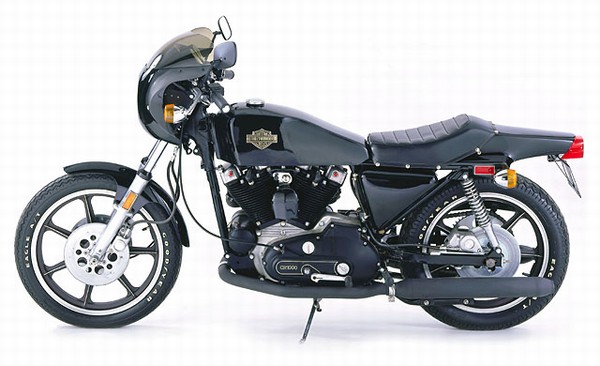 Although a Daytona, Florida debut showed the XLCR to be very popular with riders, production delays held the bike back from retail sales until 1977. There were 1,923 produced in 1977, 1,201 produced in 1978, and just nine produced in early 1979. Unlike the first two model years, the 1979 Cafe Racers were equipped with an EPA-regulated air cleaner box.
_________________________________________________
_________________________________________________
Many XLCR's sat in the dealer showrooms for years after production, and were sometimes discounted down to cost. While not fully appreciated in its day, the Cafe Racer helped future Sportster models achieve better handling, braking and agility. Today the XLCR models are prized collectors items.
Real or Fake Harley Cafe Racer?
Fortunately for classic bike collectors, the Motor Company used different VIN codes for all XLCR models. Whereas a standard post-1970 Sportster VIN will start with a 3A or 4A, an XLCR VIN will start with a 7F.
NOTE: An XLS Sportster VIN will start with a 4E.
Harley Cafe Racer Value
They weren't the fastest Cafe Racers out there, and they certainly weren't the best handling. But they were Harley-Davidsons. Nuff said.
Harley Cafe Racer Replica
To build an XLCR replica, first choice is to start with a 1979 Ironhead. It is basically the same frame and engine as the Cafe Racer. Most XLCR parts like the seat, exhaust, headlight mount and fairing are available either used or reproduction. Paint the engine wrinkle-black and add an 18" rear wheel. The hardest part will be finding (or fabricating) rear foot controls.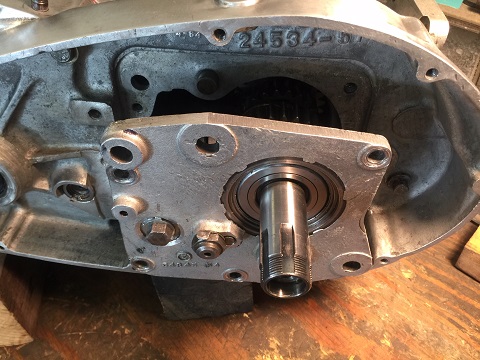 There are too many over-chromed, high handlebar, feet-forward Harleys out there. The world needs more blacked-out, low handlebar, rearset-equipped Cafe-style Sportsters.
*****************************
Related Articles: