Electric Start Ironheads
Article by Mark Trotta
From 1967 until production's end in 1985, Ironhead Sportsters saw three types of electric starter motors; Prestolite, Hitachi, and Nippodenso. Early Sportster models (1957-1966) were kickstart only.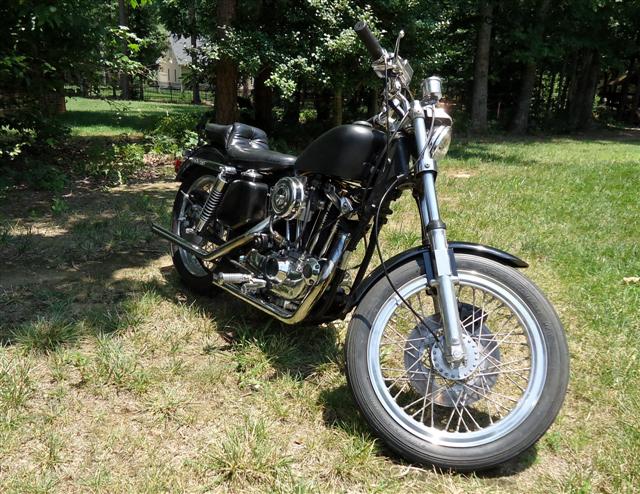 Up until 1966, all Sportster models were kick start only, and had the same frame and engine cases. To accommodate a bigger battery box and electric starter motor, a new frame and engine cases were designed.
Sportster XLCH models continued using the older, shorter frame and engine cases, while 1967 and up XLH models got the new frame and engine cases.
On kick-only engines, the primary cover was egg-shaped, while electric-start primary covers (pictured below) had a rectangle sticking up to accommodate the starter motor.
The starter mounts on top rear of the engine case and goes through an opening over the clutch basket.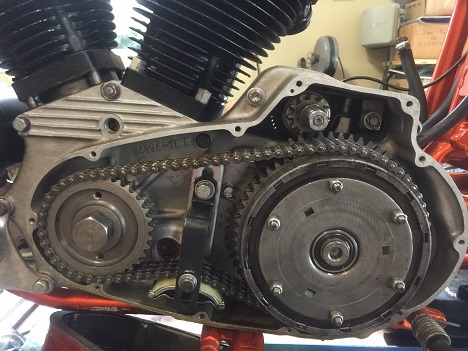 The visual difference between kick start and electric start Ironheads is more noticeable from the left side of the motor.
Early electric starter motors (1967-1973) were Prestolite units (31458-66B). They were mounted with two long bolts that had a 1/4"-20 thread.
From 1974 through early 1976, starter motors could be either Prestolite or Hitachi. The two long bolts on the Hitachi unit had 5mm (metric) threads.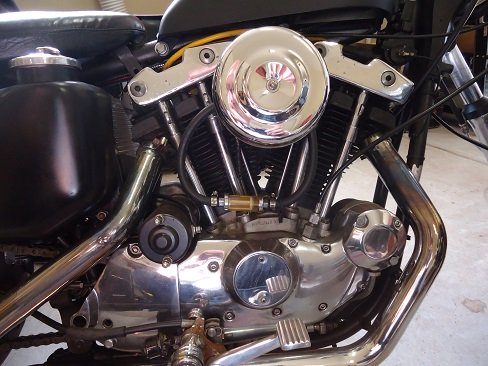 From late 1976 until 1980, only Prestolite starters were fitted to Sportsters.
Ironhead Starter Identification
The fact that all Ironhead-powered Sportsters are now 35+ years old, it's unlikely yours has the original starter, and even less likely there's a readable sticker telling you which one you have.
Hitachi vs Prestolite Starters
These two starters are similar in physical size; the Prestolite is slightly larger (about 6" x 3") and heavier (about 11 pounds). The Hitachi is a little smaller (5.25" x 3") and a little lighter (8 pounds). Both use a separate starter solenoid.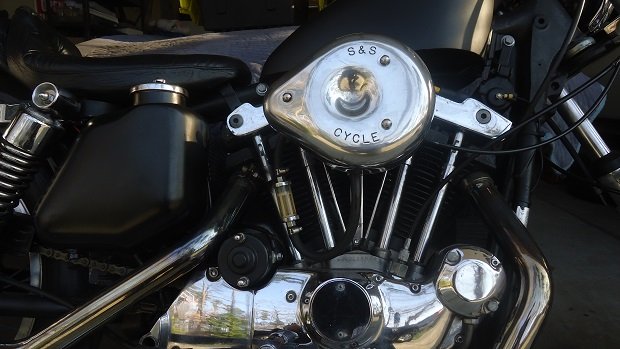 The Prestolite starter has brushes that are soldered directly to the field coils. The Hitachi has brushes which are soldered to the brush holder. Popular choice goes to the Prestolite, but if your motor is stock, either one will work fine.
Are Hitachi And Prestolite Starters Interchangeable?
Well, yes and no. The two long mounting bolts are a different thread size, which means the starter housing threads that the bolts go into are different. If you want to swap one for the other, you will need to use the correct starter housing with the correct thru-bolts.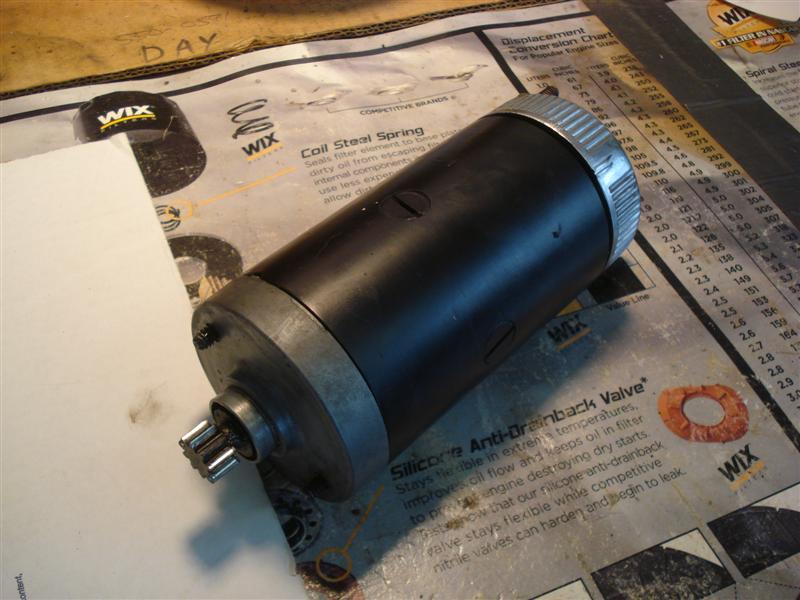 My old 1976 Sportster had a Hitachi starter, which I replaced along with the bendix gear and solenoid.
*********************
1981-1985 Ironhead Starter
In 1981, Sportsters were updated to a Nippodenso starter, which is a one-piece starter, starter drive, and solenoid unit. These are more reliable and powerful than previous starters, and the Nippodenso starter would be fitted to 1981-1985 Ironheads as well as 1986-2012 Evo Sportsters.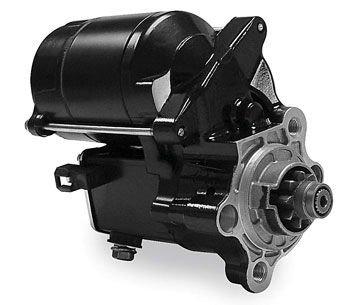 *********************
Convert Evo Starter To Ironhead?
To date, we haven't heard of anyone successfully doing this, but it would be a popular upgrade if possible. To mount the Nippodenso starter onto a pre-1981 Ironhead motor, first an adaptor plate would need to be fabricated. Then, modifications would have to be made to (at least) the oil tank and battery tray.
By all measures, it will be a tight fit, and the Nippodenso starter would stick out further then the original.
Convert Kick-Start Sportster To Electric Start
From 1971 through 1980, all Sportster models shared the same engine cases. This means you can convert a 1971-1980 kick-start only Sportster into an electric start bike.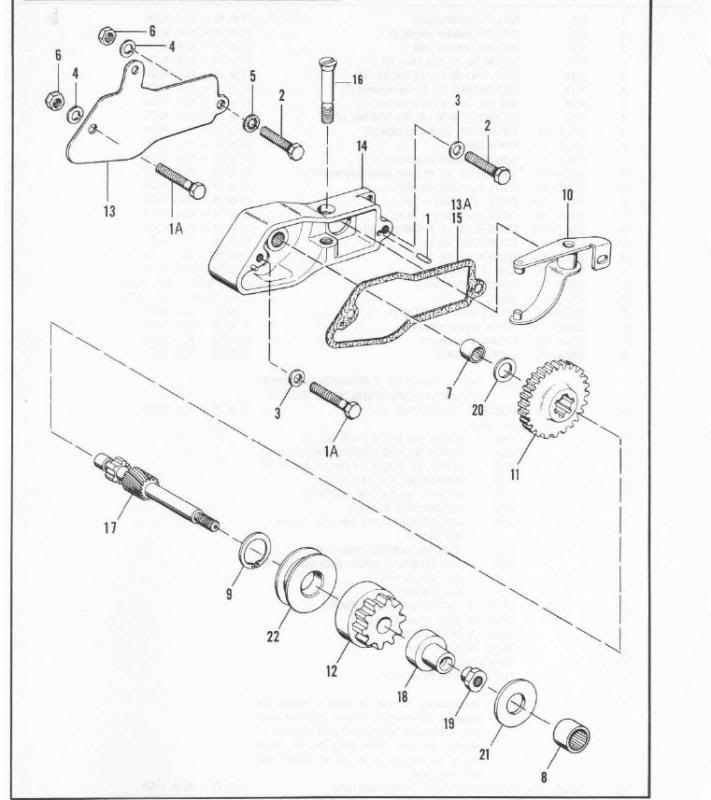 These year Sportster models were fitted with either starter shaft housing #31462-67 for Prestolite starters or #31462-74 for Hitachi starters. The starter shaft housing and necessary hardware are bolt-on parts.
To convert a kick-start Sportster to electric start, your existing clutch drum must have a starter ring gear attached. Also check if your primary cover has a bushing pressed into the inside of the cover to accommodate the starter shaft.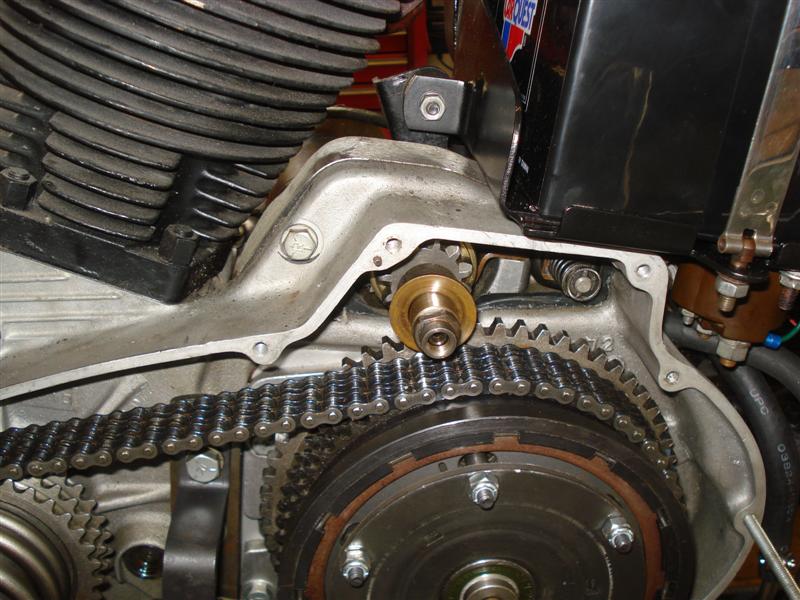 You'll also need the bendix gear, starter shaft, and plunger assembly.
Don't forget, you'll need a larger battery. On 1971 through 1980 models, the larger battery tray and side-mount oil tank can be fitted fairly easily.
*********************
Convert Kick-Only Ironhead to Electric Start?
No. Early Sportster models from 1957 through 1966 were kick-start only and cannot be converted to electric start because of the smaller engine cases.
All 900cc XLCH motors were kick-only until 1969 and also cannot be converted to electric start.
*********************
Notes and Misc
Because early 900cc frames are shorter, an electric-start Ironhead motor will not fit into an early (1957-1966 XLH and XLCH until 1969) frame.
The nut on the starter shaft (also called a jack shaft) that attaches to the starter drive (31483-67) has a left hand thread.
If you need to remove primary chain, compensating sprocket, and clutch shell, read Primary Chain Removal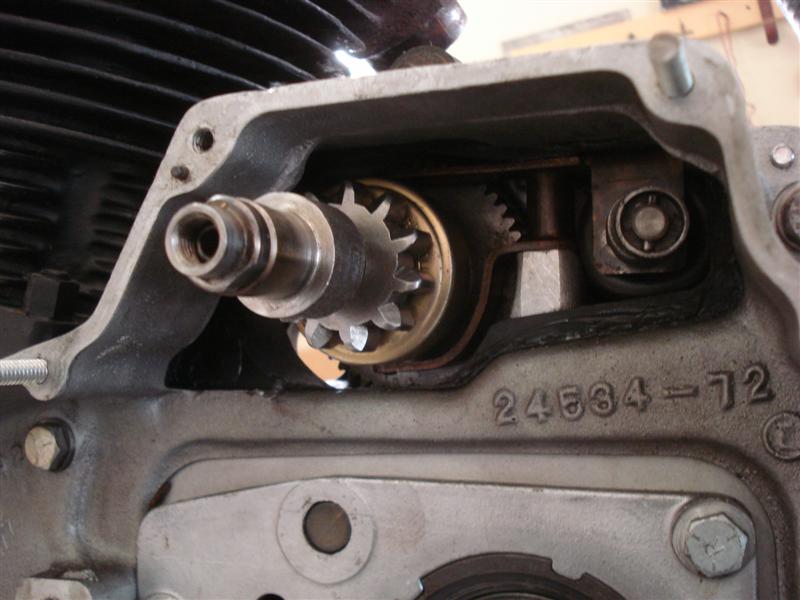 To see how to replace a Bendix starter gear, click here
*********************
Related Articles: