Sportster History (1980-1985)
Article by Mark Trotta
While the 1980's brought us high-revving, multi-cylinder motorcycles with 10,000 rpm red-lines, the Harley-Davidson Sportster was still getting it done at 5,500 rpm. Accelerating anywhere above 2,000 rpm, down-shifting was not really necessary. A twist of the throttle and the 1000cc V-twin responded with all the torque you needed.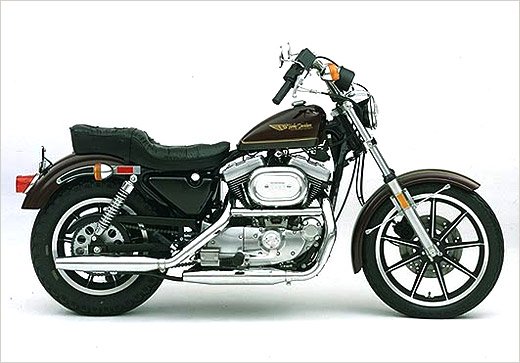 Electric Start Only
With the XLCH model discontinued in 1979, there were no more kickstart Sportsters. All models were now electric-start. This allowed room to move the rear master cylinder down and out of the way of the rear exhaust pipe.
1980 Sportster
For 1980, Sportsters continued using the triangulated frame introduced with the 1979 models. In a mid-year running change, intake manifolds and clamps were upgraded. Cylinder heads were modified to help improve sealing and avoid vacuum leaks.
_________________________________________________
_________________________________________________
The Sportster XLS Roadster featured a Super-Glide gas tank. A 16" rear wheel replaced the XLH 18" wheel.
1980 Sportster Production: XLH (11,841) XLS (2,926)
1981 Sportster
A Nippodenso starter replaced the old Prestolite starter, and would be fitted to all Sportster models through 2012. The new unit was a modern gear-reduction type that required no external solenoid or relay, nor the extra wiring needed for the old system.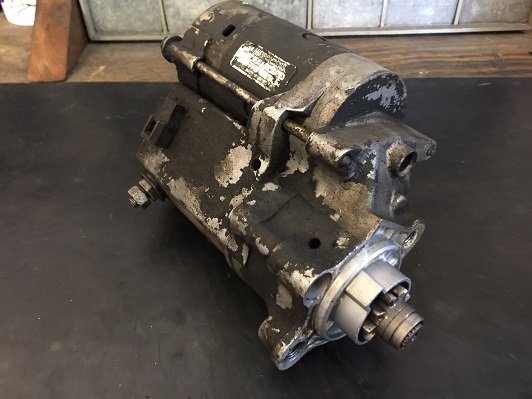 A redesign of the engine cases added a hump to mount the new starter motor, and there was no longer a hole in the rear motor mount for clearing a kick-starter shaft. This meant there was no longer a provision to add a kick-starter.
To help prevent accidental throttle sticking, a double (push-pull) accelerator cable was added to all models.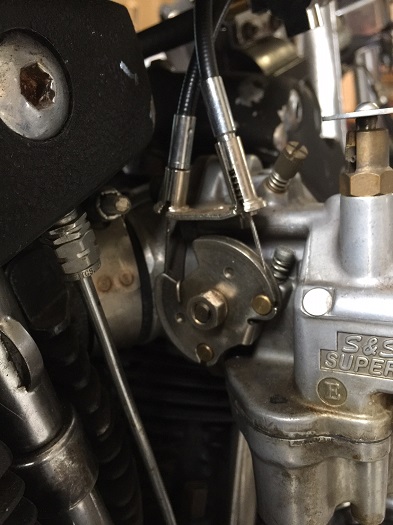 The Sportster's electronic ignition was replaced by a Magnavox unit, which used an inductive pickup to send signals to a timing control module. Called the V-Fire II, this module is often referred to as the "black box."
Also new was an electronic tachometer, replacing the old cable-driven unit. The new cam cover (#25227-81) will fit earlier motors, but does not have a provision for the tach drive.
New VIN System
To help combat vehicle theft, all car, truck, and motorcycle manufacturers began using a 17-digit VIN starting in 1981. On Sportsters, a 10 digit number was stamped on the engine case and a 17 digit VIN appeared on the frame.
1981 Sportster Production: XLH (8,442) XLS (1,660)
**************************
One of the updates on 1977 and up Sportster frames is an offset for oil pump removal. Previous years required engine removal to remove the oil pump.
Although you may not appreciate this little design change, it saved us hours of labor while repairing a 1981 XLH motor!
**************************
1982 Sportster
Among other changes, 1982 models were fitted with a stronger and lighter frame. This allowed the battery and oil tank to be repositioned. New handlebar controls were welcomed, along with better quality wiring.
Lower Engine Compression
To help comply with U.S. federal emission regulations, engine compression was lowered from 9.0:1 to 8.8:1. This was achieved through use of slightly thicker head gaskets. The Ironhead Sportster could now run safely on lower octane gasoline, but at the cost of decreased horsepower and top-end speed.
25th Anniversary Sportster
Celebrating 25 years in production, the 1982 XLH and XLS Sportsters featured special anniversary trim in silver and black. A limited number of orange and black models were also offered.
65A vs 65B Generators
Starting in 1965 and up until 1981, Sportster models were equipped with a "65A" generator. From 1982 to early 1984, they were equipped with a "65B" generator, which were Japanese-made units which shared no parts with earlier generators. The good news is the early 65A generators will fit and replace the 65B units.
1982 Sportster Production: XLH (5,015) XLS (1,261)
Oil Capacity And Filter Location
In 1980 and 1981, a new, spin-on oil filter was mounted to a bracket behind motor. Oil capacity was 3 quarts. In 1982 to early 1984, the oil filter was moved to the left front motor mount bracket. Oil capacity increased to 4 quarts.
1983 Sportster
This year the Sportster got a new seat and less restrictive exhaust system. Buyers had an option of having the traditional "peanut" gas tank or a larger 3.3 gallon tank.
_________________________________________________
_________________________________________________
Late 1983 saw the emergence of the V-Fire III ignition. It is often referred to as VOES, an acronym for "Vacuum Operated Electrical System".
Sportster XLX-61
Clearly one of Harley-Davidson's great marketing moves, the entry level, no-frills XLX61 Sportster was offered in 1983. This bare-bones machine came with a solo seat, peanut gas tank, and single (speedometer) gauge. Built to sell for $3,995, it was available in black only.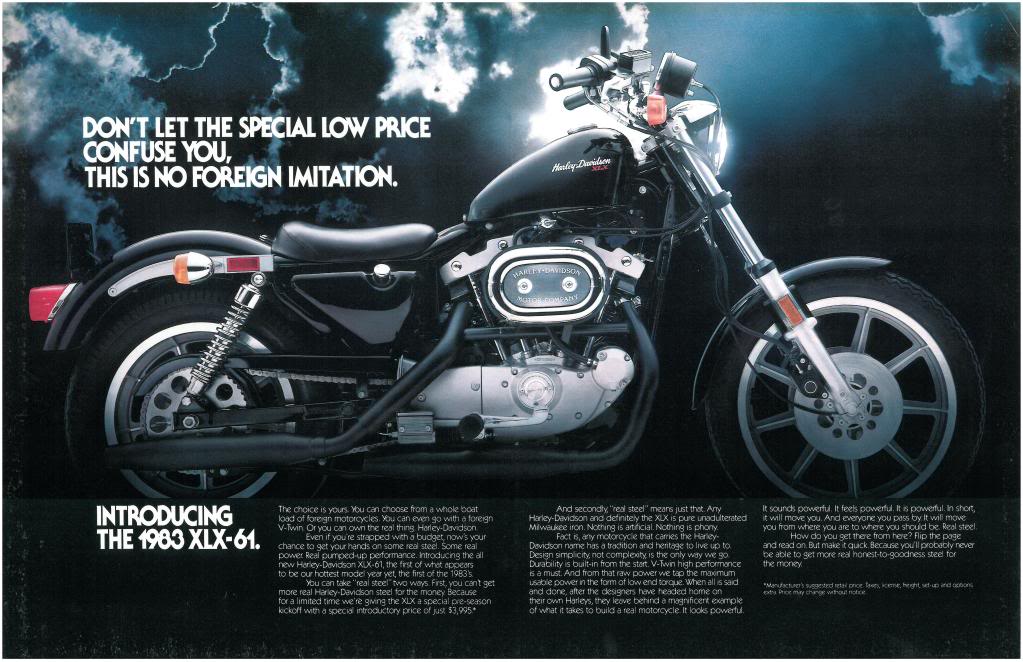 In its first year, a total 4,892 XLX61 models were sold, more than all of the other three Sportster models combined. The XLX is one of the best-selling models in Sportster history.
Sportster XR1000 (1983-1984)
As a tribute to the flat-track successes of the Harley-Davidson XR750, the Motor Company offered the limited-edition XR-1000 Sportster. The XR cylinder heads, specially prepared by Jerry Branch, were all-alloy and featured bigger valves than XL Sportsters. To accommodate the larger valves, intake ports were moved to the right side and exhaust ports were on the left.
Because the XR1000 cylinder heads were larger than the stock cast-iron heads, the cylinder barrels were shortened to fit into the Sportster frame. A pair of 36mm Dell'Orto carbs brought power output to 70 horsepower, dipping quarter-mile times under thirteen seconds.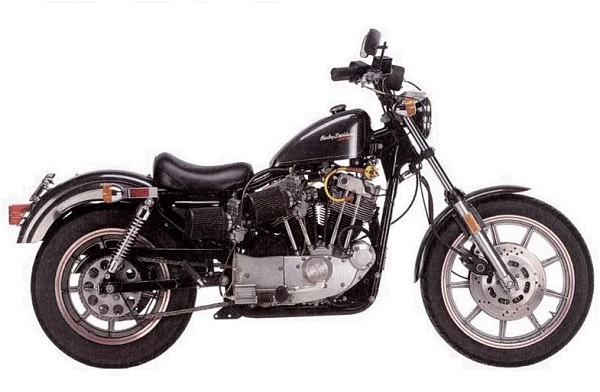 The XR-1000 weighed in at 490 pounds. Top speed was about 125 mph. Dual eleven-inch front brake rotors supplied the best stopping power yet. Other features included 9 spoke cast wheels and a 2.5 gallon gas tank.
1983 Sportster Production: XLX-61 (4,892) XLH (2,230) XLS (1,616) XR-1000 (1,018)
1984 Sportster
In mid 1984, an alternator finally replaced the generator. Trouble was, it was placed behind the clutch, making it difficult to repair or replace. This troublesome design was not corrected until the 1991 Evo Sportster.
Along with the change from generator to alternator, the oil filter was relocated to the front of the motor, where the generator had been.
1984 Sportster Production: XLX-61 (4,284) XLH (4,442) XLS (1,135) XR-1000 (759)
Last Year Ironhead Sportster
With production trimmed in anticipation of the new aluminum-head Evolution engine, less than 7,000 Sportsters were built in 1985. The Ironhead Sportster, arguably the loudest and meanest-sounding V-twin ever, enjoyed a 28-year production run. Long live the Ironhead!
1985 Sportster Production: XLX-61 (1,824) XLH (4,074) XLS (616)
There were many minor changes throughout the Sportster's 60+ year history, but the single biggest change was a reworked motor design for 1986.
**************************
Related Articles:
From the factory, an Ironhead Sportster has a plenty of low end torque, but if you don't think it has enough, you can add more.