Best Carb For Ironhead
Article by Mark Trotta
There's quite a few carburetors that will bolt onto your Ironhead and perform well, but which one best suits your bike and your wallet best? Here's a review of the most common ones you'll find on 1957 through 1985 Sportsters.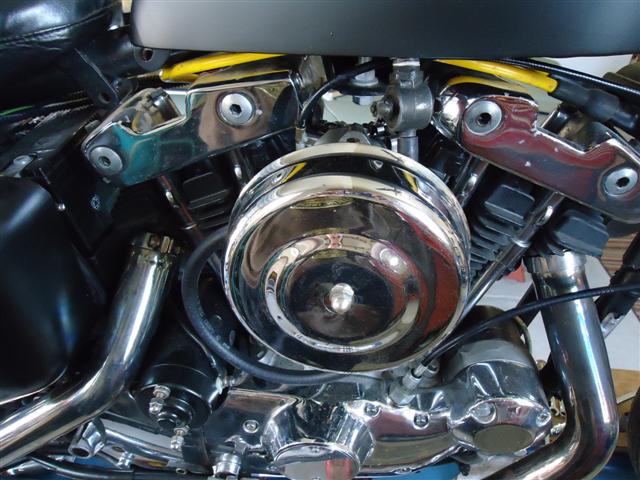 First, a quick review of factory carburetors for 1957 through 1985 Sportsters:
Linkert Carb
Early Sportsters (1957-1965) were fitted with a side-float Linkert DC carb, which are simple units to diagnose and repair. For those of you who have an early 900cc Sportster, you know it's a rare bird and you'll probably want to keep it stock. If you have the original Linkert carb, leave it in place.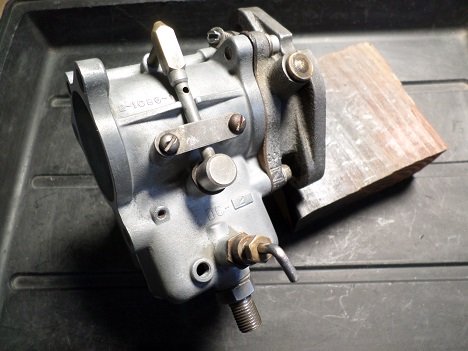 The Linkert DC was also found on several other Harley-Davidson models, including the 1957-1966 Servi-car, and one-year-only (1966) Shovelhead. But for those who have a later Ironhead, there's better carb choices.
****************************
Tillotson Carburetor
A switch to a Tillotson carb was seen with the 1966 Harley Sportster. Unlike the Linkert it replaced, it had an accelerator pump and featured a hydraulically operated automatic "economizer" circuit.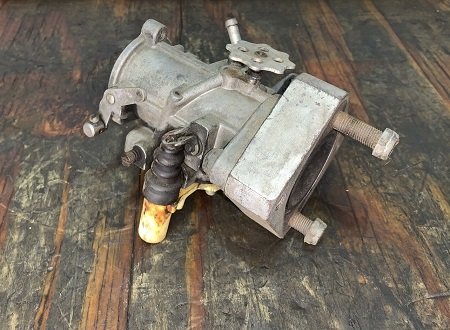 The Tillotson carb was complex and had many parts, and was not appreciated in its day. Lack of knowledge and poor parts availability tarnished their reputation, but when set up correctly, they are an excellent carburetor. The Tillotson Model HD was original equipment on Ironhead Sportsters from 1966 to 1971, and was replaced by the simpler Bendix unit.
****************************
Bendix Carburetor
Originally fitted on 1972 to early 1976 Sportsters (and some Big-Twins), the Bendix carb is a relatively simple unit that is easy to tune, and still one of the cheapest to buy. It is a popular choice for classic motorcycle builders and restorers who still ride their old scoots.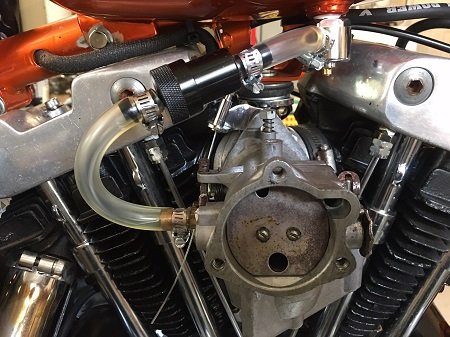 You'll find three styles of Bendix Carb for Harley V-twins; 38mm fixed main jet (factory style), 38mm adjustable main jet, and 40mm adjustable main jet.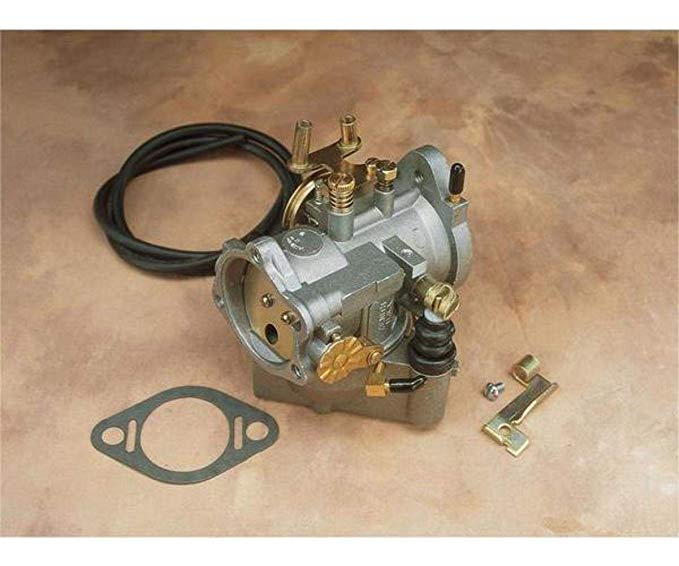 The most common of the Bendix carbs is the 38mm fixed, non-adjustable main jet version. These are designed to replace Harley 27155-72B and use a single cable throttle assembly. Many riders feel they are the best factory carb for Ironhead Sportsters.
****************************
Keihin Butterfly Carburetor
The Keihin carbs found on 1976-1985 Sportsters are fixed-venturi 'butterfly' units, and should not be confused with later, slide-type (CV) carbs found on 1988 and up Evo Sportsters.
Keihin carbs fitted to Sportsters from late 1976 to 1978 have a 38mm venturi size. The first two years of Keihin-equipped Sportsters had issues, but these were addressed and corrected by 1978.
In 1979, carburetor venturi size was reduced to 34mm, and 1979 through 1987 Sportsters were so equipped.
Keihin CV Carburetor
Evo Sportsters from 1988 through 2006 were fitted with a 40mm Keihin, model CV40. These later carbs were constant velocity (CV) carbs and psychically larger than early models.
The Keihin carb was not popular in it's day, mostly because it was made in Japan. But over the years, it gradually become accepted, with the later CV types now be adapted to fit earlier bikes.
NOTE: Keihin carbs made specifically for Harley will have the bar and shield and 'Harley-Davidson' stamped on it.
****************************
Dual-Carb Ironhead
In 1984, Harley-Davidson offered the XR-1000 Sportster, which featured a pair of 36mm Dell'Orto carburetors.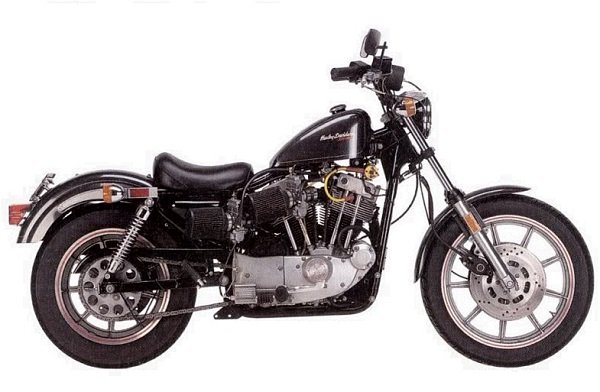 The Harley XR-1000 had different cylinders, heads, and intake manifolds from other Ironheads. With 70 factory horsepower, top speed was 125 mph.
****************************
Here's a few non-factory carbs for Ironheads:
Mikuni Carburetor
The Mikuni is a slide-type carburetor, or CV (constant velocity) carburetor. On a stock or slightly-modified motor, a 38mm Mikuni is a good choice for a 1000cc Ironhead Sportster.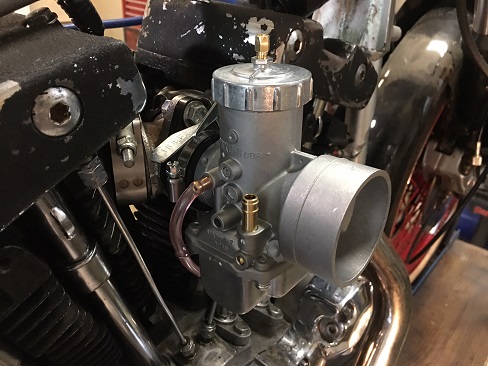 Back in the day, I ran a 40mm Mikuni on my 1972 XLCH, which had slightly hotter cams and drag pipes. This bike went through a lot of changes during the 13 years I rode it, but it always had that Mikuni sticking out the right side.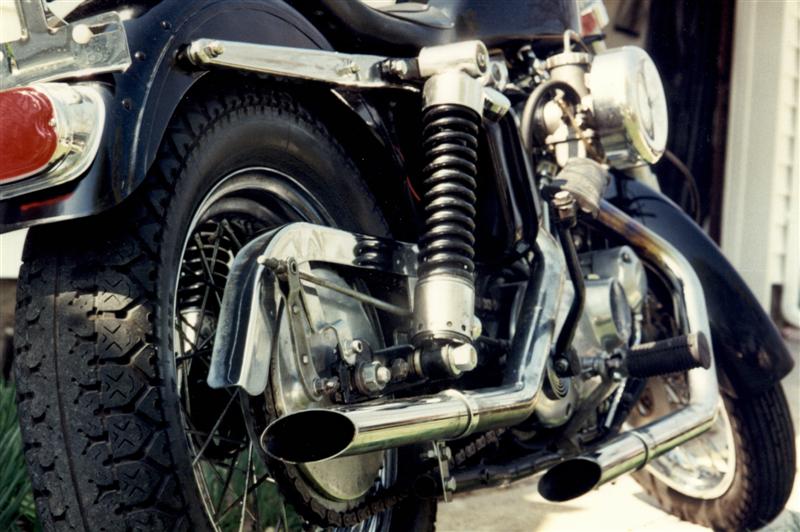 NOTE: A Mikuni carb does stick out a little more than a stock Bendix, which may give a slight obstruction to your right knee.
****************************
S&S Super B vs Super E
When introduced in 1975, the S&S Super B was the carb to run. That was until the Super E came out in 1990, basically a Super B but with an accelerator pump. The Super E has an 1-7/8" bore, which allows greater air velocity.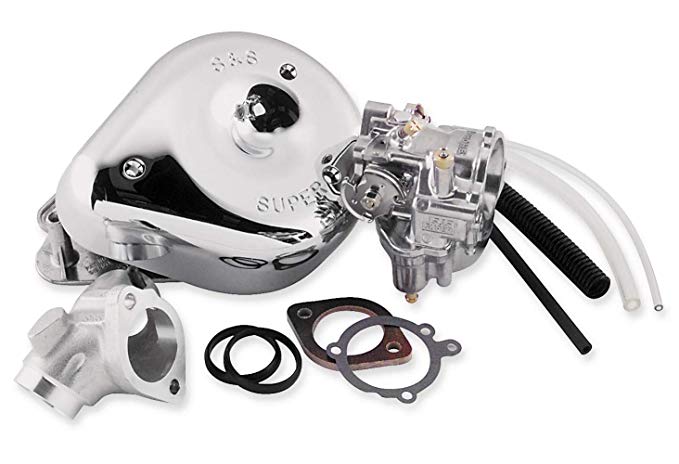 NOTE: The Super E carb requires the use of a dual cable throttle, one push and one pull.
Push-Pull Throttle Cable
Starting in 1981, Sportsters had a double (push-pull) accelerator cable. This was to help prevent accidental throttle sticking. If your bike is not equipped with one, a dual throttle cable is necessary to install the Super E.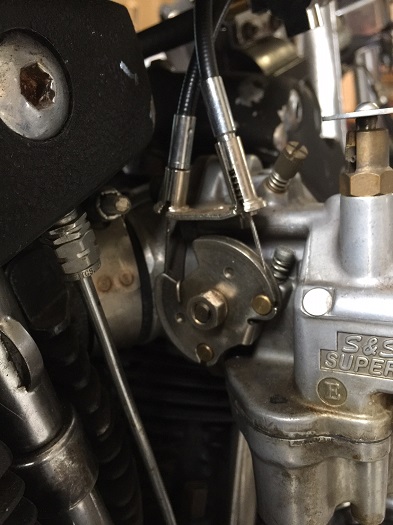 S&S Super B
Although the Super E has gone on to become the best selling performance carburetor in the V-twin aftermarket, many riders still prefer the B over the E model, claiming it has better flow and more low end punch.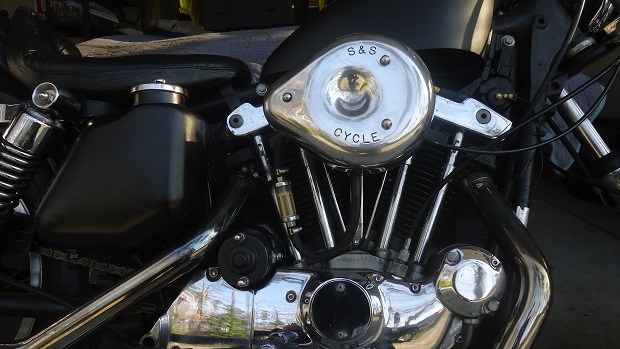 I ran a Super B carb on my old 1976 XLH, and the difference between the stock Bendix carb versus the Super B was amazing - but - because it isn't designed to run on a "small" V-twin, proper jetting is crucial. It will not be as forgiving to improper jetting as a Super E carb will be.
****************************
SU Carb For V-Twin Harley
The SU was one of the first constant velocity "CV" carbs to be adapted to Big Twins, and was a popular carb swap for Panheads and Shovelheads in the sixties and seventies. These variable-venturi carbs were originally found on European cars, such as Triumph, MG, Volvo, and others.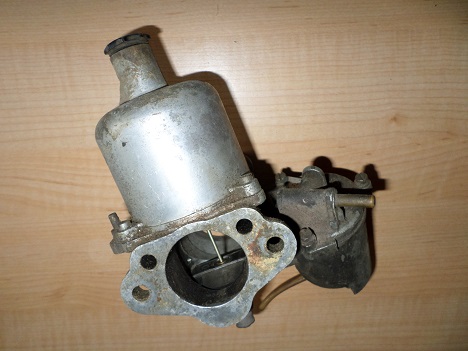 Measured by bore size, common SU carbs are the HS2 (1.25"), HS4 (1.5"), and HS6 (1.75"). For a 1000cc Ironhead, look for one with the smaller 1.25" bore.
Because many classic cars were fitted with SU carbs, air filters are still available. You could also modify existing air filters to fit the odd 4-bolt pattern on the SU carb. This involves measuring and drilling additional holes in the backing plate.
****************************
Two-Barrel Carburetor
There's not too much more impressive than a dual-throat Weber sticking off the side of your bike, but these carburetors are very time-consuming to dial in.
Adjustable items on 2-barrel carburetors include main venturi size, main jet, idle jet, air corrector jet, accelerator pump jet, emulsion tube, fuel inlet valve, and air horns--and one adjustment usually affects all the others.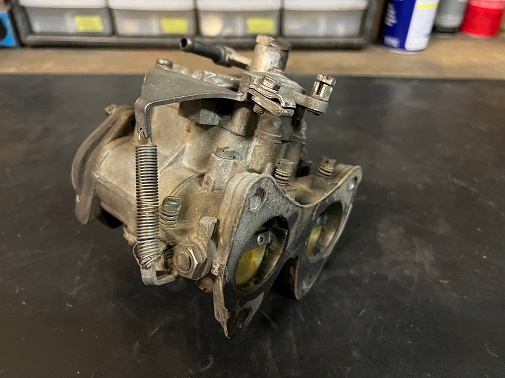 The 2-barrel Mikuni-Solex pictured came off a 1972 Sportster with a modified engine. It is similar to dual-throat Weber and Dellorto carbs, but simpler in design. These are automotive-style carburetors, but gravity-fed like most motorcycle carbs.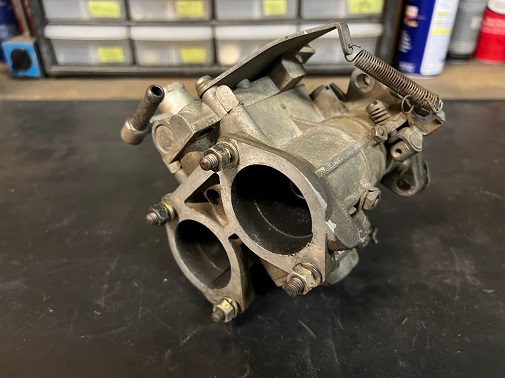 NOTE: A dual-throat carb on a Sportster may cause interference with the rider's right knee.
****************************
Carburetor Bracket
The carburetor on an Ironhead Sportster vibrates quite a bit while running, which may lead to cracked intake seals, vacuum leaks, and rough running.
A carburetor support bracket is a good idea on any Sportster motor.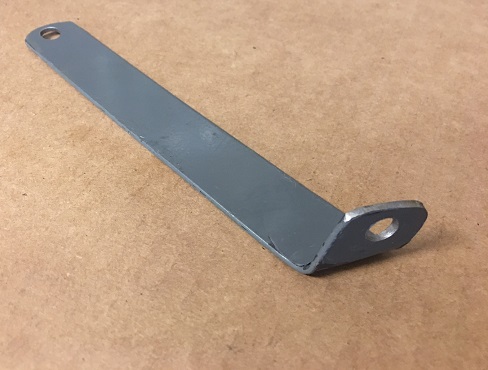 You can buy a carb bracket, but they're fairly easy to make if you have a good solid vice and a drill press. The one in the pictures above and below was made from a metal shelf bracket.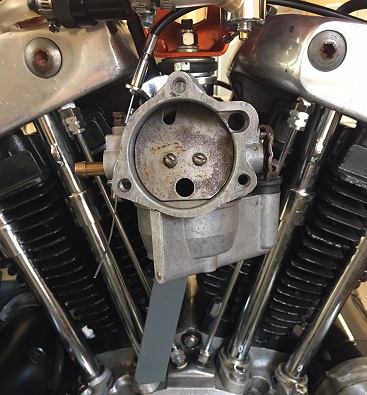 Manifold Gasket Seals
Replace the carb to intake seals if in any doubt. You can buy them here.
Pictured below, a cracked intake seal.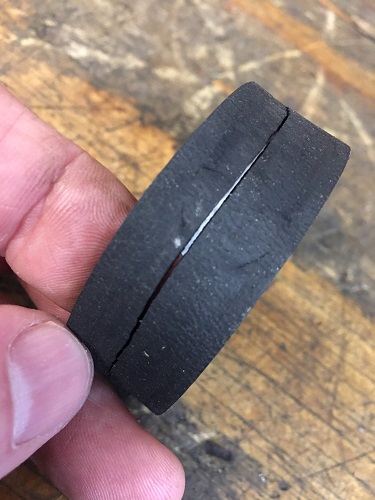 Conclusion
For the money, a 38mm Mikuni is a good choice for 1000cc Ironheads that are stock or slightly modified. But if you have the cash, the S&S Super B or Super E will give you more performance, particularly on the top end.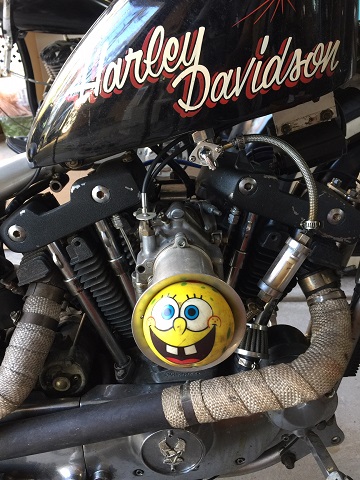 ****************************
Related Articles:
From the factory, an Ironhead Sportster has a plenty of low end torque, but if you don't think it has enough, you can add more.