Install Mikuni Carb On Sportster
Article by Mark Trotta
The Mikuni VM series is a CV (constant velocity) carburetor, also known as a slide carburetor. Twisting the throttle slides a cylindrical piston up or down in the carb body, increasing or decreasing air/fuel mixture.
The Mikuni slide carburetor is a popular replacement for all kinds of motorcycles, however, they are not a direct fit on Sportsters. Throttle cables, intake manifolds, and air cleaners need to be taken into consideration.
************************
Back Story
The 1981 Sportster in this article was brought to us non-running and with no prior history other than, "The previous owner told me that it sat for a while".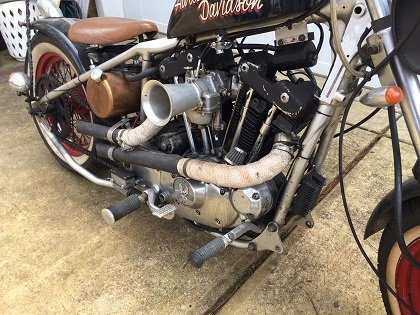 The battery and starter cranked the motor over great, and there was plenty of spark at the plugs. But the carburetor was not pulling fuel into the motor.
After disassembling the S&S carb, the problem was spotted; the carb float was stuck solid because old gas had turned to solid varnish. This is what happens when a motorcycle is stored with gasoline left in it. The jets and inlet tubes were also varnished, and there was corrosion on the fuel inlet assembly.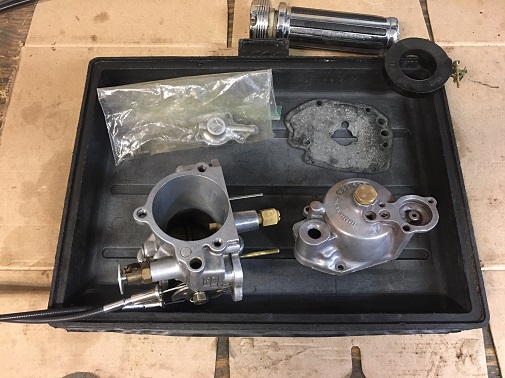 In the past, I've had good luck soaking parts in Berryman's Chem-Dip. But even after a week-long soak, these parts were too badly corroded for re-use.
To buy new parts, the S&S Super E rebuild would have cost over $250 - plus labor. And since buying a used carb almost always requires a rebuild, replacement carburetor options were kept to new only.
************************
Mikuni VM Series
The VM series carb fits many different bikes, and is offered in about 15 different bore sizes.
Best Mikuni Carb for Sportster
For a stock 1000cc Ironhead, or a 1200cc Evo Sportster, a 38mm VM Mikuni is a good choice.
For an 883 or early 900cc model, a 36mm or 38mm Mikuni would be a better choice.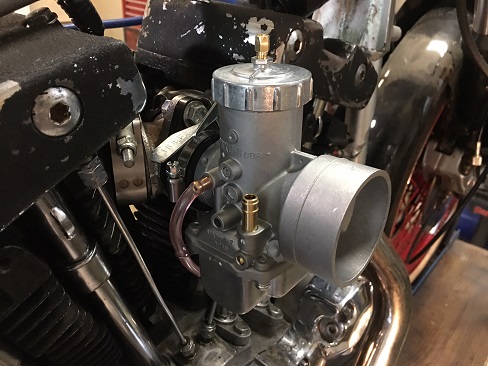 Ironhead Intake Manifold
S&S carburetors use their own manifolds, throttle cables, and air filters. So, to run a Mikuni VM carb, these items needed to be replaced.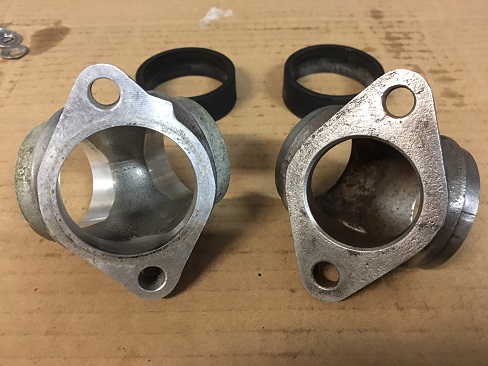 S&S manifold on left, stock Harley manifold on right.
TIP: When installing, there's no need to squash the life out of the two rubber intake gaskets. Tightening with a nut driver will help eliminate over-tightening.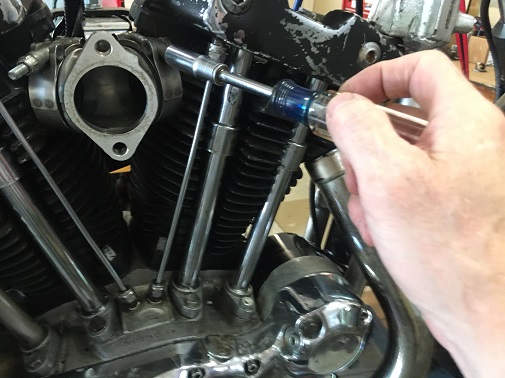 Flange Adapter
Mounting a Mikuni carb to a stock Ironhead manifold requires a flange adapter. These are included when you buy a Mikuni carburetor kit, or you can buy one here.
The rubber flange adapter (part number M-VM36-200K) is designed for Harley-Davidson spigot-type carburetors. It will work with either 36mm or 38mm Mikuni slide carbs.
If switching from a Bendix, Tillotson, or Keihin, you'll need a carb adapter, throttle cable, and new air cleaner. And you may need to replace or modify the right-hand grip as well.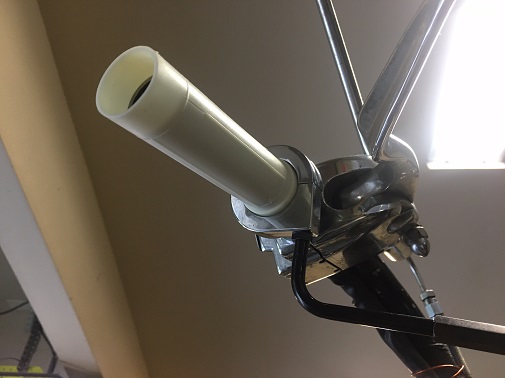 Throttle Cable Hook-Up
Mikuni VM carbs require a specific throttle cable - the carburetor end has a small ball on it, which fits into the top of the carburetor.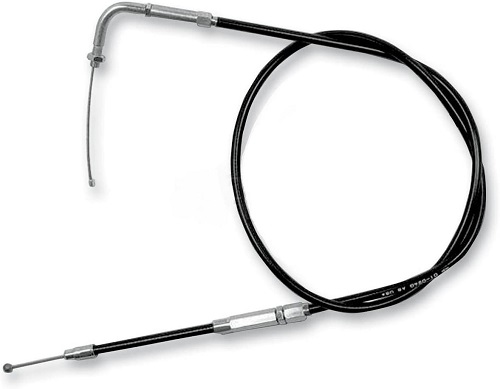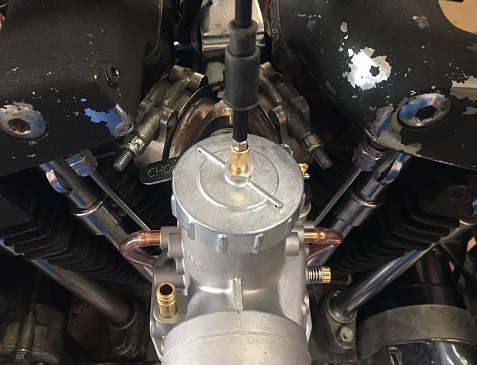 Single vs Double Throttle Cable
Starting in 1981, Sportsters were fitted with a double accelerator cable (one push, one pull). This was to help prevent accidental throttle sticking. The Super E carb that was on the bike also had a dual cable throttle, but a Mikuni slide carb doesn't.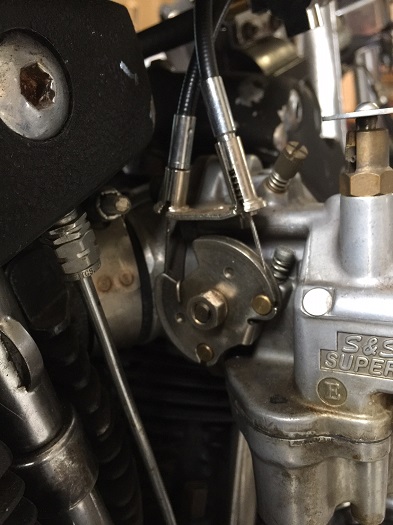 I thought I'd remove one of the cables from the handlebar grip and run the Mikuni cable, but the 'push' and 'pull' ends on the throttle barrel are two different thread sizes.
For demonstration purposes, I threaded a 1/4" bolt on the 'push' side, and a 5/16" bolt on the 'pull' side.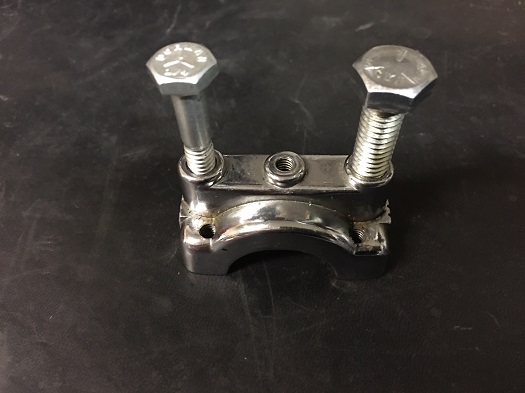 The 'pull' side is the one needed for a single throttle cable.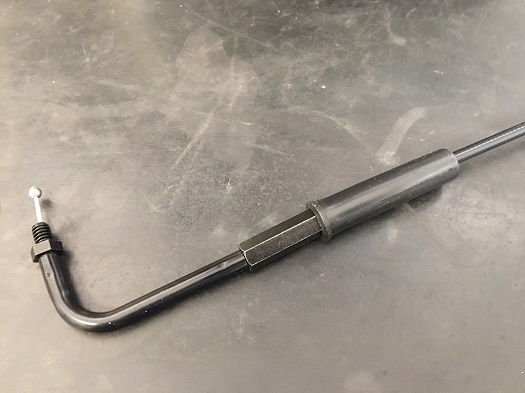 The cable supplied had a 1/4" threaded rod, so I installed a Heli-coil insert on the 5/16" side, which reduced it to 1/4".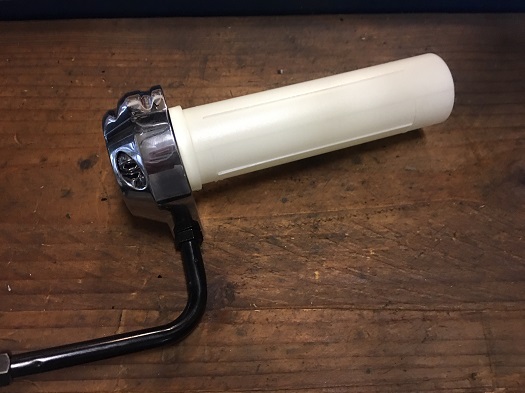 Choke Lever
Mounted on top of carb and inward towards the motor, the choke control may be a little awkward for some. Push down the choke lever for on, and after warm-up period pull up for off.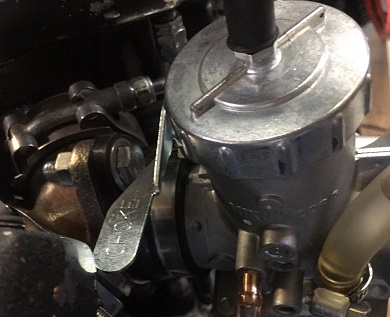 Air Filter Choices
A popular air filter for the Mikuni VM is the K&N RC-0850.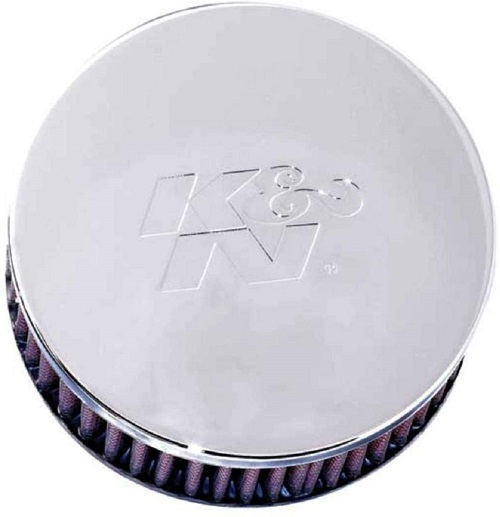 With the new carb mounted, the bike fired right up! Since then, the Mikuni slide carb has provided easy starting and gives excellent street power for this old Sportster.
Notes and Misc
The Mikuni Corporation is a Japanese manufacturer of automotive and motorcycle related equipment. They offer several other styles of carbs, but the VM series is the most popular single performance carburetor. If needed, replacement parts and rebuild kits can be purchased from Sudco International.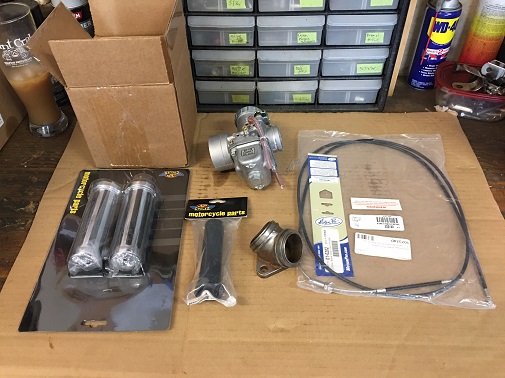 If switching from an S&S carb, you'll need a stock intake manifold, carb adapter, throttle cable, and air cleaner. A Super E is really too large for a stock motor anyway. The Mikuni will give nearly as much power at about half the price of a new S&S.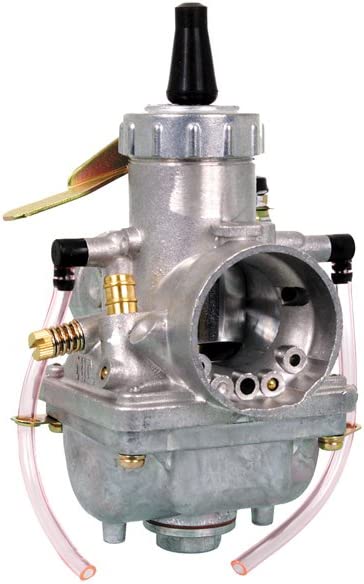 ************************
Related Articles: