Ironhead Special Tools
Article by Mark Trotta
So, you started tearing down your old Sportster motor, only to find out you need quite a few special tools. If you're rebuilding the entire motor, along with a piston ring installer, torque wrench, dial caliper, and feeler gauge, you'll need a few Ironhead special tools.
Before you give up and carry the pieces to a local shop, consider a few things. If you can cut, drill, and weld, many of these specialty tools can be fabricated cheaply.
In no particular order, here is a partial list of special tools that you may need during an Ironhead Engine Build.
Clutch Removal Tool
A clutch spring compressing tool is needed to take pressure off the clutch assembly. This tool can be made out of a piece of metal stock and some 1/4-20" threaded rod (same thread as primary cover bolts).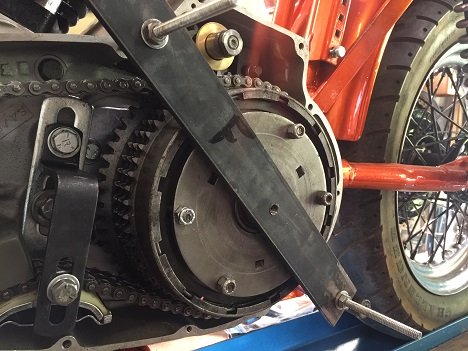 This tool has a second use. It also helps separate left and right engine cases.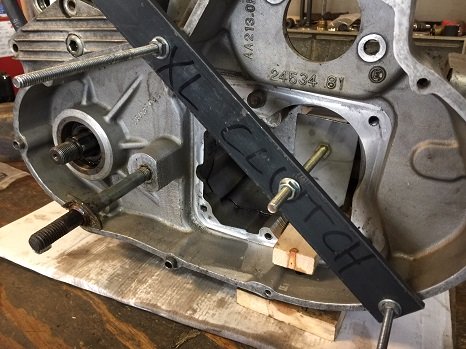 Sprocket Locking Link Tool
To remove the primary chain on a Sportster, a tool is needed to keep the two sprockets from turning while you remove the hub nut. The tool fits in between the clutch hub and the front sprocket.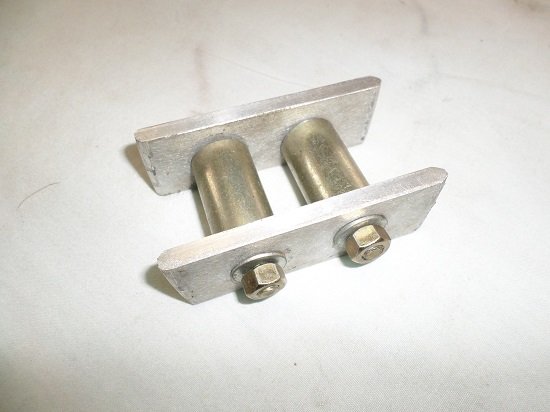 The picture above shows a DIY sprocket locking link tool holding the compensating sprocket and clutch basket.
******************************
Push Rod Cover Tool
The Motion-Pro push rod tool removes and installs push rod tube clips with no hassle. The flat portion of tool fits under the cylinder head, and the cupped end fits over the bell in the tube. When adjusting Ironhead valves, this tool is a real time-saver.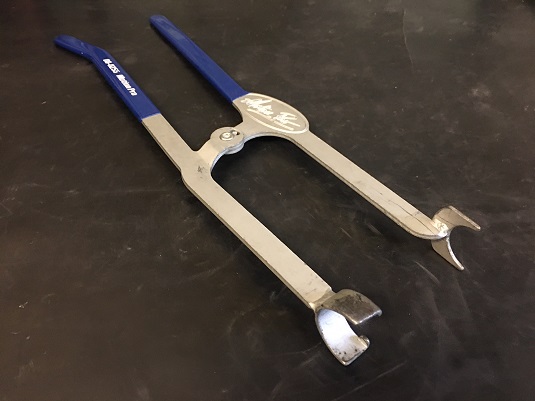 ******************************
Ironhead Sprocket Shaft Tool
To remove the compensating sprocket shaft nut (front pulley) another specialty tool is needed. This can also be made, but they're pretty cheap to buy.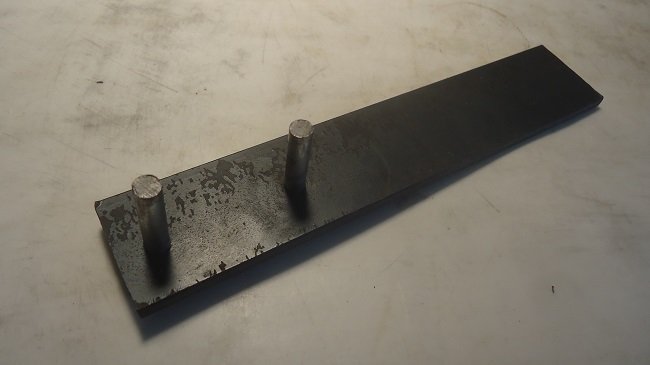 A 1-1/2" socket is needed to remove the large nut in the clutch hub. Some bike shops use an impact gun on this nut, instead of using a locking tool. Either method will work.
******************************
Sportster Engine Stand
Having an engine stand makes working on the motor much easier. You can buy one, but if you can weld, consider making one. Alternatively, you can lay the engine down on a couple of 4x4 blocks of wood. I've used both of these methods.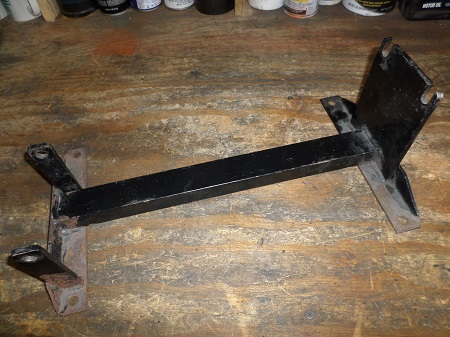 ******************************
Ironhead Bottom End Tools
All pre-2000 Sportsters have taper-shaft cranks that were designed to be rebuilt. This allows Ironhead bottom ends to be rebuilt several times.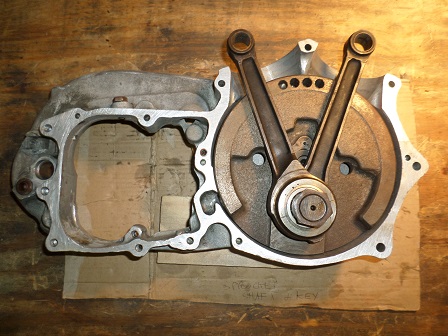 Flywheel Shaft Nut Wrench
You can either buy the two-sided wrench (H-D part number 94546-41), or buy two impact sockets, sized 1-5/6" and 1-3/16". To hold the flywheel while tightening the nuts, you can fabricate a simple holding jig that uses the holes in the flywheel.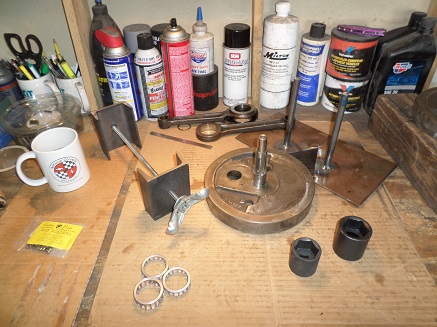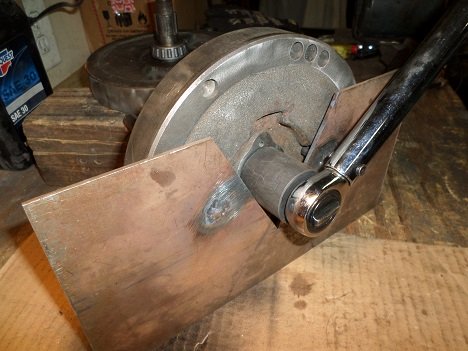 Flywheel Holding Jig
Starting with a cardboard template, take a piece of steel and cut out the shape needed. The "V" needs to be big enough to clear the crank pin. You can find 1/2" round stock at hardware stores and home improvement stores.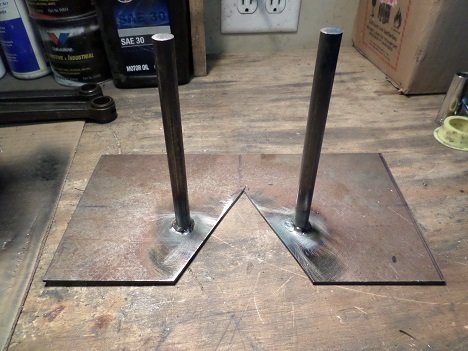 After the flywheel assembly is rebuilt, it needs to be trued before being reinstalled in the cases. For this, you'll need either a lathe or a flywheel truing stand. A $900 truing stand is a nice luxury, but homemade units work just as well.
Sprocket Shaft Bearing Puller
For early Sportsters, the inner sprocket-shaft bearing Harley-Davidson tool number is 96015-52. For later models, H-D tool 96015-56 fits Sportsters 1967-1976. The later tool also removes sprocket shaft extensions.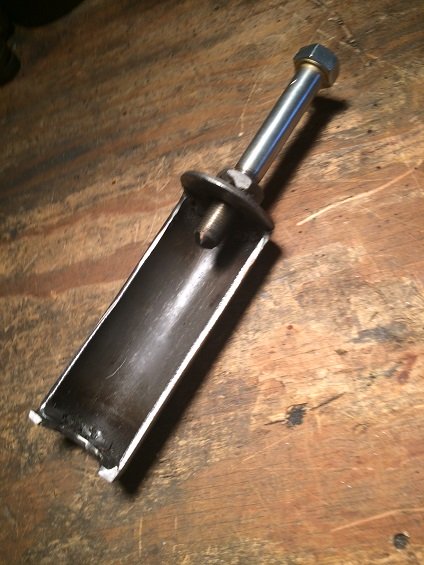 This is my version of the 96015-52 Harley sprocket-shaft bearing tool. I took a piece of 2" metal tubing and cut it in half, then welded on washers and a 7/16" SAE nut on the top. This was used to remove the inner sprocket shaft bearing on my 1965 XLCH.
Pinion Shaft Honing/Lapping Tool
Honing/lapping motorcycle engine cases assures precision alignment of engine shafts. Early Sportsters (1957-1976) require the pinion shaft outer bearing race to be lapped in. The tool lines up with the sprocket-side case bearing to lap the pinion-bearing race to the proper size. If you're looking to buy this tool, it sells for about $850.
Sprocket Shaft Bearing Installer
For 1957-1976 Sportsters, the sprocket shaft bearing installer H-D part number is 97081-54. Jims Tools uses the same part number, which sells for about $75.00. The V-Twin part number is 16-0149. 1977-up Sportsters require a different tool.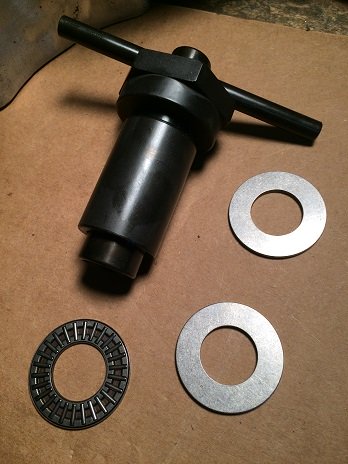 ******************************
Pinion Gear Puller Tool
The pinion gear tool allows easy removal and installation of the pinion gear on 1976 and earlier Sportsters. On 1977 and later models it is not required. The OEM Harley part number for the pinion gear puller is #96830-51. They are available from several aftermarket companies, including Jims Tools.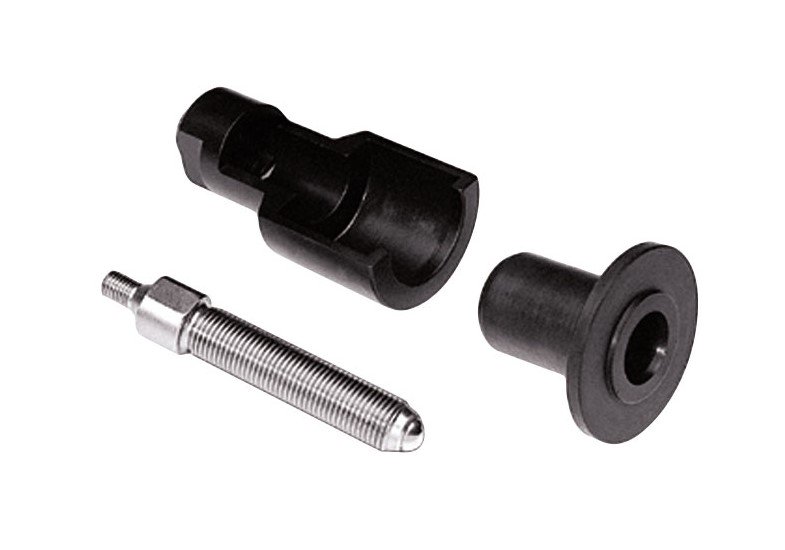 I ended up buying a cheaper imported version of the tool that was a third of the price of the Jims Tool version. The install part of the tool works fine, but the removal part of the tool is too thick to remove a Sportster pinion gear. If you need to remove a Big-Twin pinion gear, the cheaper tool will probably work for both removal and installation.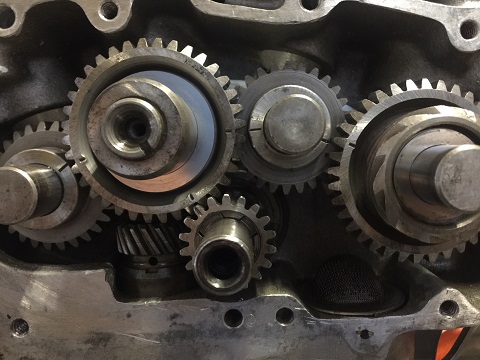 Cam Bushing Removal Tool
There is a Harley-specific tool called an inner bearing puller. It's only function is to remove cam bushings. This tool has a part number (#96760-36) that seems to be obsolete, but the factory-designed tool is not really needed, because there are other ways to remove Sportster cam bushings.
The method I chose to remove cam bushings was to employ tools that I already had. This included an electric grinder and a 24" slide hammer. You also need a solid workbench vise.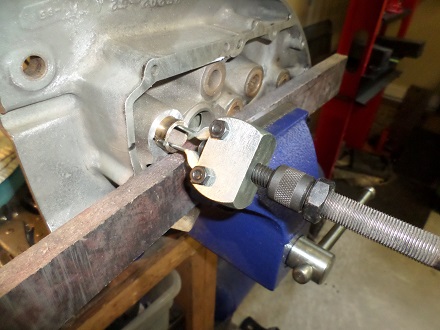 Cam Bushing Drill Jig
After new cam bushings are installed, you need to drill and insert new bushing pins, so the bushing doesn't spin inside it's cavity. Jims Tool makes a nice tool to help with this.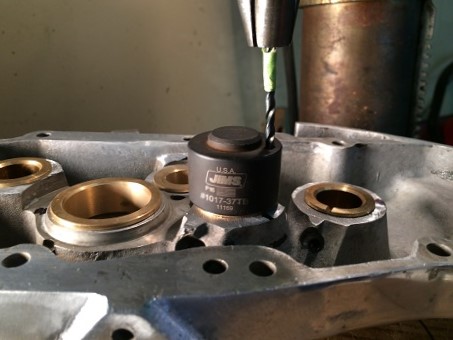 This tool also doubles as a bushing installer when using a shop press.
Cam Bearing Removal Tool
Removing any of the four cam needle bearings requires a special tool. The alternative is to split the cases and press them out.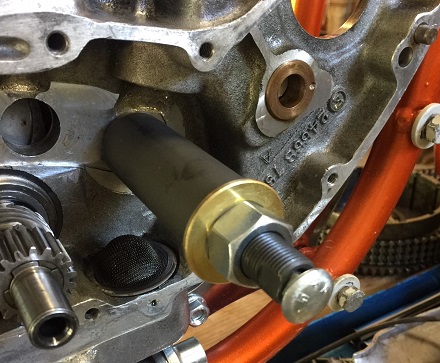 Installing cam needle bearings must be done very carefully, so as not to crush the thin outer shell. The cam bushing drill jig tool shown below can be used for this procedure.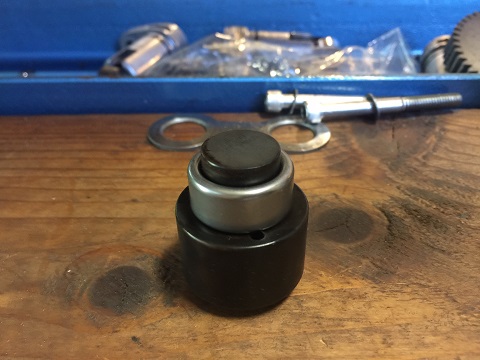 Cam Bushing Reamers
The Harley-Davidson service manual lists three tools for reaming cam bushings. They are #94803-37 (cams and timer shaft), #94812-37A (pinion shaft), and #94805-57 #94806-57 (idler gear bushing). The Harley tools are obsolete. Although advertised in the aftermarket, they are hard to find in stock anywhere.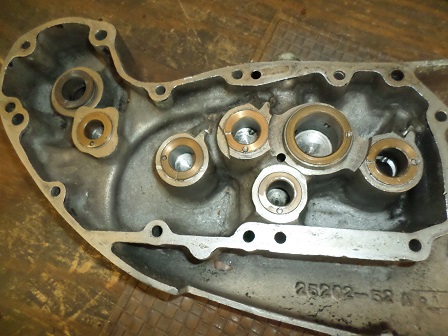 There are many different styles and types of reamers. For line-reaming cam bushings, you want to use a hand-held reamer that is right-hand spiral (RHS) and right-hand cut (RHC). Several different size reamers are needed.
Line-Reaming Cam Bushings
When line-reaming cam bushings with the engine case, pilot shafts are required. If you are not using the factory reaming tools, pilot shafts will have to be fabricated.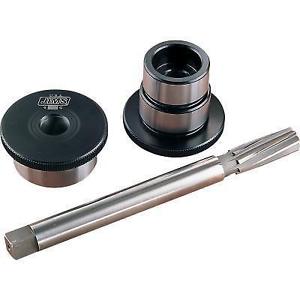 Factory Manual
Knowledge is the best tool you can have, and having a factory shop manual that covers your year and model is invaluable. You'll end up referring to it over and over again.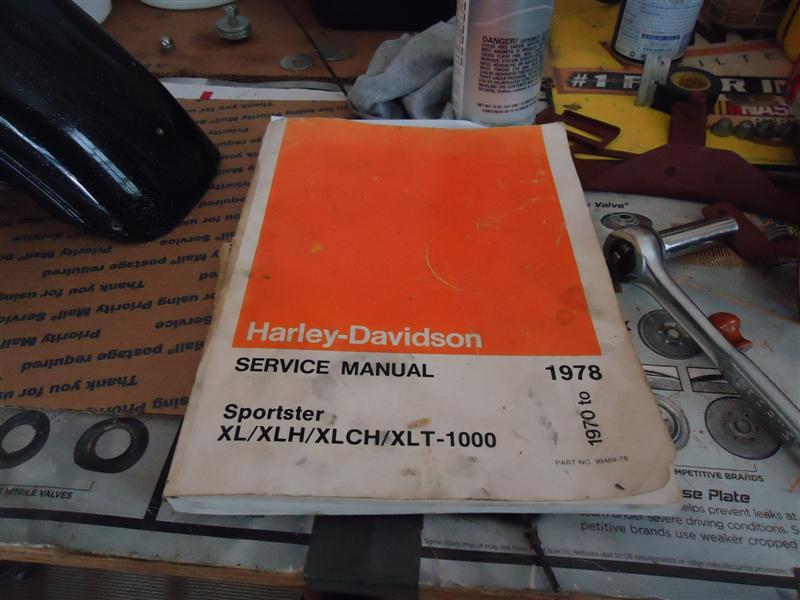 ******************************
Getting tired of crouching down on your hands and knees while working on your classic bike? Having a motorcycle lift stand saves you time and space, and makes working on your old scoot more enjoyable.