Motorcycle Lift Stand Review
Not only does having a motorcycle lift stand save you time and space, it also makes working on your old scoot more enjoyable. Raising the height of your motorcycle makes it so much easier to work on, not to mention easier on your back.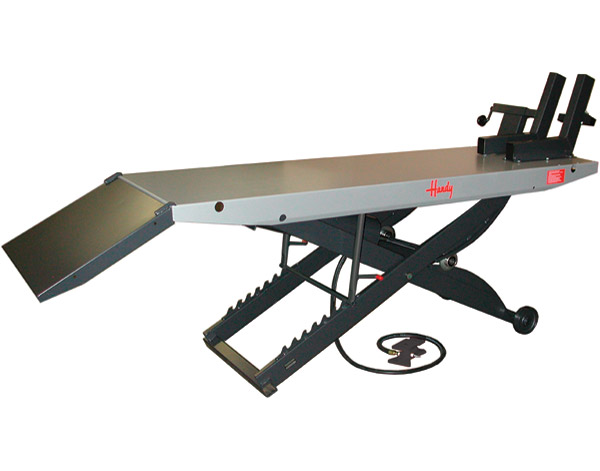 Designed specifically to service motorcycles, motorcycle lift stands can be divided into several categories: scissor lift, pneumatic (compressed air), pneumatic/hydraulic, and electric/hydraulic. Remember that they all get the job done, the higher-end ones just work quicker and quieter, and may offer a little more stability.
Weight Capacity
Before you buy a lift stand, know what your bike weighs and select a lift that is rated for the load. To properly lift your bike, the weight capacity should be at least 50% greater than the weight of the motorcycle. For example, if your bike weighs 750 pounds, look for a lift table that has a capacity of 1,500 pounds.
_________________________________________________
_________________________________________________
Garage Footprint
Consider where you will store it - they take up quite a bit of floor space. Many riders park their motorcycle on the lift when it's down.
Air-Powered Motorcycle Lifts
Pneumatic tables are most common. They operate by compressed air and are generally rated to lift 1,000 pounds. This requires you to have a decent size air compressor in your garage.
Air-Over-Hydraulic Lift Stands
Air over hydraulics, also called pneumatic/hydraulic, is a simple and cost effective way of producing a "soft" acting hydraulic system. They are usually rated for 1,500 lbs or more, and tend to use a lot of air.
Electric-Over-Hydraulic Lift Stands
Electric over hydraulic tables are the most expensive, but are the smoothest and quietest motorcycle work stands available. They are built for commercial use, run on electricity, and require no compressor.
With price, availability, and features as perimeters, here are three lift tables that I consider to be best overall choices.
APlusLift MT1500
If you already have a large air compressor in your garage, the APlusLift MT1500 is a good choice. It has a 1,500 pound capacity, and includes a small service jack and a rear drop-out panel for easy access to rear wheel removal. Air requirements are 90 PSI.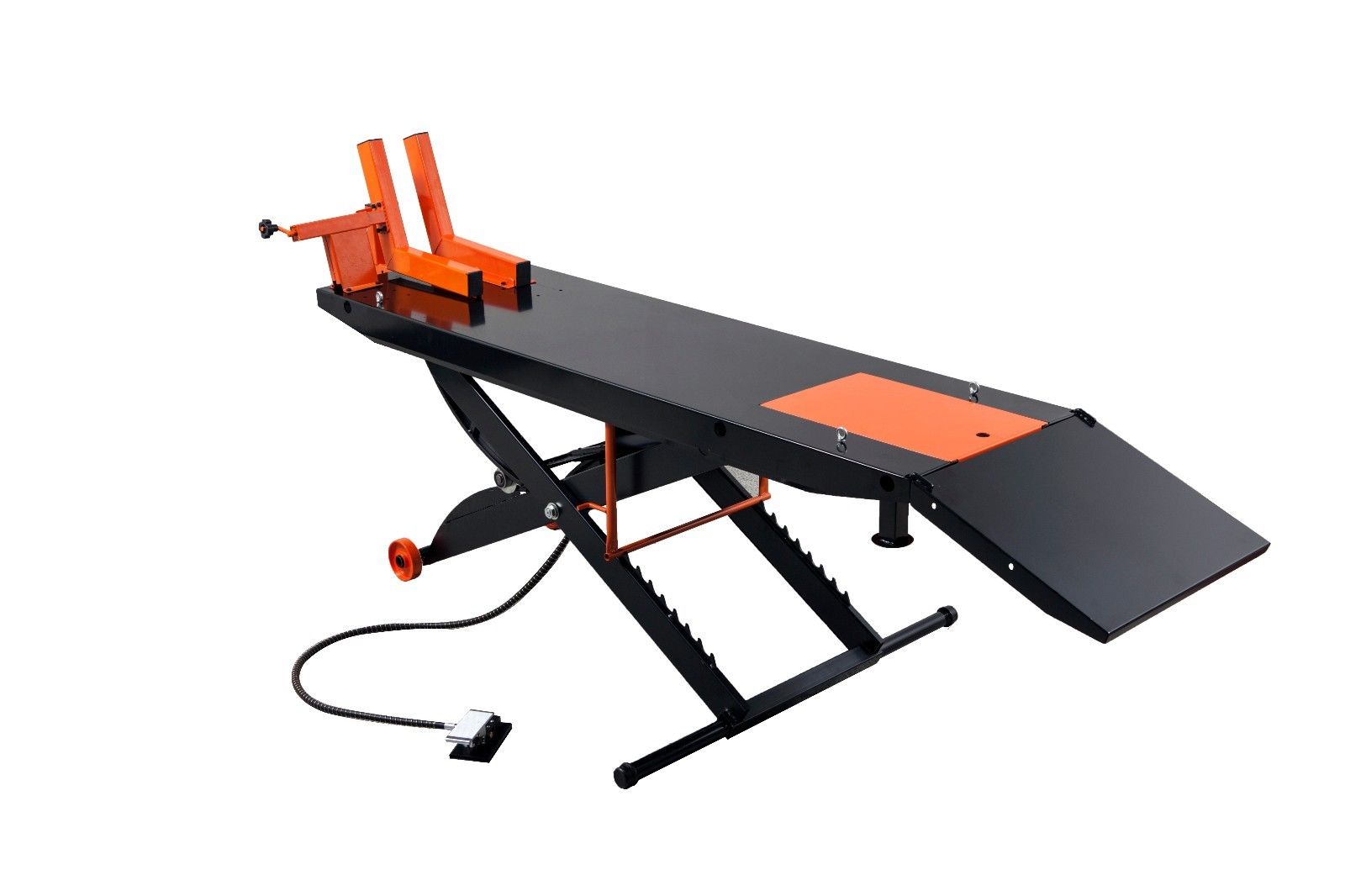 Wide Lift Stand
For lifting a three-wheeled motorcycle, you need a long and wide lift stand. Fortunately, these are popular for ATVs and UTVs. APlusLift offers a 1500 pound capacity air-operated lift stand with side extensions. Included is a service jack and free home delivery.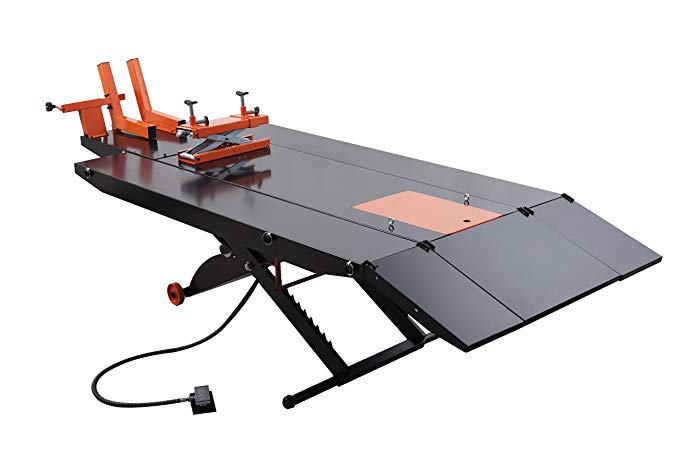 Lift Stand For Trike
With the extensions, the table width is 48" and table length is 84". If you have a Vintage Harley Trike or an ATV, this lift table will work for you. On modern Harley trikes, the rear tires will hang off the sides a bit. Check your trike's measurements. The weight capacity is fine, it's just not wide enough.
_________________________________________________
_________________________________________________
Best Motorcycle Lift Stand For Home Garage
Although all motorcycle lifts do the same thing, some may better suited for your needs. Some have optional extensions, making them longer to fit custom choppers. Others have a rear wheel drop-out, which allows the back of the stand to be removed. This gives easier access when replacing rear tires.
The question of which motorcycle lift stand is best can be answered with, "How much do you want to spend?" While some have more options than the others, they all do the same thing, so the best lift stand will be the one that fits your budget.
Motorcycle Lift Safety
Don't overload the jack or lift
Use the safety locks (if equipped)
Check that your bike is stable before starting work
Lift stands are heavy and can weigh anywhere from 250 to 550 pounds. When you buy a lift and have it shipped to a residential location, you may need the assistance of a lift-gate truck. There may be extra charges for these services. Some companies offer free shipping within the U.S.
There are many brands of motorcycle lift stands to choose from. The one good thing about that is competition between brands has brought down the prices, making them more affordable than ever.
Whether it's regular maintenance like changing the oil, cleaning and detailing, or doing a custom bike build, once you have a motorcycle lift stand, you'll wonder how you ever got by without one.
Lift Stand vs Work Table
If buying a lift stand is not in the budget, consider making a motorcycle work table. I've seen all kinds of home-built types, some as simple as a wooden platform with a ramp, tie-down hooks, and a wheel chock.
The work stand in my garage is a one-off custom built by a friend of mine.