Best Motorcycle Cover
Article by Mark Trotta
If you have to leave your motorcycle outdoors for any length of time, it should be under a cover. Sometimes I need more work space in my garage, and one of the bikes will have to stay outside for a few days or a few weeks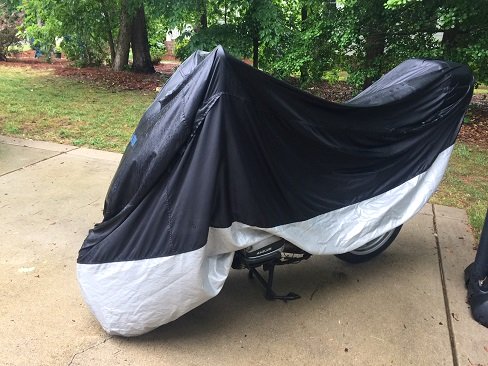 Since the 1995 R1100R is my "newest" bike and least vintage, it's always the one that has to stay outside. But when that happens, it's always under a cover.
Outdoor Motorcycle Covers
Leaving a motorcycle outside exposes them to dust, dirt, sun damage, and of course, possible theft. An outdoor motorcycle cover will go a long way to help prevent these things, and can be had for as little as $30-$40.
Motorcycle covers are sold in various colors. If you live in a hot and sunny climate, choose a light-colored fabric for outdoor storage. Lighter-colored covers will add a reflective cooling effect, which is safer for paint.
Recently, I spotted this at a local shopping mall. I presume it's a commuter bike, and the owner was thoughtful enough to cover it while at work.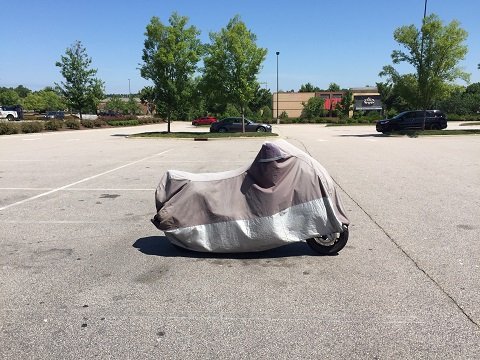 Best Motorcycle Cover For The Money
Made by Dowco, the Guardian WeatherAll is advertised as an indoor/outdoor motorcycle cover, but is primarily for outdoor use. It's waterproof and breathable, and has reflective vents to help prevent moisture build-up under the cover. A heat-shield is used in places that may encounter warm exhaust pipes. Sewn-in grommets allow for a wheel-lock to pass through.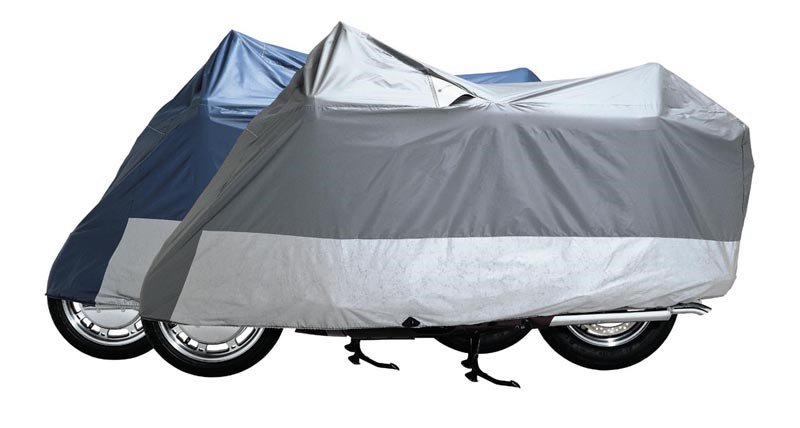 The Guardian WeatherAll motorcycle cover is a good choice for everyday outdoor use, and is backed by Dowco's industry-leading lifetime warranty. It will provide maximum protection against rain and mildew, and also fading caused by the sun's UV rays.
Where Do I Keep The Cover When Not In Use?
I usually store the cover in my truck bed (under a folding bed cover) or in a cardboard box in the garage.
Best Indoor Motorcycle Cover
While parked in the garage every night, your old bike is safe from harmful outdoor elements, but it's still exposed to dust, moisture and accidental scrapes.
The Guardian indoor motorcycle cover is made of a breathable fabric, which allows inside moisture to escape. This is a premium indoor cover that is machine-washable and dryable.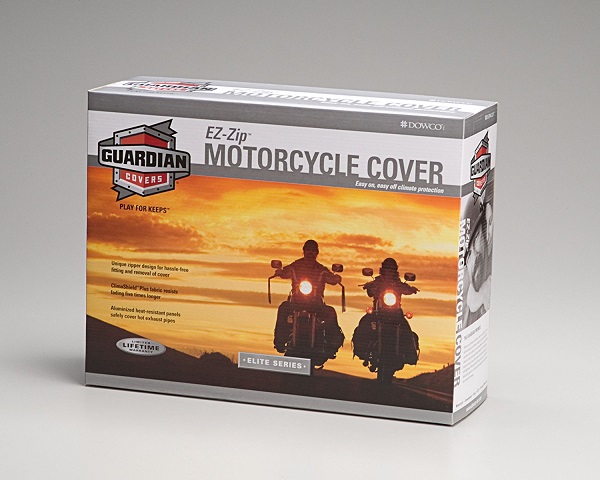 Most bike owners develop a simple procedure for removing and installing the cover. For example, to remove, I start at the back of the bike then to the front. I put it back on in the same way, back to front.