Best Motorcycle Cover
With a bewildering array of brands, sizes, and colors to choose from, you'll need to do some research to find the best motorcycle cover for your needs. The following review is what I've found to be the best value products for your dollar.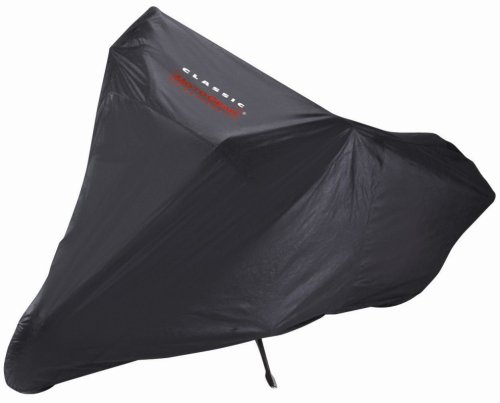 Storing a Motorcycle Outside
Keeping a motorcycle inside is not an option for some riders. Outside elements include sun damage, dust, dirt, and of course, possible theft. An outdoor motorcycle cover will go a long way to help prevent these things, and can be had for as little as $30-$40. Lighter-colored covers will add a reflective cooling effect, and most intermediate-priced covers have non-scratch liners.
The Guardian WeatherAll is advertised as an indoor/outdoor motorcycle cover, but is primarily for outdoor use. Made by Dowco, it is waterproof and breathable, and has reflective vents to help prevent moisture build-up under the cover. A heat-shield is used in places that may encounter warm exhaust pipes. Sewn-in grommets allow for a wheel-lock to pass through.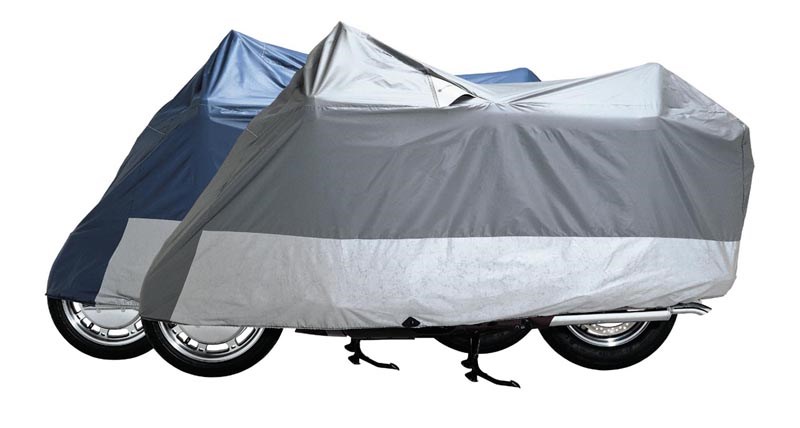 The Guardian WeatherAll motorcycle cover is perfect for everyday outdoor use, and is backed by Dowco's industry-leading lifetime warranty. It provides maximum protection against rain and mildew, and also fading caused by the sun's UV rays
Best Indoor Motorcycle Cover
While parked in the garage every night, your classic bike is safe from harmful outdoor elements, but it's still exposed to dust, moisture and accidental scrapes. Indoor motorcycle covers start at around $30-$40. This gets you a lightweight cover with an elasticized bottom hem, made of a fabric that won't scratch paint. Most of these inexpensive covers are machine-washable and dryable for easy care.
A step above that, you can buy a motorcycle cover made of a breathable fabric, allowing inside moisture to escape. These better quality covers usually include a matching storage bag and tie-down cords.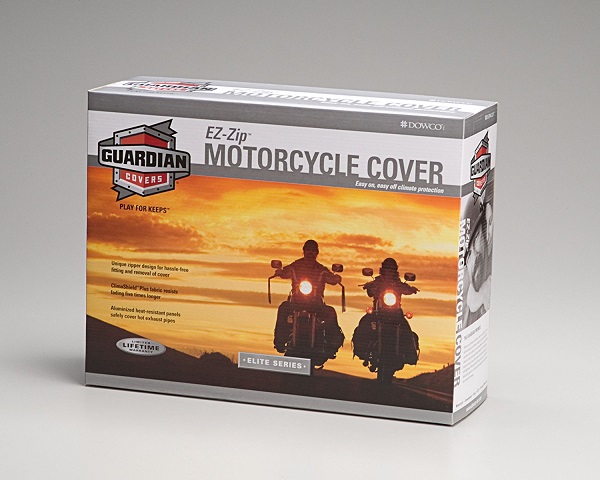 What if you could completely surround your bike from top to bottom? That would certainly give your classic machine maximum protection, and that's what the CarCapsule Motorcycle Bubble was designed to do!
Motorcycle Bubble Cover
The bubble cover storage system has been in use for decades by vintage and classic car collectors. Now you can protect your two-wheeled investment exactly the same way.
The CarCapsule Motorcycle Bubble is eight feet in length and made of durable plastic. It features a high-pressure fan that provides continuous airflow, thus preventing condensation and moisture.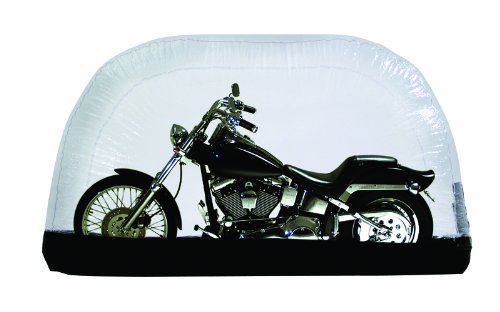 Once your motorcycle is inside, the bike bubble is inflated with air to form a protective "bubble" around your classic bike. There is no better protection for your motorcycle than with a bubble-style motorcycle cover.