Motorcycle Safety Gear
(Article by Mark Trotta)
Heat, cold, rain, wind, as well as sunny days - When you're out riding, you need to operate your motorcycle with control and safety. Since the only thing between your skin and the road is what you're wearing, proper riding gear is essential. Motorcycle safety gear keeps you protected from physical harm, as well as the elements.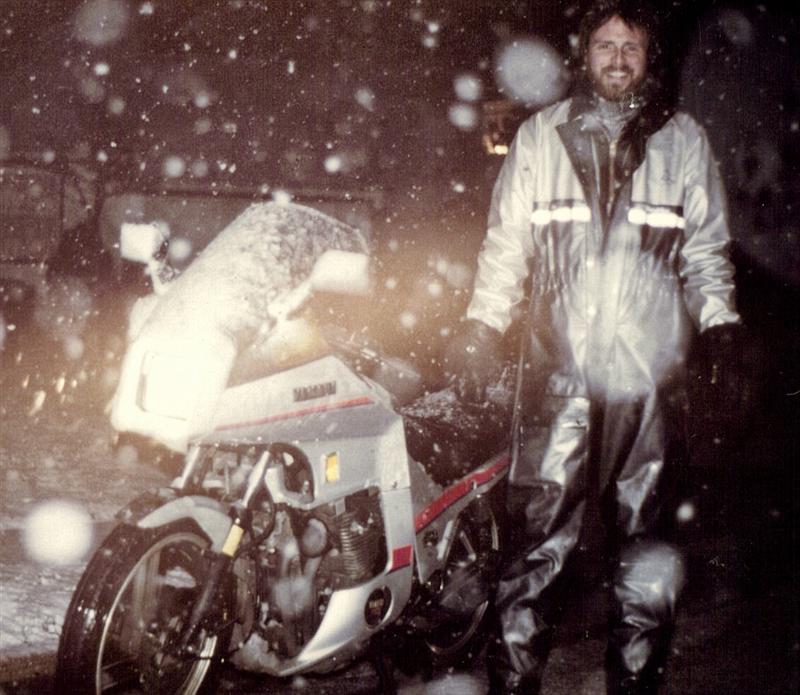 Motorcycle Leather Jackets
Before leather jackets were fashionable, motorcycle riders wore them solely for protection. Today, style probably sells more jackets, but there's quite a bit of difference between a leather jacket for fashion and one for motorcycle riding. You can spend as little as $150 for a cheap motorcycle jacket, but it probably won't protect you very well in a crash. Choose a jacket carefully, and it will last you a lifetime.
Marlon Brando's leather jacket in the movie "The Wild One" is a Schott Perfecto "One Star". The Perfecto was widely copied, and has become one of the most popular motorcycle jacket styles.
Textile Motorcycle Jackets
Although leather jackets are most popular with classic bike riders, textile jackets can be more versatile. Most have removable thermal liners and vents, and are suited for early spring and late fall riding. They are wind and water repellent, which helps if you get caught in a sudden shower.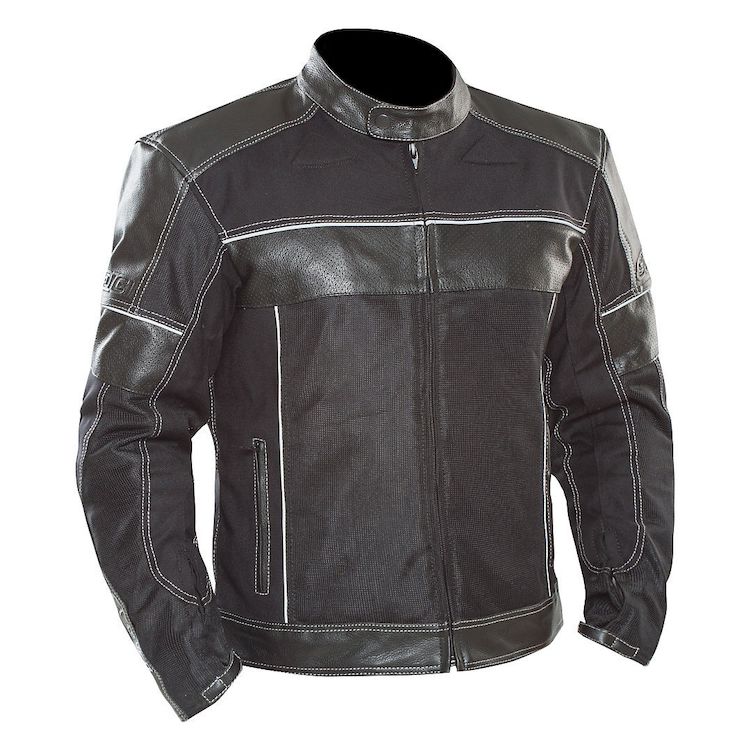 Summer Riding
If you ride where temperatures go into the triple digits during the summer months, you know how it feels to sit motionless for a minute or two while wearing a leather jacket. You wish you where wearing something that had more cooling but the same protection.
Have you ever noticed people who live by the equator are covered from head to toe in clothing? This is because skin that is exposed to heat is harder to cool, causing you to dehydrate faster. Trouble is, riding a motorcycle, you need to wear abrasion and impact resistant gear, which can be heavy.
Mesh Motorcycle Jackets
Most mesh jackets have CE armor at the shoulders and elbows, with a pocket for back armor. They are water and wind repellent. Some of the better brand names include Joe Rocket, Firstgear, Olympia and Viking. Prices start around $150.
Motorcycle Helmets
Even if your old motorcycle helmet looks like new, they deteriorate over time. The Snell Foundation recommends replacing your helmet every five years, and even sooner if it's been in a crash. And remember that the best helmet made is worthless if it doesn't fit you right.
Riding Gloves
If you fall off a motorcycle, chances are you'll instinctively put your hands out to help break the fall. What will be on your hands? Gloves made from leather or some other sturdy material will help. Some people wear their Mechanix gloves while riding (better than nothing). Don't forget to strap the straps - they're designed to keep the gloves on your hands if you crash.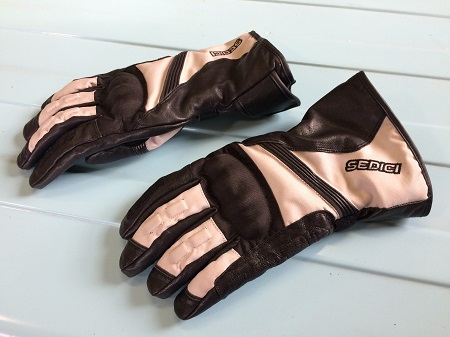 Motorcycle gloves that have protective material will be CE rated. Some riding gloves have gauntlets, which are for reducing drafts while riding in cold weather.
Footwear
Just like your hands, your feet and ankles are fragile, so boots are worn to keep them from harm while riding and in the event of a crash. Oil-resistant, rubber-based composite soles help grip the pavement. They also help keep your feet on the pegs. Strong, moderately flexible boots with stiff soles provide protection from a number of risks. The best protection for your feet is over-the-ankle footwear, even in the summer.
Safety Eyewear
The cool-looking sunglasses you paid $10 for are not very good for wind protection at 60 mph. You need effective eye protection. For long trips, don't rely on eyeglasses or your bike's windscreen. Use a helmet visor or goggles.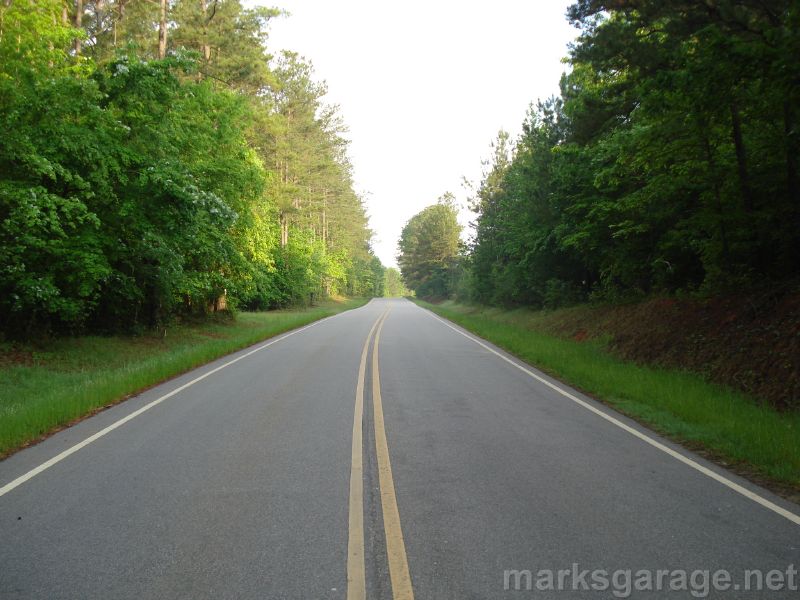 Rib Protector
These are stiff vests, often with special plastic plates or ribs worked into the material, which are worn under your jacket. As the name implies, they are intended to prevent injuries to your ribs if you crash.
Wind Noise and Hearing Loss
Normal highway riding can cause irreparable hearing damage. But it's not the sound of your bike, it's the wind noise, that continuous, high-frequency whirring, which can be as high as 110dB at highway speeds. Earplugs are available in foam (disposable and cheap), rubber (need to be cleaned), and custom-molded (most expensive $50-$75).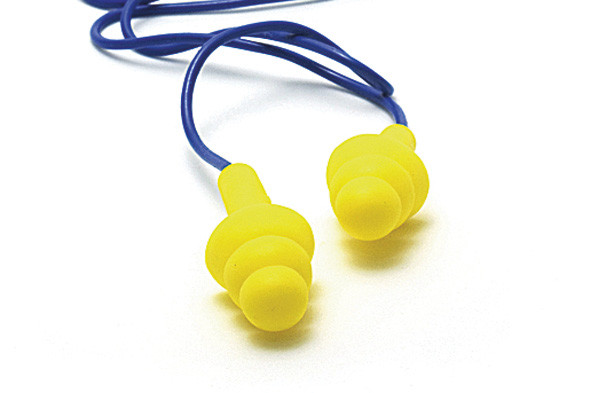 Many earplug wearers report lower fatigue after riding versus when riding without them. They still allow you to hear low-frequency sounds, like cars and trucks and approaching sirens. Spend five dollars and find out if they work for you.
Boring Facts That Should Alarm You
According to the Insurance Institute for Highway Safety (IIHS), motorcyclists are 30 times more likely to die in a crash than people in a car. Nearly half of all motorcycle deaths are the result of single-vehicle crashes.
More than ever before, older riders (with slower reflexes, weaker eyesight, and older bones) are returning to motorcycling after years of not riding. In the past decade, riders 50 and older have moved from last place to first place in motorcycle fatalities, previously held by young men under 29 who were most likely to be killed in crashes. Riders over 60 are three times more likely to be hospitalized after a crash than younger ones.
Viva Knievel
Evel Knievel was always a proponent of motorcycle safety, and encouraged fans to wear helmets while riding. On December 31st 1967, Knievel's 150-foot jump attempt over Caesar's Palace fountains in Las Vegas ended in a hard crash. He fell off his motorcycle and hit his head on the ground, breaking his pelvis and leg. Evel quickly credited his Bell helmet for saving his life.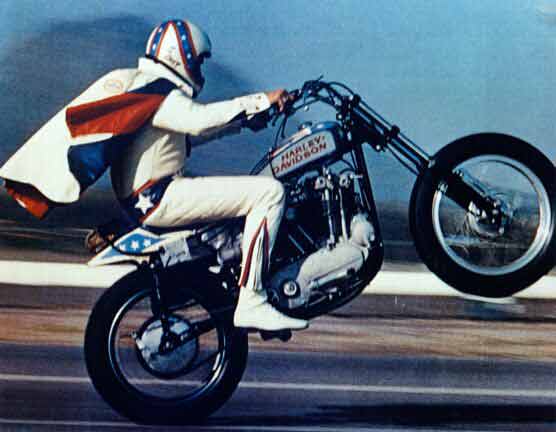 A final thought on motorcycle safety gear - when I ride with proper gear, I feel safe. And when I feel safe, I enjoy the ride better. What you're wearing while riding separates real riders from the posers.