BMW R1100R Review
Text and Pictures by Mark Trotta
If you're a Motorhead, you have to appreciate the power and efficiency of an opposed-twin engine. With pistons traveling outwards and inwards together, it is joyously vibration-free at all engine speeds.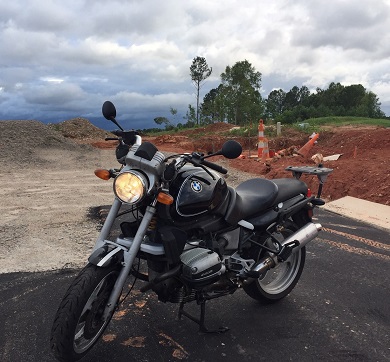 Once you ride a BMW boxer-twin, you cannot help but be impressed by the smoothness of the engine.
R1100R Roadster
The BMW R1100R is the sport bike model of the original Oilhead R-series. It shares chassis and engine with the R1100GS, but does not have body fairings. The Brembo dual-disc front brakes are from the R1100RS.
Powered by the first-generation 'Oilhead' engine, the R1100R motor is fuel injected and has four valves per cylinder. Models built for the North American market left the factory with about 80 stock horsepower.
_________________________________________________
_________________________________________________
Oilhead bikes are mostly cooled by oil, but also by air. There are two oil coolers, one on each side of the motor above the cylinders.
R1100R Engine Specs
Displacement: 1085cc
Bore/Stroke Ratio: 99.0 mm x 70.5 mm (3.90" × 2.78")
Compression Ratio: 10.3:1
Lubrication: Wet Sump
The dual camshafts are chain-driven and mount on the heads, but they are not "overhead" in the usual way. Between the camshaft and the valve rockers are short push rods.
Front Suspension
The Telelever front end features a "wishbone" between the bottom fork tree and engine case, which makes the bike very stable and predicable at all speeds. The fork tubes do not have any springs inside. Basically, they're just connecting the front wheel to the handlebars.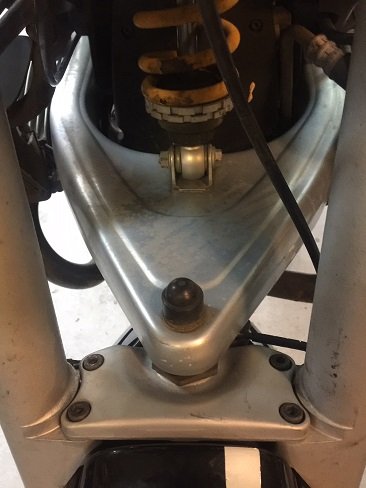 Rear Suspension
The rear suspension on the R1100R (and other models) is referred to as Paralever. It is a single side-arm with integrated drive shaft. Unlike older BMW models, the rear section of the Paralever can pivot. Tire and wheel removal is simple.
The Purchase
After owning several Harleys, a Triumph, a Kawasaki and a Yamaha, I decided to try something different. Aside from budget constraints, the only criteria was my next motorcycle weigh no more than 500 pounds.
The seller of this bike was an older rider who was obsessive about motorcycles and their maintenance. He owned seven bikes, including two R1100R models; one was yellow and one was black. He was selling the black one.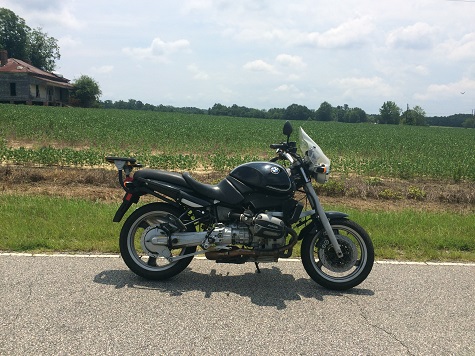 Test Ride
A quick review of the handlebar controls and starting/stopping procedure was gone over, after which the seller allowed me to road test the bike for as long as I pleased. Although I hadn't ridden a BMW motorcycle before, I found the controls intuitive and the seating position comfortable.
The bike fit my six-foot-tall frame well, with the seat/pegs/handlebars all comfortably within reach. There is a three-position seat adjustment, which was on the middle setting. R-series bikes may be too tall for shorter riders.
After a 20-minute test ride, I was ready to drive it home. My wife then pointed out that it had no insurance or tag, and no, the owner wasn't going to let me drive it home on his insurance and plate. So onto the trailer it went.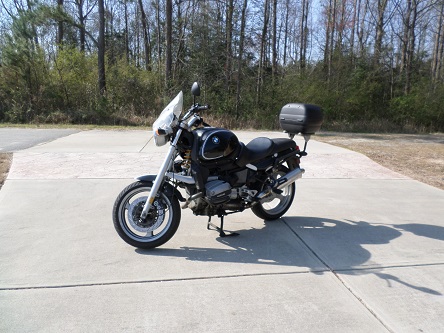 Both a center-stand and side-stand come standard with the R-series bikes. Once I got the hang of it, I prefer the center stand.
_________________________________________________
_________________________________________________
Included with the sale was a Givi cargo box and a nearly new indoor motorcycle cover. A folder of past receipts showed the engine oil and filter, transmission oil, and rear end fluid were changed just 500 miles ago.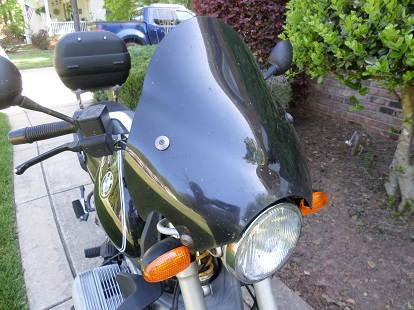 The factory mirrors are wide set and work well. The windscreen, clock, and tachometer were options. The plexiglass was pretty scratched and cloudy when I got it, and soon after, I painted the inside of it black.
Performance Mods
Finding a good performance exhaust for early Oilheads isn't easy. I was lucky that this bike was already equipped with a Remus Gran Prix stainless-steel exhaust. It adds a deep rumbly tone, but it's not overly loud. At highway speed, with the wind noise, you can barely hear it.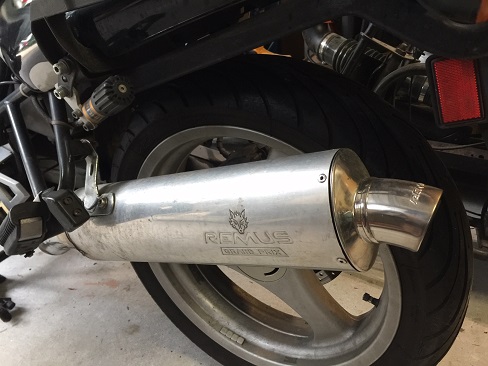 With a stock R1100R tipping the scales at 515 pounds, removing the stock BMW exhaust and replacing with an aftermarket system saves about 40-45 pounds. I figure that brings my total motorcycle weight down to about 480 pounds.
Parts Availability
New parts are still available, and I've found good used parts for R1100 bikes relatively inexpensive. For instance, when I needed to replace the ignition switch, parts needed were easy to find and cheap to buy.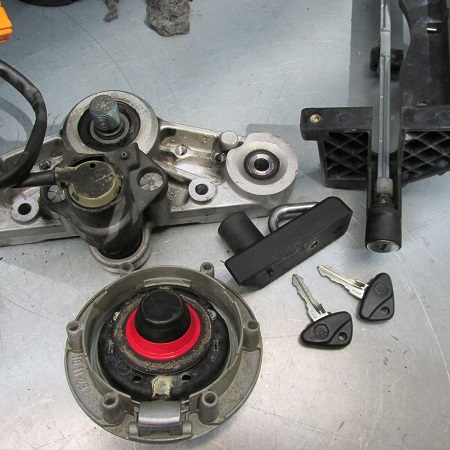 Clunky Transmission
Yes, the transmission is a little clunky when shifting gears. It's not terrible, it's just more pronounced than most modern machines. Neutral is a little tricky when cold (below 40 Fahrenheit).
The transmission clunking doesn't bother me at all, as I've ridden mostly Harleys over the last 30 years. BMW upgraded the transmission in 1997, so newer models are a bit quieter and less clunky.
_________________________________________________
_________________________________________________
BMW R1100R Production Stats
The R1100R was produced in Spandau, Germany from 1994 through 1999, with a total of 53,685 units built. After five years of production, it was replaced by the R1150R.
Riding the R1100R
From my five years of owning one, I have found the BMW R1100R to be a practical and fun-to-ride motorcycle.
If I had to put it in a category, I'd call it a sport bike, but add a few accessories, (windscreen, top trunk, heated hand-grips), and it could easily be a great touring bike as well.
Although not as fast and powerful as Japanese sport bikes, it is respectably quick. In stock condition, it has a weight of about 550 pounds (I weigh 200 pounds).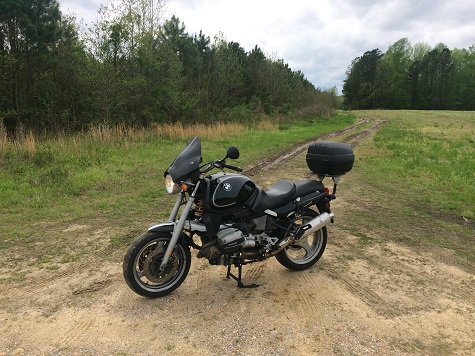 The motor is smooth and has plenty of power. And as you would expect from BMW, build quality is top notch.
Like all motorcycles, to get the benefit of longevity, they need to be maintained. And to help you do that, a tool kit comes standard with most Beemers.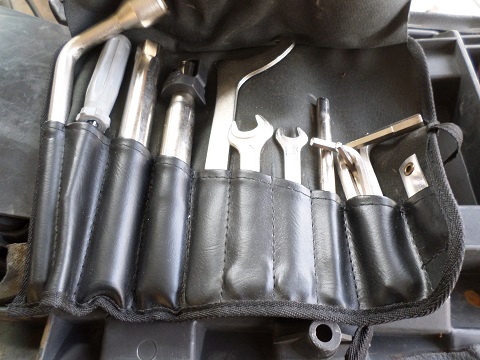 ****************************
Related Articles: