BMW Motorcycle History - Part One
Quirky looking to some, but completely logical to others, Boxer-Twin engines have both cylinders exposed to air, so they run cooler than other engine configurations. Plus, a low center of gravity helps balance and handling.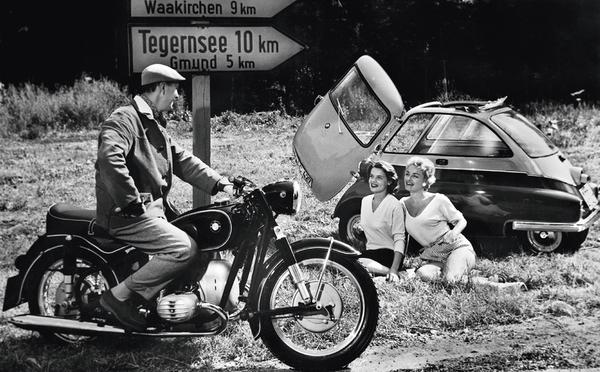 First Boxer Twin
BMW did not 'invent' the boxer-twin engine. The first flat-twin engine on a motorcycle was built by Light Motors Company in 1905. This British company had the crankshaft running perpendicular to the frame, which allowed room for chain-drive, but with one cylinder behind the other, they did not get cooled evenly.
One of the first motorcycles with a longitudinally-mounted flat-twin engine (cylinders sticking out the side) was the 1916 ABC, also produced in the United Kingdom. Final drive was a chain, which required a bevel drive at the gearbox to change the direction of the drive.
BMW R32
BMW's first motorcycle debuted in 1923. The R32 featured a longitudinally-mounted flat-twin engine, with power transmitted to the rear wheel through a shaft drive. The front fork was a trailing link design suspended by a leaf spring, similar to forks seen on then-current Indian motorcycles. There was no rear suspension.
_________________________________________________
_________________________________________________
In it's first carnation, the BMW boxer engine featured a single camshaft that activated valves via pushrods and rocker arms. Each cylinder head had one spark plug and two valves. Both cylinders were fed with one central carburetor. Later versions would have a separate carb for each cylinder.
Telescopic Forks
In 1935, BMW introduced models R12 and R17. These were the first production motorcycles to feature hydraulically dampened telescopic forks. 
1939 Isle Of Man
With their riders wearing swastika insignias on their leathers, Germany sent three teams (BMW, NSU and DKW) to the Isle Of Man in 1939. For the Senior event, Georg Meier rode a BMW Type 255 RS-500, which featured a mechanical supercharger (kompressor). The 494cc engine produced 60 horsepower at 7,000 rpm.
BMW After World War II
The terms of Germany's surrender forbade BMW from manufacturing motorcycles. This ban was eventually lifted and motorcycle production commenced.
The first post-war BMW motorcycle (from Western Germany) was produced in 1948, the single-cylinder 250cc R24. Many of its parts were left-over pre-war parts of the R23.
BMW Motorcycles During the Fifties
During the early fifties, BMW returned to making horizontally-opposed twins with the R51/2 and R51/3. A 68mm bore x 68mm stroke gave an engine displacement of 494cc.
_________________________________________________
_________________________________________________
In 1955, BMW introduced a new range of motorcycles with the R50, R60, and R69 models. A new frame was seen, along with leading-link Earles front forks in place of telescopic forks. In back, a rear swing-arm suspension with adjustable shock absorbers replaced the plunger rear shocks.
Earles Forks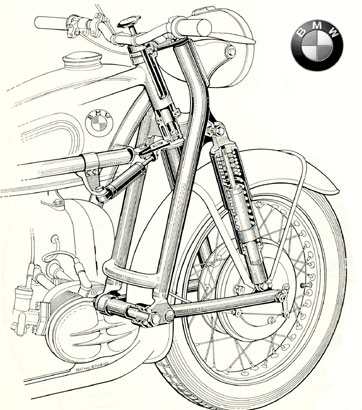 Patented by Englishman Ernest Earles in 1953, this triangulated fork design helped eliminate dive during braking. The design worked well with sidecar-equipped models, and from 1955 to 1969, were fitted to BMW solo bikes as well.
Other BMW boxer twins manufactured in the fifties included:
R67 (26 horsepower)
R67/2 (1952-1954, 28 horsepower)
R67/3 (1955/1956 only)
R68 (35 horsepower)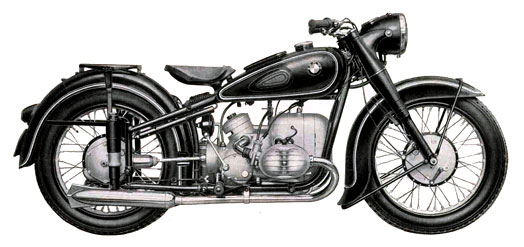 The last BMW model to feature plunger rear suspension was the R67.
BMW R69 (1955-1969)
Designed as a sports bike, the BMW R69 was powered by a 594cc shaft-driven boxer-twin engine. Power output was 42 horsepower. Reportedly, some R69 models came equipped with frame lugs for the attachment of a sidecar.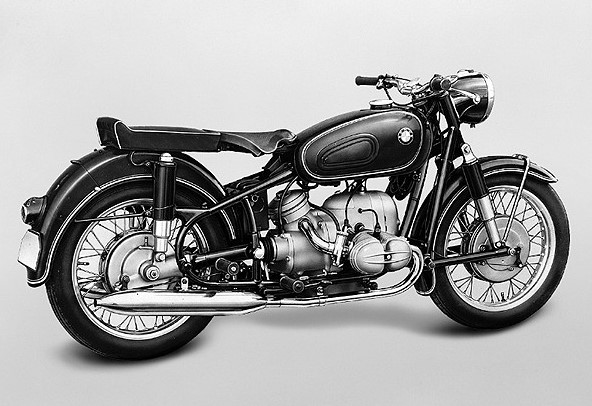 Front suspension could be either Earles forks or hydraulic tubes.
The European version R69 should not to be confused with the later American bike, the 'R69-US'. which was offered to North American markets in 1968 and 1969 (see 'U.S. Models' below).
BMW R50/2 and R60/2
In 1960, the R50/2 and R60/2 were introduced and featured several engine improvements, including revised crankshaft, camshaft, piston rings and a stronger clutch. High-performance versions (R50S and R60S) developed slightly more power.
Turn signals became optional during the early sixties, and were often mounted to the end of the handlebars.
U.S. Models
For 1968 and 1969 model years only, BMW exported into the United States three "U.S." models. These were the R50US, the R60US, and the R69US. On these motorcycles, there were no sidecar lugs attached to the frame and front suspension was telescopic forks. NOTE: Some reports show that Earles-fork models were also available in the U.S. on these models.
********************************
Single-Cylinder Beemers
Since the company's beginnings, BMW marketed shaft driven single-cylinder models. These were much less popular then Boxer-Twins, and were eventually phased out. The last shaft-driven single cylinder motorcycle was the 250cc R27 (1960-1966).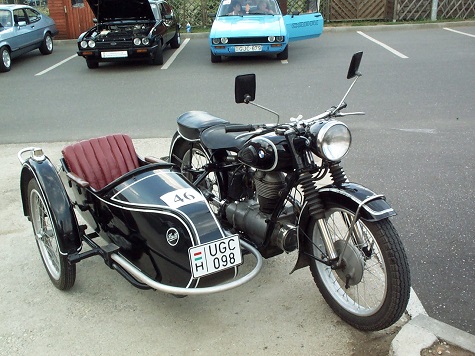 Sidecar Capable
Until the mid-sixties, most BMW models were still designed to be used with sidecars, but by this time, sidecars were no longer a consideration for most riders. Consumers demanded (and received) sportier motorcycles.
********************************
Related Articles: