Best Motorcycle Helmet
Modern motorcycle helmets are strong, lightweight, and comfortable. Not only do they prevent serious injury in the event of a crash, they also cut down on wind noise and fatigue. There's several different styles and many different brands, so finding the best motorcycle helmet for you will require a little research on your part.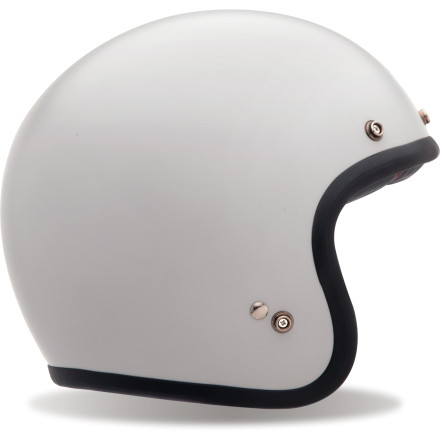 DOT Approved Helmets
The U.S. Department of Transportation has a set of standards for all helmets. It must absorb a certain amount of energy upon impact, prevent most helmet penetrations, and have a fastener which can withstand force. DOT Certification means the helmet passes these minimum safety standards.
Snell Approved Helmets
The Snell Memorial Foundation is an independent helmet testing and standards-setting organization. Their testing lab is a private facility located in California. Some of the tests conducted there are an impact test, a shell penetration test, a face-shield penetration test and a flame resistance test.
A third helmet rating is ECE, which is a globally accepted helmet certification, similar to the DOT in the U.S.
Snell standards significantly surpass DOT standards and provide the highest level of protection available. Helmet brands that meet these standards include Arai, Bell, Joe Rocket, Scorpion, Shoei, Simpson, and others. If you want your helmet to be strong enough to keep your head from cracking open if you crash, get one that is Snell Approved.
Automotive Helmets vs Motorcycle Helmets
Automotive Helmets are categorized as "SA" and motorcycle helmets are categorized as "M". There are several important differences between the two.
SA standard allows a narrower visual field than M standard.
Some SA helmets are not street-legal.
SA standard has a roll-bar impact test, the M standard does not.
SA standard requires flammability test, the M standard does not.
Shorty Helmets
Half-shell, or shorty helmets, are the lightest and cheapest, and also the noisiest. I wore shorty helmets for over 20 years, and because of that, I now have hearing issues. Try a 3/4 helmet. It helps knock down the wind noise.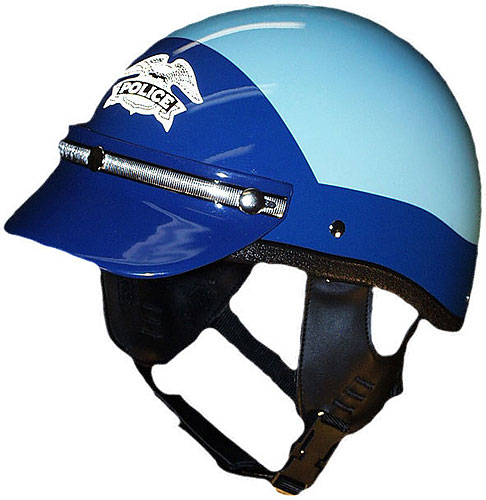 Super Seer Helmets
Super Seer is a custom helmet manufacturer located in Evergreen, Colorado. Each helmet they make is built by hand. Their primary market is law enforcement, and comfort is a big issue for people wearing a helmet all day long, day after day. They also offer color matching your helmet to the colors of your bike.
Open Face Helmets
Open face helmets are also known as 3/4 helmets because of the reduction in coverage from a full-face helmet. They can be worn with or without a shield. Wearing a shield with an open face helmet offers better protection against flying debris (like bugs) when riding your motorcycle.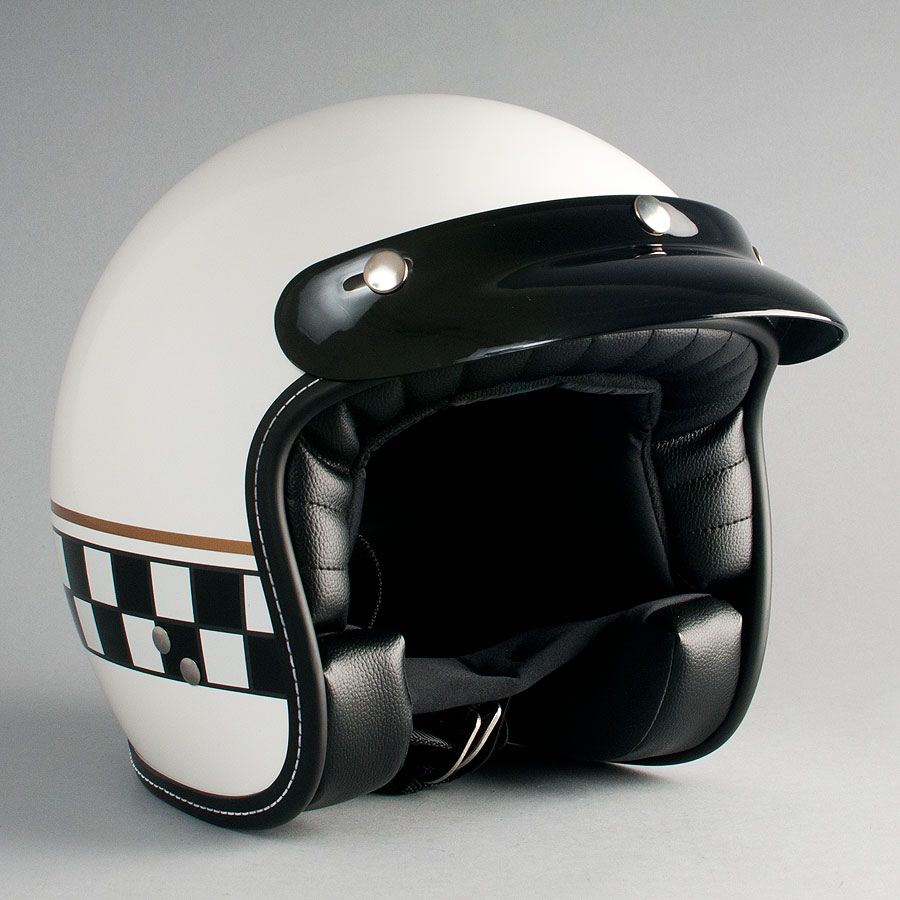 Retro Helmets
Retro is in, and you can now buy a new helmet with the look of the 60s but with today's safety and technology. AGV is an Italian manufacturer of race and sport helmets, distributed here by AGV USA in Costa Mesa, California. The RP60 above is one of their retro street helmets.
Bell Custom 500 Helmet
Back in 1954, Bell founder Roy Richter made the industry's first helmet out of fiberglass and named it the "500." One of their many new retro models is the "Custom 500". It's DOT and ECE certified, weighs 1200 grams, and has a multi-density liner. There are nine different colors available including matte, gloss, and flake finishes.
Price for the Custom 500 helmet is $119.95. There's also a dealer locator on Bell's website if you want to try one on before you buy. I'm not sure what their five-year warranty covers but its a nice sentiment.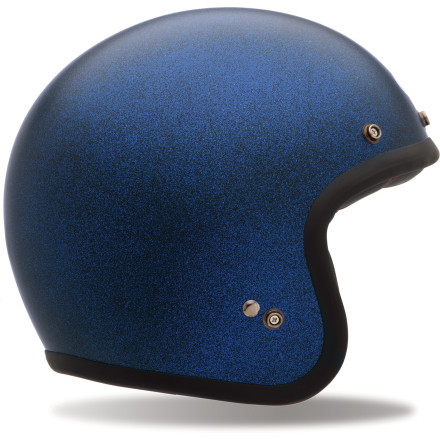 Snap-on Face Shields
I tried using a bubble shield which didn't work for me. Because of the curving, it has a distorted vision. They also don't flip up, which gave me a confined feeling. A flat flip-up visor doesn't have the distorted vision, and is nice to have in case of rain.
Flip-Up Helmets
A hybrid of both the three-quarter and full-face helmet, modular helmets (also called convertible) are not as sturdy as a full-face. Flip-ups are convenient if you're a smoker or wear glasses, but you're compromising protection.
Full-Face Helmets
A full face helmet is most commonly worn by sport bike riders. They come in hundreds of designs and color options, with some inspired by famous motorcycle racers. One of the highest rated is the Schuberth C4 Helmet, which retails for about $749.
Full-face helmets do not impair your peripheral vision. Some riders feel claustrophobic in a full-face helmet, but there is no better protection. If you're commuting more than 25 miles, or taking a cross-country trip, consider a full face helmet. They give more coverage and protection than all other helmet types.
I've ridden with full-face helmets on modern sport bikes, and find some of them quite comfortable. I prefer Bell and Arai full-face helmets, they seem to fit me the best.
Proper Fitting Helmet
It's important that your helmet fits you correctly, it should fit snugly so that it doesn't pop off ii the event of a crash. After years of wearing cheap helmets that didn't fit properly, it became apparent that I had an irregular-shaped head. Helmets are offered in narrow, slightly narrow, medium narrow, round, slightly round, and neutral sizes. Finding the correct helmet to match the shape of your head is crucial for both safety and comfort.
How To Measure For A Helmet
Wrap a measuring tape around your head about 1" above your eyebrows. Pull the tape comfortably tight and record the results. To make sure it's correct, measure two to three times. If you get different results, use the largest measurement. Different manufacturers' sizes may vary slightly.
If you live near a large motorcycle dealership, visit their motor-clothes department. They are usually run by trained salespeople who actually know how to test for good fit.
Remember that the best motorcycle helmet in the world is worthless if it doesn't fit you right. You may find a less expensive helmet that fits better than one costing several hundred dollars. It's all about the fit.
According to government studies, riders without a helmet are 40% more likely to suffer a fatal head injury in a crash and are three times more likely to suffer brain injuries compared to those with helmets.
How Much Will A Good Helmet Cost?
Snell-approved helmets start in the $150-$200 range, with the price very dependant on weight (lighter is better, since it causes less fatigue). When selecting the best motorcycle helmet for your needs, consider ventilation, anti-buffeting, and communications capability. A helmet is the last piece of equipment you would want to save any money on. Get the best you can afford.
If you are concerned about road noise, consider a Shoei helmet. They have high-quality liners that help absorb low frequency road noise. If you are looking for a comfortable helmet in a lower price range, HJC and Nolan offer quality helmets at lower prices.
Even if your old helmet looks like new, they deteriorate over time. Helmets are designed to destroy themselves in a crash in order to protect you. The Snell Foundation recommends replacing your helmet every five years, and immediately if it's been in a crash.