Motorcycle Work Stand
Article by Mark Trotta
If buying a motorcycle lift stand is not in the budget, consider making a motorcycle work stand.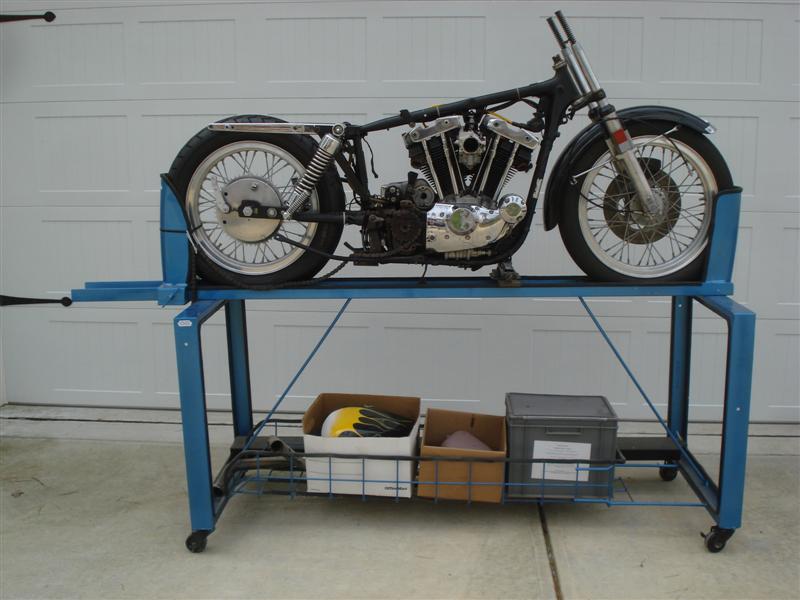 The stand in my garage is a homemade, one-off custom, designed and built by a friend of mine. It rolls on casters and has a shelf underneath which keeps parts in one place.
Homemade Work Stand Dimensions
Work Height - 36"
Work Length - 76"
Overall Length - 96"
Width - 30"
Work Stand Construction
The six-inch metal channels that make up the stand frame were from warehouse pallet shelves. After measuring and cutting, the pieces were MIG welded together with an old Miller 250 (from before they started making welders with a lot of electronics in them).
The metal was cleaned with acetone, sprayed with oxide primer, then blue enamel, then clear-coated.
Average table height for a motorcycle work stand seems to be around 24" to 26". My stand sits at 36", which is good for me, because I'm six-feet tall and I like to work standing up.
Take a close look at the wheel pockets - both front and rear pockets were fabricated from the front bumper of a 1997 Chevy Blazer. The rear pocket is removable with a wing-nut bolt.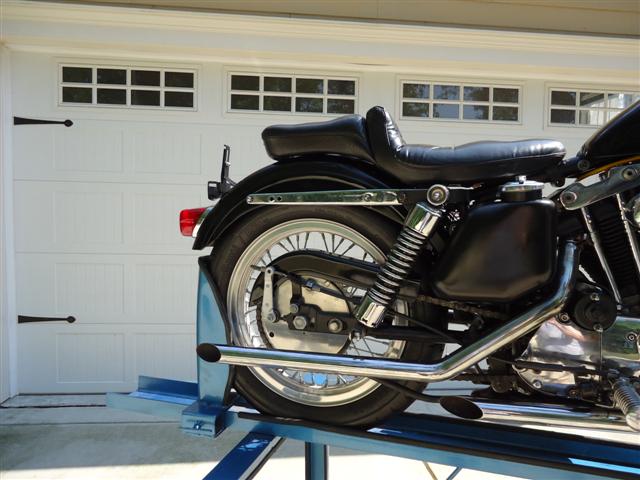 Motorcycle Scissor Jacks
A scissor frame jack is needed to lift the bike up off the work table for tasks like tire removal, oil changes, and chain lubing. A standard automotive scissor jack may work, but a proper scissor jack is fairly inexpensive.
The Extreme Max Scissor Jack extends up to 14" height and is easily operated with a socket or a wrench. It has a lift capacity of 1,100 pounds, which is good for most sport bikes, but not really enough for a cruiser.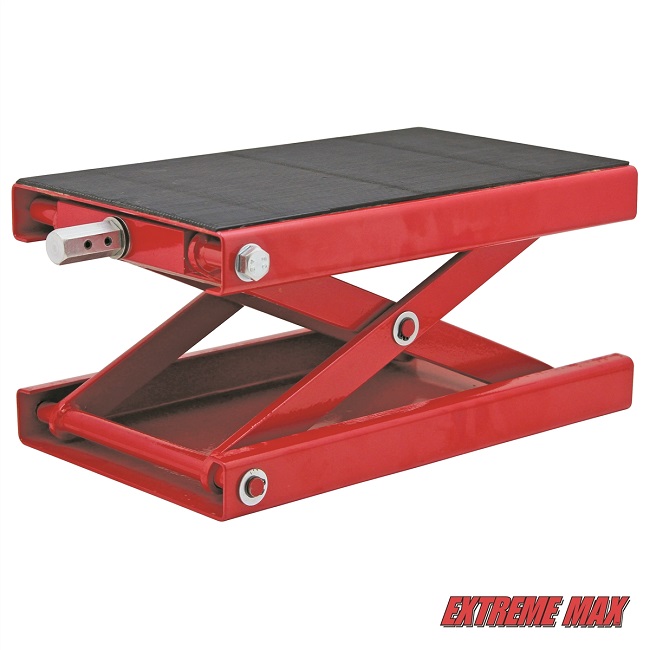 The Black Widow BW-1604A is a compact and simple center lift scissor jack made for motorcycles. The jack has a lift capacity of 1,100 pounds and operated with a socket or a wrench.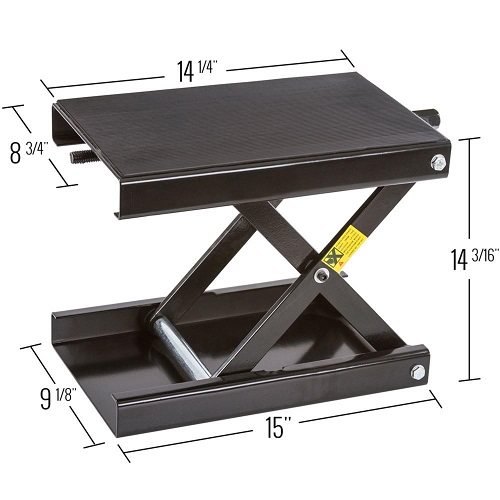 Having a motorcycle scissor jack can also be an inexpensive way to store your bike long-term without flat-spotting the tires.
*******************************
Lift Stand vs Work Table
The motorcycle work stand featured in this article was built before lift stands were commonly available. The down-side is, to get the bike on and off, I have to clear about 20 feet of room, attach the C-channel ramp to the back, and find someone to help me guide the bike up or down.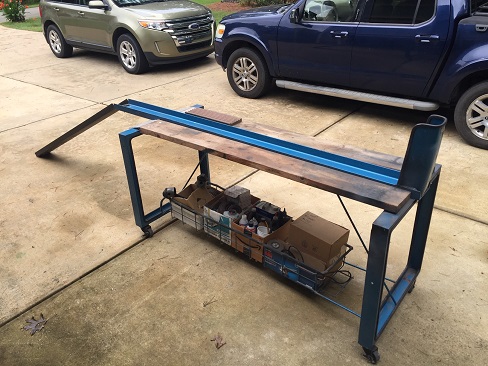 Another negative is that I can't change the height of the bike. A motorcycle lift stand would make all that much easier.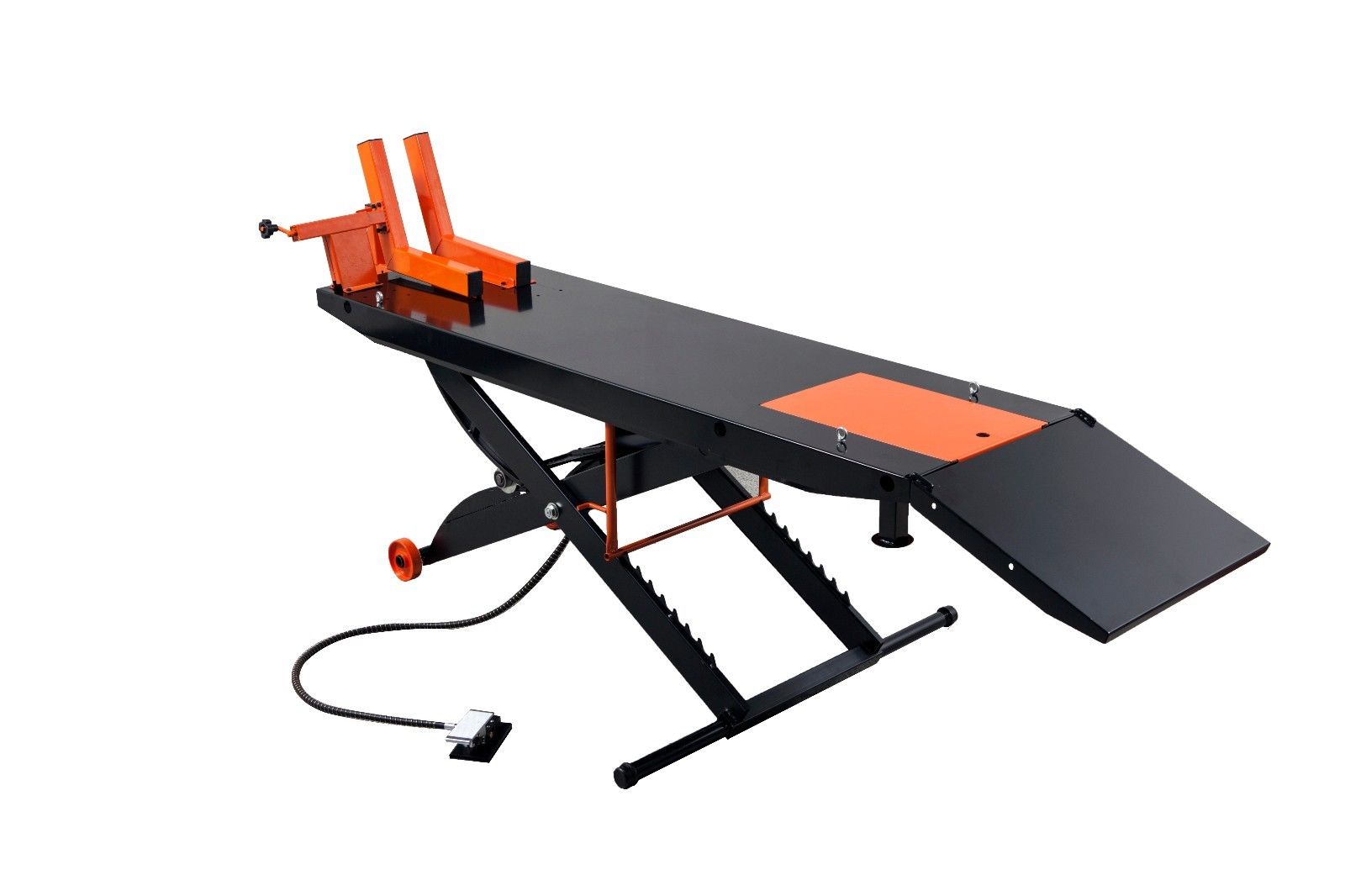 Garage Footprint
Consider where you will keep it or store a work stand--it'll take up quite a bit of floor space.
Another advantage of a lift stand is that you can park a motorcycle on it when it's down.
******************************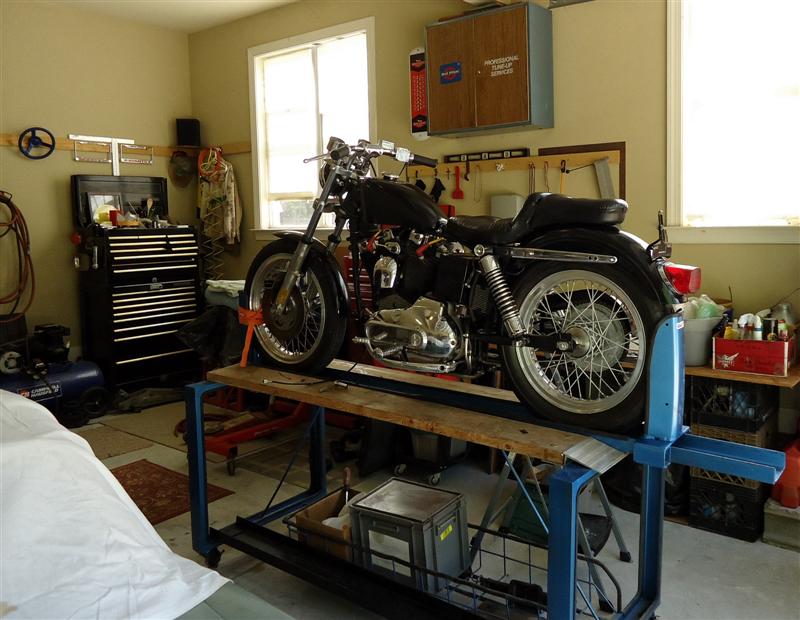 On the sides of the stand I keep a set of wood ramps.