Motorcycle Work Stand
Getting tired of crouching down on your hands and knees while working on your classic bike? Having a motorcycle work stand saves you time and space, and makes working on your old scoot more enjoyable. Once you've used one you'll wonder how you ever got by without one.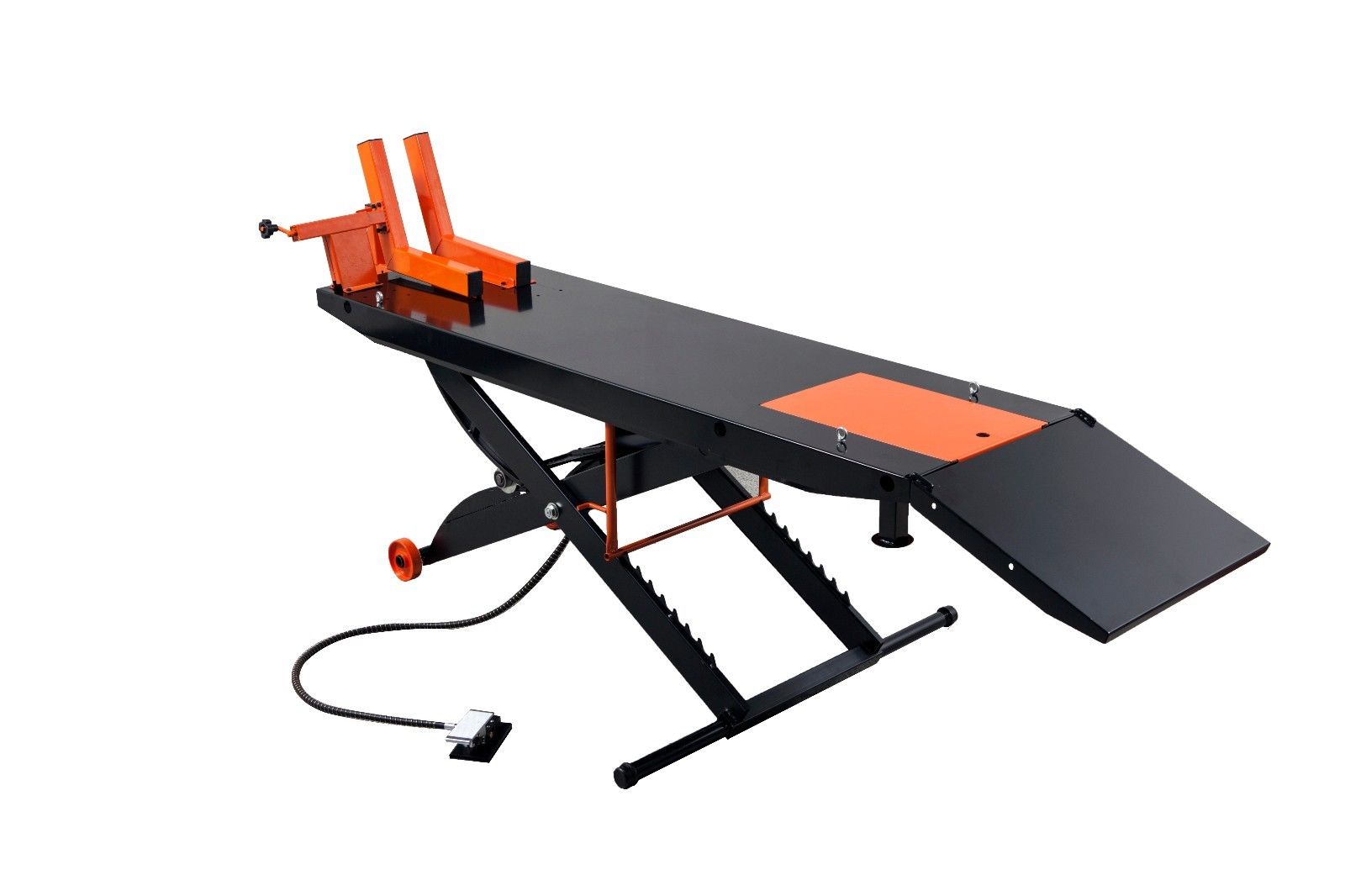 Before you buy a motorcycle lift table, consider where you will store it - they take up quite a bit of floor space. Some riders park their motorcycle on the lift when it's down.
If you're buying a motorcycle stand and need to ship it to a residential location, you need the assistance of a lift gate truck. There may be extra charges for these services. Some companies, like Amazon, offer free shipping within the contiguous U.S.
Lift Tables
Motorcycle lift tables can be divided into three categories: pneumatic (air powered), air-over-hydraulic, and electric-over-hydraulic. If buying a stand is not in the budget, consider making one. I've seen all kinds of home-built types, some as simple as a wooden platform with a ramp, some tie-down hooks and a wheel chock. Another option is finding a used one (post a wanted ad on craigslist).
Pneumatic Lift Tables
Pneumatic tables are most common. They generally are rated to 1,000 lbs and operate by way of compressed air. Prices start at about $400 plus shipping.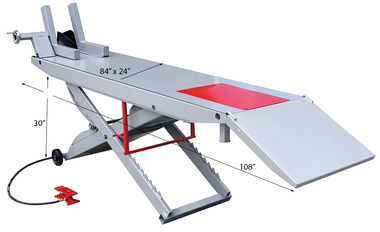 Air-Over-Hydraulic Tables
Air over hydraulics is a simple and cost effective way of producing a "soft" acting hydraulic system. They are usually rated for 1,500 lbs or more, and tend to use a lot of air. If you already have a good-size air compressor, this is a good choice.
Electric-Over-Hydraulic Tables
Electric over hydraulic tables are the most expensive, but also the smoothest operating tables available. They are built for commercial use, run on electricity, and require no compressor.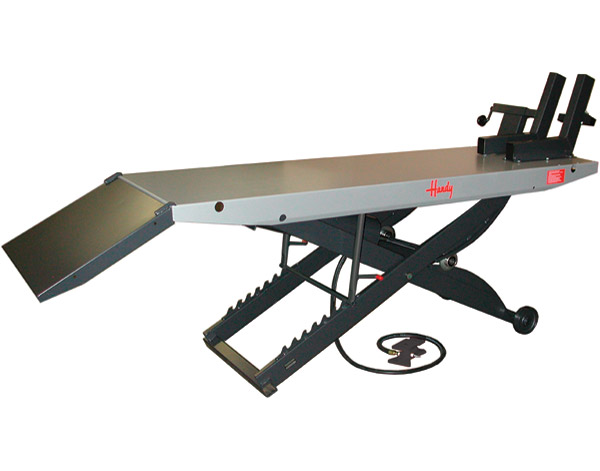 Scissor Jacks
A scissor frame jack is needed to lift your bike up off the work table for tasks like tire removal, oil changes, and chain lubing. If your motorcycle motor or transmission hangs down below the frame rails, many scissor jacks have telescoping saddle adapters that can adjust in width.
DIY Motorcycle Work Stand
The motorcycle work stand in my garage was homemade by a friend of mine. The stand rolls on casters, and a shelf underneath help keeps the bike parts in one place.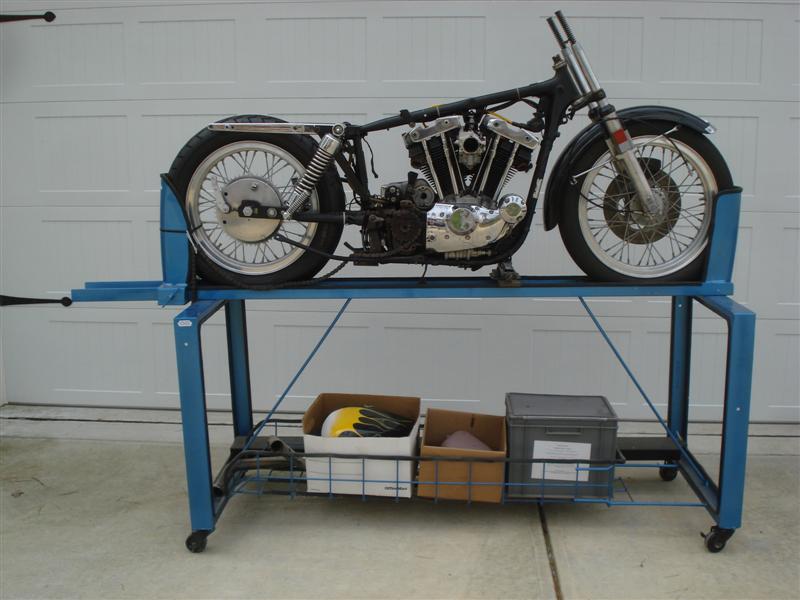 The six-inch metal channels that make up the frame of the stand were from warehouse pallet shelves. After measuring and cutting, the pieces were MIG welded together with an old Miller 250 (from before they started making welders with a lot of electronics in them). The metal was then cleaned with acetone, and the stand sprayed with red oxide primer, then blue enamel, then clear-coated.
Take a close look at the wheel pockets - both were fabricated from the front bumper of a 1997 Chevy Blazer. The rear pocket is removable with a wing-nut bolt.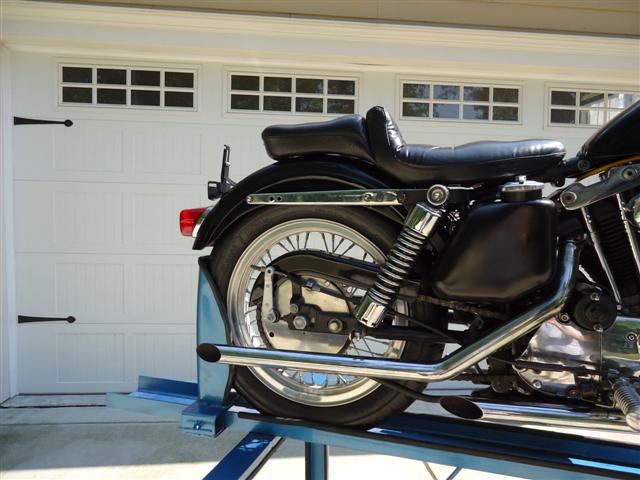 Average table height for a motorcycle work stand seems to be around 24" to 26". My stand sits at 34", which is good for me, because I'm six-feet tall and I like to work standing up. When there's no motorcycle on it, the stand functions as a rolling work bench for other uses. I have a large 1/4" steel plate that I can lay on top of it, and it becomes a portable welding table.