1965 Sportster Project
Text and Pictures by Mark Trotta
When new, the 1965 Sportster XLCH was the fastest production motorcycle on the planet. It was a flat out, built for speed, no-frills hot rod, not much more than two wheels, a seat and a 900cc engine.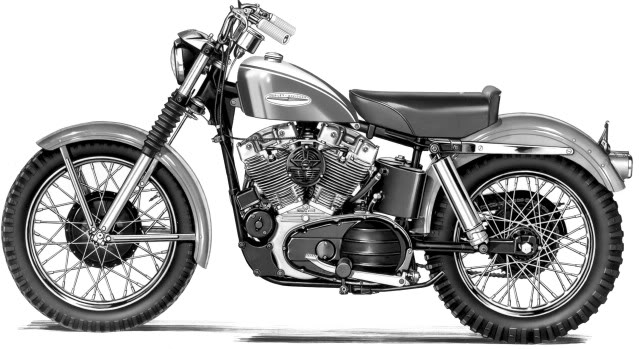 1965 Sportster Production: 2,815 XLCH models, 955 XLH models (3,770 total units)
(Another) Basket Case Ironhead
I received this 1965 XLCH engine completely disassembled. After taking the parts out of the boxes and spreading them across the workbench, I found nearly everything was there, including nuts, bolts and hardware.
Right-Side Case Damage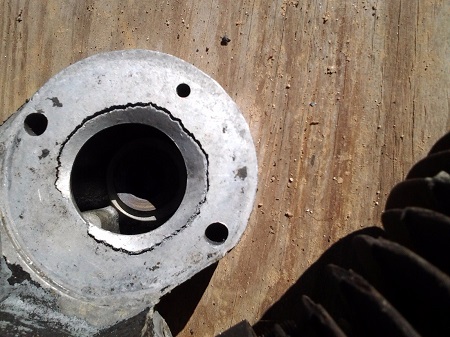 The right-side engine case had a circular crack where the generator mounted, presumably from the bolts being over-tightened.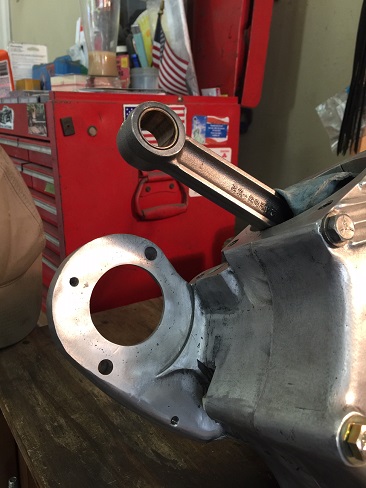 The generator hole repair was very time-consuming, but necessary to keep the numbers-matching cases.
Left-Side Case Damage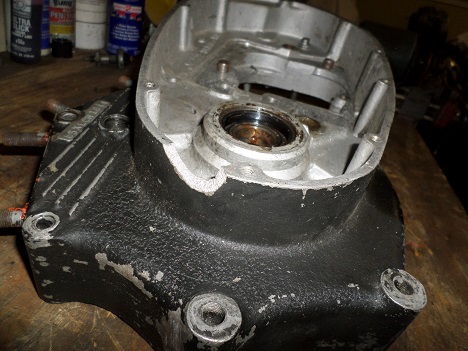 Internally, the left-side case was OK, but there was a 2" chip missing where the primary cover bolts up. Both engine case repairs were TIG welded.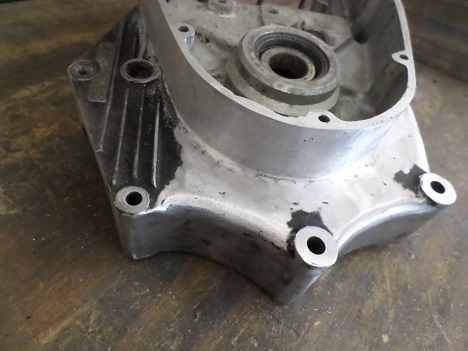 Original Factory Finish On Engine
For an authentic and correct motorcycle restoration, the factory finish should be left on engine cases. Most are quite hard to duplicate, so sanding down original cases is never advisable.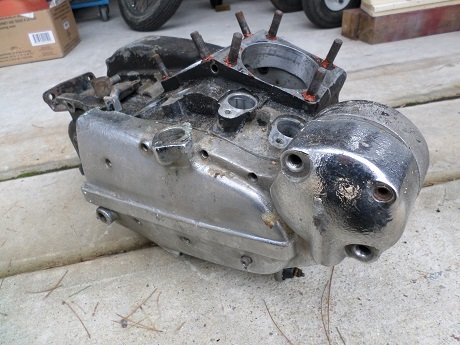 Unfortunately, the cases had been painted black somewhere in the past. So without really having any other choices, the black paint was sanded off after the engine cases were repaired. This was very tedious and time consuming, because Ironhead engine cases have plenty of nooks and crannies.
Crank And Flywheel Build
After the flywheel assembly was rebuilt, it was trued on a homemade truing stand. This was another time-consuming part of the engine rebuild.
The truing stand was also used to check straightness of the pinion shaft and sprocket shaft.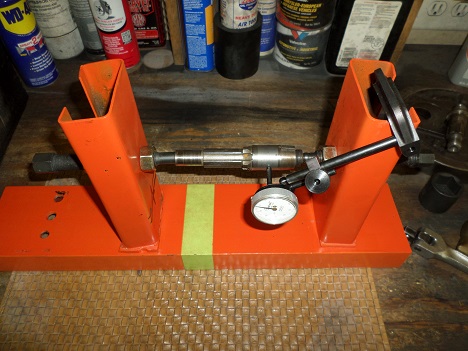 "Everything is easier when you have the proper tools."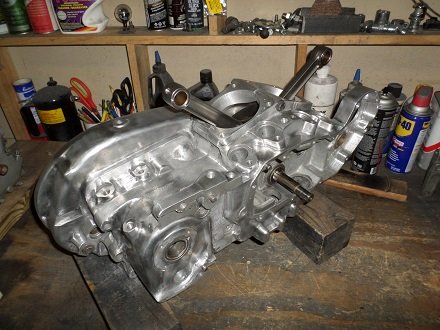 Engine Clearances Before and After
Motorcycle engine clearances should be measured before disassembly. But when you start with a completely disassembled motor, you don't have that opportunity. It requires the additional steps of assembling the engine to get the "before" measurements, then disassembling, repairing/replacing, and re-assembling.
Restoring Aluminum Engine Parts
The pitting and corrosion seen in the pictures is typical for a 50 year-old unrestored motorcycle. The cam cover, primary cover, and rocker boxes were sent out to Brown's Plating have the old chrome removed chemically.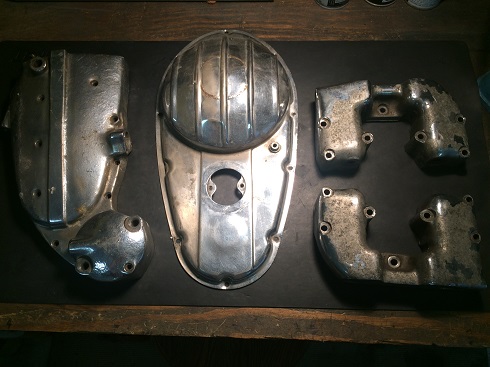 Six weeks later the parts returned, and the sanding and polishing began.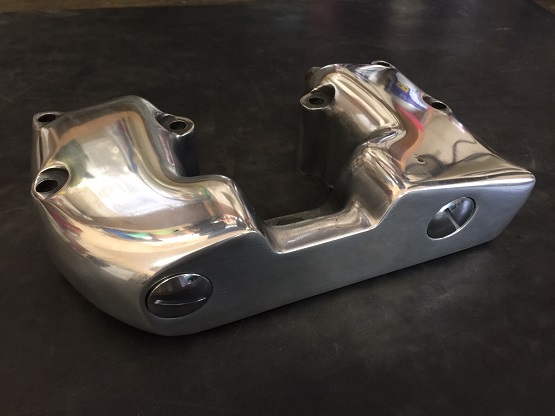 Broken Valve Spring
One of the old valve springs (unknown from which valve) had cracked in two pieces. Since I had no prior history of the engine, I could only speculate the most likely cause - over-revving.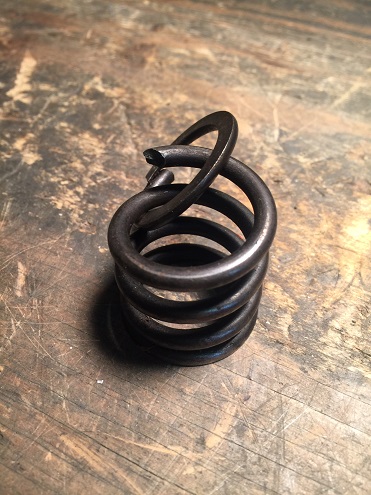 Cylinder Heads
Both cylinder heads were rebuilt, which included new valves, guides, and springs, and a three-angle valve job. All four rocker arms were replaced.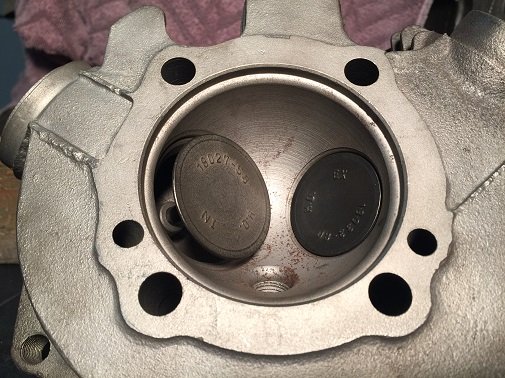 Ironhead Cams And Cam Cover Issues
Another reason for mock-building the motor was to check that all parts were in proper working order. The cam cover did not go on and off easily like it should, indicating a cam mis-alignment. This led to finding one of the cams binding. After testing each one individually with the other cams, the culprit (#4 cam) was revealed and replaced.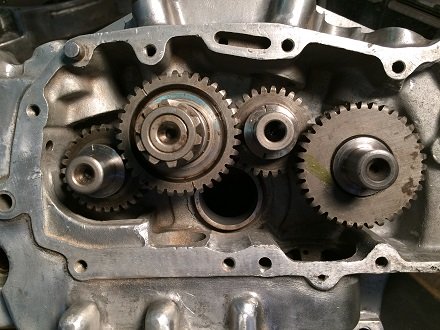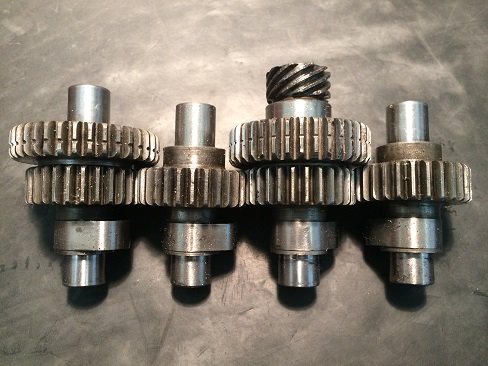 Replace Cam Bushings
The cam cover bushings were replaced due to contamination from the acid after de-chroming.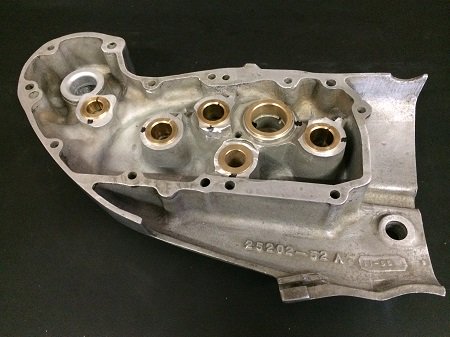 Ironhead Transmission
Like the rest of the motor, the transmission was completely disassembled when I received it. Rebuilding an Ironhead transmission is a project within a project.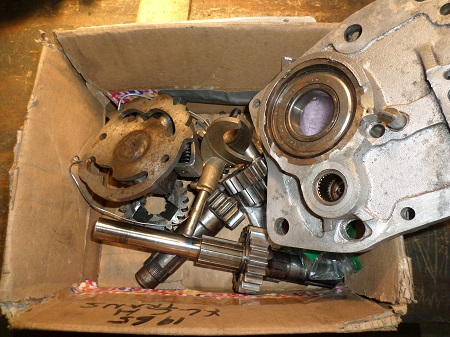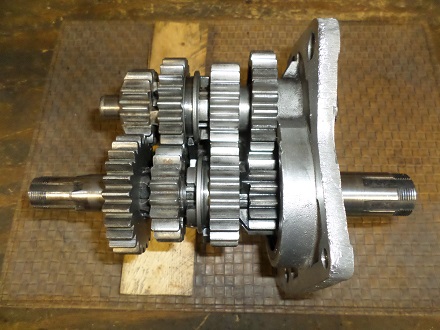 Misc Notes
Financially, it would have been more profitable to part out a basket case motorcycle like this, but this was a very low production-year Sportster with matching case numbers.