Yamaha XS750 and XS850 Triples
Article by Mark Trotta
In 1976, Yamaha introduced a new line of three-cylinder motorcycles. The 747cc four-stroke motor, advertised as 750cc, featured twin overhead cams, three carburetors, and 3 into 1 exhaust.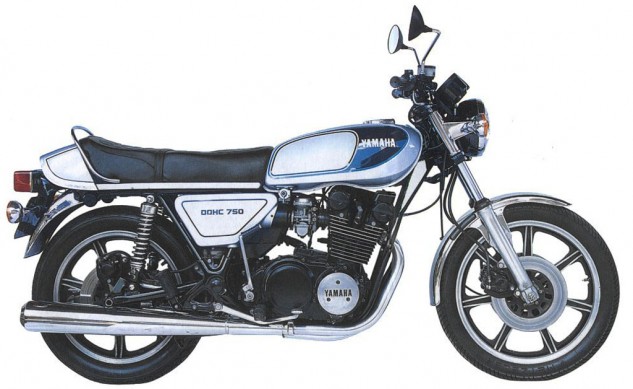 Three Cylinder Advantages
Three-cylinder motorcycles are commonly referred to as "Triples". The first production three-cylinder motorcycle was the Triumph Trident. Due to the increased displacement, they are capable of making more power than a twin-cylinder engine. Advantages over a four-cylinder bike are less weight and bulk, plus a narrower bike will have a handling advantage over an inline-four.
XS750 (1976-1979)
Early XS750 models were fitted with three 34mm Mikuni carbs and three sets of ignition points. The bottom end featured a forged steel crank with two-piece connecting rods. The dual overhead cams were chain driven.
XS750 Engine Specs
Displacement: 747cc (45.6 cubic-inches)
Bore x stroke: 68mm x 68.6mm
Compression: 8.5:1
Valves per cylinder: 2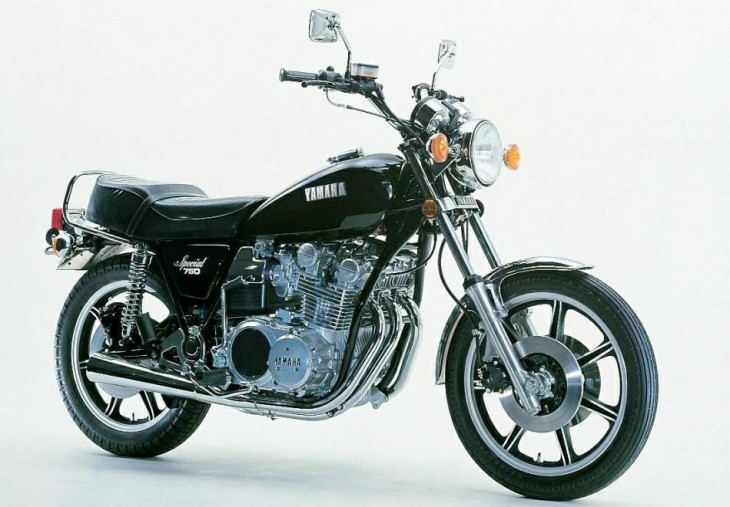 Power output from the XS750 triple was 64 horsepower. Outfitted with triple disc brakes, stopping power was very good. Total bike weight (with fluids) was about 550 pounds.
The XS750 was offered in several models:
XS750 C (1976 - unpainted cast wheels)
XS750 D, XS750 2D (1977 - 3 into 2 exhaust)
XS750 E, XS750 SE (1978 - electronic ignition)
XS750 F, XS750 SF (1979)
In 1978, the three sets of ignition points were replaced with electronic ignition, increasing the rev limit of the engine from 7,500 rpm to 9,000 rpm.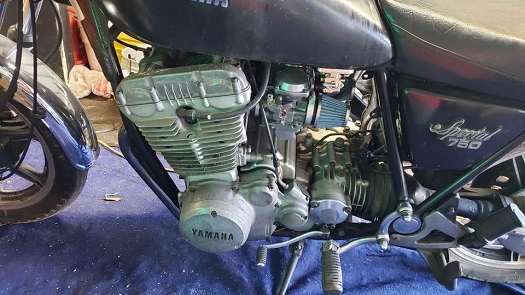 Yamaha XS models featured a five-speed gearbox. Final drive was shaft drive, which requires less maintenance than a chain-drive bike, and also endures bad weather better.
True, primary chain-drives provide more power to the rear wheel, but for something that will be used as a daily commuter a shaft-drive bike is easy to get used to.
Yamaha XS850
For the first three model years, Yamaha triples displaced 747cc. In 1979, bigger cylinders and pistons were fitted, increasing engine displacement to 826cc. The engine now had a larger bore but kept the same stroke.
XS850 Engine Specs
Displacement: 826cc (50.40 cubic inches)
Bore x stroke: 71.5 x 68.6 mm (2.8" x 2.7")
Compression: 9.2:1
Valves per cylinder: Two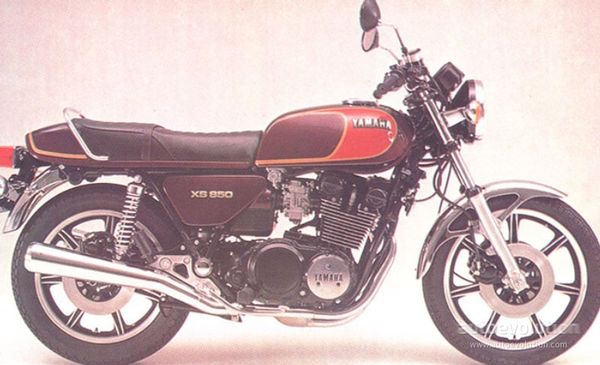 XS850 Models
XS850G Standard UJM (1980)
XS850SG Special (1980)
XS850LG Midnight Special (1980)
XS850H Standard UJM (1981)
XS850SH Special (1981)
XS850LH Midnight Special (1981)
Additional upgrades for 1979 included a redesigned cylinder head. This helped increase engine output to 79 horsepower, giving the XS850 top speeds of 120+ mph.
In the last two years of manufacture (1980-1981), Yamaha XS850 models were assembled in the U.S.
=======================
Notes and Misc
Cycle World magazine called the Yamaha XS750 a "Bargain BMW" and rated it as one of the Top 10 bikes for 1976. In 1977, it was publicly-voted by readers as Motorcycle News "Machine of the Year".
=======================
Related Articles:
======================